G20 Has Commitments Vowed All Citizens Be "Digitally Connected" By 2025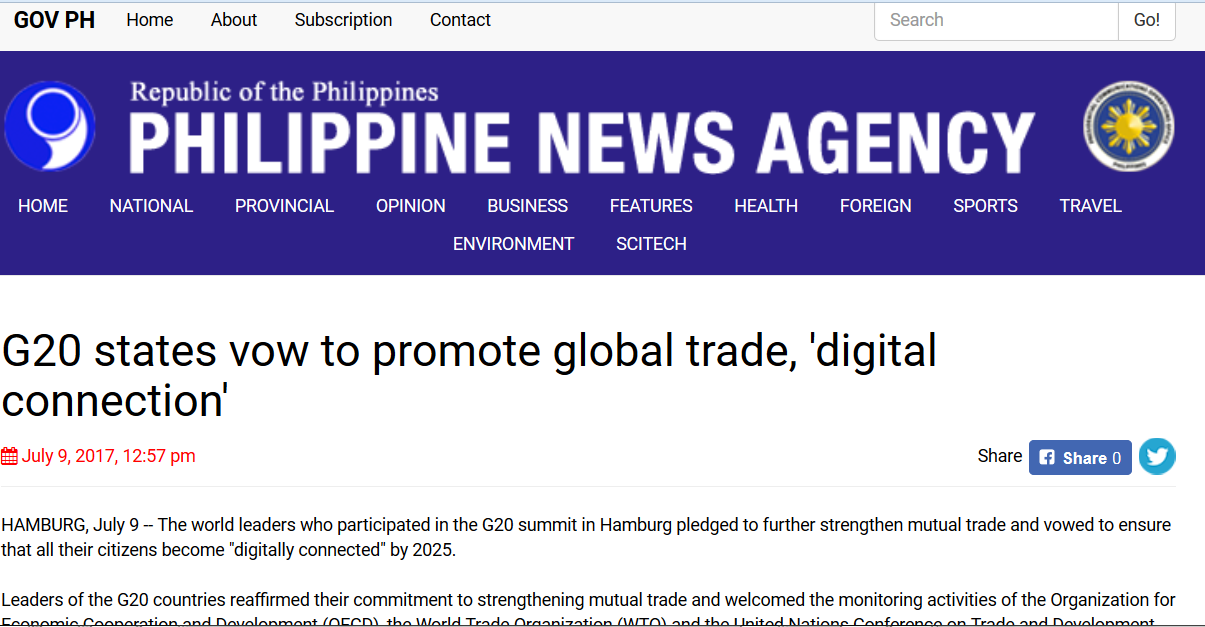 Screenshot official webpage pna.gov.ph
Globalization: Mandatory, Everyone Must Have A Digital Bank Account?
What Does It Mean When the finance ministers for the worldwide monetary system and banking cartel say all citizens will be "digitally connected" by 2025?
Are they talking about Direct Bank Deposit: FINTECH-Blockchain-Cashless-Society-Digital-Economy?
For years I have been researching their documents and piecing the globalization agenda puzzle together.
Rural, emerging markets, and poor regions where villages and individuals do not have a bank account, or computer will now have internet connection and digital bank accounts. This allows everyone to be "digitally connected" but more importantly more taxes and personal data will be collected via the digital banks and the digital economy.
Read what BitBay really is.
If you have an Internet connection, you can use BitBay to buy and sell products directly with people from anywhere in the world.
When you have researched the globalists from G7, G20, WHO, IMF, Federal Reserve, BIS, CFR, UNITED NATIONS, OECD, WTO, BRICS, UNCTAD, SCO, Development Funds, and their many other organizations you begin to see a pattern, you can read between the geopolitical lines, and you see the global script engineering civilization.
09 July 2017, The Philippines government reported:
HAMBURG, July 9 -- The world leaders who participated in the G20 summit in Hamburg pledged to further strengthen mutual trade and vowed to ensure that all their citizens become "digitally connected" by 2025.
Leaders of the G20 countries reaffirmed their commitment to strengthening mutual trade and welcomed the monitoring activities of the Organization for Economic Cooperation and Development (OECD), the World Trade Organization (WTO) and the United Nations Conference on Trade and Development (UNCTAD), the G20 Leaders' Declaration adopted at the summit in the German city of Hamburg on Saturday said.
"We value the monitoring activities by the WTO, UNCTAD and OECD within their existing mandates. We commit to further strengthen G20 trade and investment cooperation. We call on the OECD, WTO, World Bank Group and [the International Monetary Fund] IMF to continue their work to better understand trade impacts and report back to G20 Leaders in 2018," the declaration said.
The world leaders also pledged to take steps to ensure that all their citizens would be "digitally connected" by 2025.
"Digital transformation is a driving force of global, innovative, inclusive and sustainable growth and can contribute to reducing inequality and achieving the goals of the 2030 Agenda for Sustainable Development… We will strive to ensure that all our citizens are digitally connected by 2025 and especially welcome infrastructure development in low-income countries in that regard," the document said.
The declaration added that the G20 leaders would promote digital literacy and digital skills in all forms of education.
Leaders of world's 20 largest economies also declared that they intend to complete the 15th review of International Monetary Fund's quotas by 2019.
"We look forward to the completion of the 15th General Review of IMF Quotas, including a new quota formula, by the Spring Meetings 2019 and no later than the Annual Meetings 2019, and support ongoing work to further enhance the effectiveness of its lending toolkit," the document read.
IMF quote determine the size of each state's contribution as well as its share of voted in the IMF.
Finally, the summit participants agreed that the 2018 G20 summit will take place in Argentina, the 2019 meeting will be held in Japan and the 2020 summit will be hosted by Saudi Arabia. (Xinhua)
---
If you find this information useful or of value then please share it with others.
Re-steemit forward. Re-steemit so others can see this too.
If you like this post, do not forget to

upvote or follow me and resteem