Translation Contest : Steemians of All Linguistic Backgrounds are Invited to Translate My Educational Guides for Their Communities! (SBD Reward/Resteem/Upvote Included!)
I have been creating guides about Steemit and its associated services for quite some time now. Over time, I have created dozens of detailed how-to guides, tutorials and posts containing educational value. I have always received tremendous response and support from the community, for which I thank each one of you.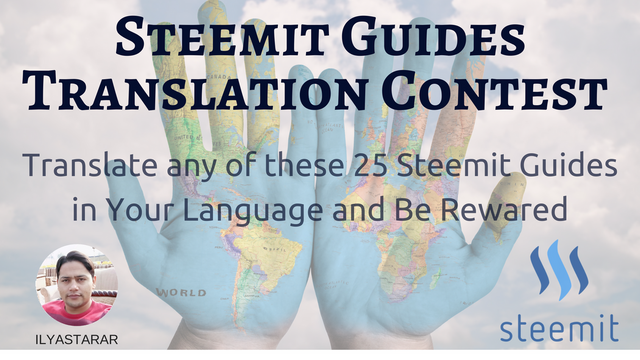 Thumbnail designed using free tool Canva. I love you all and I wish my knowledge to reach everyone, regardless of the language barriers.
Why am I Doing This? 
I have received multiple requests from members of various communities to allow them to translate my guides. Honestly, it humbles me as an author and I always think about sharing my work with the wider network of this multilingual communities. The thought needs some action as I already have received requests from Polish, Chinese, German and Indonesian community members.  
The first ever such request came from @mazelin whose comment I am producing here. 
Would you mind if I translated your article into Polish? I think it's really great and that Polish community would benefit greatly from it. I would of course write that you're the author of the original post. 
A few days ago, @ilyasimail reached me and here is what he said. 
Greetings. My name is @ilyasismail from Indonesia Steemit Community Chapter East Aceh... If you please. I request permission to translate your content into my language in Indonesia, and your writing will be an education for us stemian especially in my area. if you wish I will keep your content link as source. Thanks. 
The recent guide on reward system received this comment by @mgsun. 
Hey, I'm doing Operation Translation by @papa-pepper, and I'd like to translate this post to Chinese. Would you be up for letting me do it? This is just such a great post and I think more people should read it! I would follow @papa-pepper's guidelines, including a link to your post and crediting you in the title.
And this is yet another great comment from @hushuilan. 
Hey ,@ilyastarar. I'm a steemian from the Chinese community. This article is a wonderfully detailed guide/explanation.Your article is very instructive for others. In view of the fact that many newcomers in the Chinese community do not understand these operations. Can I translate such a good content into Chinese and share it with our friends in the Chinese community? I will mark the original author and the source of the article in the translation article.But I have to get your permission first. Looking forward to your reply. Thank you. 
The latest such instance came all the way from Germany. @louis88 offered his services to translate my guides in German. 
Hi! Nice Article to the GinaBot! I use the Bot also and want to ask you, that i can translate your Article in to German Language? 
That is why I am doing this post. I have been holding people back from translation until I announce it through a post (this one). But I did allow @mazelin to translate my Utopian contribution on Reputation Score and it did bring her some reward as well.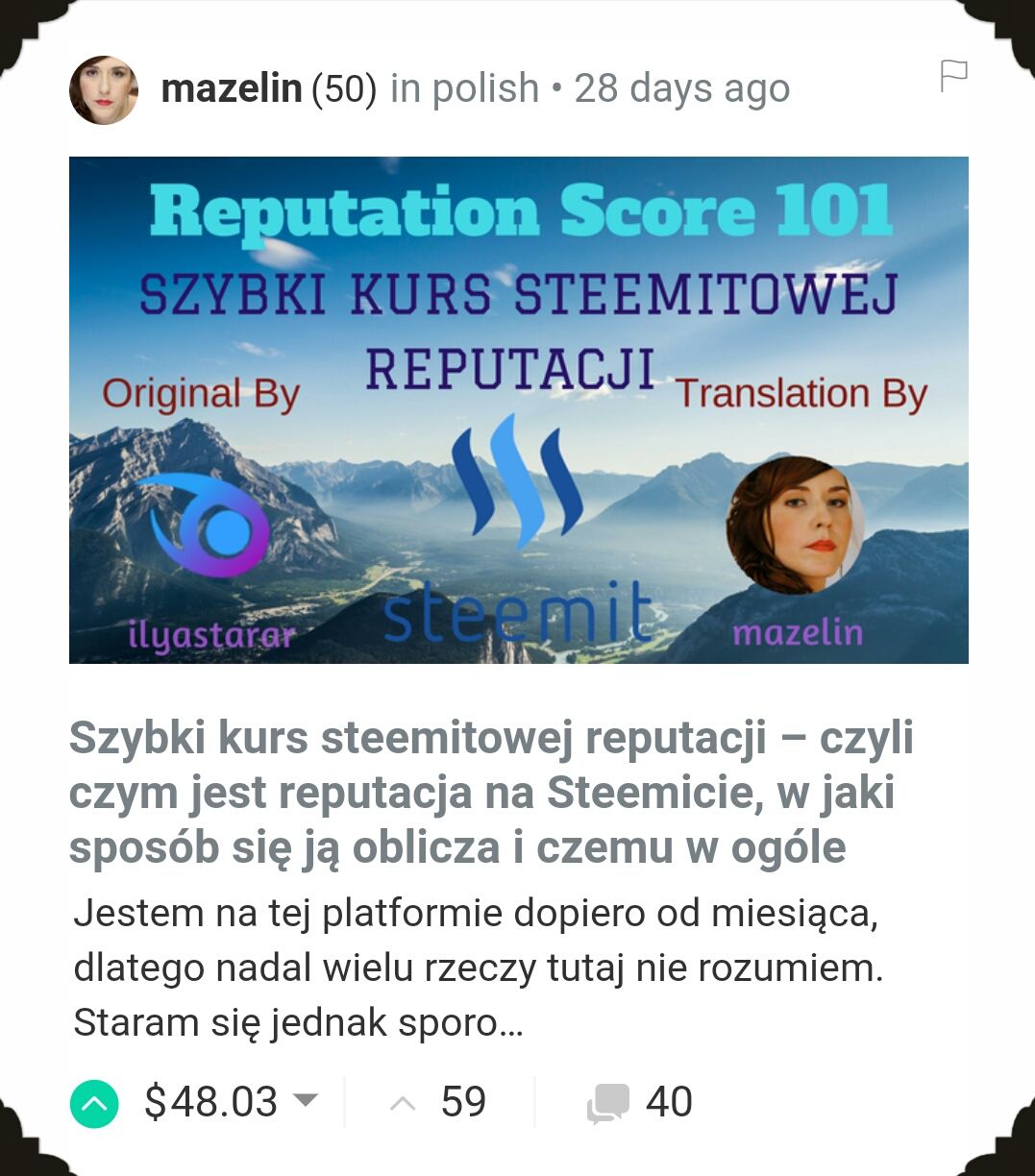 I did help her by creating the thumbnail for her and also reviewed her post to help with formatting. You may have guessed that I care about quality of work and can help people maintain it. It turned out to be a great experiment and I have since planned to launch it on full scale. 
Here is What to Do! 
There are things that I would expect you to do because I care about the quality of work. Following these guidelines is mandatory to be part of the translation initiative. Don't worry because ensuring these things will only increase your own reward. 
Choose any one of the educational guides from the list below that you would like to translate. Only one at a time.

You can translate only one guide per week. This is to ensure that excessive translation is avoided and you have time and focus to create your original content as well.

You need to seek permission to translate your chosen guide in the comments to this post. I will check every comment and reply.

 As much as I wish to let everyone participate, you must be having at least basic following on your Steemit blog. I am inclined towards 200 as the number of followers to qualify. However, you can apply if you have at least 100 followers.

One post can be translated in one language by only one person at a time. If someone else has been authorized to translate a guide in your language, resteem that one and choose another one for your.

The format and quality of the original post are to be retained at all cost. I will not extend any support to badly formatted posts. At the same time, I wish to help you under stand how to create good blog posts using various Steemit editors. Now, there is no excuse to translate with bad formatting.

I would also wish to see all the posts having attractive thumbnails, containing the title in your language (just like @mazelin post shown above). Do include your name and picture as well. Here's how to create thumbnails using Canva. I can help with this if you want. Let me know.

Use appropriate tags. Some tags which must be used are steemiteducation, tutorial, and howto depending on the nature of posts. Use ilyastarar as last tag to help me locate all the posts on Steemit.

You should link the original post properly after your introduction paragraph. How to link properly can be seen from the way I have listed the guides. Just copy paste the whole link and text from the list.

Once published, come back to this post and share your link in reply to your own comment. I will review it and suggest improvements if needed. There is support and reward too which is mentioned below.

You can always come back to this post or comment any of my future posts to request permission for translating my work. Remember, only one translation per week is allowed. Please do not exceed this limit. 
To keep the format of my posts, just copy one paragraph at a time, start translating it at the end of last word, and delete the English paragraph when done. Move to the next para and move on. To insert images, right click on images to copy image address and use that link to attach image in your post.
Will There Be A Reward?
There definitely will be. After review, I will vote on your entries with appropriate weight. I may also resteem your efforts to my almost 2500 multicultural followers. I will also try to get support from influential Steemians for your efforts or for rewarding you. I am not setting any condition or amount but I will reward decent efforts with SBD that I receive from this post's payout. 
PS: Influential Steemians and whales are requested to support this initiative. 
Update:- So far, this community initiative has received tremendous support from the likes of @blocktrades and @transisto. Even after recovering my 40 SBD investment to promote this content, we have a prize pool exceeding 100 SBD. You will get some of those if you participate. Also, resteem to get more participants in. 
List of Guides to Translate
I am mentioning all the useful guides that you can translate into your language to benefit your community. Choose any one but keep the conditions in mind. Let me know which one you would like to translate and I will authorize you.
Newbie Guides
Steem Guides
Steemit Tips & Advice
Advanced Understanding of Steemit
Steem Ecosystem Guides (Services Empowering Steemians)
If my count is right, I have listed 25 guides in the categories above. I think it is a nice repository for me personally as well because @kivsha suggested me to include a list of all my previous guides in all my posts for educational purposes. I can now do that by copying the lists above. You can copy these lists to include in your posts as well to help your followers learn more.
Let's Do It!
I love what I do and I love how much my followers, who keep increasing, appreciate my work. Due to the benefits that my educational guides have spread across Steemit so far, I was compelled to reach out people who cannot understand English well. To be fair with everyone, English is my fourth language and it is hard to learn it in a non-English country. I learned how to write ABC properly when I was a ten year old already. That is why I wish to help people through translations.
Let's break the language barriers. I request everyone of you to resteem this post. May be make it the most resteemed post of the week. Let's spread genuine education and make Steemit an even more awesome place. Upvoting this post will generate reward pool for the translators. Please consider extending your full support.
Steem on!