Time and again, the most experienced community members on Steemit will tell you to comment more. As a newbie, you have to understand that no one is going to see your posts and visit your blog (except your mum or best friend, may be). Wondering why? Because you are a newbie. Except for buying loads of Steem Power upfront and voting others with it, there's hardly anything you can do to attract people to your blog. Detailed reasons for reduced visibility in the beginning are given in this post later.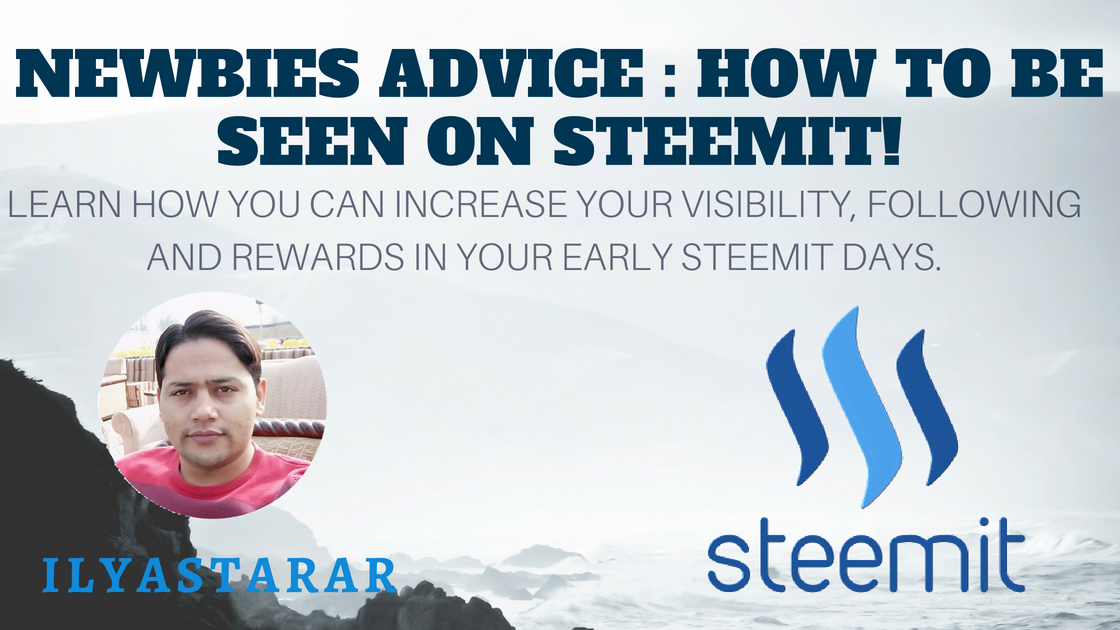 Before jumping to what-to-do part, let's see why being a newbie is a slightly disadvantageous situation.
No One Sees Your Posts!
 As a beginner and a minnow, your posts get very low visibility. Hardly anyone sees what you post. And because you are new, your posts may not be of required quality. Rookie mistakes at times and blunders at others. 
Accept this!
Creating a post is an art and while I can help you learn how to create engaging posts on Steemit, I cannot assure you that every post will be seen by 100 people and voted by 10. Your post may be wonderful but it will receive, may be, less than 10 views; or zero views. Because...
You don't have enough followers who can see your posts in their feed. Also, not all your followers are online when you publish your post.
The new section on the website is where your post immediately goes and can be seen by people on that section. But only for less than 2 seconds because newer posts takeover and so on. New section is practically insignificant now that there are 1 million Steem accounts. 
Social media, specially a Facebook group, is insensitive to your links. No traffic from there as well.
So basically, your post gets ignored unless you manually send its link to people to see, as is the case with sending links to voting bots. But that costs money. Spending money to earn that money back is not smart or sustainable.  
Wanna Be Seen? Start Commenting!
I have 4000+ followers. Some of them have huge Steem Power as well. But what is the guarantee that they all are online? What is the guarantee that all of them are even active? Is there any assurance that despite being online, the followers who see my post in their feeds will click it to see and read it? 
The answer is simple! There's no guarantee that people will see my post in their feeds. If there's no guarantee for me with such a significant following, what can a newbie hope for?
Let's come to the point!
When you post something on your blog, it may not be seen by anyone. But what about comments on others' blogs? Will they be seen? Are they generally seen? Do comments present us with an opportunity? Let's see.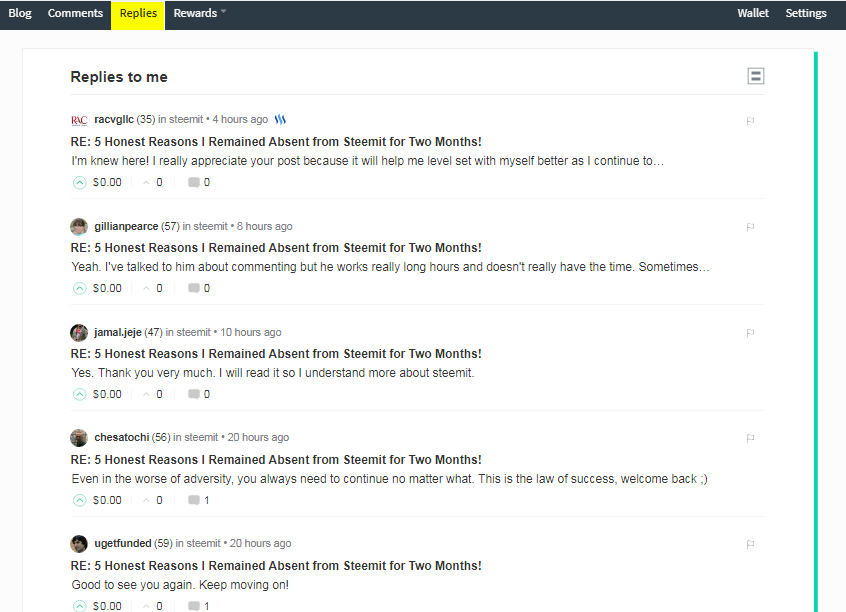 The screenshot above is of the Replies tab of mine. Every account has a Replies tab. Whatever you comment on someone's post, it goes to the replies tab. There are tons of Steemians, including me, who regularly check their Replies tab and respond to the comments. I know and remember hundreds of people through their comments on my blogs. They keep coming back to share their thoughts on my posts because I generally reply to almost every comment.
The comment box of my yesterday's post containing reasons for my months long absence from Steem shows exactly what I am saying. Look carefully how the conversations have happened. I have replied all but the most recent comments. I built my account from scratch not only by putting good content, although it is essential, but also by reading extensively from other bloggers and commenting on their blogs.
So, the comments are seen, as well as replied.
Comments Get Upvoted!
Not all, not by everyone but comments are definitely upvoted. I have received significant votes on my comments when I was active and I will start receiving them again soon. I can't share the exact number here but I have personally upvoted thousands of comments by others. There was a time when my vote was worth $1 to $2 and I could afford to share a lot of love in the comments. I used to do that.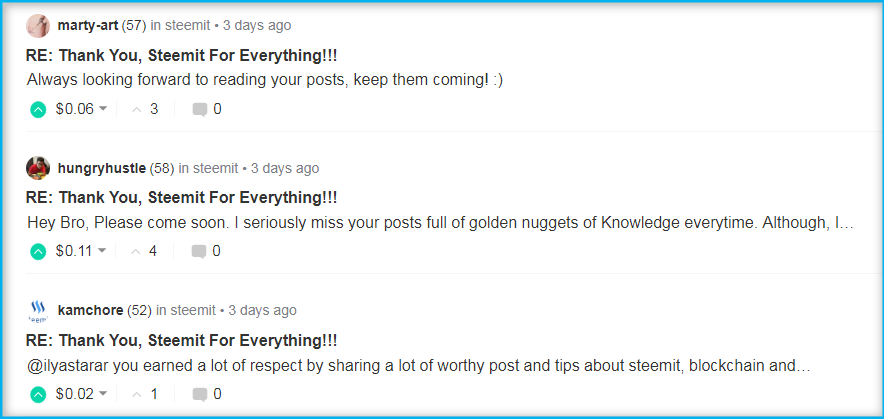 Even with a relatively smaller vote due to returning SP delegations and powering down 50 % of my stake lately, I try to upvote at least some of the comments that people do on my blogs. (I am soon going to do something about having a bigger vote).
PS: Thank you, @marty-art, @hungryhustle and @kamchore for interacting regularly even after such a long absence of mine. 

Here's a comment of mine which got a $0.41 vote from @lukestokes. Before becoming inactive, I used to read each of his post, and many of his older post because he is such an insightful person. You should find people like him and engage with them. There's a lot to learn from experienced people.
These examples are recent and may seem smaller amounts to you but remember that these upvotes are an added advantage of commenting and the real gain is the engagement and relationships. I have received votes worth $10-$40 on a single comment multiple times. It's more than newbies can earn on 20 well prepared posts. Think about it.
You Get Followers!
Yet another benefit of commenting is that you start gaining followers. And not the scammy looking spam profiles but the genuine profiles with caring humans behind them. When you keep commenting regularly, and get voted occasionally, people start seeing that you add value and they start following you. Commenting is such a great way to gain initial followers, as well as build on your existing following.
You Develop Habit of Reading!
You cannot, and should not, comment without reading a post. By taking interest in others' posts and commenting on them, you develop a nice habit of reading. It will go a long way for you because the more you read the more knowledge you will have to share with people. It will be rewarding in many ways.
Contribute Genuine Thoughts!
Conversations happen when you be genuine. If you try to comment without adding any value, it gets ignored. When you care about just the act of commenting and do not think about contributing something to the topic or conversation, you should not hope for any good outcome from your effort.
Avoid Being Flagged!
Just like good comments are rewarded, bad ones are flagged too. Avoid it. Here's how to avoid being flagged and how not to comment.
Some Resources
Here some good resources that you can read on the art and spirit of commenting. You can find my guide to commenting in the list of guides below.
Consult these amazing resources and thank these authors by leaving comments on their blogs.
Conclusion
Newbies are important for the ecosystem. Their retention is important for the blockchain's evolution. This post is an effort to inject some motivation in the newbies who may be struggling to be seen. The post clearly provides a definite way forward to be seen and rewarded through comments.
If you think this post might help your followers, please do resteem it.

More Newbie Guides