Previously, Mark Waser recommended A Totally Different Approach to Ned's Bounty System – an ecosystem of small and simple bounty services rather than a single monolithic one-size-fits-all system.  Today and over the next couple weeks, we're going to start building out a very simple version of such an ecosystem.  Other developers are welcome (nay, encouraged) to suggest extensions and modifications to our proposed standards and/or to replace any piece of the ecosystem with a better critter. 
 The first specification needed is "What is a bounty?" The answer is "A bounty is simply a promise that is detailed in the json_metadata of a comment." (A blog post is simply a level zero comment)  As such, all bounties live and are preserved forever on the Steem block-chain -- and can be read by any and all programs that can browse the block-chain.  We will build out some suggestions for a detailed standard for bounties over the next few posts -- but, for now, Ned's bounty could be summarized as something like the following:

Or, better yet, we've attached a bounty to this post.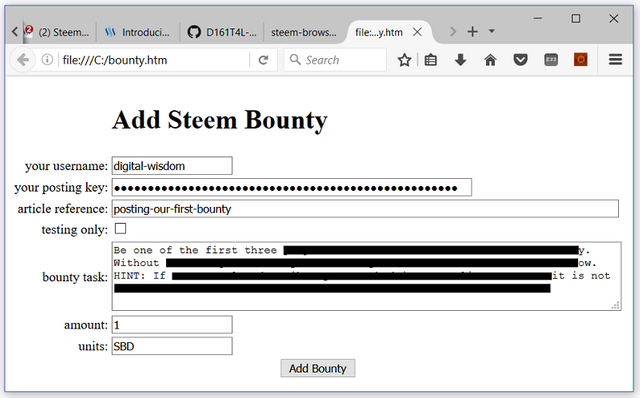 Just as with Steem SafePay, adding a bounty requires but a single, simple HTML file that can be used straight from your PC (with no web server) or modified and served by any web server to fulfill any bounty scenario.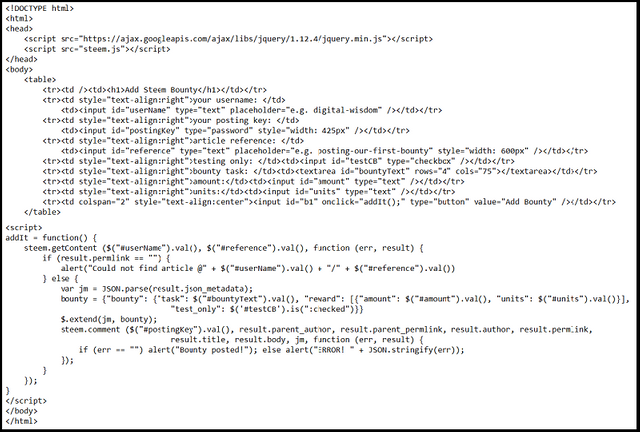 Of course, like SafePay, it does have two required helper files.  The first is JQuery, the  most popular Javascript library in use today.  Since it is being served  up by Google, you can be sure that it is safe.  The second helper file is Digital Wisdom's Steem-Browserify.  Since it  is being served off your PC as well, you can examine it to your heart's  content and be sure that it is equally safe. 
You can download bounty.htm from here.  Steem-browserify's steem.js can be downloaded from here, pulled via npm or cloned from github.    
Stay tuned as our next posts will show how to integrate external services (e.g. escrow, judging, etc.) to this very simple model.