Eat Like A Local! The Traditional Viennese Gourmet Cuisine At The Famous Gasthaus Kopp!
Meat, meat and more meat! Agrrrrr! 
This article is NOT for vegetarians and please don't bombard me now, explaining the dangers of a juicy Wiener Schnitzel and honey, garlic or chilly Ribs. 
I would like to introduce you to an institution, the classic "Gasthaus", very popular among locals and I write this article, including lots of images for everybody who is craving traditional viennese cuisine, like I did for the first year back in town.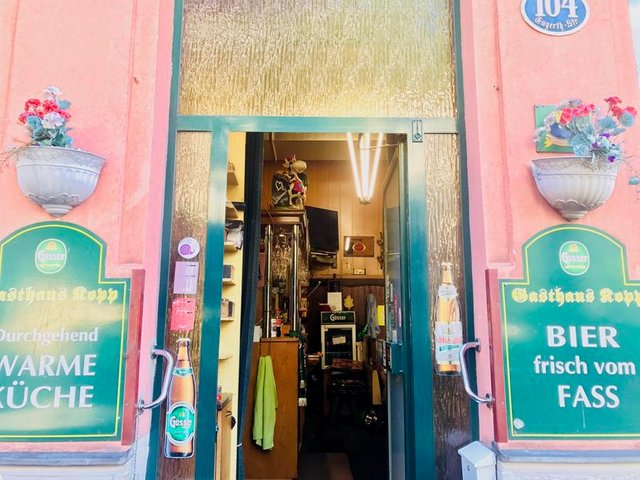 Gasthaus Kopp in the Brigittenau district is my personal tip for all travellers, especially my airbnb guests.
 Address: Engerthstrasse 104, Vienna 1200, Austria+43 1 3304392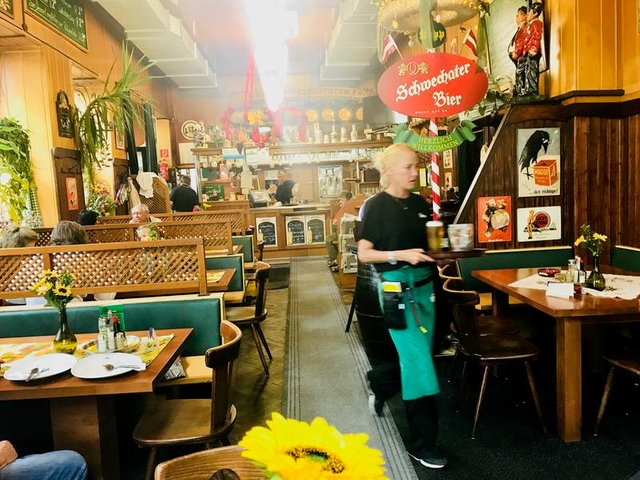 Palatschinken heaven>>>>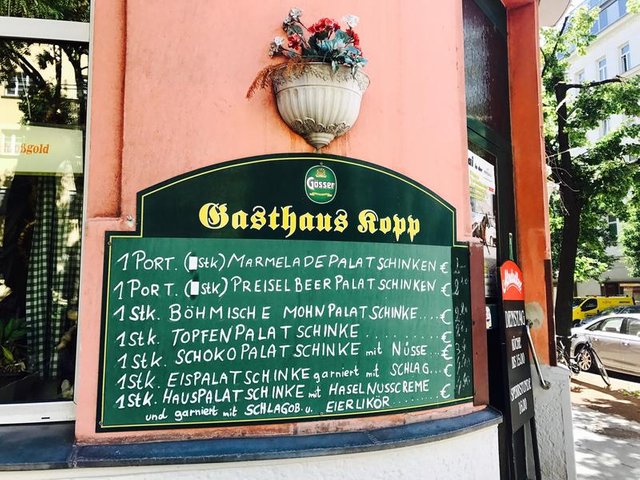 Kopp is far from being ritzy, posh or hip but a gastronomic institution to a multi-cultural clientele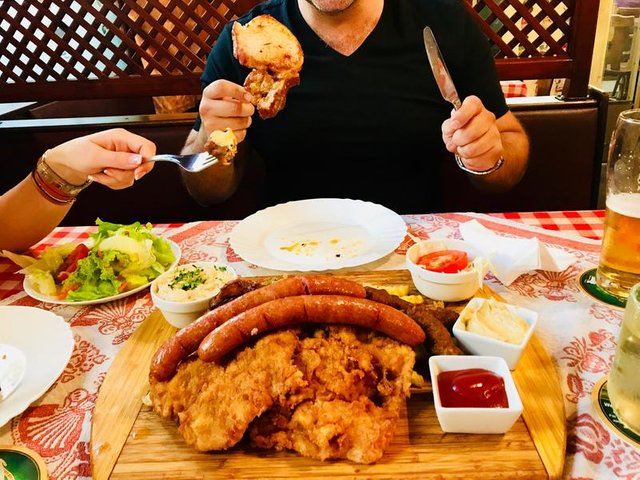 I forgot all about calories, diets, delicious asian vegetarian food and fresh veggies from the markets, mangoes, papayas and bananas from my own trees. I was spoiled for many years in Indonesia but I missed some Mamma's home cooked Austrian " stuff ".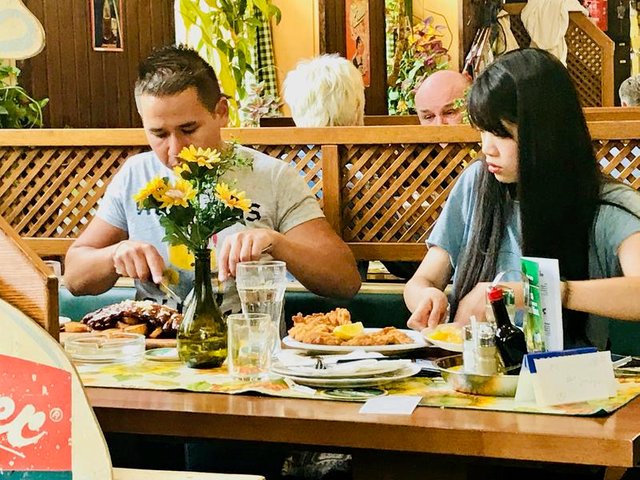 Its HUUUUUGE!!!!
The Wiener Schnitzel attack! Don't forget to squeeze that lemon.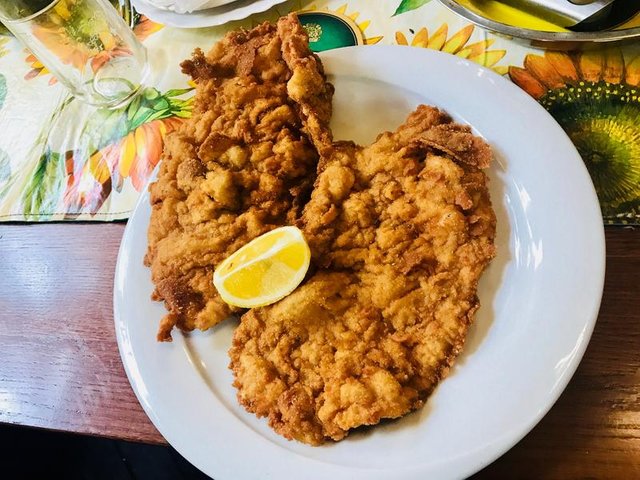 So, after a few months I already gained over 5kg and those pounds started sticking on my tummy that finally it had to come to an end. Now, I am struggling to get them off my butt in the near by gym. I finally feel that I had enough of those calorie bombs. 
I am back to my personal roots of conscious eating:) but every tourist should at least visit this place once and just go for the amazing "Topfenstrudel with Vanillesauce", right after overeating on your "Knoedel feast".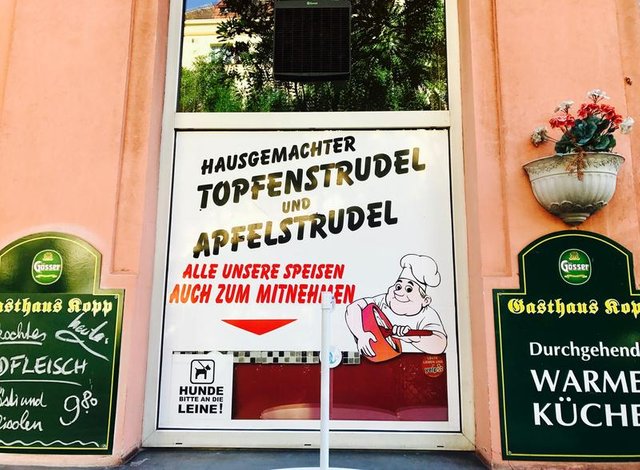 Most images are my originals but some I took from their webpage.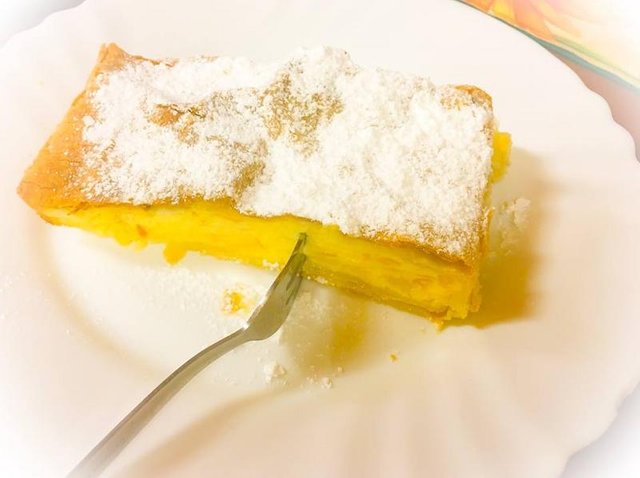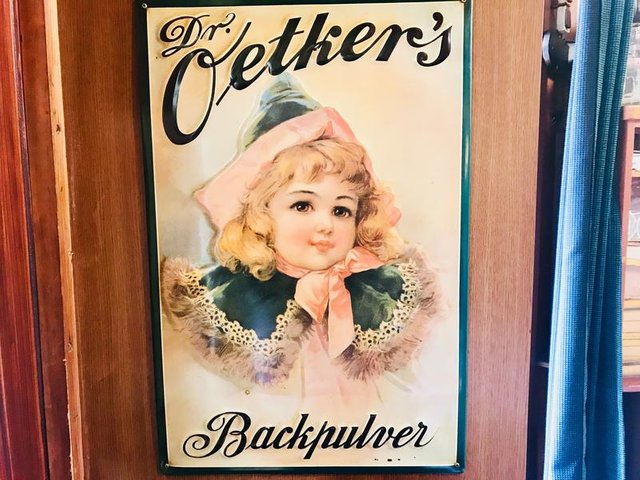 Enjoy the traditional Austrian dishes, those recipes made since decades, in an authentic ambience with handwritten Menus/Tageskarten.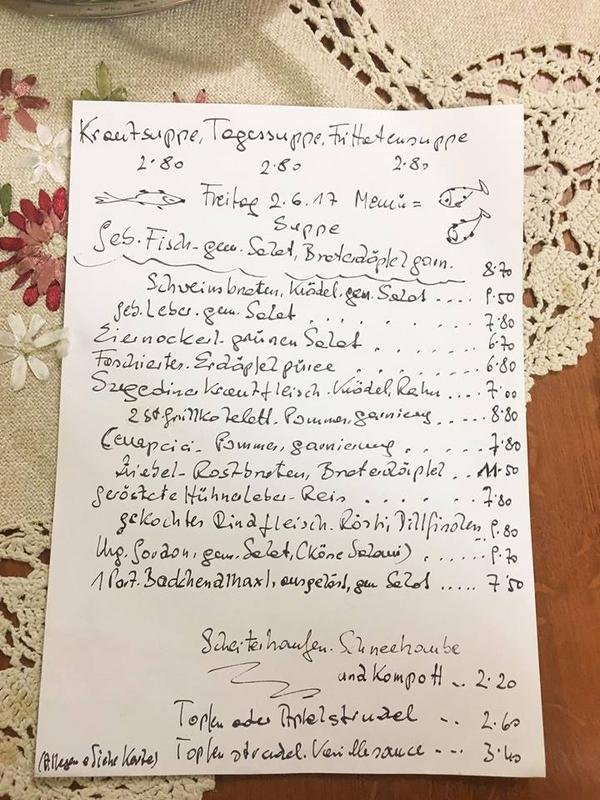 Schweinsbraten mit Gummiknödel made of Potatoes. 
My grandmother made the best ones ever but those come quite close.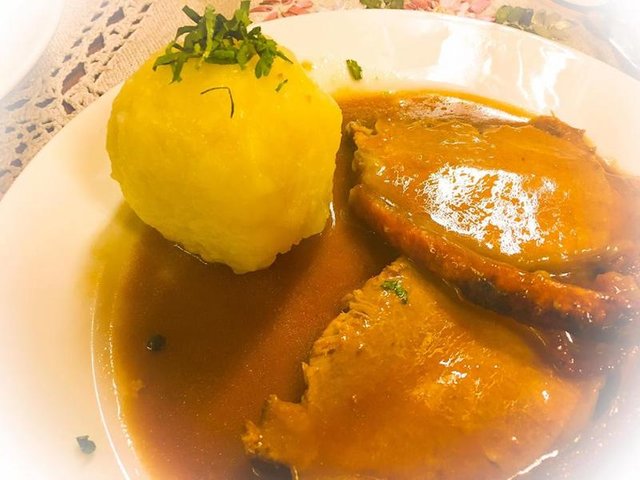 Get ready for The fun and more photos and check out their Facebook page.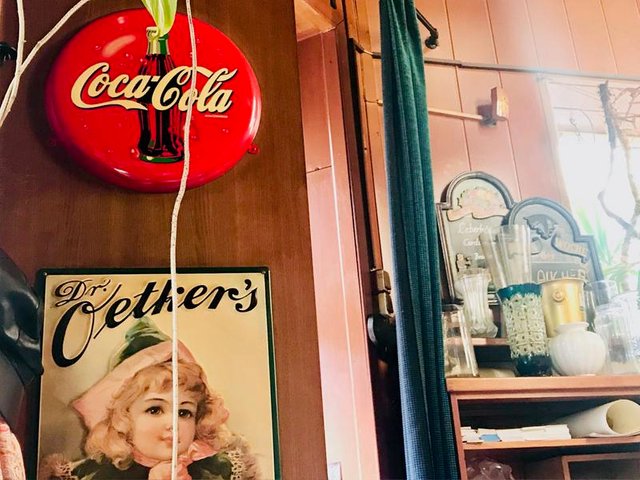 The interior is super "kitch" and close to being very "tacky" but that makes this place so unique.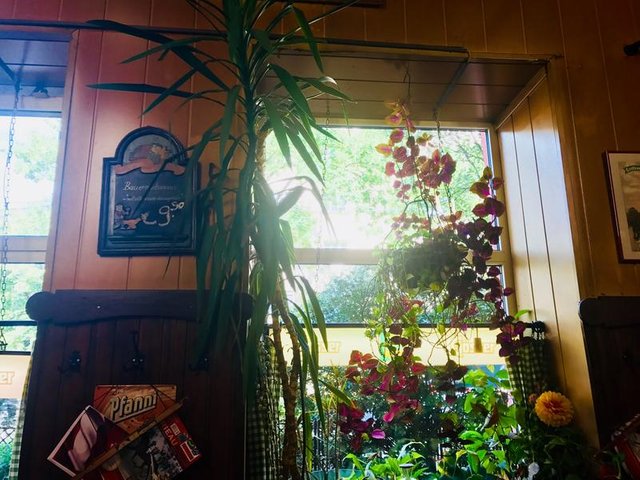 Look at those little details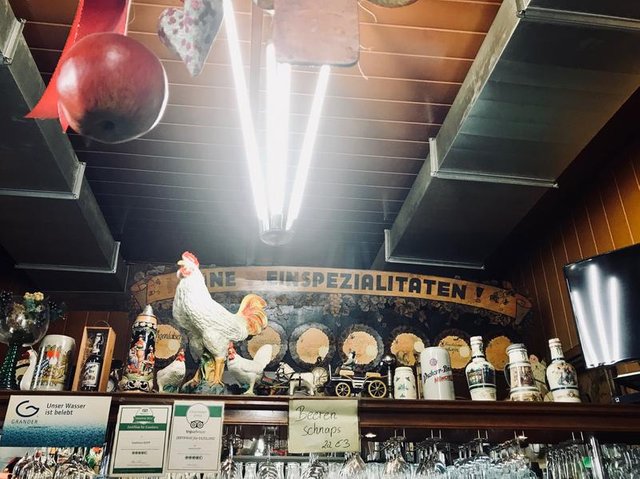 Usually, it is always packed but since I live close bye I catch the less busy hours. Suggest that you call in advance to make a reservation.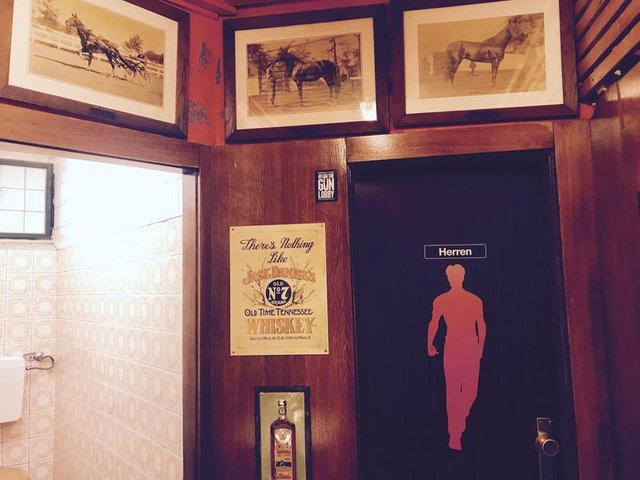 The playful game of light mixed with people.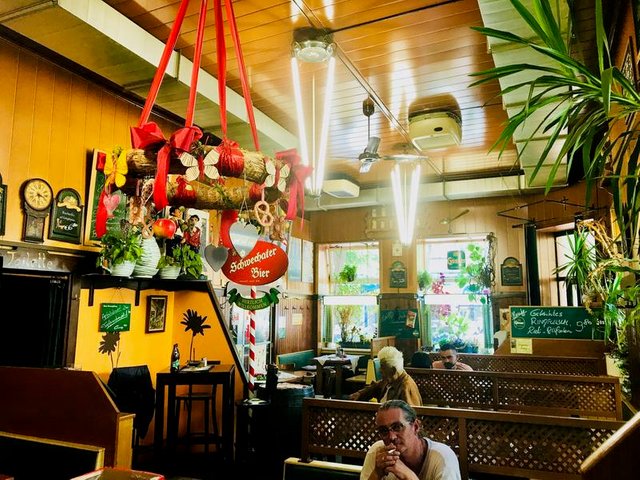 The garden area in summer is just perfect to sip on your "G'spritzen white vine" or cold Goesser beer in the shade of the big trees.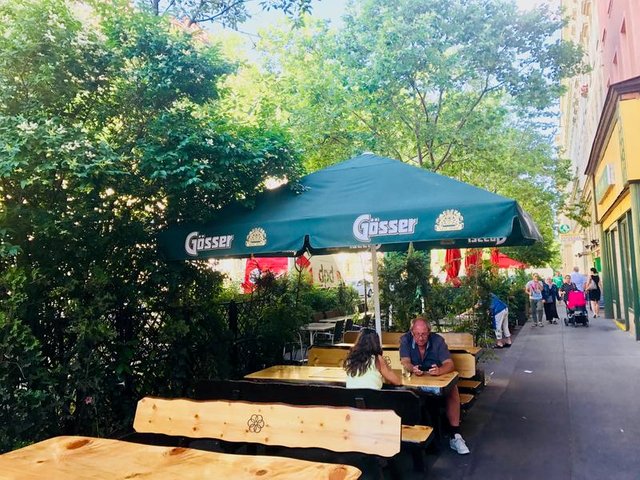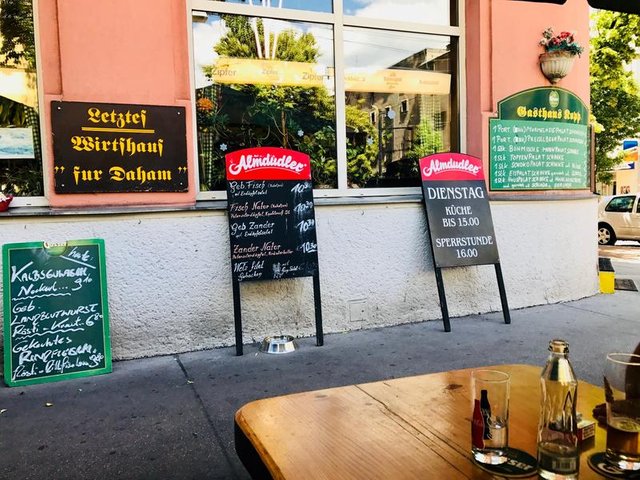 The original and authentic "Wirtshaus" at its best.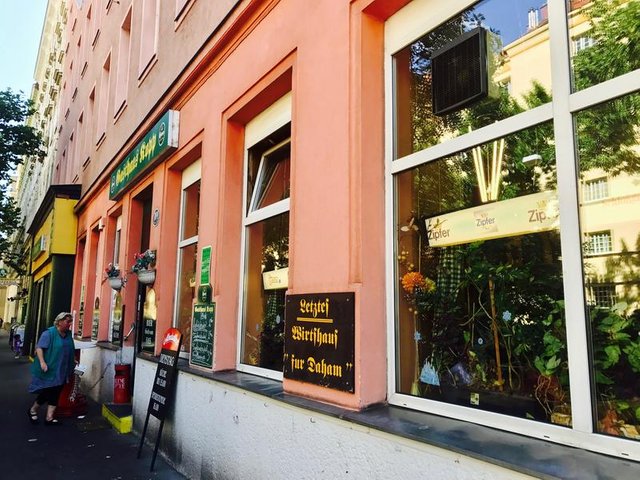 Beer and more beer and our famous Almdudler I like most.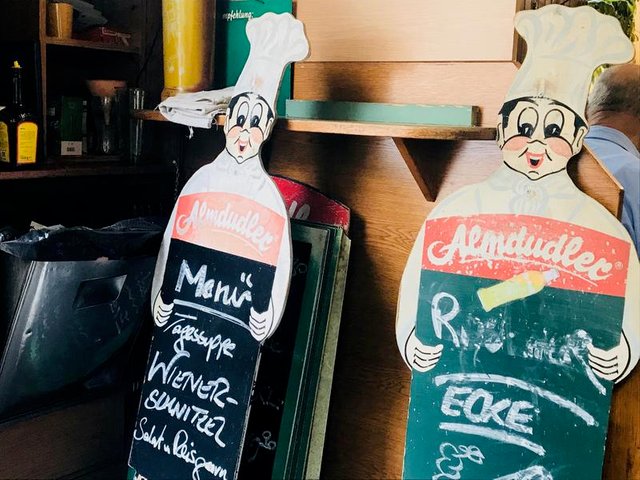 @detlev Thats for you:)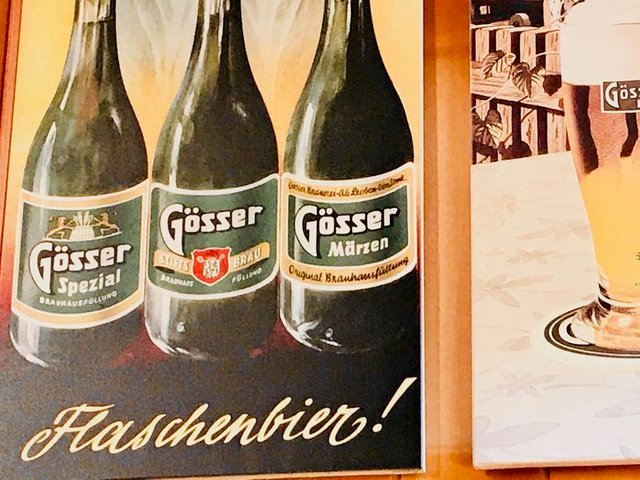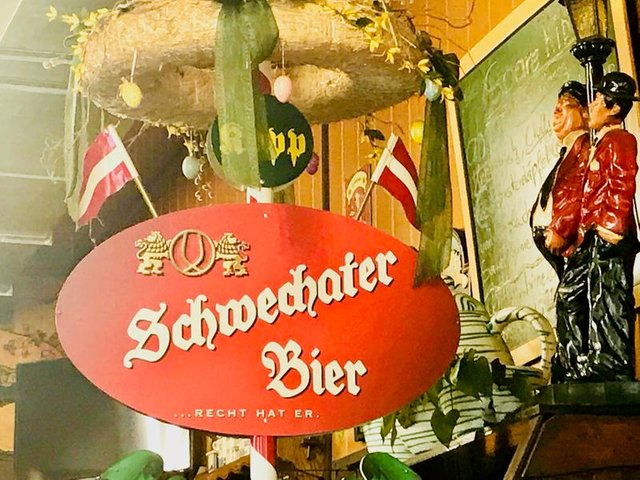 Good night and see you in Brigittenau soon!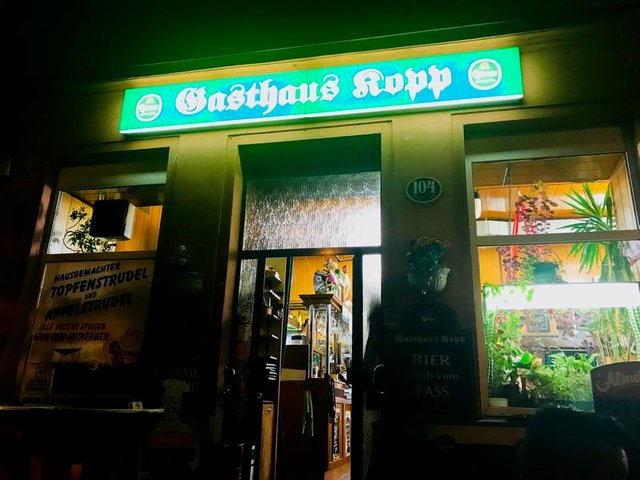 Discover Vienna!
Kaffeehaus Culture - The Viennese Coffee House , An Intangible Cultural Heritage And The Secession, An Artist Movement!
What's Better Than A Juicy Wiener Schnitzel for A #LoveFriday
One Of The Leading Opera Houses In The World! "Wiener Staatsoper" At A Glance And My First Job As A Background Actor.
Fancy A Coffee And Kaiserschmarrn Around The Beauty Of Natural History Museum in Vienna (Part1) 
Views To Die For! The Best Aparol Spritz And Two Rooftop Bars You Must Visit For Your Summer Holiday in Vienna
The Rise And Fall Of An Empire And Magical Places You Should Not Miss For Your Visit In Vienna
There are many, many more articles in my blog. 
Follow also my minnow profile @massivevibration to keep on spreading those MassiVe Vibes. Feel free to join my steemit chat channels at "mammasittas, austria, massivevibrations, baliohbali" to post your links. 
Join MAMMASITTA's Steemit Network and twitter account #steemitvibes
I am supporting Austrian authors and invite You for the discord "steemit-austria" channel https://discord.gg/pqFY4aK