Let's Face it, without @ned none of us would be here! With great vision and by seeking out and aligning himself with other like minded individuals the CEO of Steemit Inc. has brought us all to where we are today!
We are on the brink of greatness and @ned is leading the ascent to the peak of the social media world!
Here it is @ned .......Your Steemcard!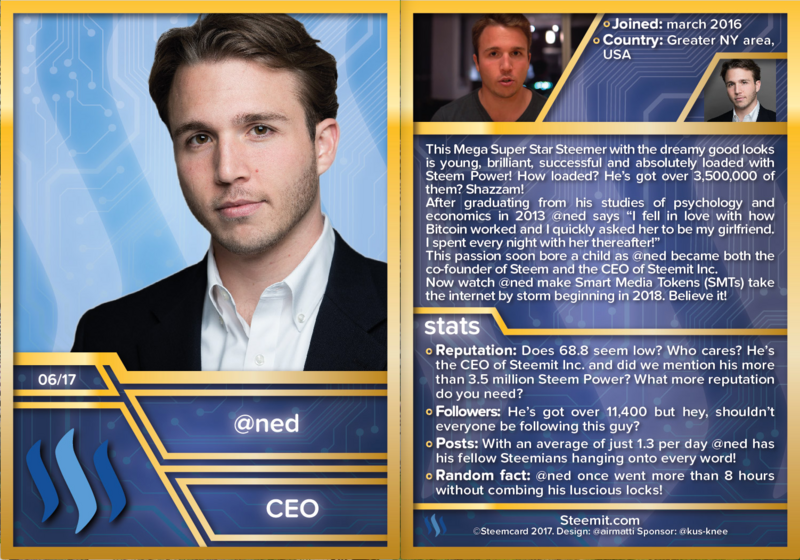 Oooh looking good @ned but we absolutely need to have a closer look!
@ned Has His Own Designation. He's The One And Only CEO!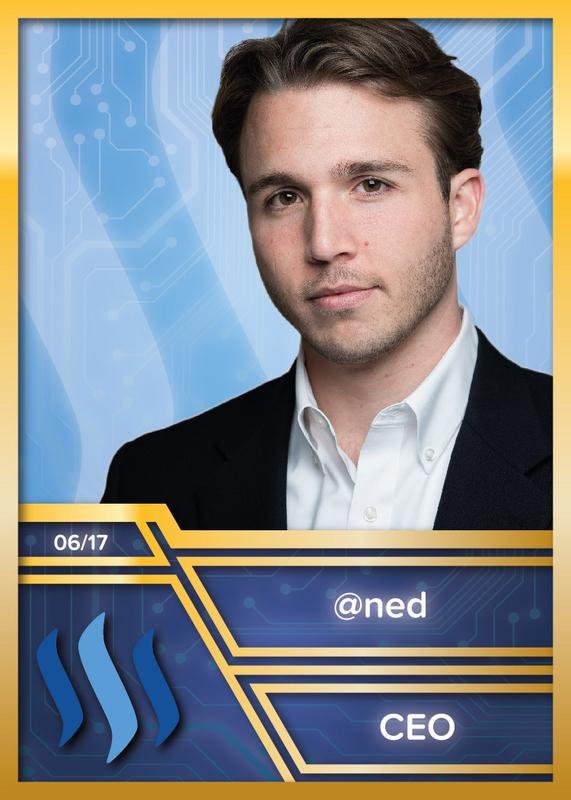 Is this really the CEO of Steemit inc. or some leading man from Hollywood? Let's check out the details!
Have a Better Look! This Guy is Taking us Places!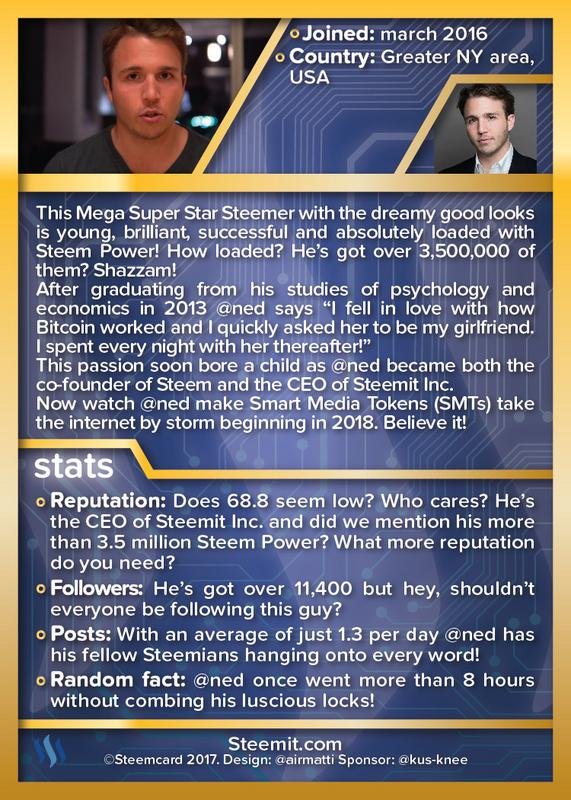 What @ned has accomplished is really mind blowing. He's carving out his place in history at a very young age and taking us along to great heights! Thanks for doing what you do @ned!
Here is The Full Text as it Appears On The Card
Joined: March 2016   
Location: Greater New York area USA   
This Mega Super Star Steemer with the dreamy good looks is young, brilliant, successful and absolutely loaded with Steem Power! How loaded? He's got over 3,500,000 of them? Shazzam!   
After graduating from his studies of psychology and economics in 2013 @ned says "I fell in love with how Bitcoin worked and I quickly asked her to be my girlfriend. I spent every night with her thereafter!"    
This passion soon bore a child as @ned became both the co-founder of Steem and the CEO of Steemit Inc.    
Now watch @ned make Smart Media Tokens (SMTs) take the internet by storm beginning in 2018. Believe it!           
Reputation: Does 68.8 seem low? Who cares? He's the CEO of Steemit Inc. and did we mention his more than 3.5 million Steem Power? What more reputation do you need?   
Followers: He's got over 11,400 but hey, shouldn't everyone be following this guy?   
Posts: With an average of just 1.3 per day @ned has his fellow Steemians hanging onto every word!   
Random fact: @ned once went more than 8 hours without combing his luscious locks!    
 What's Next @ned ?
His advice: Smart Media Tokens (SMTs) will be a game changer starting in 2018!     
 Here Are Direct Links to The Previous Cards!
1.) @papa-pepper's card
3.) @exyle's card
4.) @roelandp's card
5.) @gringalicious's card
A Special Mention Goes to the Following Members!
@airmatti for his awesome design. I have sent him 20 Steem as part of this ongoing @steemgigs
@steemitadventure and @fishmon  who are also producing trading cards in a completely  different style! Please check them out and support them too!
Who Will Receive The Next Steemit Trading Card?
With so many awesome members to choose from it's both easy and hard!  
What do You think?
Who would you recommend as deserving of a Steemit Trading Card?
Who has bee overlooked?
Once we have a small stack would you like to have a physical copy?
I hope that you enjoyed this presentation of "We Present @ned" 
Until next time,
@kus-knee (The Old Dog)