The Old Dog Presents: Our Second Steemit Trading Card. It's a Beauty!
After starting off as a Steemit failure this member kept going and blogged himself onto the 2017 Steemit All Star team! Who is he? Let's find out!
After @papa-pepper was rewarded with our first ever Steemit Trading Card he was asked for his opinion on who should come next.In his own words and with no hesitation he made our next pick because "I just wanted to pick a longtime active member who also was not  one of the main people in the spotlight every day"
We Present The Super Scintillating Scotsman @meesterboom!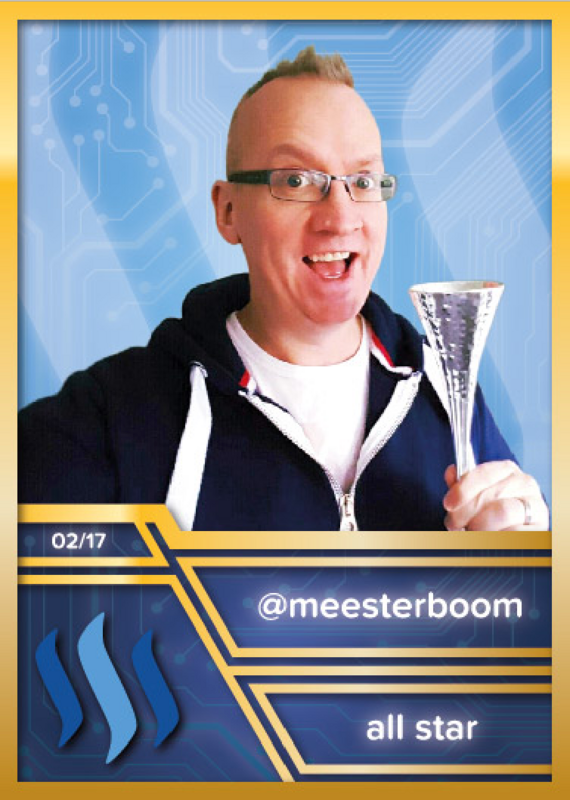 @meesterboom is a deserving Steemit Card member! Dang he looks good!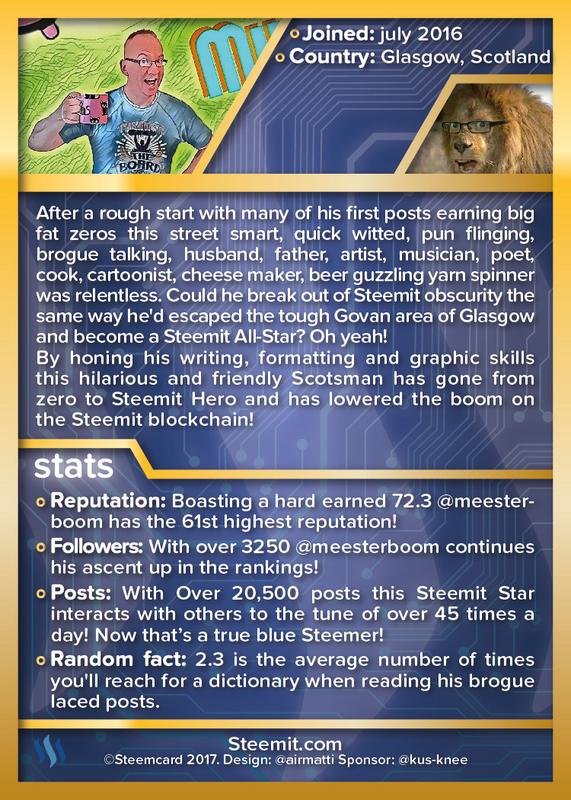 Do you agree that @meesterboom has a really nice backside? At least his card does!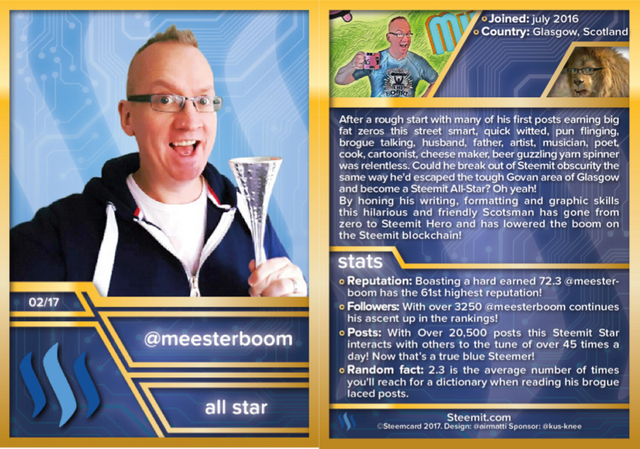 Here you can see his front side and his backside at the same time. Please don't try that at home! 
Here is The Full Text as it Appears On The Card
Joined: July 2016   
Location: Glasgow, Scotland     
After a rough start with many of his first posts earning big fat zeros this street smart, quick witted, pun flinging, brogue talking, husband, father, artist, musician, poet, cook, cartoonist, cheese maker, beer guzzling yarn spinner was relentless. Could he break out of Steemit obscurity the same way he'd escaped the tough Govan area of Glasgow and become a Steemit All-Star? Oh yeah!   
By honing his writing, formatting and graphic skills this hilarious and friendly Scotsman has gone from zero to Steemit Hero and has lowered the boom on the Steemit blockchain!    
Reputation: Boasting a hard earned 72.3 @meesterboom has the 61st highest reputation!   
Followers: With over 3250 @meesterboom continues his ascent up in the rankings!   
Posts: With Over 20,500 posts this Steemit Star interacts with others to the tune of over 45 times a day! Now that's a true blue Steemer!   
Random fact: 2.3 is the average number of times you'll reach for a dictionary when reading his brogue laced posts.   
His advice: "Post regularly, comment, vote and never lose heart! Concentrate on your posts and on building a following and NOT on the rewards! Write stuff that YOU enjoy because it WILL pay off!"   
Here is Card Number One Presented Again With a Slight Format Change!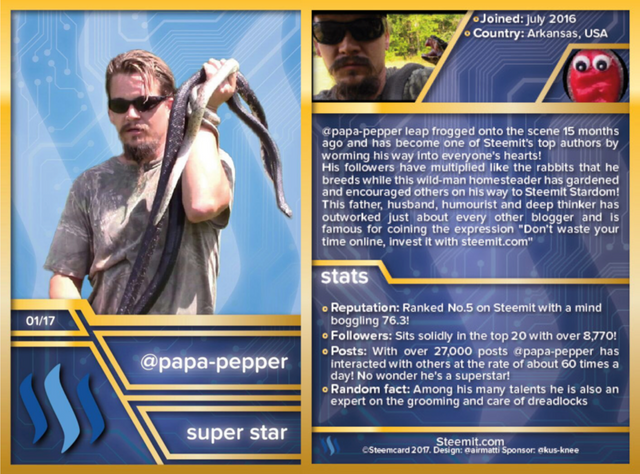 Anyone would be hard pressed to look cooler than this! Don't you agree?
A Special Mention Goes to the Following Members!
@airmatti for his awesome design. I have sent him 20 Steem as part of this ongoing @steemgigs
@steemitadventure and @fishmon  who are also producing trading cards in a completely  different style! Please check them out and support them too!
Who Will Receive The Next Steemit Trading Card?
I've asked @meesterboom to select the next well deserving member and as a special bonus he will be writing the text for the card in true @meesterboom style. I for one can't wait to see the finished product!
What do You think?
Who would you recommend as deserving of a Steemit Trading Card?
Once we have a small stack would you like to have a physical copy?
I hope that you enjoyed this presentation of "Our Second Steemit Trading Card."
Until next time,
@kus-knee (The Old Dog)