Steem Basic Income
Steem Basic Income is a social experiment to bring a basic income to as many Steemians as possible. Members join by sponsoring others into the program. Steem Basic Income is delivered through providing regular upvotes to member content.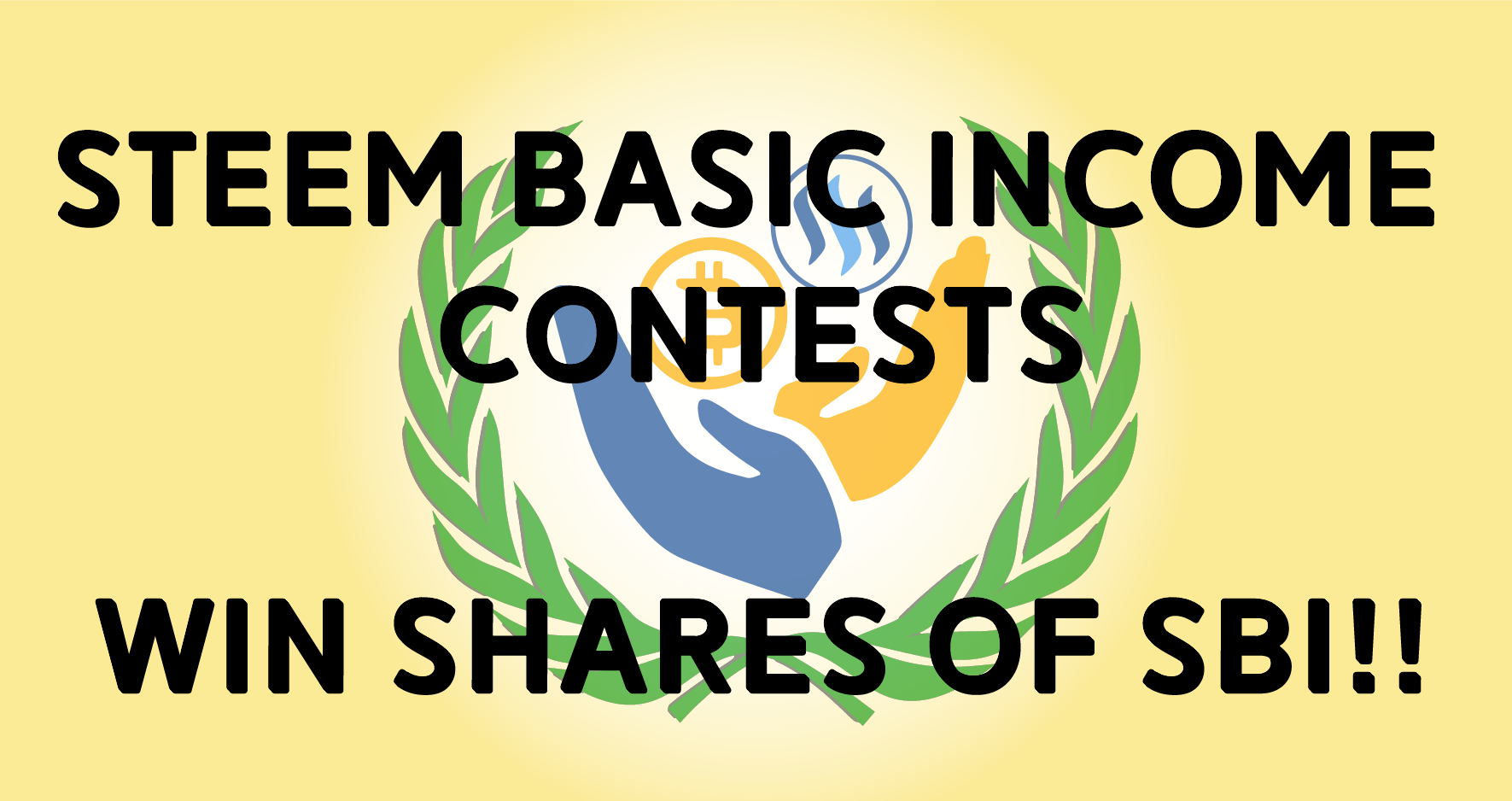 Banner design by @katysavage
Contests!!
We are thrilled to see so many members holding contests to decide who to sponsor into Steem Basic Income. Great job, everyone!
Please try to think about your submissions and reward these great hosts with quality submissions. If you enjoy somebody's contest format, check their feed for more, and follow them so that you don't have to wait for our listing to come out! Each contest may have its own rules, so please read the contest post thoroughly before entering.
If you want to see more contests before we mention them, check the #steembasicincome tag in Trending or New and see what's happening! We also have a contests channel in our new Discord server.
https://steemit.com/steembasicincome/@bengy/steem-basic-income-giveaway-first-impressions
How do you manage the impression that others have of you? Share your thoughts and personal impressions with @bengy for a chance to win!
Instead of trying to be thoroughly comprehensive (and then end up not publishing) like we have before, we have only included the most recent contests (skipping duplicates). If we missed yours, feel free to share it in the comments for our readers to find, and to stop by our Discord server to post it in the contests channel.
Enrollment
If you want to get involved, or to increase the share of basic income that you receive, enrollment is pretty straightforward:
Just send 1 STEEM to @steembasicincome. Include the name of a Steemian to sponsor in the transaction memo (preceded by @). You and the person you sponsor will each receive 1 share in the program. You can sponsor any active Steemian, it does not have to be a current member.
If you're unclear, please check out our full transaction memo guidelines and then let us know if you have any questions.
https://steemit.com/basicincome/@steembasicincome/steem-basic-income-new-transaction-memo-guidelines
The official currency for enrollment is STEEM. We are not currently accept SBD for enrollments. The current delay on enrollment processing is 5-6 days. We are working to catch this up as quickly as possible, but of course we need to do important things like posting updates and contest lists!
Questions?
Please read our recently published FAQ. Most questions are addressed in our FAQ or in the additional resources that it suggests. If you still have questions, ask in the comments section or join us in our discord channel. To review your share counts, we explain our tracking sheet here.