Healthy Real Food snacks – Fruit & Nut bar (grain free)
Suitable for GAPS, SCD, Paleo, gluten free, dairy free, sugar free, low carb or other whole food diets.
Now that @sift666 is eating nuts again, he is keen to have a wider variety of snacks. This recipe is a new variation on my Real Food Chocolate and Fudge recipe. The focus in that recipe is the chocolaty or fudgy texture. But this one is more about all the other goodies in it, and the creamed coconut base is just to hold it all together.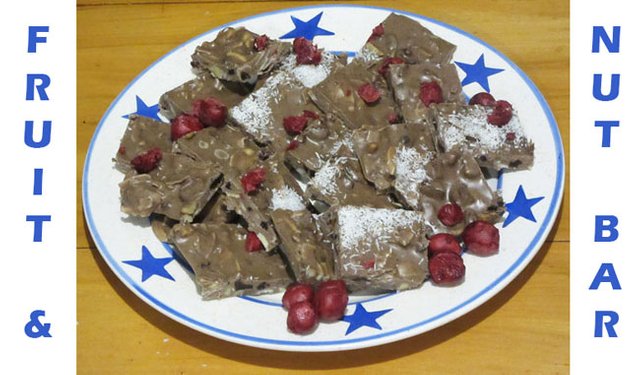 Everything-but-the-kitchen-sink Fruit and Nut Bar
I'm calling it that, because every time I offered a choice of what to put in it eg walnuts or almonds? diced apricot or raisins? He said "both!"
The same thing happened with flavourings – would you like a berry flavoured base, or carob, or vanilla? All three!
The ingredients below are the ones we used this time, as they were what we had. But you can vary it any way you choose. If you use cocoa powder instead of carob, you may need a little sweetener, such as honey, maple syrup or coconut nectar.
Base:
• 500ml jar creamed coconut
• 75gm coconut oil
Flavorings:
• 1 heaped Tablespoon carob
• 1 heaped Tablespoon acai berry powder
• 1 heaped teaspoon vanilla powder
You could use any one of these on it's own, or other fruit powders, or cocoa powder and a little sweetener. Try a different option each time for variety.
Chunky bits:
• 150gm nuts and seeds – this time it was 50gm each of flaked almonds, walnut pieces and coconut chips. But you could use any combination of nuts and seeds, including macadamia pieces, pistachios or pumpkin seeds.
• 200gm dried fruit – this time it was 100gm diced apricots, 50gm currants and 50gm raisins. Next time I might go for dried pineapple, dates, figs or dried strawberries.
Topping (optional):
• A few freeze dried cherries (or berries)
• Some dessicated coconut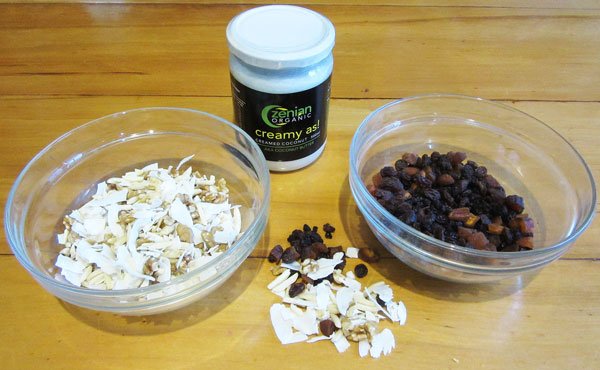 Start by prepping your creamed coconut (see below). Once that is in the food processor and blended smoothly, add the extra coconut oil and flavourings of your choice, and process again. Take out the blade and stir in the chunky bits.
Line a swiss roll tin with baking paper, and pour the mix into it. Smooth it out a bit, but don't worry too much about whether it fills the tray. You can make it as fat or as thin as you like.
Crush a few freeze dried cherries, and sprinkle over the top. I then used some dessicated coconut to make a Steemit symbol on top – especially for your viewing pleasure.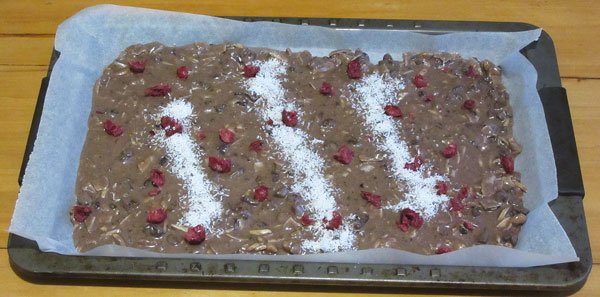 Put into the fridge till it sets, and cut into squares. Store in the fridge.
If you want to take it out and about with you, put it in the freezer for a while first. Otherwise, it's likely to melt, if the weather is warm. (Or just put it in a leak proof container and take a spoon with you.)
Prepping your creamed coconut
It will most likely be in a jar, and available in your local health food store. It could also be called coconut butter. You might find that most of it is a creamy colour, but that it has a layer of coconut oil on the top. If that's the case, you'll need to mix it up before using it.
Put the jar of creamed coconut in a container of hot water for 5 minutes or so, until it's soft enough to scrape out of the jar. Then place it into a food processor, and process till very smooth. If you're not making this recipe, pour it back into the jar, and it won't separate out again. It will be ready for adding to any recipes where you want some extra coconutty goodness. Otherwise, you'll be ready to add the extra ingredients.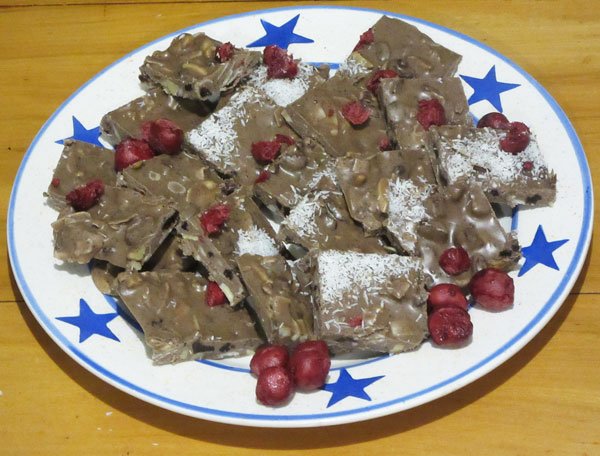 Yes, it really is as good as it looks. Or so @sift666 tells me. He's not keen to share…
All photos by myself and @sift666
Thanks for reading
Follow me for more health, nutrition, food, lifestyle and recipe posts.

I am now on Peerhub offering one on one nutritional coaching and EFT (Emotional Freedom Technique) sessions by Skype.
Some of my previous posts:
RECIPES AND KITCHEN TIPS: Choc Blackcurrant Smoothie ~ Paleo Cottage Pie ~ Feijoa Pear Smoothie ~ Grain free, dairy free Pumpkin & Cashew Bread ~ Tip for storing ginger & tumeric ~ Grain Free Banana Cashew muffins ~ Warming winter soup ~ Healthy Chocolate & Fudge ~ Jerky with vegetables ~ BREAKFAST ideas ~ Choco-mallow protein bars ~ Equipment for the real food kitchen~ For MORE RECIPES and my 15 step Whole Food cooking course, see my recipe website.
HEALTH AND NUTRITION: The wide variety of healthy diets out and what they have in common ~ The travels of Weston A Price and his discoveries about healthy diets ~ Good fats vs bad fats ~ DNA testing for better Health & Fitness ~ DNA testing part 2: How Well Do I Digest Carbs? ~ DNA testing Part 3: I can't eat Carbs & How to Manage that ~ About the Gut & Psychology syndrome (GAPS) diet Part 1 ~ GAPS diet Part 2: Foods we can't have ~ GAPS diet Part 3: Foods we CAN have ~ GAPS diet Part 4: What if I can't eat some animal foods ~ Salicylate intolerances ~ Thoughts about Breast Health ~ I've got a cold & how to handle it ~ Sleep like a kitten Part 1 – 3 tips ~ Sleep Well Part 2 – What's your sleeping style? ~ Sleep Well Part 3 – Resetting your body clock