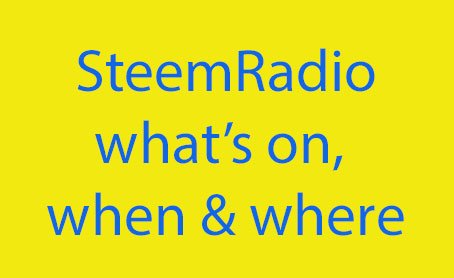 I totally enjoyed the show.

Thank you to those guests for coming on the show and thank you to everyone who listened in to the show. I hope you can all tune in again next Friday.


I am now looking for more guests for future shows. If you have an interesting story to tell about homesteading, prepping, homeschooling, tiny houses, complimentary medicine, alternative energy, cooking (particularly low meat, vegetarian and vegan), permaculture or organic gardening do pop a comment below or contact me on Discord (Pennsif#9921).
The show also needs a logo so I am currently running a Design a Logo contest for anyone with graphic design or artistic inclinations.
---
---
** STOP PRESS ** STOP PRESS ** STOP PRESS ** STOP PRESS ** STOP PRESS **
@Uniwhisp is moving her Emotion Integration show from Thursday to Friday 8pm - 10pm.
That is the slot just before my show so we will be radio schedule neighbours!
More information about the time change :
---
---
Another new show this week is @meno's Songwriter Shop Talk. This show airs between 2am and 4am UTC Thursday mornings on MSP Waves Radio.


Join MenO as he dives head first into subject he will never understand, interviews fellow songwriters, and talks about the person behind the song. There will be music, philosophy, irrational ramblings and emotional explorations of the ninth degree. If you think music is everything, and you are not afraid of philosophy with chicken nuggets, this is the show you need to join.
This coming Tuesday will see the second Sim Your Life show from @SimGirl. Do drop by 4pm - 6pm on MSP Waves Radio.
Saturday sees another of @aggroed's panel discussion shows. This week the show will be an Introduction to Crypto Trading.
---
---
This past Saturday saw @globocop and I reach the end of our run through the 1960s on the Frequency Waves 432Hz show with a look at all that happened in 1969.
This coming Saturday is going to a heavy metal special, before we resume our time travel into the 1970s.
In case you missed it this week's movie was :
---
If you know of any other relevant shows that I haven't included please do put the details in a comment below or DM me on Discord @pennsif#9921 . Also please let me know of any changes to the shows already listed

---
The times for the shows are all shown in Coordinated Universal Time UTC/GMT - which is currently UK time. There are numerous sites on the web for converting UTC to your local time. This one looks particularly useful worldtimebuddy.com.
---
SteemRadio : schedule of shows for week beginning 29 January 2018


---
---
You might also be interested in some of my other posts :
---
---
[ graphic by pennsif ]