Sweet Potato Loaded Chili Fries - FOOD PHOTO SHOOT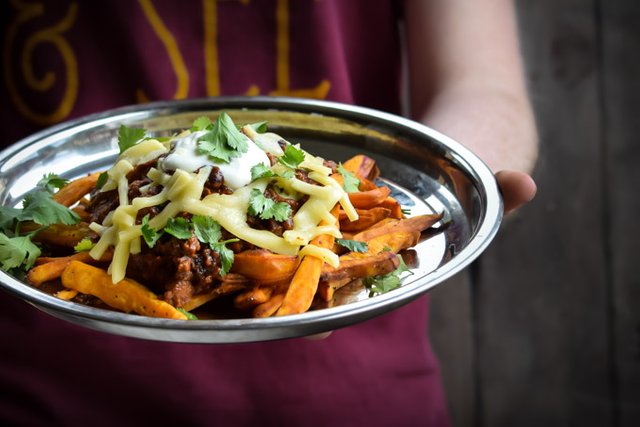 Okay, major confession time……
I've never made sweet potato fries before. Don't judge, it's just that most of the french fry lovers in my family claim to hate sweet potatoes so I've always felt it would be a pointless venture. But now there will be no going back. I've opened the door to homemade french frying and everyone knows that they can be done. Fact: there will be more fries happening, a lot of em, and very soon.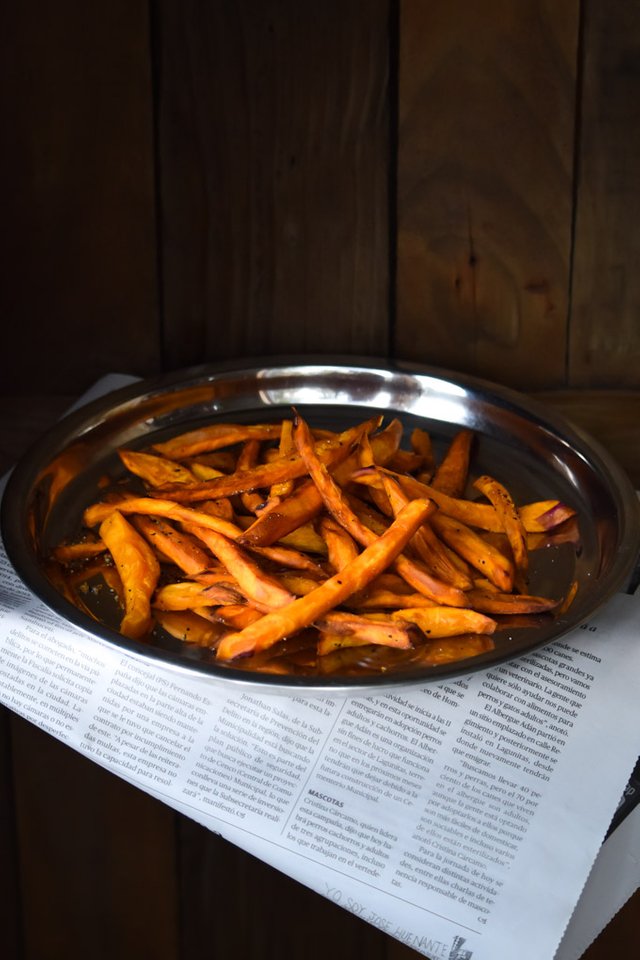 I think that if regular potato fries went up against sweet potato fries in a competition to see which tastes better chili-cheesified, the latter would win hands down every time. Sorry regular tatos, we'll still love you forever, but it's October and sweet potatoes are calling to us!
Oh, and speaking of Fall, this is like the ultimate football season food, because nothing says guy food like chili fries. I have this condition when it comes to making chili though, I end up throwing everything into it before I consider it done. But that's how it should be with chili, don't you think? It has to develop its flavor over a long period of time to be at it's best. Plus, it's pretty hard to go wrong by adding a little extra this and that to reach chili perfection.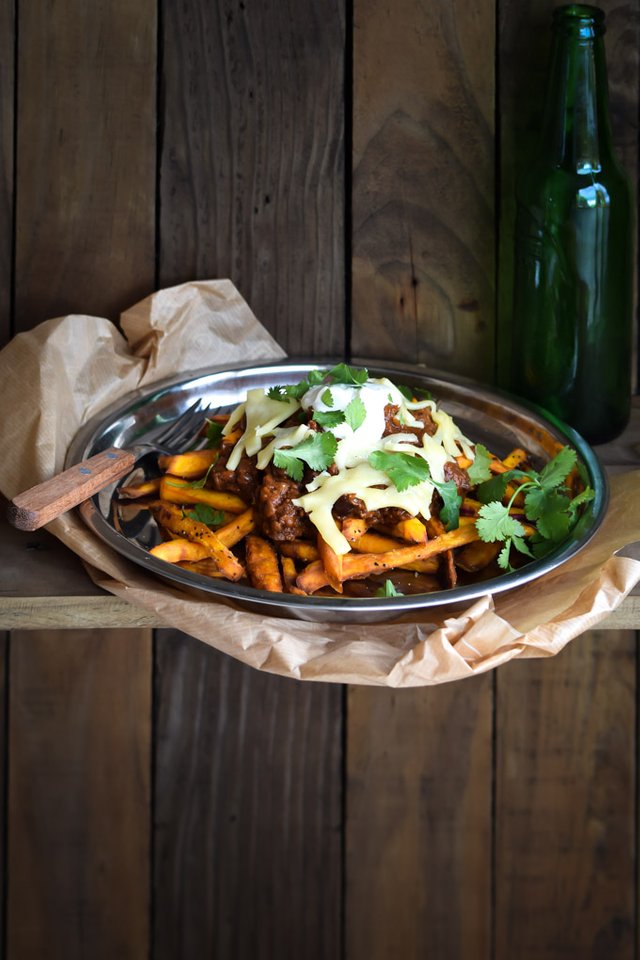 And now that I've been making chili for years, I always make it by touch and don't measure any of it, but I did my best to give you guys an accurate ratio recipe to follow. I still recommend going with your instincts on the final taste, though. Only you know your own preferences so don't be shy to add a little more of the flavors you love.
For example, sometimes when I'm in the mood for a smokier chili, I basically just keep dumping in the liquid smoke until I taste it. I also like adding miscellaneous things like coffee, cocoa, and cinnamon, to get that perfect depth of flavor. Of course, I make food by the vat these days, so for smaller batches I'd say to take it easier on any drastic flavors. It goes both ways too, I know my chili ingredient list is like 12 miles long, so if there are a few things that you don't have or you'd rather not add, just skip em. Every batch of chili I make ends up slightly different and I love that.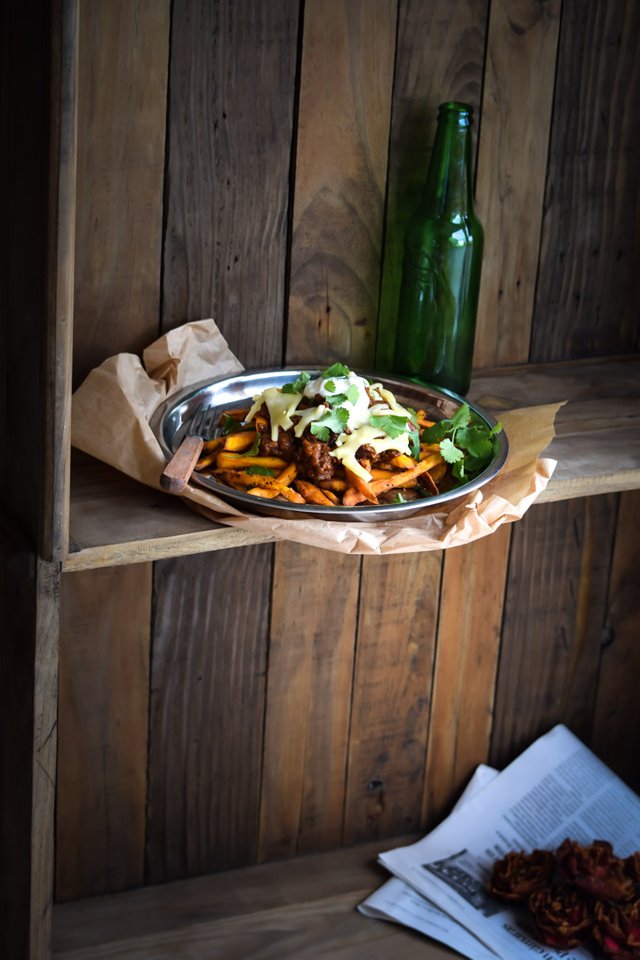 My little brother has always despised sweet potatoes, but I even got him to try these. He loved them actually, and he even said he was really sad when his plate was empty. That says a lot, since he's a typical growing teen boy that usually finishes his plate thoughtlessly and immediately moves on to the next thing to keep up with his raging metabolism. I think you need to make these this season if you want to really enjoy life's greatest pleasures. Just sayin'.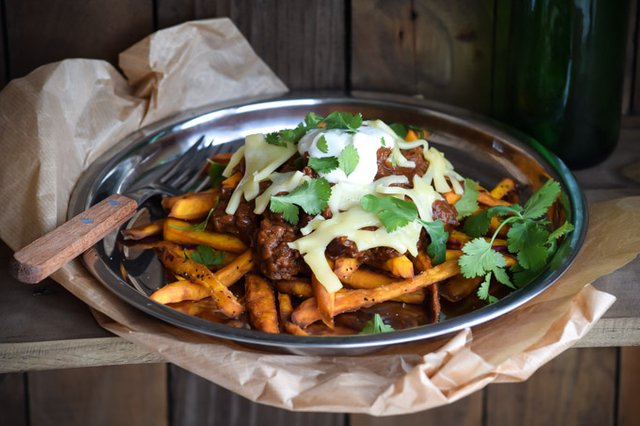 Loaded Sweet Potato Chili Cheese Fries
Prep Time: 20 minutes
Cook Time: 1 hour
Total Time: 1 hour, 10 minutes
Yield: 4 - 6
Ingredients
Chili:
2 teaspoons olive oil
2 cloves garlic, minced
1 small onion, finely chopped
1/2 - 1 chipotle chile in adobo sauce, seeded and minced
2 medium tomatoes, diced
1 8-ounce can tomato sauce
1/2 cup water
1 cup cooked red lentils
1 cup cooked black beans
1 cup cooked white beans
2 tablespoons worchestershire (check ingredients for anchovies)
2 teaspoons liquid smoke
1 tablespoon cocoa powder
2 tablespoons brown sugar
2 tablespoons your favorite bbq sauce (check ingredients for vegan)
1 tablespoon chili powder
1/2 teaspoon oregeno
1/2 teaspoon basil
1 teaspoon cumin
1/2 teaspoon cinnamon
1 tablespoon strong black coffee
salt and pepper to taste
Sweet Tater Fries:
3-4 large sweet potatoes, peeled
oil for frying
salt and pepper to taste
1/4 teaspoon paprika
1/4 teaspoon ground nutmeg
1/8 teaspoon ground cloves
shredded cashew "cheese", cilantro, and sour "cream" or coconut yogurt for serving (optional)
Instructions
Chili:
Heat olive oil in a large pot or dutch oven over medium high heat. Add onion, garlic, and chipotle and cook for 1 to 2 minutes until onions are translucent. Add tomatoes, tomato sauce, water, and beans to pot and reduce heat to medium low. Add remaining ingredients for chili and stir very well, then reduce heat to low and allow chili to simmer for at least 45 minutes to develop it's awesome flavor. This is a good time to make your fries.
Fries:
Cut potatoes into fries lengthwise and place them in a large bowl of cold water to soak for about 15 minutes. Drain potatoes and lay out on a clean towel and pat dry. Allow them to continue drying as much as possible while you heat the oil.
Heat a few inches of oil in a large, high-sided skillet or deep fryer to medium high heat, if using a thermometer about 350 degrees F. Line 2 large plates with paper towels and set nearby.
When oil is hot drop a large handful carefully in and fry, turning gently, for 2 to 3 minutes. Remove with a wire spoon and drop onto 1 of prepared plates. Continue frying until all fries have been fried once.
Now, starting with the bottom of your pile start frying them a second time for 1 to 2 minutes until crispy. Remove to second paper towel plate and repeat until all fries are nice and crispy.
Chili Fries:
Top servings of fries with chili, "cheese", cream, and fresh cilantro if desired.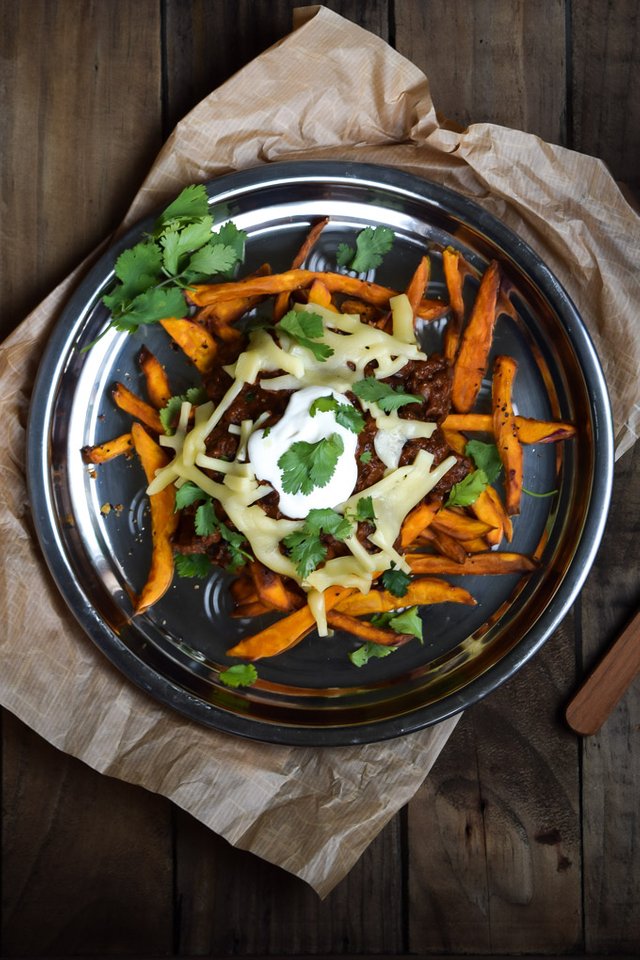 ALL CONTENT IS MINE AND ORIGINAL! All of these food photos were taken with my Nikon D750 and my favorite Lens, the Nikon AF-S FX NIKKOR 50mm f/1.8G. You can find out more in my INTRO POST.
Also, a huge shoutout to @rigaronib for designing my logo!
If you're looking for more recipes check out some of my other recent posts!
Also, I've been starting to vlog in case you missed it.