Asian Peanut Pad Thai Noodles - FOOD PHOTO SHOOT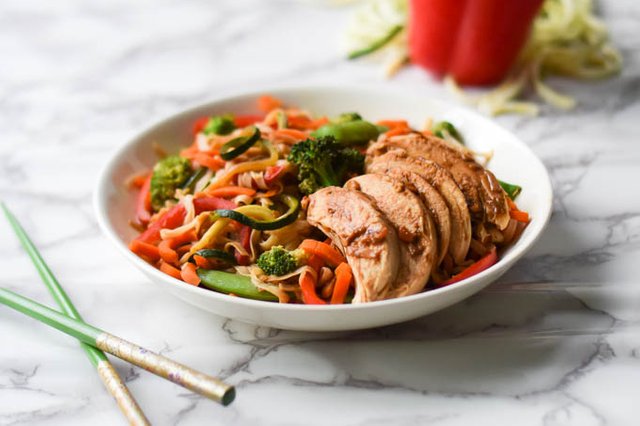 Hey friends, I don't know about you but I really, really love noodle dishes and am always excited to add them to the menu for lunch or dinner. Of course, they can be pretty heavy sometimes so that's why I love to freshen them up with lots of colorful veggies and, of course, plenty of flavors!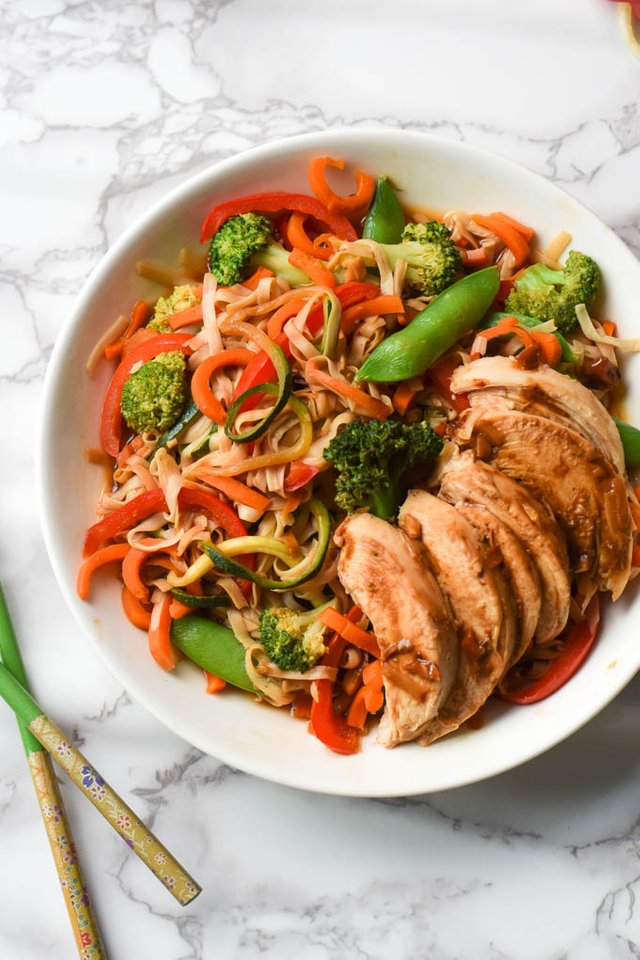 In case you haven't noticed I've been having a thing with both peanut butter and Asian foods recently. Wow, I never thought of myself as being one-track minded but maybe I was wrong. I can, however, admit to being a creature of habit and returning again and again to the same things when I find a favorite so this is one of those instances.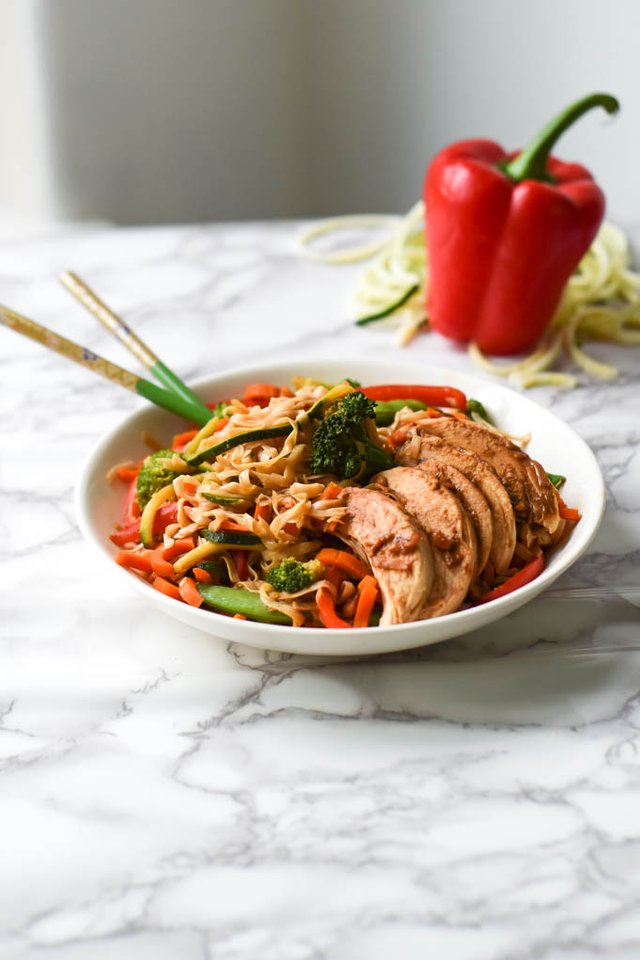 So I got these noodles called "the healthy noodle" at Costco recently that are so good, maybe you've tried them. They're gluten free, fat free, sugar free, and dairy free, haha, and you're probably wondering what's left after all that. Well, they're made from soy fiber and the texture is very surprising, a little soft maybe but other than that you'd never know they aren't regular noodles. It sounds like I'm trying to sell them but I'm actually not being paid to promote them, they're just something I've been loving. I think you can find similar here but I can't say for sure if they're as good so definitely try to get some if you shop at Costco. Don't worry though, this recipe works with rice noodles or even regular wheat ones too.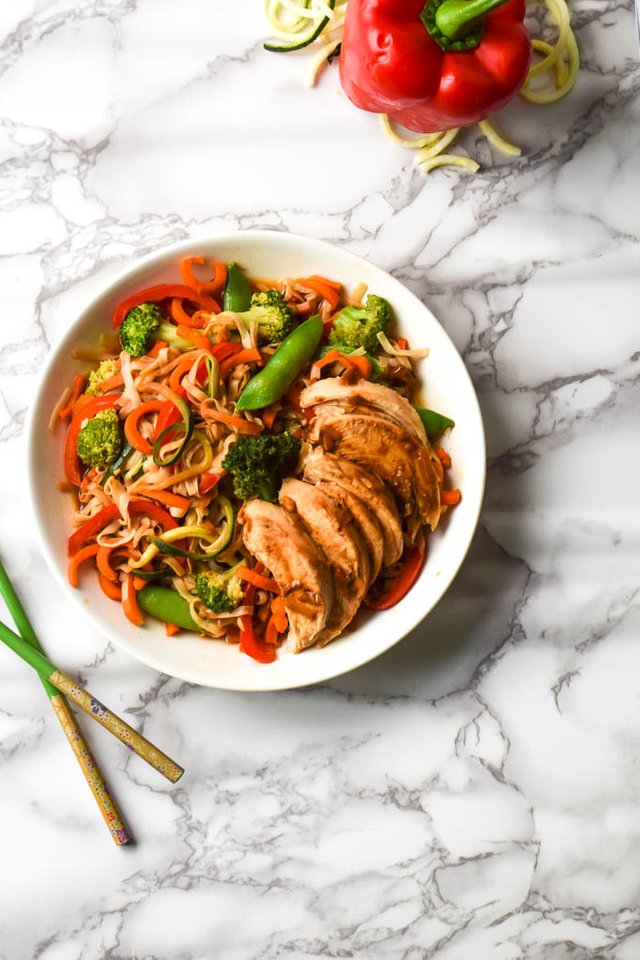 It's simple and quick which are two of the first things we love to hear about a recipe, am I right? In my current Asian food craze I went for a Thai peanut sauce that's one of my personal faves (always and forever!). When I'm writing a recipe I try to think how I can make it as adaptable as possible to fit your preferences, and that's what I tried to do here.
As for the add-ons, I wanted to try something new so I tried using some of the not-really-chicken plant-based "meat". To be completely honest, I think I'd skip it next time as it kind of grossed me out. You can easily replace it with tofu or tempeh, which is probably what I'd prefer, or even just skip it. I also tried a version that's a little less fat if you want to try that as well and you can use whatever noodles you want. Actually, zucchini noodles are amazing too, and did I mention I finally got a spiralizer? I'll put all the details in the recipe notes so you can make it to fit your taste.
I hope you enjoy and if you do try it I'd love to hear what you think!
XOXO
Asian Peanut Pad Thai Noodles
A classic Asian dish that makes for a delightful lunch or dinner any day of the week. It comes together quickly and easily, plus it's gluten free with a vegan option!
Prep Time 10 minutes
Cook Time 25 minutes
Total Time 35 minutes
Ingredients
8 ounces flat rice noodles cooked according to package instructions
1 zucchini spiralized or julienned
1 red pepper thinly sliced
2 medium carrots spiralized or julienned
1 cup sugar snap peas
1 cup broccoli florets
Sauce:
1/4 cup peanut butter **see notes
1/4 cup reduced sodium soy sauce or coconut aminos
3 cloves garlic minced
1 tablespoon hoisin sauce
1 tablespoon freshly grated ginger
1 tablespoon rice vinegar
1 teaspoon sesame oil
1 teaspoon Sriracha optional
cilantro and peanuts for garnish if desired
Optional:
4 servings plant-based "chik'n or 1 14oz package firm tofu or tempeh
Instructions
In a medium bowl, whisk together peanut butter, soy sauce, garlic, hoisen, ginger, rice vinegar, sesame oil and Sriracha, if using; set aside.
Add the carrots, bell pepper, broccoli, and snap peas to pan along with about 1/2 cup water. Cover and steam until water is nearly evaporated then add the zucchini and the prepared sauce and stir gently over heat for about 3 minutes. Toss in the noodles and chik'n or tofu (if adding) and stir well until everything is heated through, about 3 more minutes.
Serve immediately, garnished with cilantro and peanuts, if desired.
Recipe Notes
the rice noodles can be found in the Asian section in most grocery stores but you can sub 2 (6oz) packages refrigerated ramen or 8 oz dry fettuccine noodles or 8 oz shirataki noodles. I used 3 packages of the noodles mentioned in the post and you can find similar here . Another option is to use about 2 cups extra spiralized zucchini. **For a lighter version of this recipe you can replace part or all of the peanut butter with powdered peanut butter mixed with equal parts water. My favorite version was half and half, so 2 tbsp peanut butter, 2 tbsp water, and 2 tbsp powdered peanut butter.

ALL CONTENT IS MINE AND ORIGINAL! All of these food photos were taken with my Nikon D750 and my favorite Lens, the Nikon AF-S FX NIKKOR 50mm f/1.8G. You can find out more in my INTRO POST.
Also, a huge shoutout to @rigaronib for designing my logo!
If you're looking for more recipes check out some of my other recent posts!
Also, I've been starting to vlog in case you missed it.