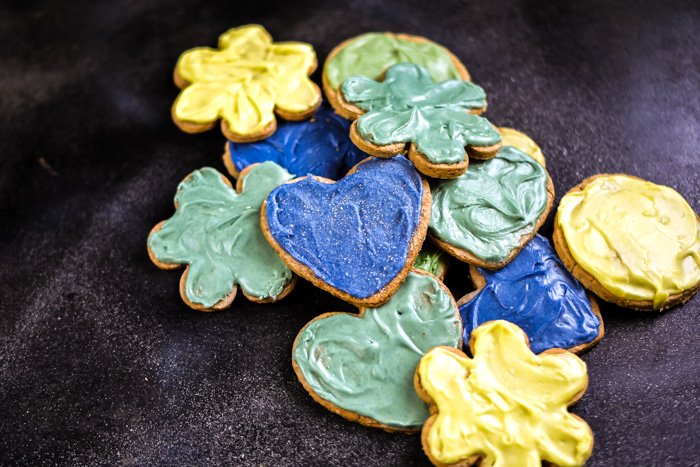 Colorful food is my favorite, in case you didn't already notice. Of course, that typically means fresh fruits and veggies with all of the colors, but occasionally that can be something on the treat side. So I remember back in the early days of my blog I used to (by necessity more than anything) make everything from scratch.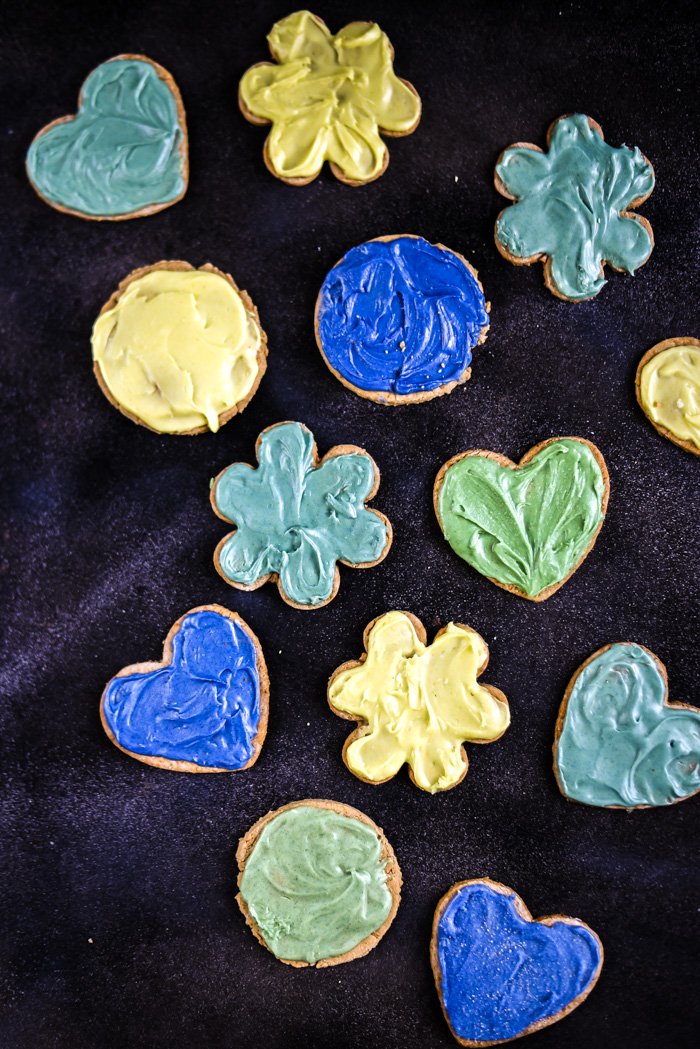 In case you weren't around back then, I was living in Chile and there were some pretty drastic differences in the food. I still can sometimes enjoy the challenge of making something complicated or an ingredient from scratch. However, these days I find myself really enjoying the ability to pull up Amazon and hit order. It's bad I know, but I'm not gonna lie and pretend it isn't nice to take the quicker route when you can.
What I'm getting to is that these colors that I've used for these cookies are nothing overly complicated. In fact, they took me all of about 1 minute to stir together. So what did I use for these particular colors? I used some blue butterfly pea powder that I recently acquired. Then some spirulina and some turmeric, but don't worry you can't taste any of it.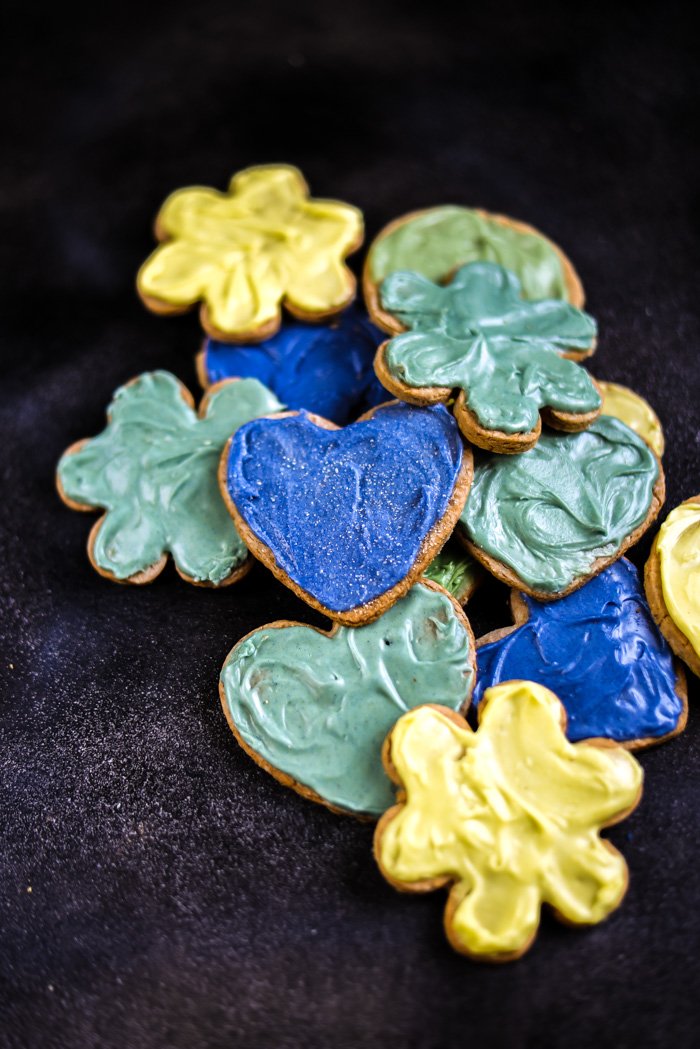 As for the cookies, they are pretty basic sugar cookies with just a few tweaks. I've never tried this recipe with gluten free flour before but I thought it could be fun to see how they came out. So many of you have told me how much you like when my recipes are able to be made gluten free and I love sharing them.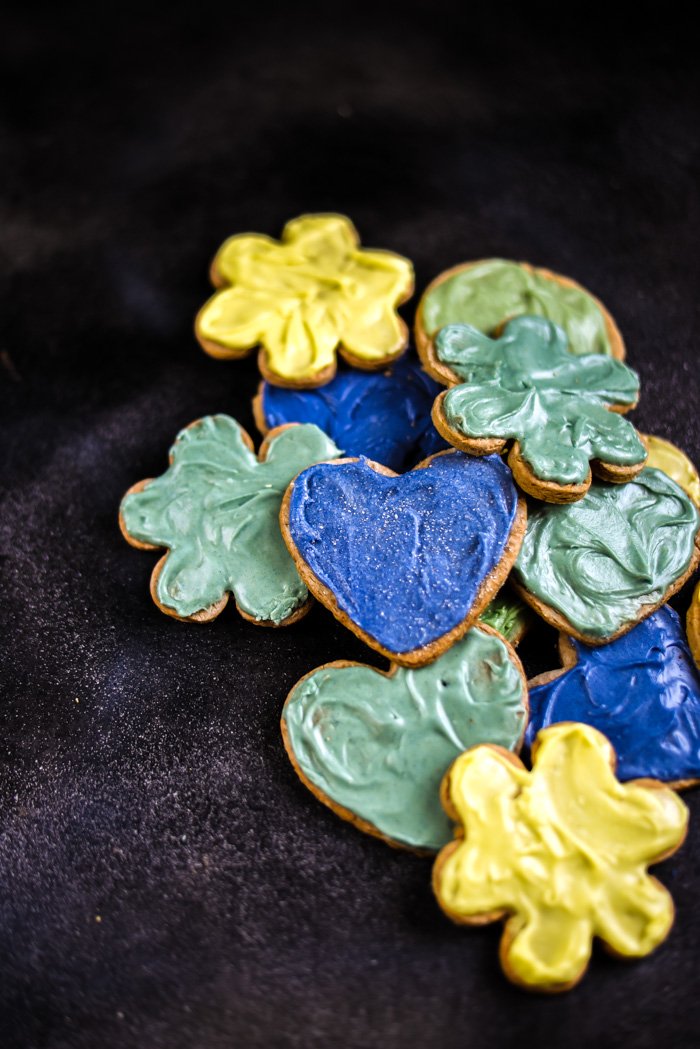 I'm leaving the directions for the coloring a little vague because it's sort of a trial and error situation. You really can't know how they'll look until you stir it all up. My recommendation is to go very light at first and add more as needed. My favorite colors were when I mixed them together. Also, you can certainly use other natural things like beet powder or pink dragon fruit powder. I just happened to be feeling the aquatic sea colors today.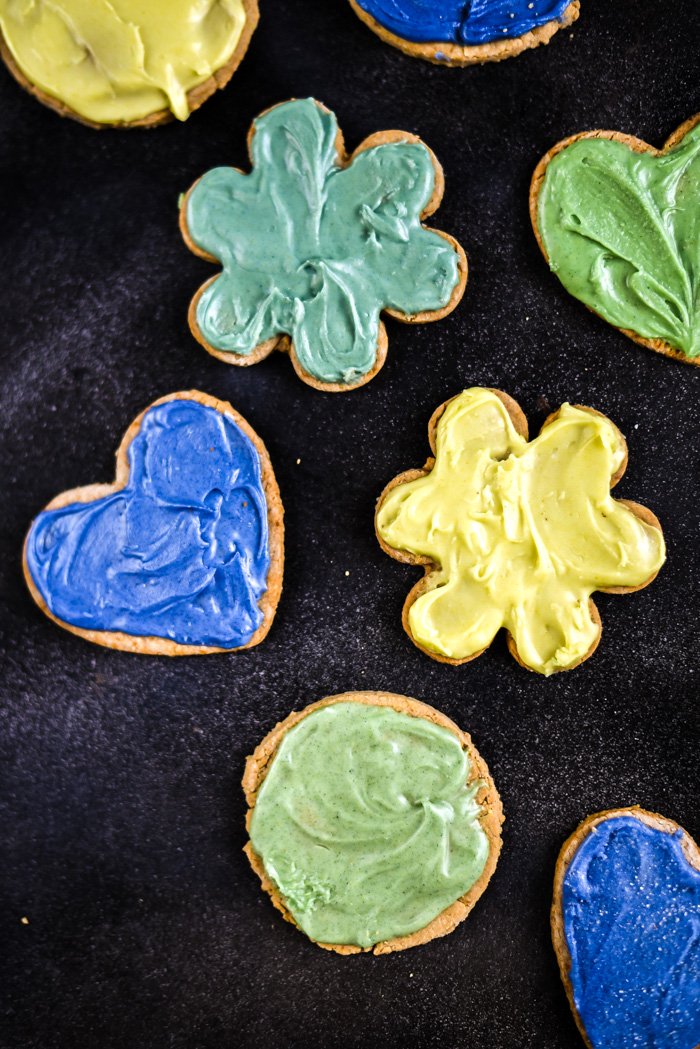 Naturally Colored Sugar Cookies (V+GF)
Prep Time: 30 minutes
Cook Time: 15 minutes
Total Time: 45 minutes
Yield: about 2 dozen cookies
Take some basic sugar cookies to a much more fun level by adding some natural colors to the icing.
Ingredients
Cookies:
1/3 cup coconut oil, softened
1/4 cup coconut milk
1 cup coconut sugar
1 teaspoon baking powder
1/2 teaspoon salt
1 teaspoon vanilla extract
1/4 teaspoon almond extract
2 tablespoons arrowroot starch (or cornstarch)
1 cup almond flour
1 cup + 2 tablespoons gluten free flour
Icing:
1/2 cup coconut cream*
3 1/2 cups powdered sugar
1 teaspoon vanilla extract
1/8 teaspoon salt
1/2 teaspoon blue butterfly pea powder
1/8 teaspoon spirulina
1/4 teaspoon turmeric
Instructions
Preheat oven to 350 F (180 C). Beat coconut oil, milk, and sugar together until creamed. Stir in baking powder, salt, and extracts. Scrape the sides of bowl and add the flour and starch until evenly mixed. Scrape the dough out of bowl and place on a lightly floured surface. Roll into a ball and flatten into a disc then place it on a large plate and cover with plastic wrap to seal. Chill the dough in the fridge for at least 30 minutes to make it easier to work with.
Once cold, roll out dough on a lightly floured surface into a layer about 1/4 - 1/2 inch thick. Use a sharp knife or cookie cutters to cut into desired shapes. (Another easy option is to form the dough into a, 2- inch in diameter log, and chill until hard enough to slice and bake.) Place cookies at least 1-inch apart on a parchment lined baking tray and bake for 8 to 10 minutes or until very lightly browned on edges. Remove from oven and cool completely. If desired, decorate with frosting and sprinkles. Store in an air-tight container for up to 1 week.
Icing:
Mix all ingredients (except colors) for icing in a small bowl until smooth. Divide the icing into a few bowls and add desired coloring ingredients to them a little at a time. My favorite green color was when I mixed a little turmeric with a little spirulina. Again, start small and work to get the colors you like. Frost cookies with a knife or spatula and enjoy!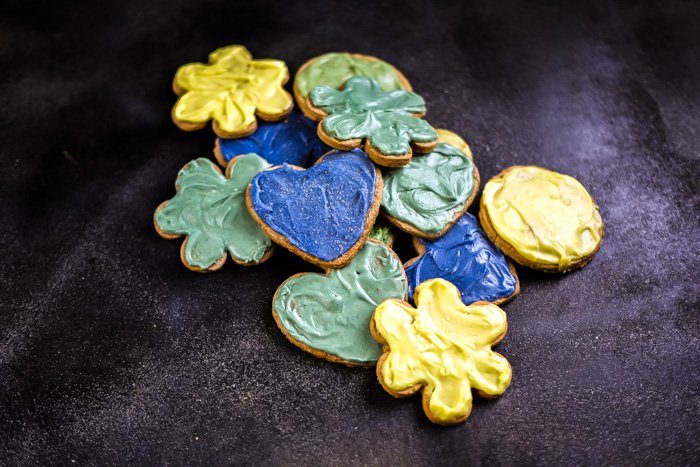 ALL CONTENT IS MINE AND ORIGINAL! All of these food photos were taken with my Nikon D750 and my favorite Lens, the Nikon AF-S FX NIKKOR 50mm f/1.8G. You can find out more in my INTRO POST.
And, by the way, to all the minnows out there, my intro post did a huge $0.21. The key to success on Steemit is to be consistent and persistent. Click on the link below for some great tutorials on how you can also succeed on the steem blockchain: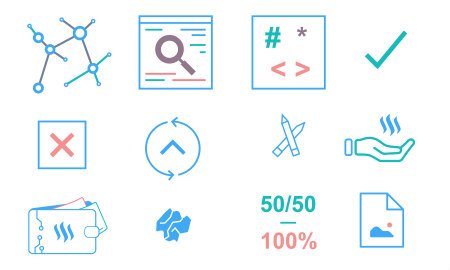 Also, a huge shoutout to @rigaronib for designing my logo!
If you're looking for more recipes check out some of my other recent posts!
Also, I've been starting to vlog in case you missed it.