Fully Loaded Nachos - FOOD PHOTO SHOOT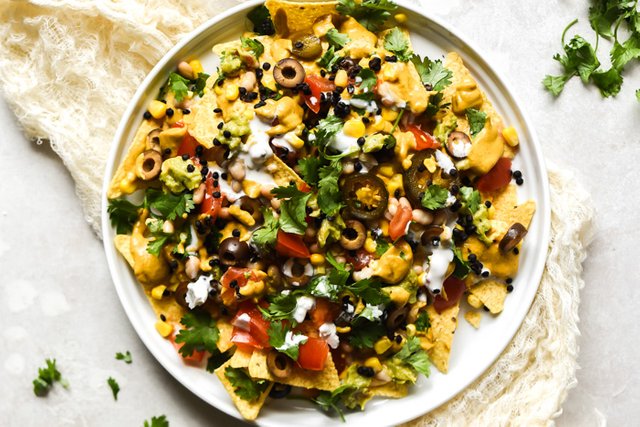 You know what time it is? Nacho!
I'm really tempted to throw in a Nacho Libre meme here but I don't think I will. Tell me, do you agree that memes were a whole lot funnier before the internet was so entirely saturated with them? I don't know, I just think less is more sometimes.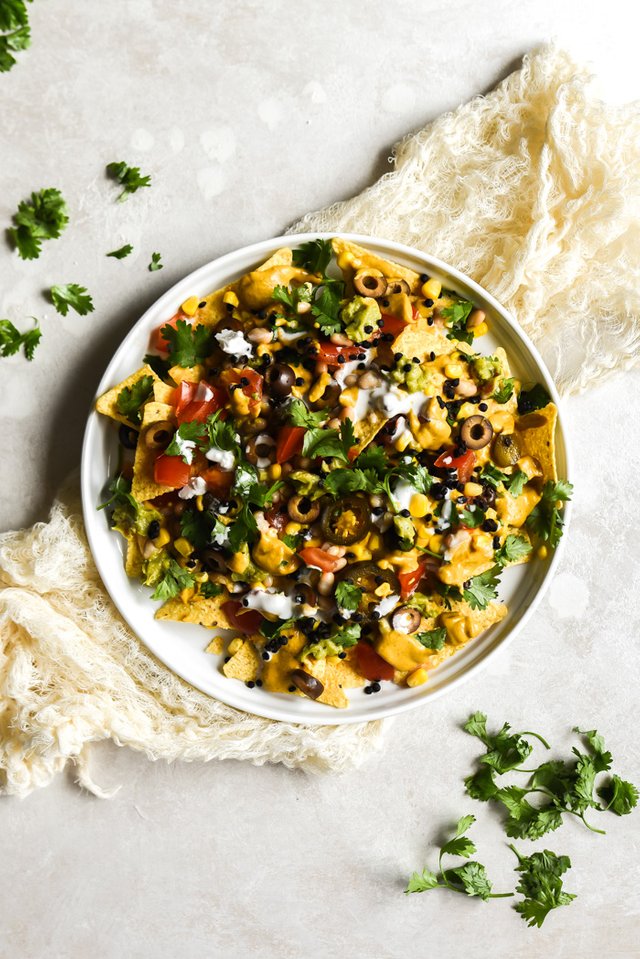 So do you remember that "cheese" sauce I made a while back? Well, my teenage brother has been almost begging me to make it again recently so I thought I'd make a batch. That's when I had the idea to make something with it and nachos seemed like the best idea ever.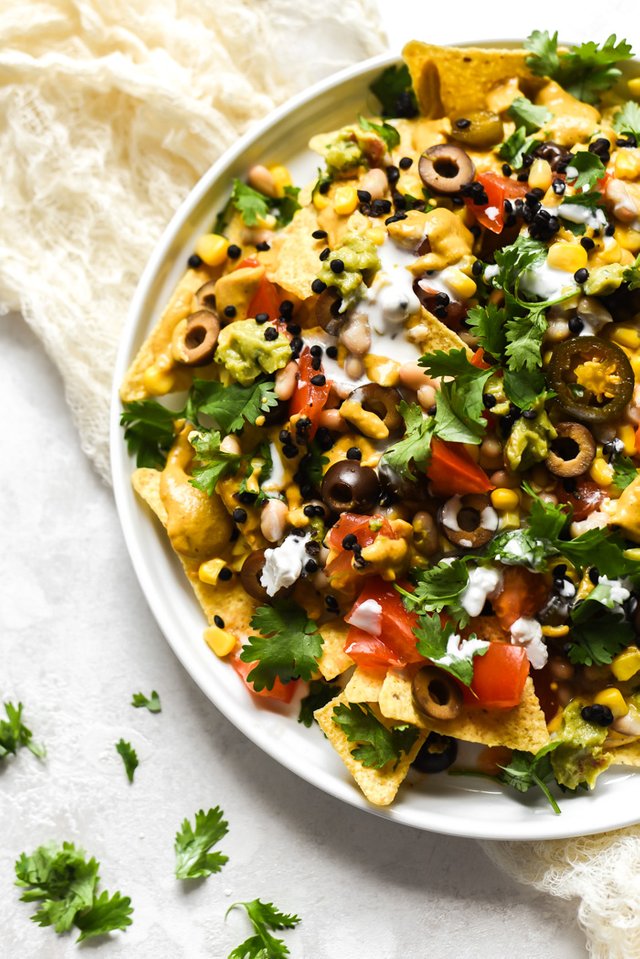 Now here's where we get into possibilities, because there are so many. For one thing, I can't believe I started making these without having black beans. Clearly I'm so well planned right? haha, well I ended up having to use some white beans instead (still delicious) and for some extra contrast I also added some cooked black lentils. Moral of the story; you can just use black beans and call it a day.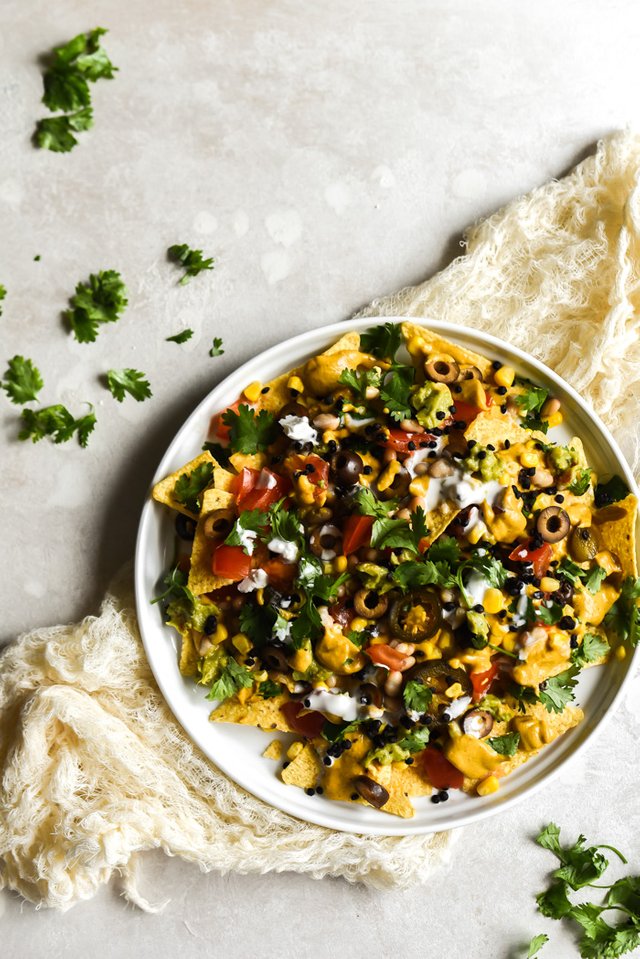 Alright, then for the chips, you can use any kind you like OR you can take this whole thing to the next level and make potato nachos! Again, there are so many options. If you don't like olives just leave them out and if you don't want to bake these that's totally fine too. You can just warm the cheese sauce like they do at a concession stand and top as you want. It's so easy.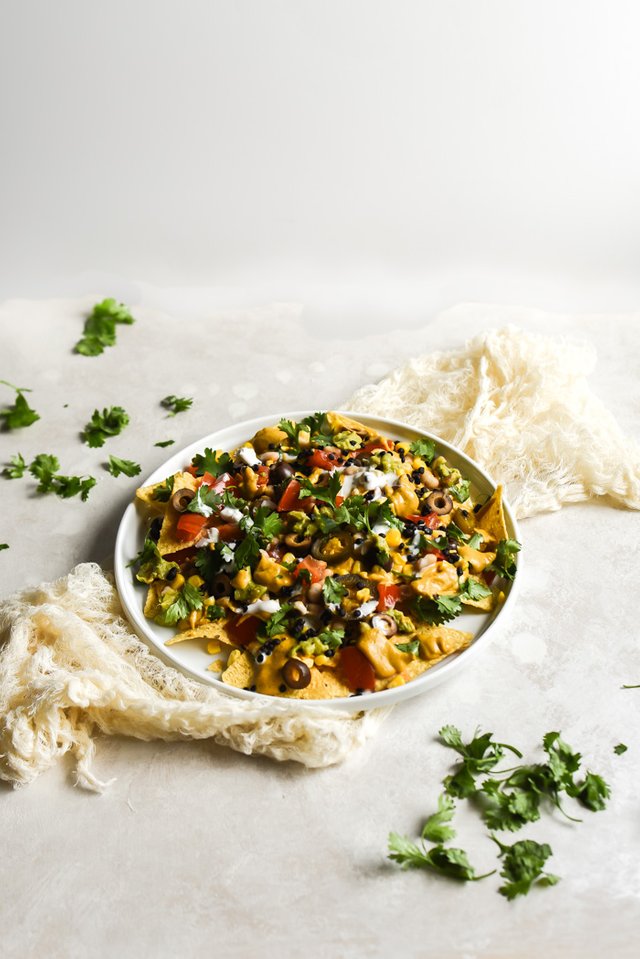 I added jalapenos for the boys but to be honest I'd probably leave them off of mine. Then for the condiments, I used some salsa, guacamole, and then some coconut cream that I mixed with lime juice. It makes it very close to a sour cream on things like this. Last step is to sprinkle on plenty of fresh cilantro and dive in.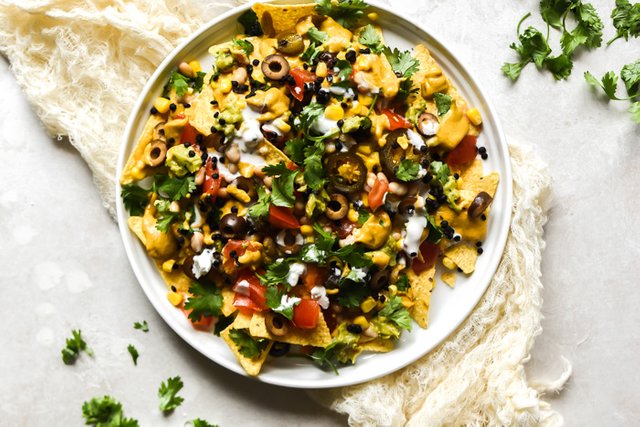 Fully Loaded Vegan Nachos
Prep Time: 10 minutes
Cook Time: 15 minutes
Total Time: 25 minutes
Yield: 4-5 servings
Who said nachos have to be plain and boring? Try this super quick and easy recipe for nachos loaded with everything
Ingredients
4 cups corn tortilla chips
2 cups "cheese" sauce
1 cup whole kernal corn
1 cup black beans, drained and rinsed
1/2 cup jalapeno slices (optional)
1/2 cup sliced black olives
1/2 cup diced tomatoes
1/2 cup fresh cilantro, roughly chopped
Condiments:
1 cup guacamole
1 cup salsa
1/2 cup coconut cream + 1 tablespoon lime juice
Instructions
Preheat oven to 400 degrees F (200 C) and line a baking tray with foil or parchment. Layer the chips in an even layer and pour the cheese sauce over the top. Sprinkle the rest of the toppings (except 1/2 of the cilantro and the condiments) and place the pan in the oven to bake for 10 - 12 minutes or until the edges begin to brown.
Remove and cool for about 5 minutes. Top with guacamole and cream and enjoy!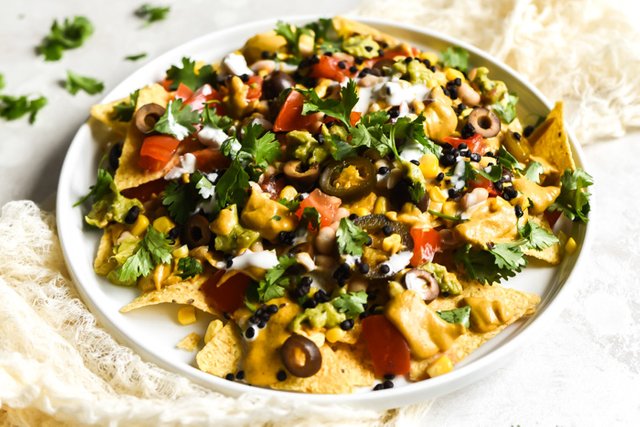 ALL CONTENT IS MINE AND ORIGINAL! All of these food photos were taken with my Nikon D750 and my favorite Lens, the Nikon AF-S FX NIKKOR 50mm f/1.8G. You can find out more in my INTRO POST.
And, by the way, to all the minnows out there, my intro post did a huge $0.21. The key to success on Steemit is to be consistent and persistent. Click on the link below for some great tutorials on how you can also succeed on the steem blockchain: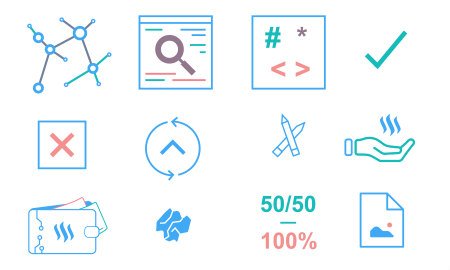 Also, a huge shoutout to @rigaronib for designing my logo!
If you're looking for more recipes check out some of my other recent posts!
Also, I've been starting to vlog in case you missed it.