Lavender Vanilla Bean French Beignets - FOOD PHOTO SHOOT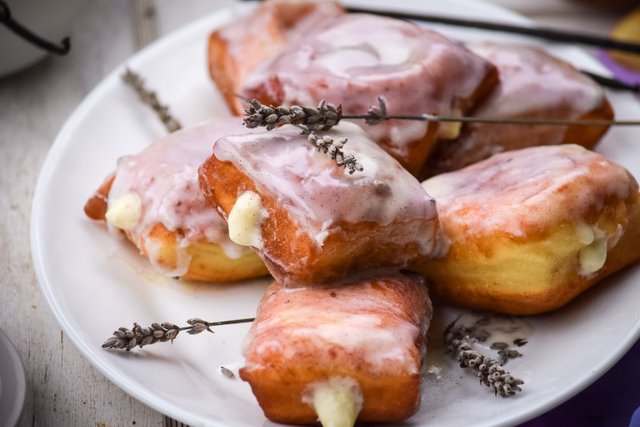 I've got a secret.......these beignets are so so SOOOO good….. Okay, that's being a little dramatic, but taste and recipe wise they are 100% dope.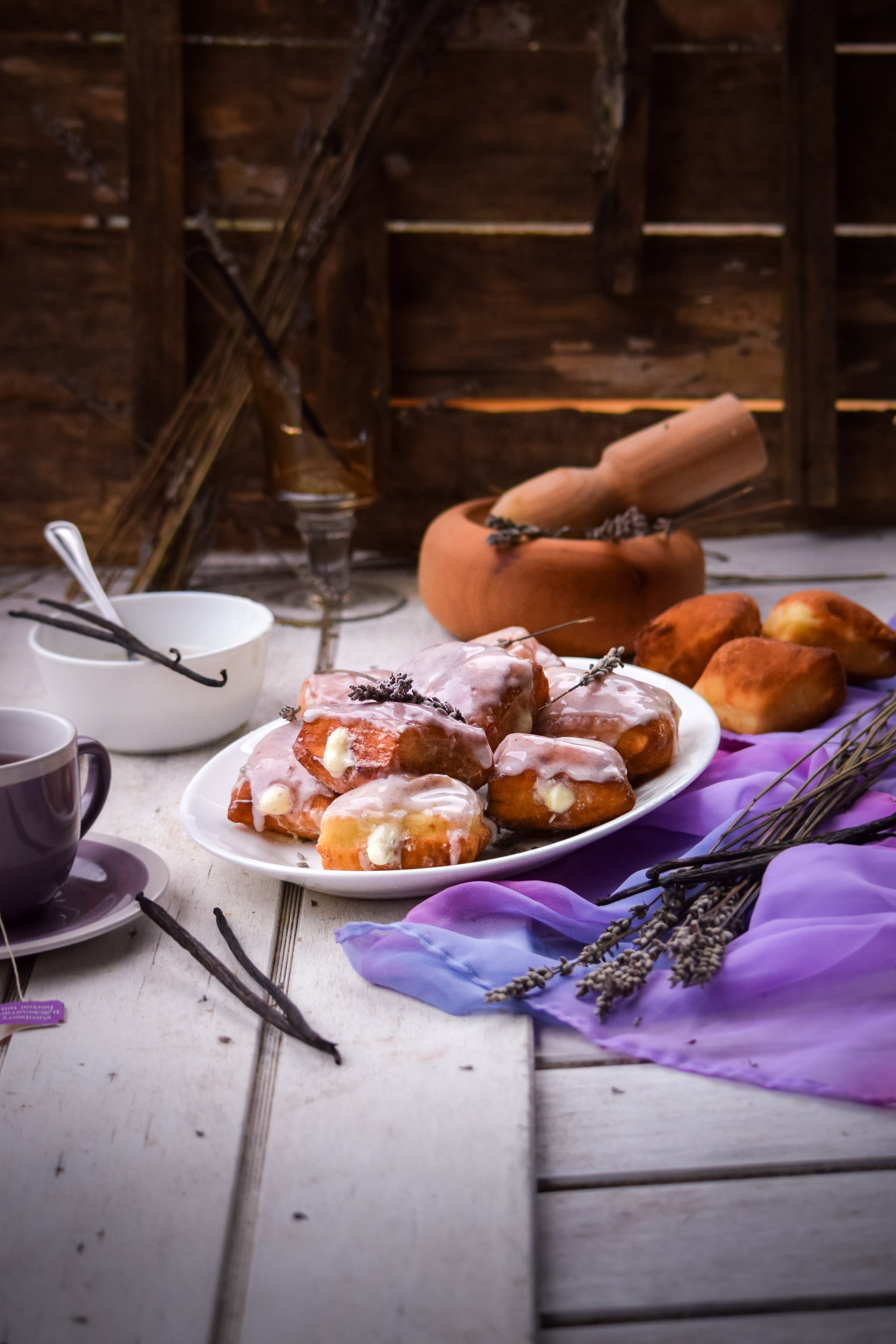 I trust you guys to keep my secret though, cause we're friends and that's what you do for your friends. Something else you do for your friends is make them yummy food that they know they shouldn't but do anyways because they get to use your friendship as their excuse. These fall into that category.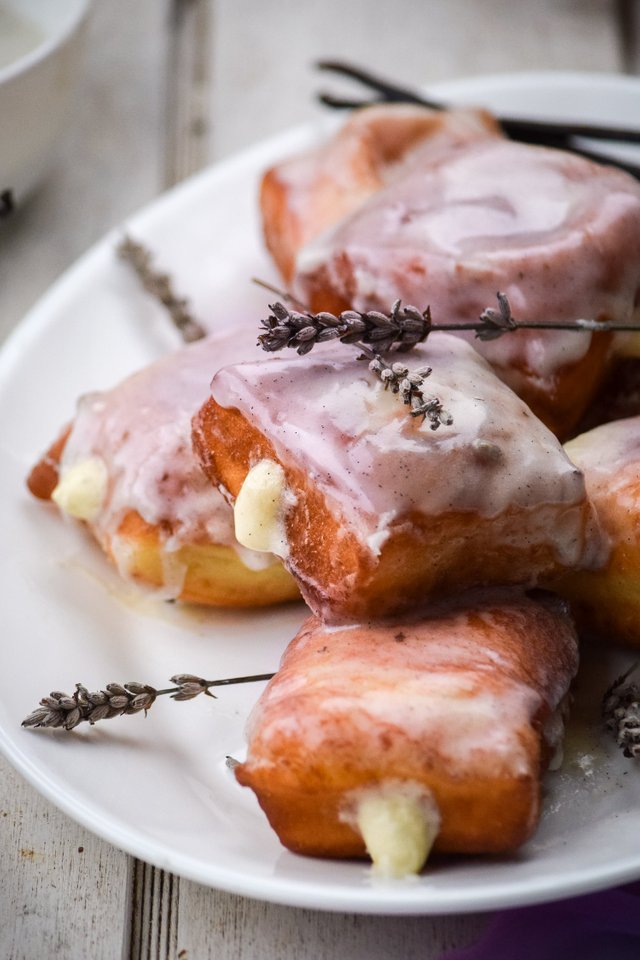 These are doughnut's cousins with a snoody French name, but they are basically just squared doughnuts. My grandma likes to make natural lye soaps and a friend brought us this huge bag of lavender to use in them. It was more than she needed so, of course, my first thought was to use the extra for something edible! And what better to pair with it than vanilla bean, yum!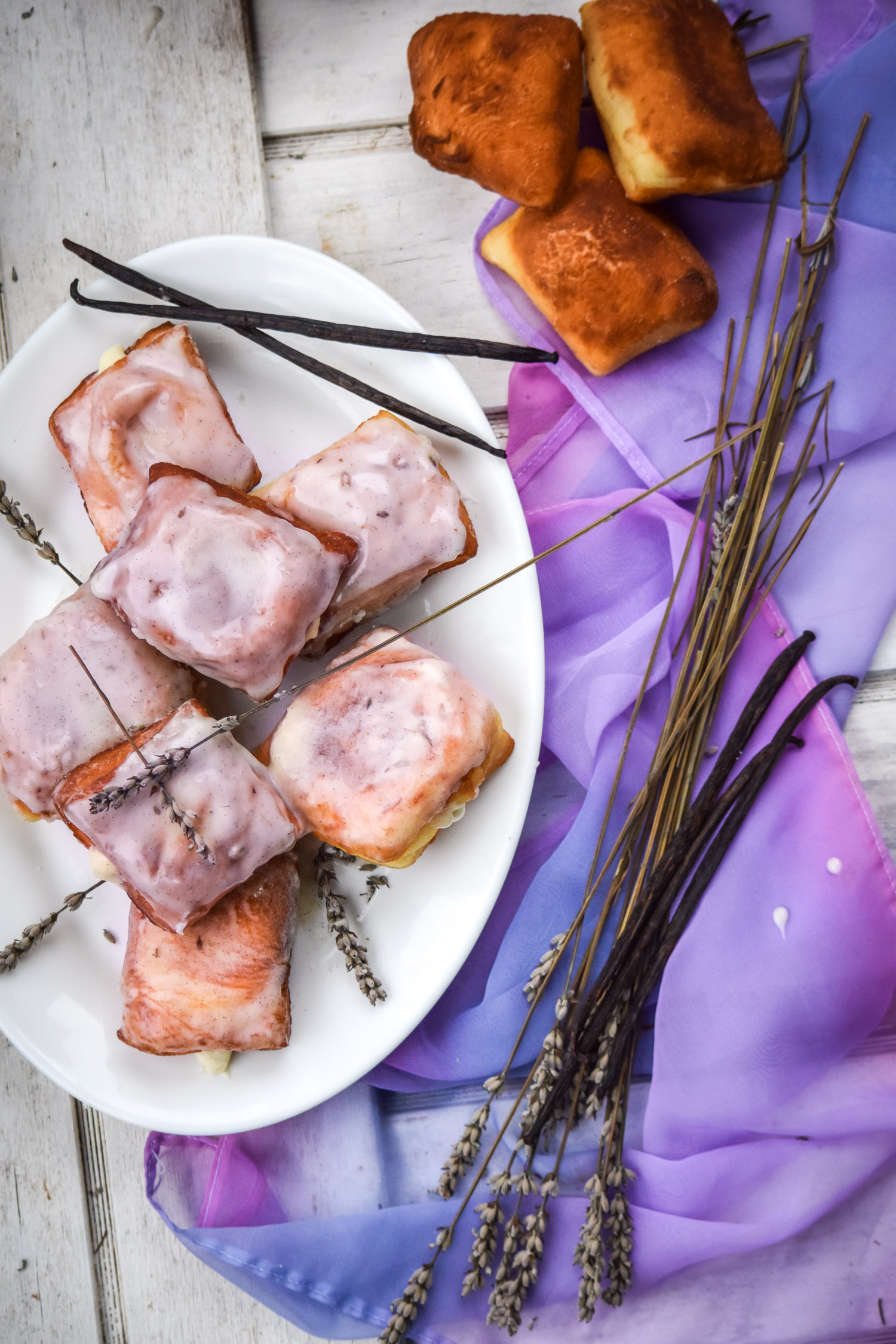 I've always liked the smell of lavender in lotions and things but I've never tasted it, so I was very pleasantly surprised that it's delicious, especially with a beignet and a load of vanilla frosting! If you aren't a big fan I guess you could skip it but I think it really sets these off. At the very least you should try adding just a tiny bit. It is very strong and if you add too much it will probably make you feel like you're eating shampoo, but if you get the right balance it's so good with these.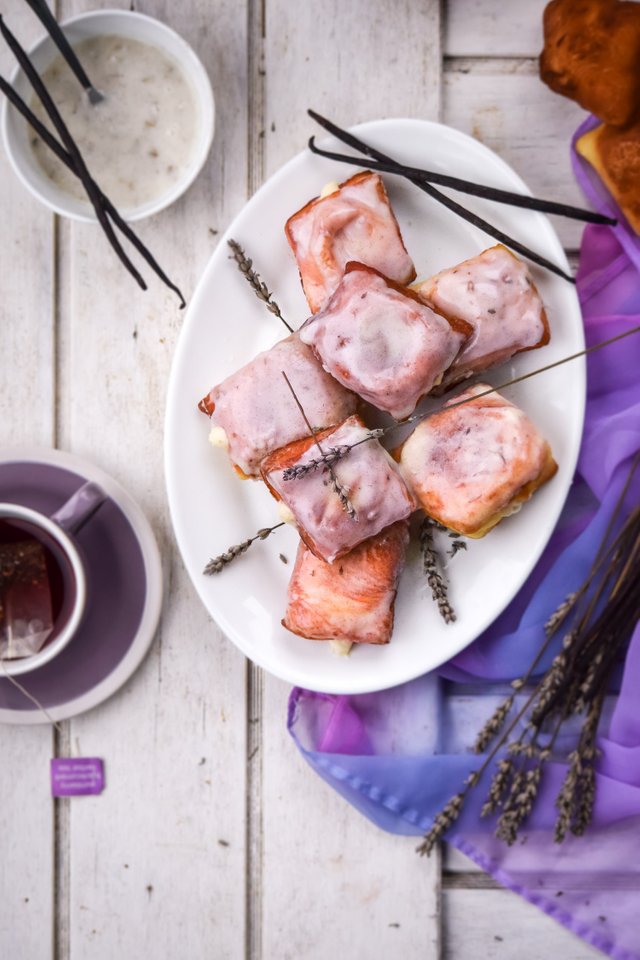 I hope you love them!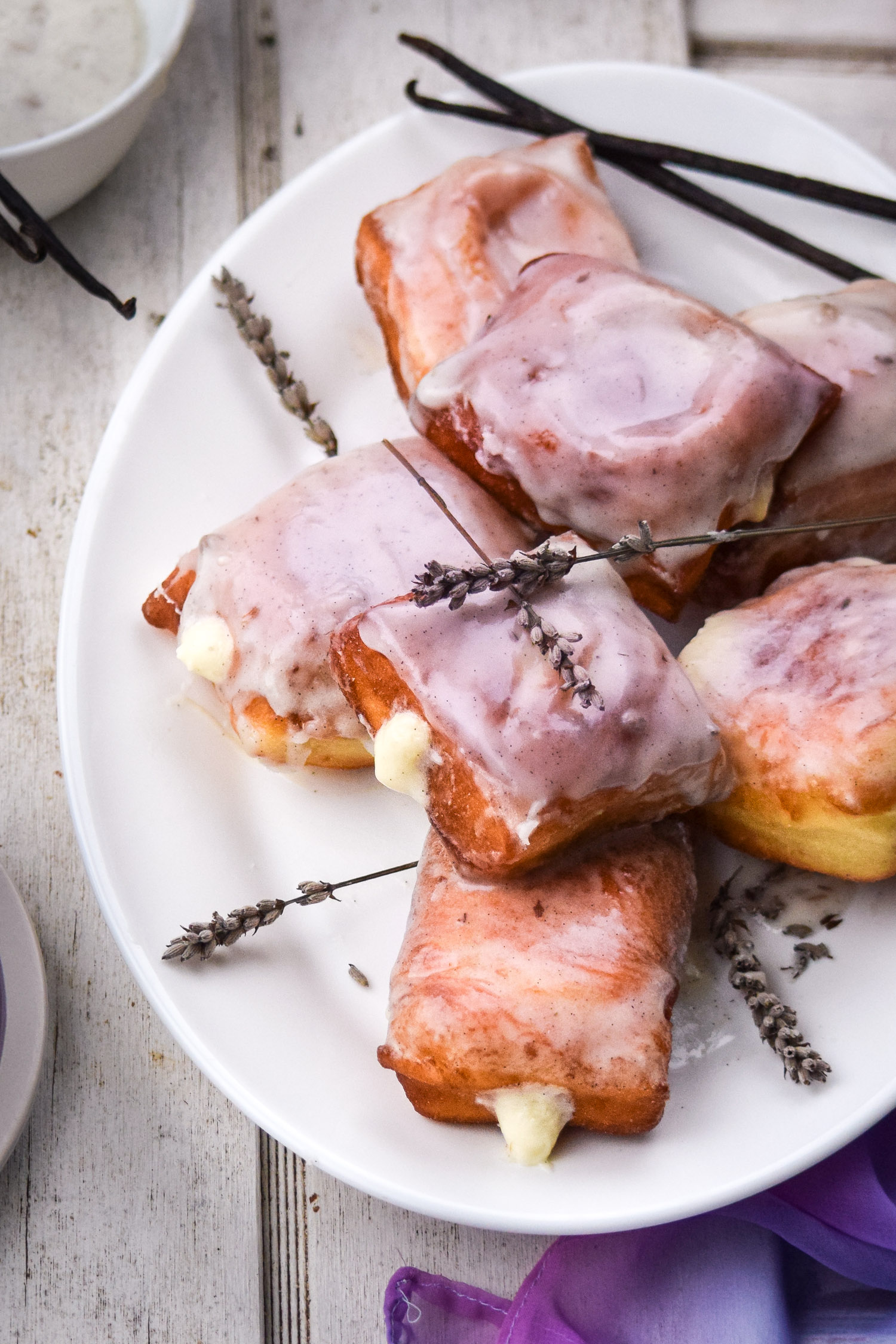 Lavender Vanilla Bean French Beignets
Prep Time: 1 hour, 40 minutes
Cook Time: 20 minutes
Total Time: 2 hours
Yield: 32 beignets
Ingredients
Lavender Vanilla Bean Icing:
1 tablespoon dried lavender flowers
scrapings from 1 large vanilla bean
1/2 cup whole milk
4 cup powdered sugar
Lavender Vanilla Bean Cream:
2 ounces (1/4 block) cream cheese,softened
1/4 cup (1/2 stick) butter, softened
2 tablespoons heavy cream
1/2 cup prepared lavender icing (from above)
Beignets:
1 cup warm milk (not hot)
1 tablespoon active dry yeast
2 eggs
1/2 cup white sugar
1 teaspoon salt
1/3 cup (about 6 tablespoons) butter, melted
5 cups all purpose flour
oil for frying
Instructions
First make your icing and filling, Whisk together the ingredients for the icing in a medium bowl until smooth. and set aside. Combine cream cheese and butter in a stand mixer fitted with whisk attachment. Beat together until creamed and fluffy. Add cream and 1/2 cup of icing then mix until combined. Cover and place mixture into the fridge until ready for it.
In the bowl of a stand mixer (or a large bowl), dissolve yeast in milk and allow to sit for about 5 minutes until bubbly. Beat in eggs and sugar, then butter and salt until combined. Add flour a cup at a time until your dough comes together and pull away from the sides. Cover bowl with a damp towel or plastic wrap and place in warm place to rise until doubled in size. (Alternatively, you can refrigerate the dough overnight.)
When dough is ready divide it in half. Roll one half out into a square, roughly 10x10, and cut into 16 squares. Place the squares on a tray and allow them to rise for 30 to 45 minutes.
Heat about 3 inches of oil in a large high-sided pan to 350 degrees F (180 C) and line a plate with paper towels. Drop dough squares, a few at a time, gently into oil and fry on each side for about 30 seconds or until golden brown. Remove with a slotted spoon and place on prepared plate.
Now fill a pastry bag fitted with a long narrow tip with the lavender cream and pipe into the centers then spread about 1 tablespoon of icing on top of each. Serve asap.
Share this: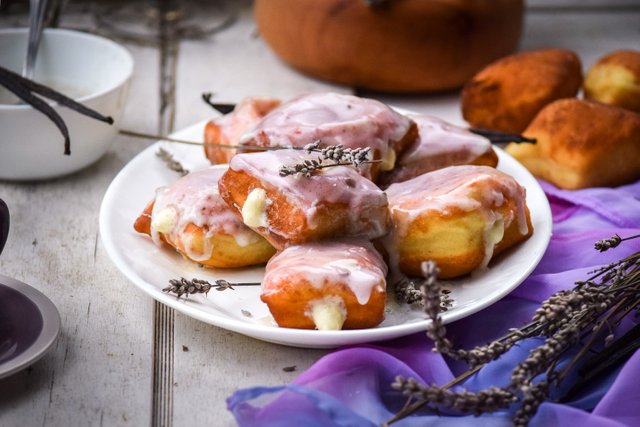 For more great food ideas, please do not forget to look at my other recent food posts
ALL CONTENT IS MINE AND ORIGINAL! All of these food photos were taken with my Nikon D750 and my favorite Lens, the Nikon AF-S FX NIKKOR 50mm f/1.8G. You can find out more in my INTRO POST.
And, by the way, to all the minnows out there, my intro post did a huge $0.21. The key to success on Steemit is to be consistent and persistent. Click on the link below for some great tutorials on how you can also succeed on the steem blockchain: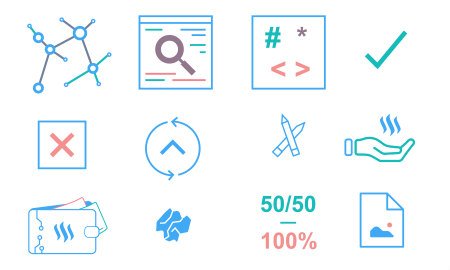 Also, a huge shoutout to @rigaronib for designing my logo!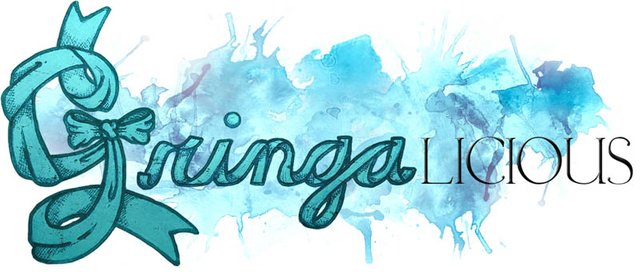 Do you want to learn more about me? Click here to see a recent @wadepaterson interview with me - 20 questions with @gringalicious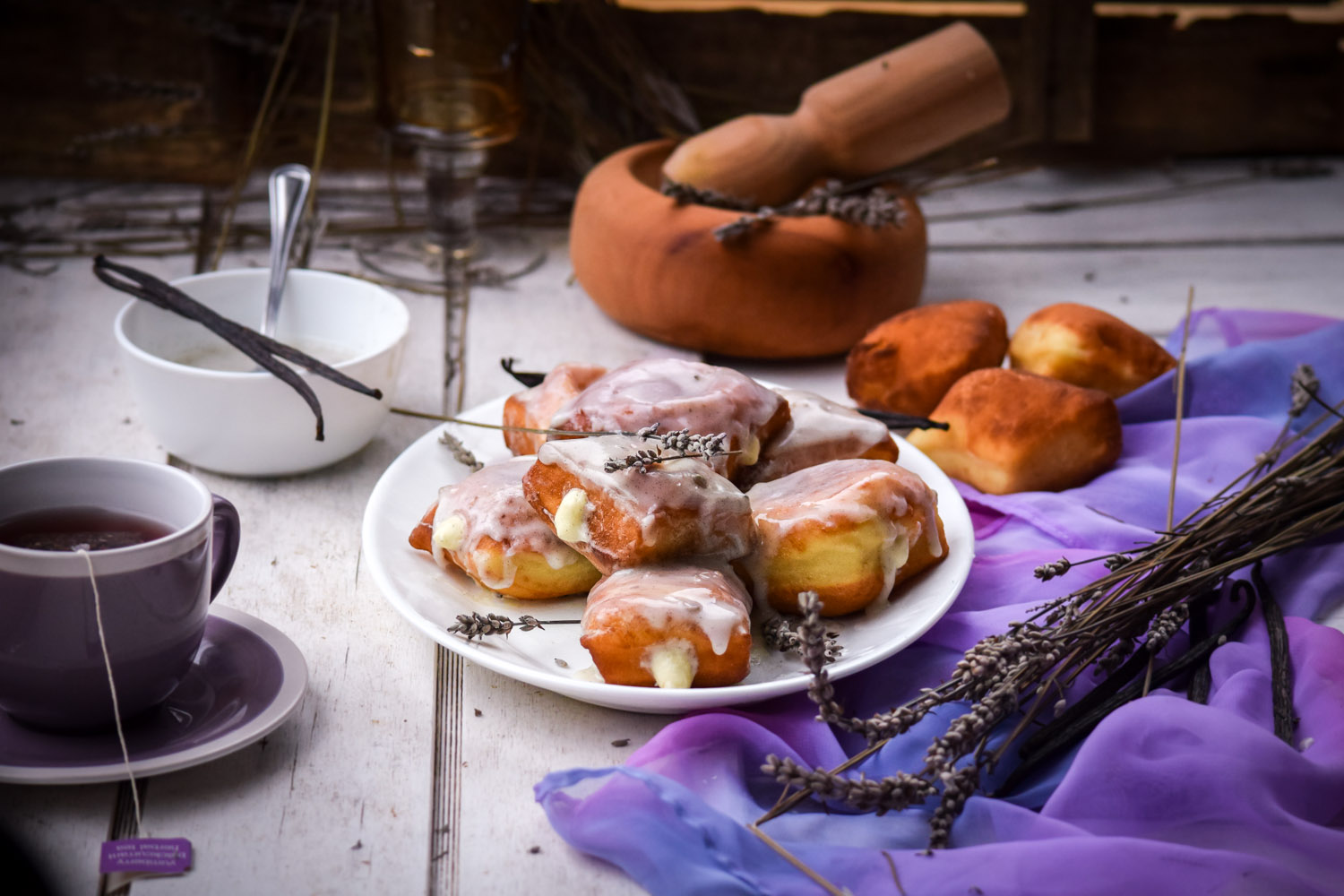 My Current Stats: 64,740 Steem Power | 13,990 Followers | 30,545 Posts | Reputation 74.87