Blackberry BBQ Pulled Jackfruit Sandwiches+Cilantro Pepper Slaw - FOOD PHOTO SHOOT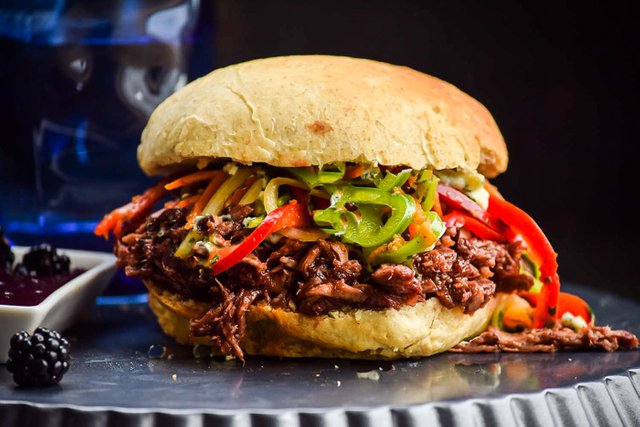 If that's not a mouthful of a title then I don't know what is. I couldn't decide what to name this recipe as there is so much going on here.
Okay, at some point I have to stop always trying to convince you to make something that I have made and received rave reviews about. However…..this is not that day. I am about to do everything I can to persuade you to make these sandwiches!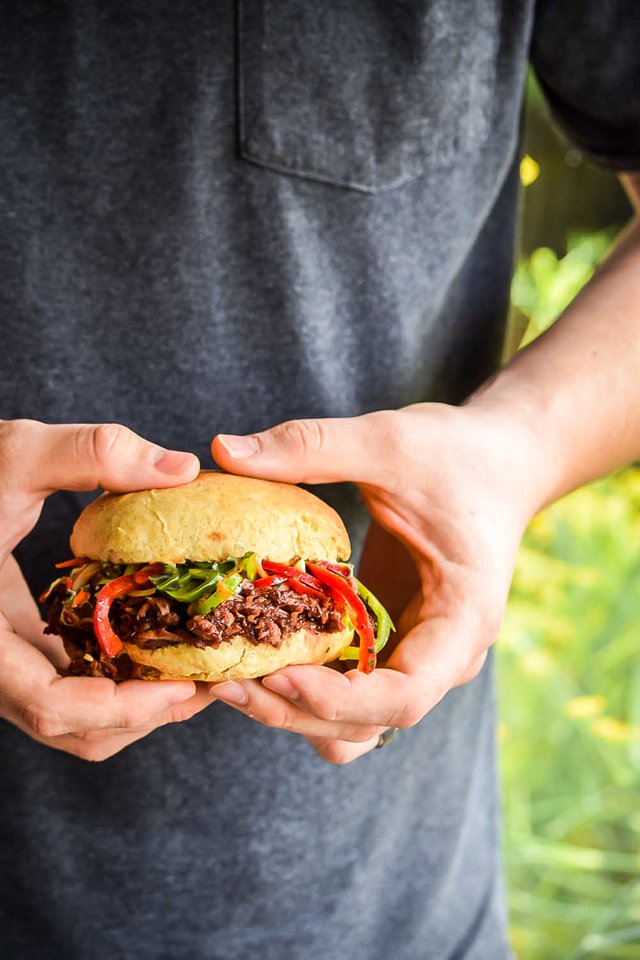 This is one of those rare recipes that comes together in my mind with ease. Pure inspiration that leads to a finished product that I feel almost guilty taking any credit for because it was just too easy. I enjoy these as much as possible when they occur because they are few and far between.
Seriously, I can't tell you how I decided on this combo. All I know is that it started with some blackberries being everywhere in my backyard. Then it just evolved from there.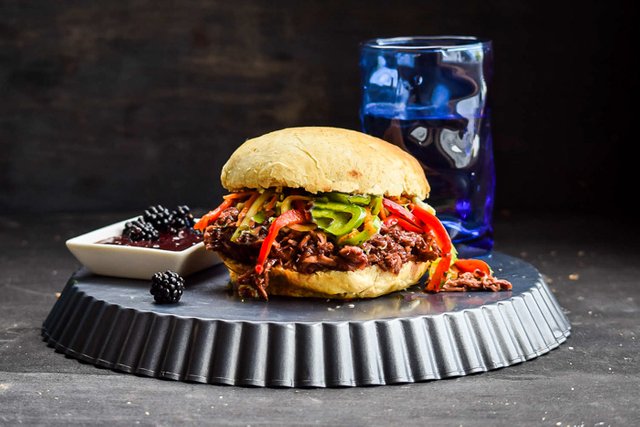 Okay, I know the blackberry bbq has like a million ingredients, but they are most likely things that you already have in your pantry. Then the slaw is very simple and just finishes the whole thing. When you combine it all on a soft, doughy bun it's well worth every ingredient.
If you are looking for a flavor explosion than look no further because this is going to knock your socks off. They're perfect for any summer gathering or just a killer weeknight family dinner.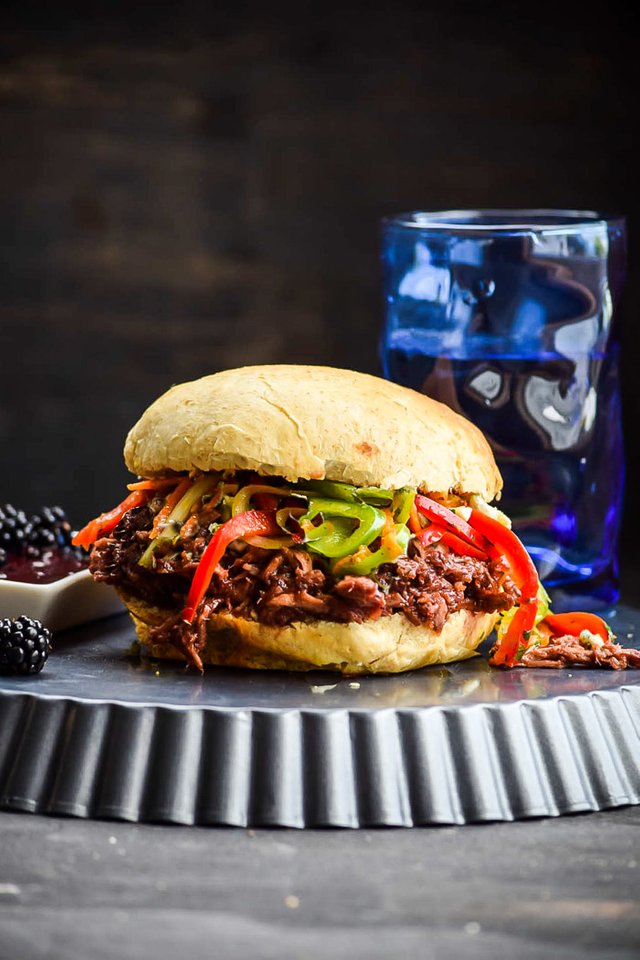 Blackberry BBQ Pulled Jackfruit Sandwiches+Cilantro Pepper Slaw
Skip the boring sandwiches tonight and try these flavorful pulled jackfruit masterpieces.
Prep Time 20 minutes
Cook Time 25 minutes
Resting Time 1 hour
Total Time 45 minutes
Servings 8 sandwiches
Ingredients
Blackberry Barbecue Sauce:
2 heaping cups fresh blackberries
1/2 medium onion finely chopped
2 cloves of garlic minced
1 tablespoon olive oil
1 cup water plus more as needed
1 cup brown sugar
1/3 cup red wine vinegar
1 1/2 cups tomato sauce
1/3 cup tomato ketchup
1 tablespoon liquid smoke
2 tablespoons worchestershire
2 tablespoons lemon juice
1 teaspoon chipotle pepper in adobo minced
1 teaspoon salt
1/2 teaspoon pepper
1/2 teaspoon powdered ginger optional
Cilantro Pepper Slaw:
1 medium carrot julienned
2 red and 2 green bell peppers julienned
1 medium onion thinly sliced
1 tablespoon salt
1/4 cup olive oil
1/2 cup cider vinegar
1 teaspoon black pepper
1 bunch fresh cilantro thick stems removed, chopped
Jackfruit:
2 15 ounce cans young jackfruit, drained and rinsed
1 cup water or vegetable broth
1/4 cup barbecue sauce be sure it's gf and vegan if needed
sea salt + pepper to taste
~
8 sandwich buns gluten free if needed
Get Ingredients Powered by Chicory
Instructions
Blackberry Barbecue Sauce:
Heat oil in a medium sauce pan and combine onions, garlic, and berries over medium heat. Cook for 5 to 6 minutes until onions are browned, smashing berries as you stir. Pour in 1 cup water to deglaze the pan and then add all other ingredients and simmer over low heat until thickened. You can add extra water if sauce gets too thick.
Cool and pour into sealable container and store in refrigerator. It should last for at least 3 weeks but I've kept it way longer before. You can also freeze.
Cilantro Pepper Slaw:
Toss all ingredients for slaw in a large bowl until everything is well mixed. Cover and store in refrigerator for at least 1 hour before serving.
Jackfruit:
Add the jackfruit and water to a small saucepan or skillet with lid. Place over medium heat and simmer for about 10 minutes until the jackfruit begins to soften enough to shred apart. You can use a meat masher or forks to shred it.
Add the barbecue sauce and salt and pepper to taste then cover and simmer until the sauce begins to thicken and the mixture is hot. (For added flavor you can spread out the mixture on a pan and bake for about 10 minutes before serving.)
Toast buns if desired and scoop some of the slaw and some of the bbq mixture into each. Season with salt and pepper to taste and top with slaw. Serve with extra blackberry sauce if desired.

ALL CONTENT IS MINE AND ORIGINAL! All of these food photos were taken with my Nikon D750 and my favorite Lens, the Nikon AF-S FX NIKKOR 50mm f/1.8G. You can find out more in my INTRO POST.
Also, a huge shoutout to @rigaronib for designing my logo!
If you're looking for more recipes check out some of my other recent posts!
Also, I've been starting to vlog in case you missed it.