Layered Mexican Taco Bowls + "Bacon" Bits - FOOD PHOTO SHOOT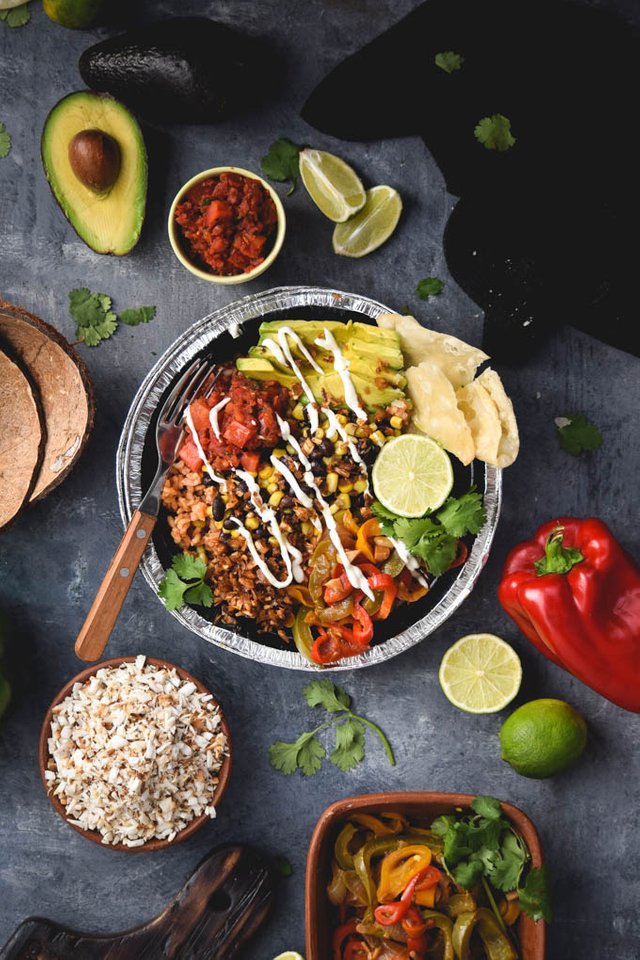 Hey guys, how's it going? I'm getting so excited about the upcoming travels I have planned. First I'll be in L.A. and then later I'll be off to Poland for Steemfest 3! Tell me, do you have travel plans and are you going to Steemfest?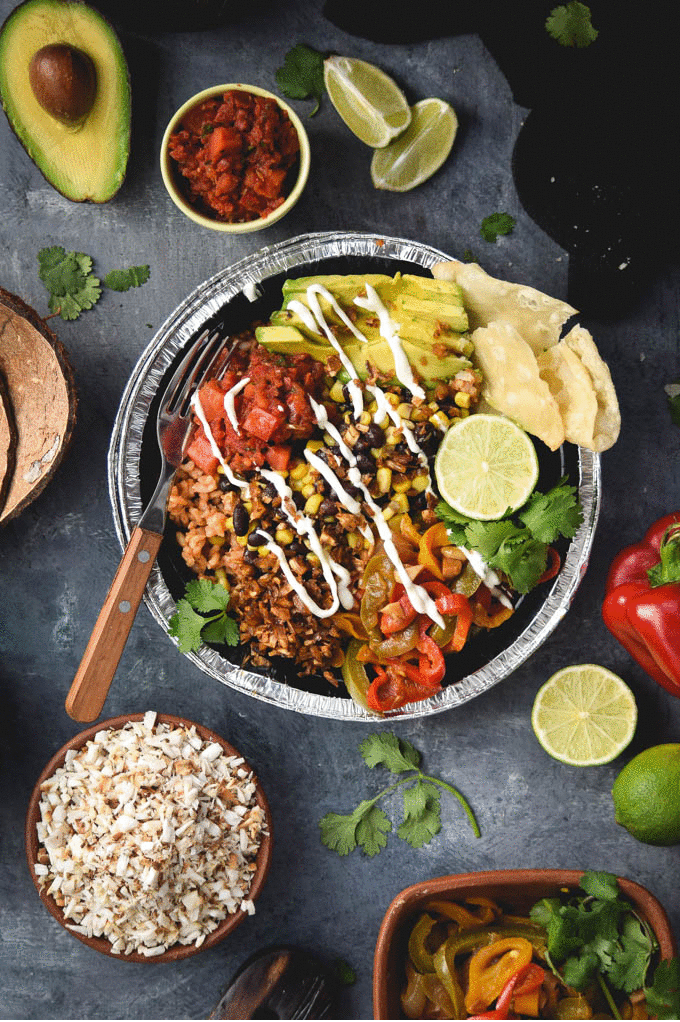 So about these bowls. They're loaded with good-for-you things like beans and veggies, but it's all super easy to throw together so don't worry. I quickly sautéed some bell peppers with garlic and lime for our tacos last week and they add such a huge flavor statement that I knew I had to repeat it for these bowls because everyone was flipping over them.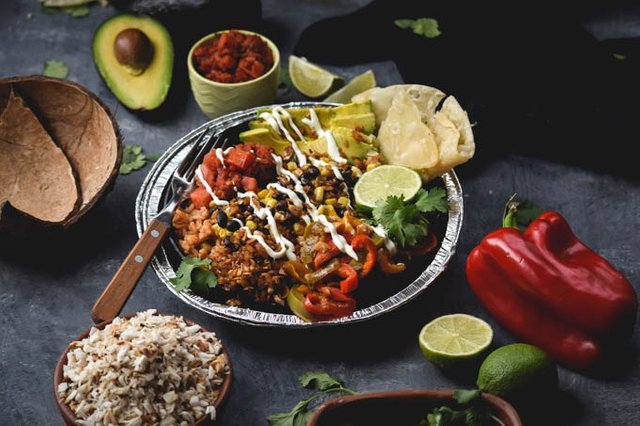 Me and bowl-style food are having a moment right now. In case you haven't noticed, bowls of every kind have been getting more and more popular across the food blogosphere and it's easy to get why. Who doesn't love a colorful and personalized pile of goodness in one dish? I think you need to add these bowls to your list of things to make this season, are you guys in or what? Bowl food for the win!!!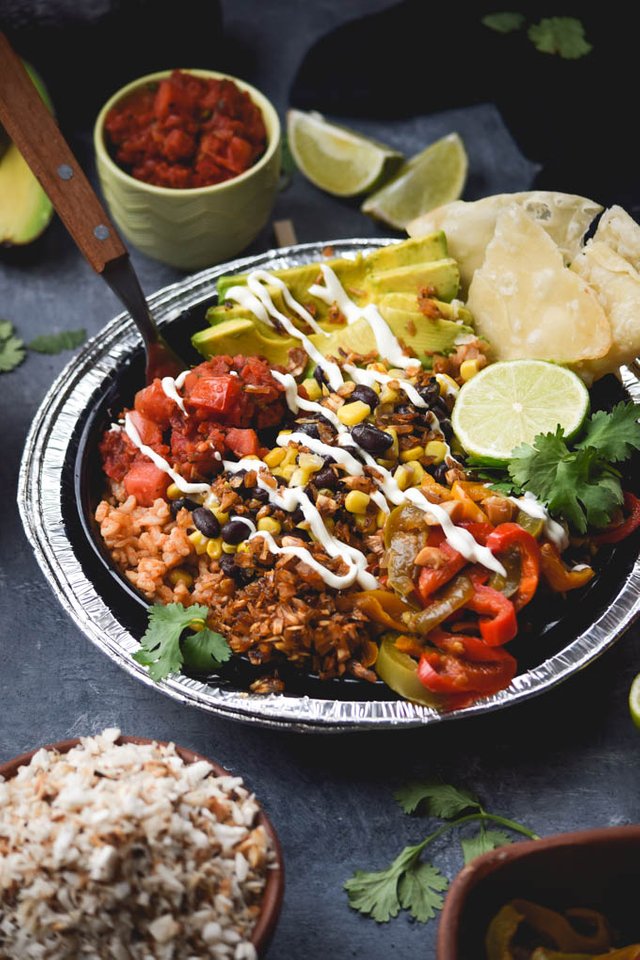 Layered Fiesta Taco Bowls with "Bacon" Bits
Prep Time: 15 minutes
Cook Time: 30 minutes
Total Time: 45 minutes
Ingredients
"Bacon Bits":
2/3 cup (fresh) shredded coconut
1 tablespoon olive oil
3 tablespoons soy sauce
2 tablespoons liquid smoke
2 tablespoons pure maple syrup
1/4 teaspoon black pepper
1/2 teaspoon paprika
Rice:
4 cups steamed brown rice
2 tablespoons olive oil
1 small onion, finely chopped
3 cloves garlic, minced
1/4 cup tomato paste
1 1/2 cups water
1 teaspoon oregano
2 teaspoons chili powder
1/2 teaspoon cumin
1 teaspoon salt
Lime Grilled Peppers:
3 limes (juice and zest)
2 tablespoons olive oil
4 cloves garlic, minced
1 small onion, diced
1 large or two small each: red, green, and yellow bell peppers, seeded and diced
salt and pepper to taste
Black Beans/Corn:
2 cups black beans
2 cups whole kernal corn off the cob
salt and pepper to taste
Optional Toppings
about 1/4 cup fresh cilantro leaves
1 cup your favorite salsa, (homemade is the best)
avocado slices or guacamole
tortilla chips
coconut cream mixed with 1 teaspoon lime juice for "sour cream"
extra limes for squeezing over top
Instructions
"Bacon Bits":
Toast the coconut with 1 tablespoon olive oil in a large skillet over medium high heat, stirring constantly, until edges are starting to turn golden brown. Reduce heat to low and add remaining ingredients for the "bacon" and stir for another few minutes until the liquid has mostly evaporated. Remove from heat and pour into a seperate dish so you can use the pan again.
Rice:
Combine onion, garlic, and olive oil in the same large skillet from the "bacon" and saute over medium high heat for 3 to 4 minutes until soft and browned. Stir in remaining ingredients, reduce heat to low, and cover. Simmer, stirring occasionally, for about 10 minutes until liquid is absorbed and rice is hot. Cover to keep warm until serving.
Lime Grilled Peppers:
While the rice simmers, heat 2 tablespoons of olive oil in a small skillet and add lime juice, zest, garlic, onions, and peppers. Cook for 6 to 7 minutes until peppers are softened. Season to taste with salt and pepper. Pour them into a separate dish and cover to keep warm.
The Rest:
Add black beans and corn to the pepper pan and stir over heat for about 3 minutes to warm then season with salt and pepper and remove from heat.
Layer your bowls with desired amounts of the hot rice, black beans/corn, peppers, "bacon", and any of your desired toppings!

ALL CONTENT IS MINE AND ORIGINAL! All of these food photos were taken with my Nikon D750 and my favorite Lens, the Nikon AF-S FX NIKKOR 50mm f/1.8G. You can find out more in my INTRO POST.
Also, a huge shoutout to @rigaronib for designing my logo!
If you're looking for more recipes check out some of my other recent posts!
Also, I've been starting to vlog in case you missed it.