Street Art in Bangkok - A Walk Through the Neighborhood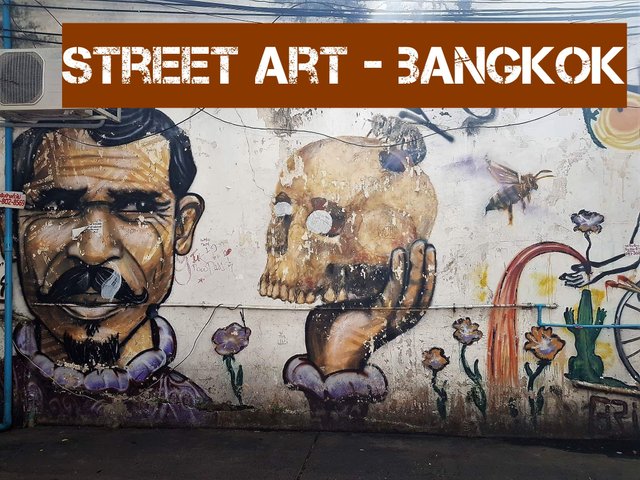 Inspired by @lynncoyle1's recent post on murals in Playa del Carmen, Mexico I thought I'd go for a little walk with @suitcasemama and @suitcasebaby through our neighborhood in Bangkok to see what kind of street art we could find within walking/strolling distance.
There's a TON of great street art in Bangkok, but since we were on foot and had a toddler in tow, we had to keep it very local. We live near the Asok BTS Station, so we headed south on Sukhumivit Soi 16, to see what the less touristed back streets had to offer.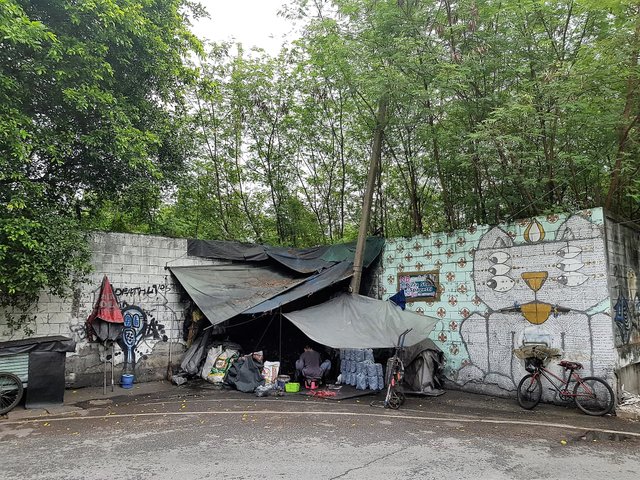 Near a khlong (canal) at a bend in the road is a charcoal vendor's shop. Yes, most of Bangkok is electrified today, but since cooking gas has become more expensive, many street-food vendors have turned to charcoal to cut costs.
This particular charcoal vendor is under the watchful eye of this six-eyed cat. Let's take a closer look, shall we?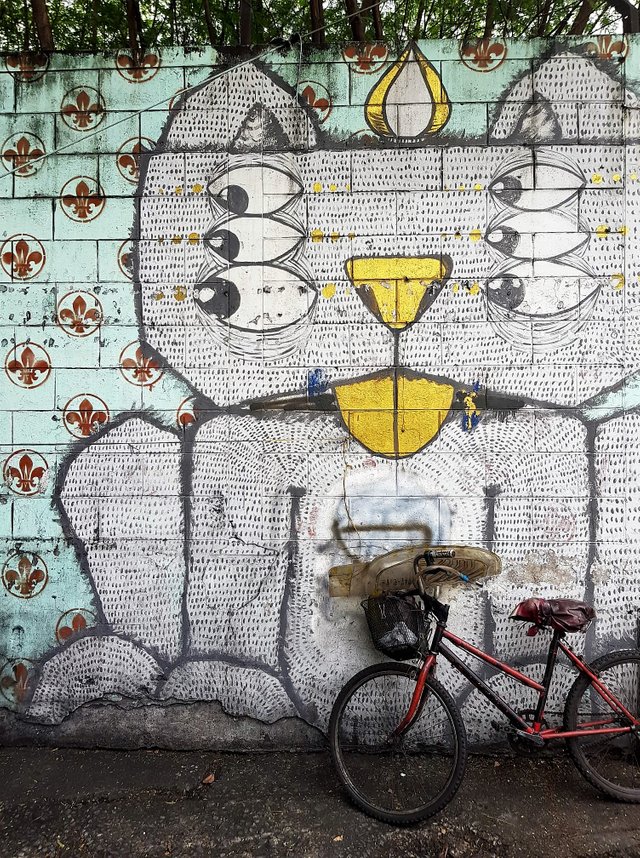 What came first, the cat or the charcoal vendor? Ah, the eternal question! Unclear, but it must be comforting to know that you're being watched over as you work.
Continuing down the road, right near one of the exits of the Queen Sirikit Convention Center MRT you'll find this colorful wall starring a very well dressed chicken holding scales.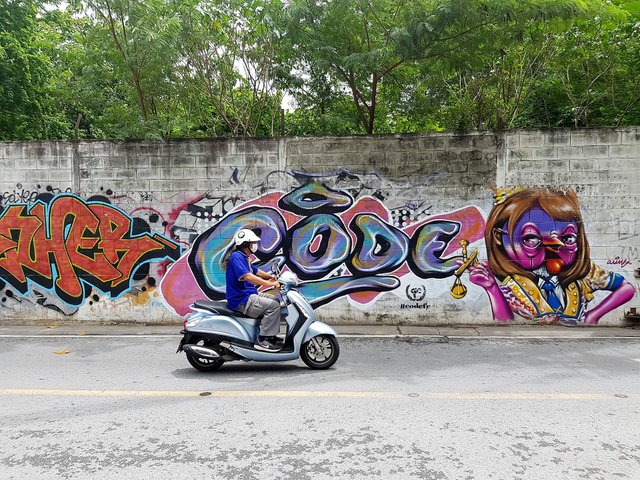 Upon further inspection, you may notice a couple of things: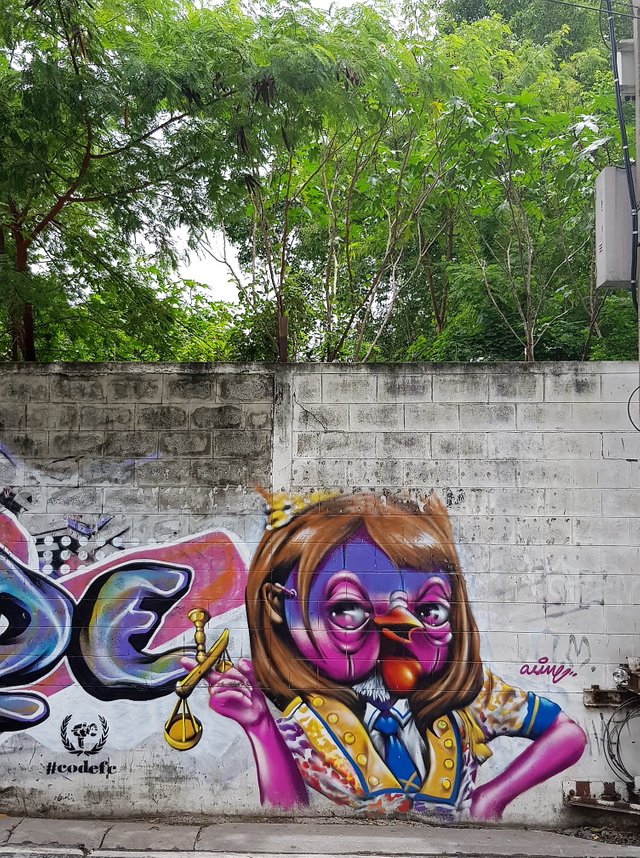 There is a #CodeFC stenciled on the left under the giant "CODE" and the fancy chicken on the right has been signed by Asin. After poking around on the internets a bit, it's clear that this wall hosts a couple of different artists.
From what I've gathered, #CodeFC is an artist originally from Rome. He has been creating street art for nearly 30 years (since 1989) mainly in Rome, London, Ibiza, and Bangkok. I tracked down his Global Street Art profile page which provides his social media links (sadly not on Steemit yet!).
Sure enough, scroll down a few rows on his IG and you'll see our neighborhood wall!
Asin is a Thai artist who seems to be quite busy in Bangkok. You can see variations on his chicken theme all over the city. He has also taken his craft outside of Thailand to Berlin and Amsterdam. Learn more about him here.
We saw a few more murals on the way home including this one which seems to depict a Thai Hamlet holding a skull: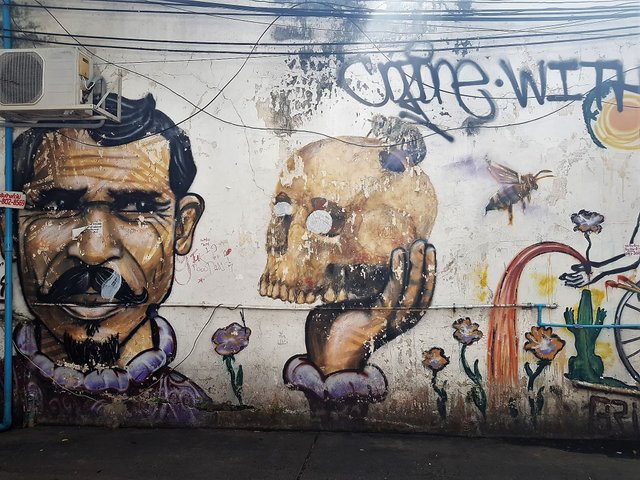 And as we turned the corner to come home, we saw my favorite: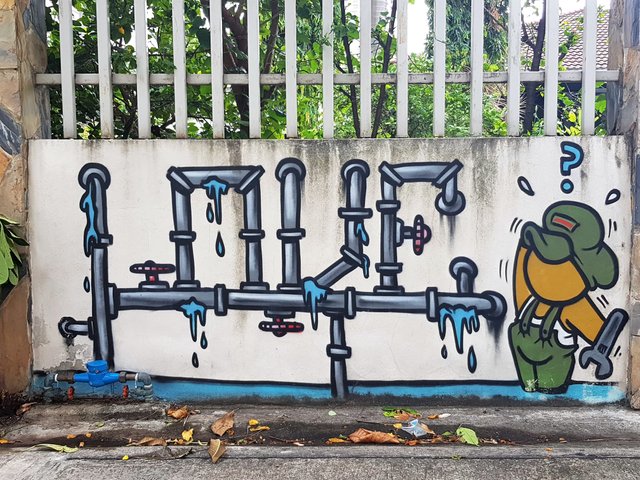 I've passed by this one a hundred times and have always enjoyed it, but it took me preparing this post to see the secret message in the confusing plumbing. It's very obvious as I look at it now, but didn't notice the pipes spell out "LOVE" - not a bad message to share with the neighborhood.
Unfortunately I wasn't able to dig up much information on some of these works. If you know any more about these artists or their stories, please share in the replies below, I'd love to learn more!
If you're interested in seeing this street art in person, let me know and I can point you in the right direction.
Lastly, if you are currently in Thailand or planning a visit, please consider giving back. I've recently written on Four Worthwhile Causes in Thailand. There is a lot of good work being done here!
Enjoy this post? Learn more about me here:
Allow Me to Introduce Myself! | Husband / Father / Humanitarian / Traveler / Expat Abroad

Follow @eoj and check out my other recent posts:
I'm also running a super nerdy Top Ten Cryptocurrency Experiement for 2018 over at my @starthere account. Check it out if you're into that sort of thing...
@eoj is kindly supported by 100 SP delegation for 45 days by @minnowfund: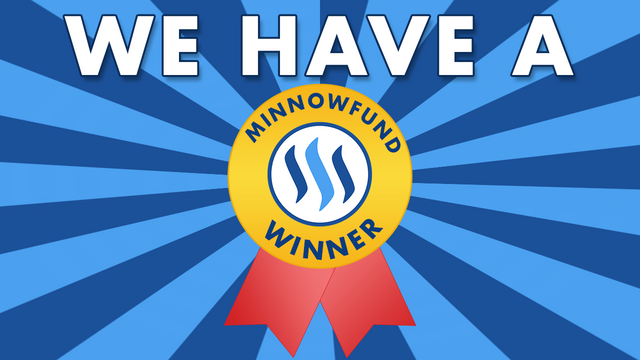 And by @steemfunding - 50 SP delegation until I reach 100 SP: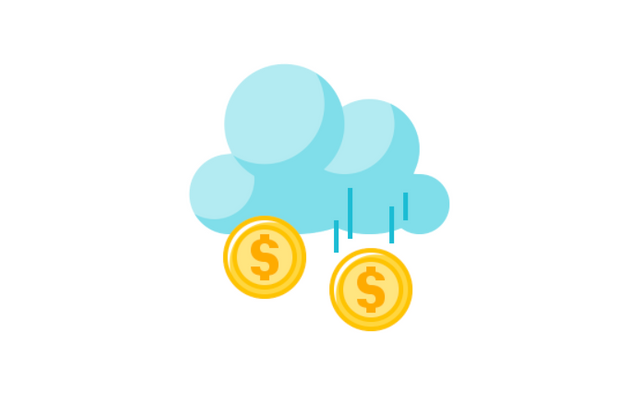 A big thanks to both @minnowfund and @steemfunding!