Well Off the Beaten Path (Episode One) - Restoration of Saat Tale Royal Palace - Nuwakot, Nepal
Tourism was hit very hard after the 2015 earthquake in Nepal. Thankfully for the Nepali economy, visitors have started returning in greater numbers than ever before. In fact last year saw Nepal welcome a record amount of tourists, nearly one million.
If you're considering a trip to Nepal - and you definitely should, Nepal is a beautiful country with some of the friendliest people on the planet - I'd like to suggest an interesting side trip, just a few hours out of the capital city of Kathmandu. You're likely to have the place to yourself, or at least be the only tourist there.
Saat Tale Durbar in Nuwakot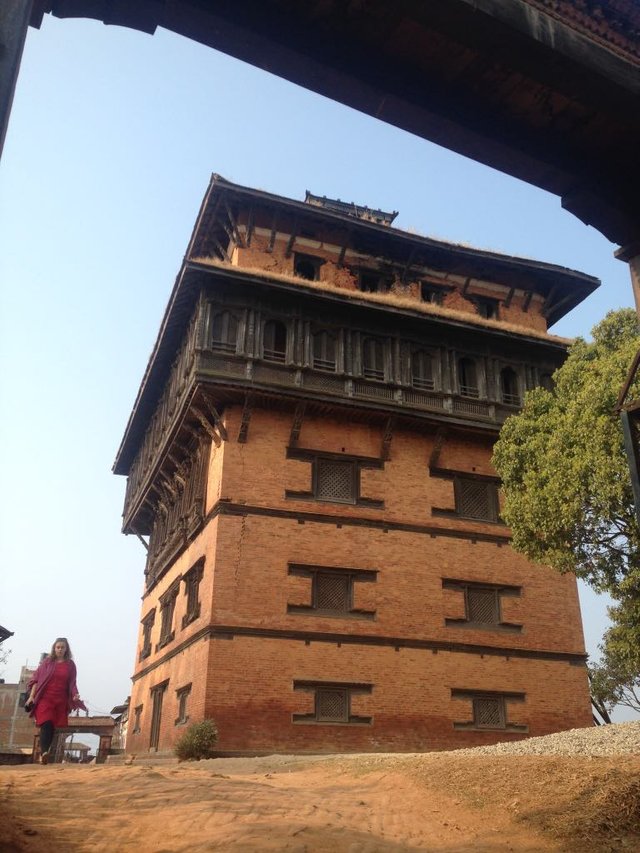 The Saat Tale Durbar ("durbar" means "royal palace") is a beautiful seven-story palace fortress built in the 18th century. It was quite the tourist draw for both foreigners and Nepalis. It boasts amazing brickwork, cantilevered windows, and intricate wood carvings.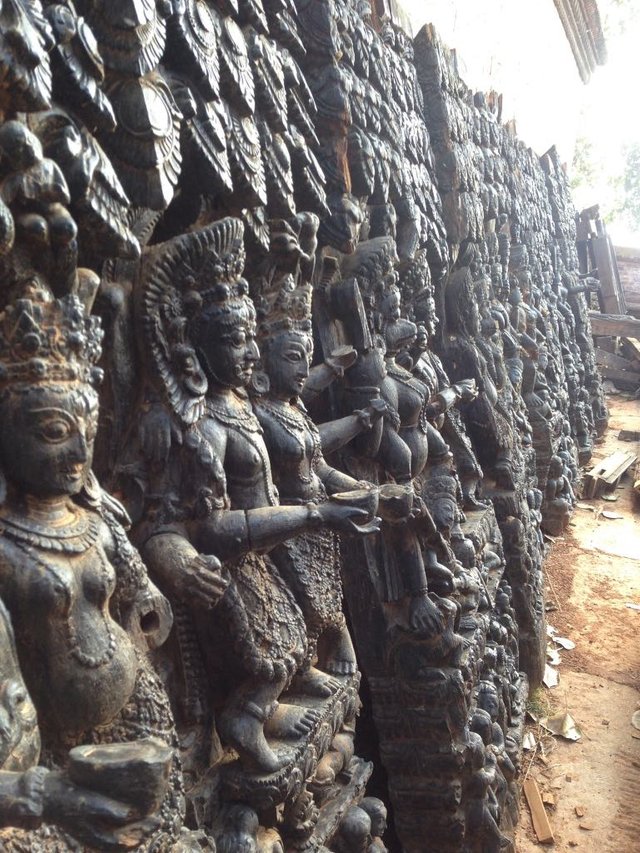 People would come to ascend the tower to see the third floor residence and the sixth floor jail. There's even a small lookout tower on the top floor that people used to climb to get fantastic views of the surrounding countryside.
Why do I say "used to"?
Well, at first glance all may seem fine, but look a little closer. Zoom in a bit. See those cracks? It sustained quite a bit of damage during the 2015 earthquake.
Go around the back you'll notice poles are supporting the structure, keeping it up.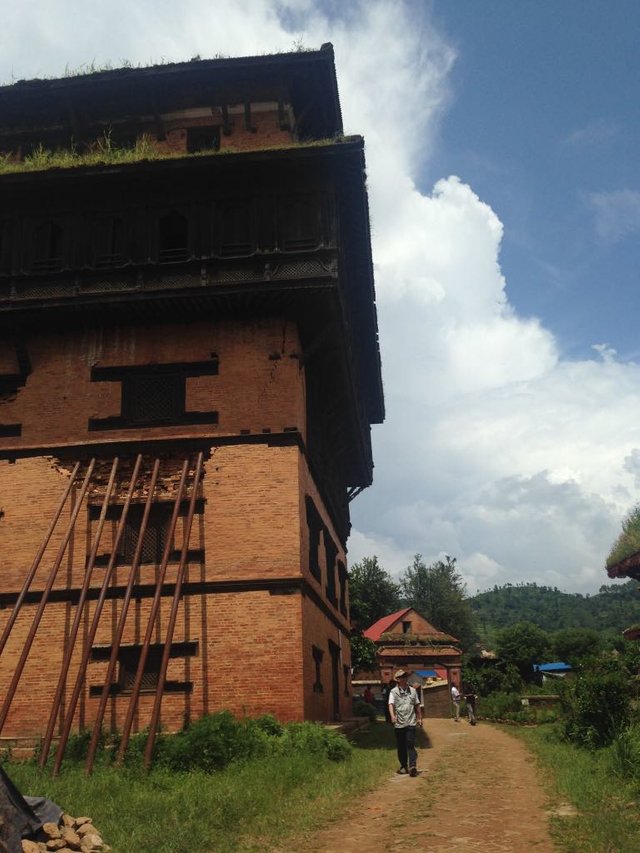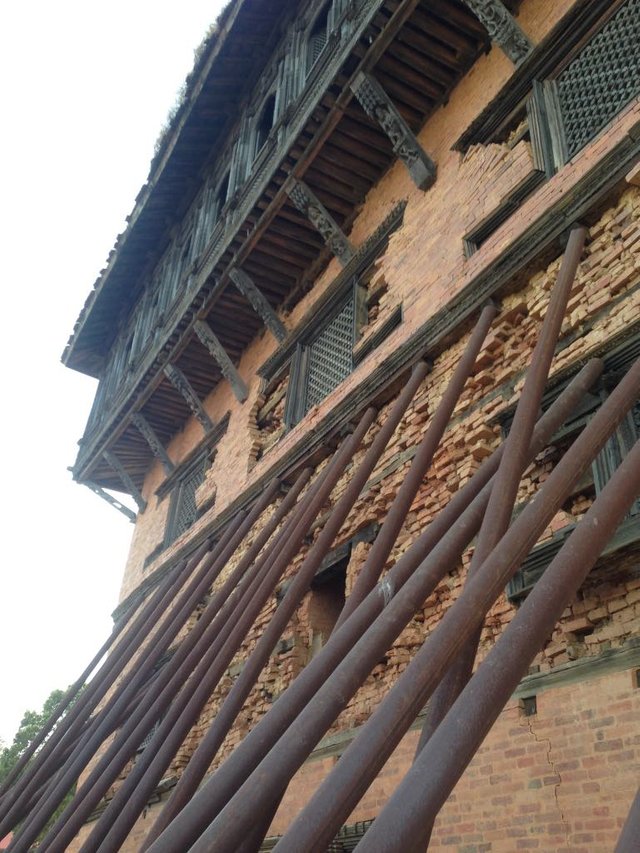 Yeah, you're not going to want to climb the tower these days. Don't worry, you're not allowed to - the doors are sealed shut.
So why go now - why bother?
Well, reconstruction and restoration efforts are underway. If you're interested in how the tower was built nearly 300 years ago you will find it fascinating. The wood carvings are being done on-site by local artisans using triangular wooden tools and chisels as was done centuries ago.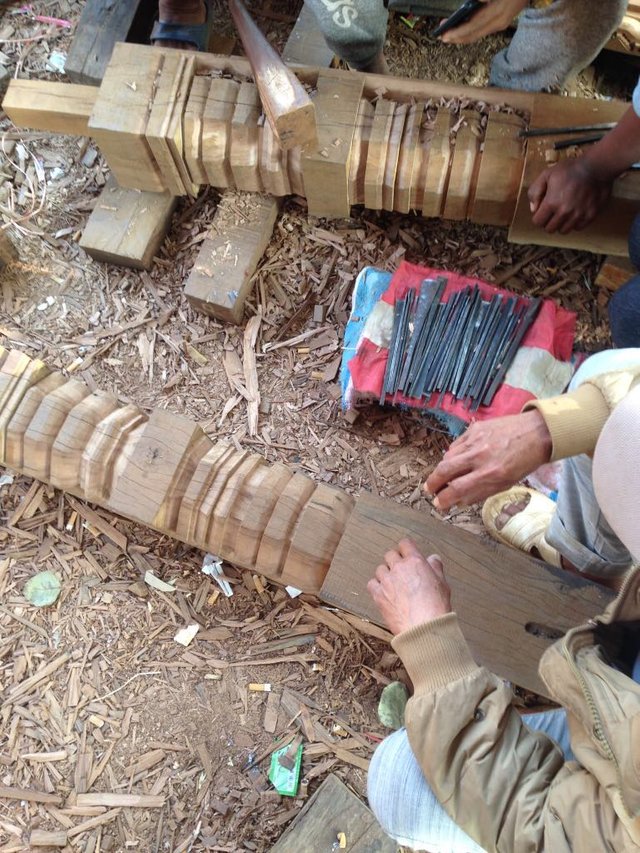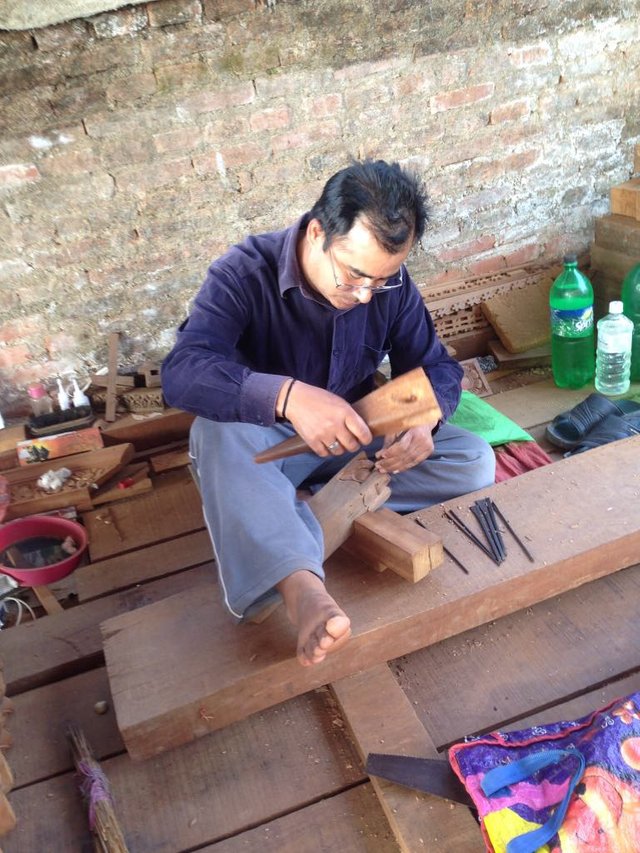 Definitely worth a trip if you ask me. Take your time, buy a cool drink or some snacks in the charming nearby village and feel good about supporting the local economy and being one of the first tourists to return post-earthquake.
So - how do you get to Nuwakot?
Trisuli Bazaar is the closest town and can be reached in 3-4 hours by regular bus service from Kathmandu. You can also hire a car which would be roughly $100 USD round trip, plus a bit additional if you want the driver to stay overnight. It can be done as a day trip from Kathmandu, but it would be a very long day.
I would recommend staying at least one or two nights to be able to explore the Nuwakot area in a relaxed manner. I've never stayed here, but I've heard there's a beautiful boutique hotel nearby called The Famous Farm. A bit pricey for Nepal, but hey, after a 4 hour bus ride on Nepal roads you should treat yourself.
If you are interested in architecture or ancient construction methods Saat Tale Durbar in Nuwakot is definitely worth a visit, a true off the beaten path destination in Nepal.
All photos by @eoj.
This post is kindly supported by @sjennon's Sjennon Support Series.

@sjennon is on a world tour and blogging about her adventures exclusively on Steemit. She is also giving back to minnows like me just because she wants to. How nice is that? You should probably check her posts out and continue to support her as she supports others.

Enjoy this post? Follow @eoj and check out my other recent posts:
CONTEST - Think you're well traveled? Name that.... TAIL!
It's July 4th - Happy Birthday America!
Cox's Bazar Surf Report and the Father of Bangladeshi Surfing
World's 50 Best Restaurants for 2018 Announced
How to Overcome Screen Addiction - 5 Practical Tips

Bubble dividers courtesy of @kristyglas. They're nice, huh? Not too much, not too little. Just right. Thanks @kristyglas.  

I'm also running a super nerdy Top Ten Cryptocurrency Experiement for 2018 over at my @starthere account. Check it out if you're into that sort of thing...

(or UFCR for short?)