AGGRESSIVE ETF PORTFOLIO Update: UP by 13.52%

SUMMARY
I've used this technique to grow wealth. It is a very simplified technique of following the trend which is always smartest. I never discuss equities on this blog but introduced this Aggressive ETF Portfolio model. I was a bit concerned to see so many pour all their money into cryptos as such doesn't represent a de-risking strategy but only greed. I believe it is best to be well diversified amongst cryptos and equities and other hard assets. For that reason, I shared this portfolio to perhaps augment the readers' due diligences.
I missed last week's update on the Aggressive Portfolio update due to holidays and knee hurting ski moguls! It matters none as zero change would have been made. On 12/29; TQQQ was the resounding winner and today, TQQQ remains in the lead, as shown in below chart: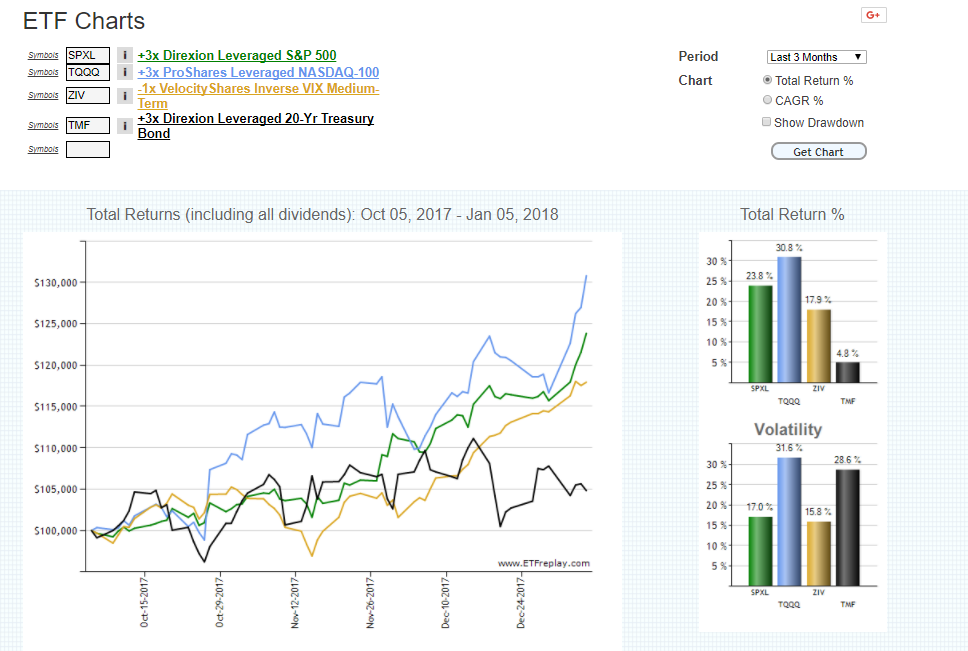 The below shows that this Aggressive ETF portfolio is up 13.52%: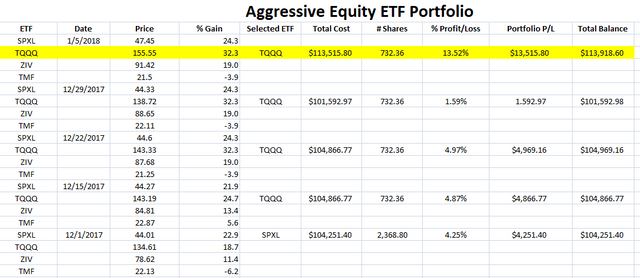 I believe 2018 will be a great year not only for Cryptos for but equities!
Please consider reviewing these Tutorials on:
Elliott Wave Counting Tutorial #1
Elliott Wave Counting Tutorial #2
Elliott Wave Counting Tutorial #3
Laddering and Buy/Sell Setups.
Laddering Example with EOS
Tutorial on the use of Fibonacci & Elliott Waves
These Technical Analysis Books: Elliott Wave Priniciple & Technical Analysis of Stock Trends are highly recommended
@haejin's Trading Nuggets
Essay: Is Technical Analysis a Quantum Event?
Follow me on Twitter for Real Time Alerts!!
Follow me on StockTwits for UpDates!!
--
--


If this blog post has entertained or helped you to profit, please follow, upvote, resteem and/or consider buying me a beer:
BTS Wallet - haejin1970
BTC Wallet - 1HMFpq4tC7a2acpjD45hCT4WqPNHXcqpof
ETH Wallet - 0x1Ab87962dD59BBfFe33819772C950F0B38554030
LTC Wallet - LecCNCzkt4vjVq2i3bgYiebmr9GbYo6FQf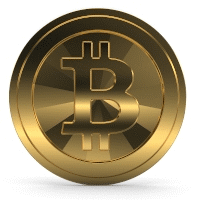 Legal Disclaimer: This is only my opinion, make of it what you wish. What does this mean? It means it's not advice nor recommendation to either buy or sell anything! It's only meant for use as informative or entertainment purposes.**