I'm Will.
Middle name Mac; hence the Willymac.
Hi, Steemians!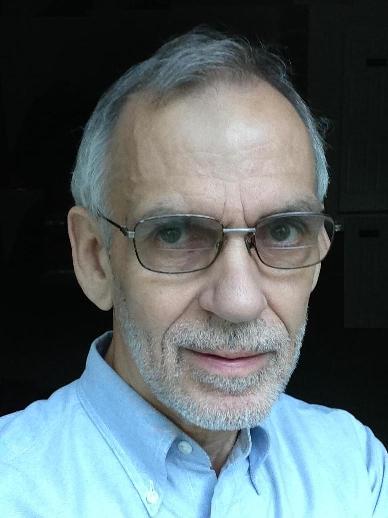 First off, I love living in the country and in the woods. The Significant Other and I retired here in the southeastern US to slow the pace of life and to enjoy being closer to nature. We are surrounded by trees and a large tract of undeveloped land, so even our nearest neighbors are not exactly nearby. They are pretty nice folks, too; most 'country folk' are.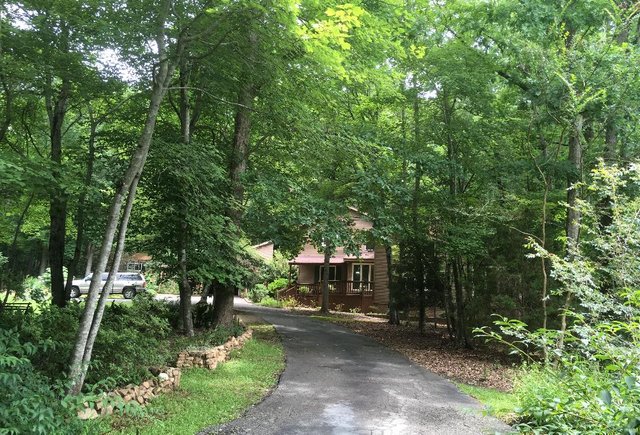 .<>.
Just in case, that is why gates were invented! To me, it says, "Welcome home!" To others...maybe not! Besides, when you have a left-over farm gate and need a project, why not put it to use? If nothing else, it keeps wandering cows away.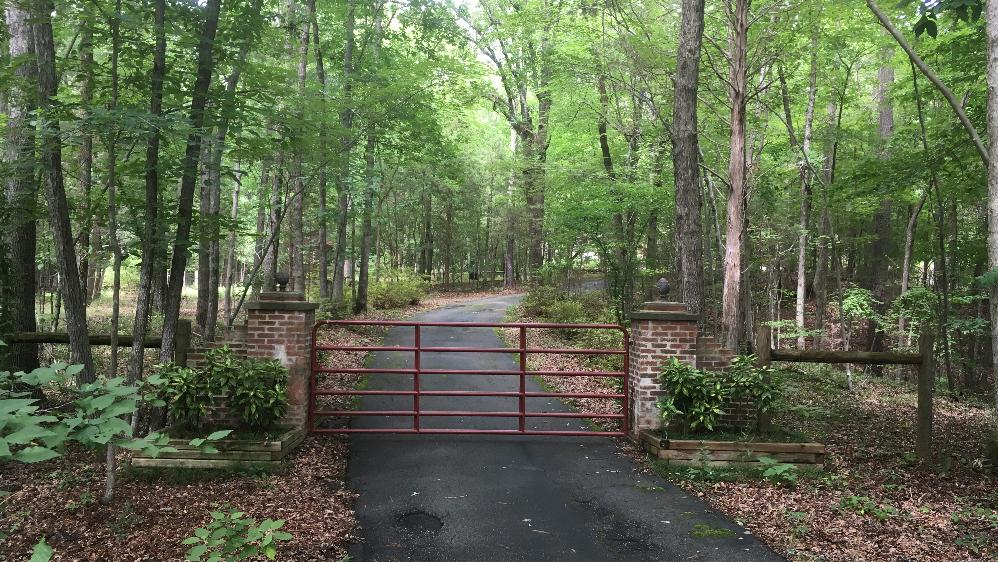 .<>.
The only sounds at night are Nature's own. We hear occasional aircraft far overhead, but mostly we hear birds and frogs. Lots of frogs! Lots of fish, too, but they are not very noisy. There is a pond about fifty feet from our house and the steady traffic of birds and the night-long chorus of singing frogs keeps it entertaining.
There is a creek a hundred meters on the other side side of our house and it has a steady traffic of deer, raccoons, opossums, and lesser numbers of foxes and rabbits, all coming and going. An Emu named Emma lives there since it's fenced in. The fence is ignored by the rest of the animals.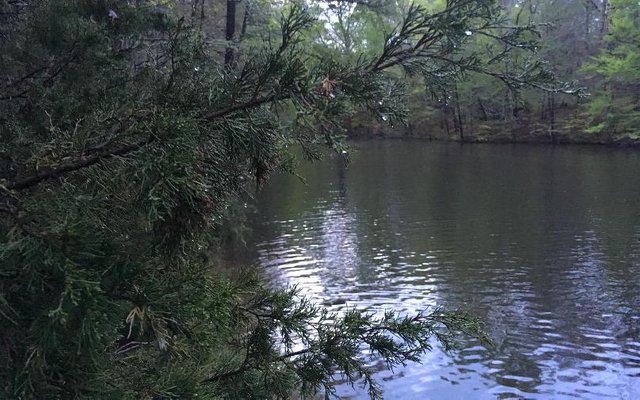 .<>.
The most relaxing thing I do is work with my tractor. It can be tiring work since tractors are not comfort machines, but I like the smell of cutting weeds and grass, of being outdoors, and having time to plan for great things ahead! At times, I spend a ten-hour day on it, cutting brush and trying to keep different areas civilized. In the springtime, it takes a full week of cutting to keep the new weeds and trees from overtaking the landscape. Sweetgum (Liquidambar) trees are notoriously invasive, and new trees sprout from the roots, causing them to spread everywhere. It is humbling to realize that Nature will reclaim my efforts in just five years once I stop interfering with the natural process. Another repeating cycle of life!

.<>.
The most satisfying part is cutting things that do not fit in to give others room to grow and spread out. The "culturing" is more rewarding as time passes. Six years ago, the small pine trees on the left were not there, and the wild Persimmon tree on the right was a meter high!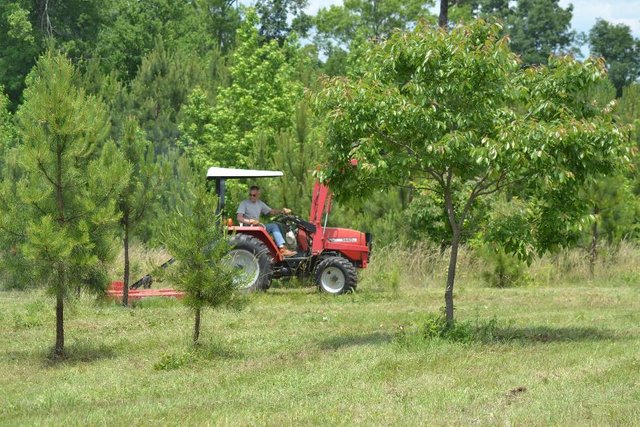 .<>.
Deer, raccoon, and opossums love the Persimmon fruit that looks like a half-size, soft orange. I found and cultivated over a hundred twenty wild Persimmon trees! After all that time of cutting circles around little trees with a big tractor, they became the focus of my efforts. We even named the place after them!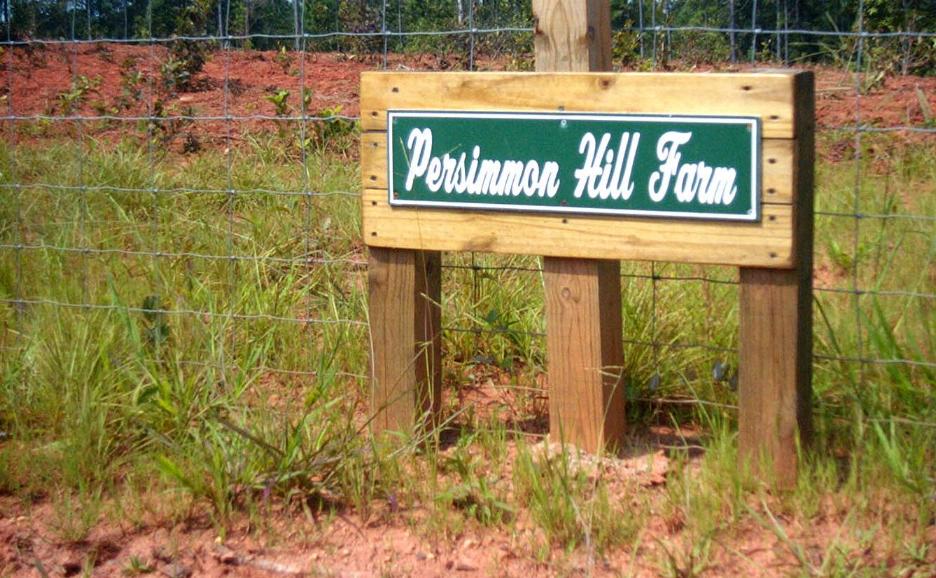 .<>.
I love building anything from wood! Large and small projects dot the landscape. Maybe a photo collection of those would be interesting.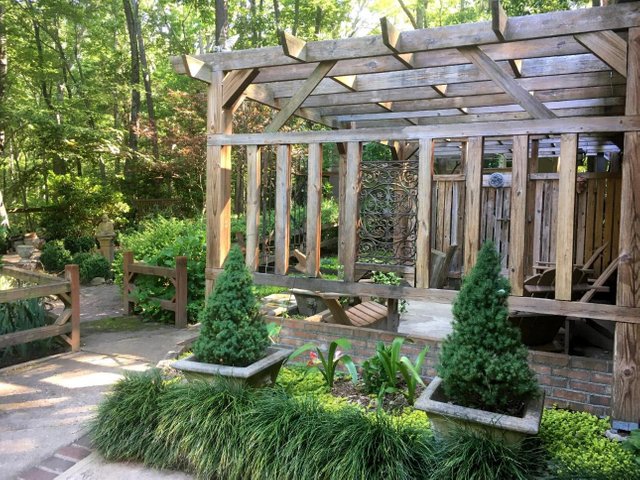 .<>.
The goats and donkey and bees are gone now, but we still have Emma Emu. She is the least-contributing member of the homestead, (i.e. useless), but she does keep the rattlesnake population down. She gets two apples, two carrots, and a dozen grapes a day for her services. Plus all the creepy-crawlies and grass she can eat.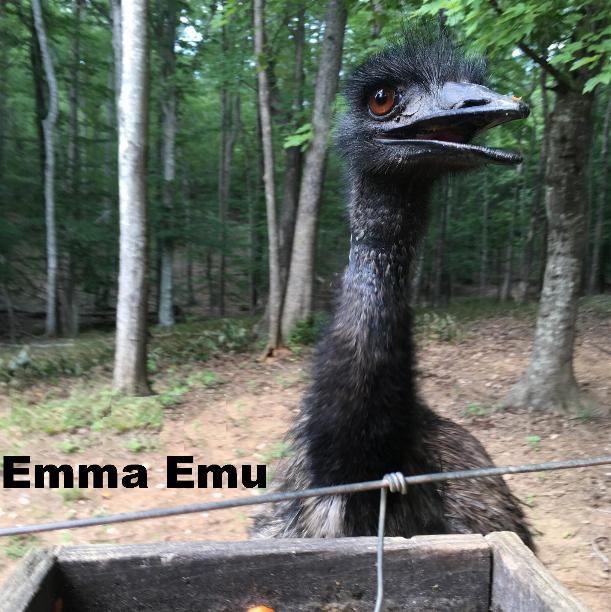 .<>.
We love gardening, but keeping things around the house looking civilized is more work than actual fun at times. Since we share the woods with deer, and they seem more at home in our yard and eating our flowers and landscape, we have not been too successful with flowers. The deer pay only casual attention to us, even in the daytime. They were here first, so we are adjusting to being their guests.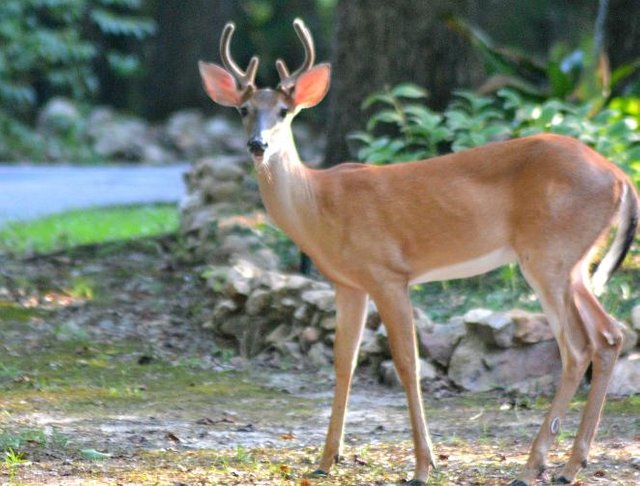 .<>.
We also enjoy target shooting, and are fortunate to have the room to do it any time without disturbing anyone. My Significant Other, the S.O. In Charge (the SOIC) around here, is better at it than I am, so don't cross her! Lots of target practice goes on in the surrounding area and we don't even notice now. We don't hunt and don't allow it on our land. One of my neighbors jokes that, "We don't call 'em hunters or trespassers, we call 'em targets!"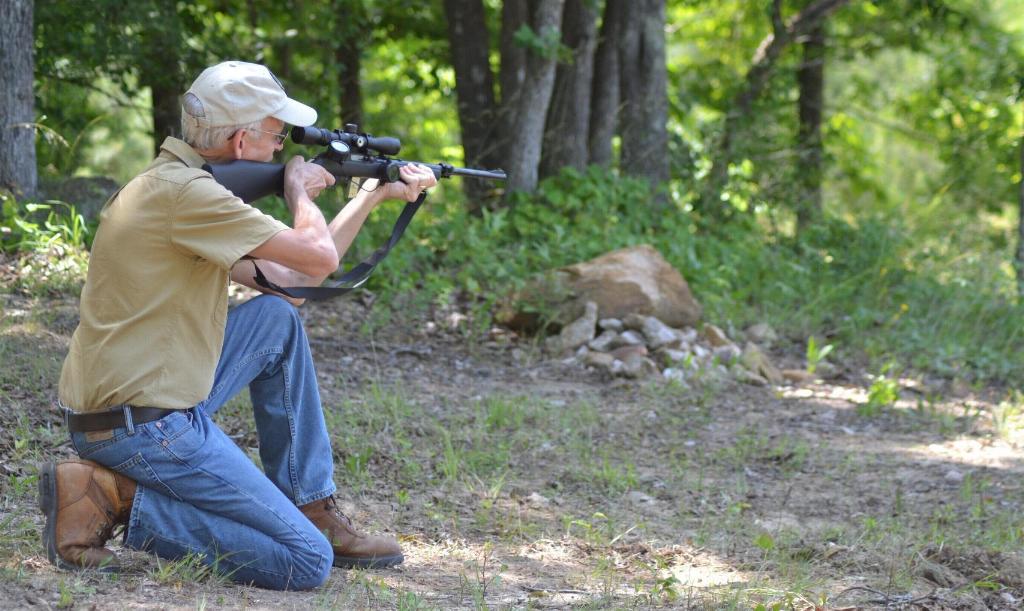 .<>.
The SOIC is an ex-PC hardware support person who has installed and supported just about any computer used in an office for the past twenty years. For that, she gets her own photo here in my bio.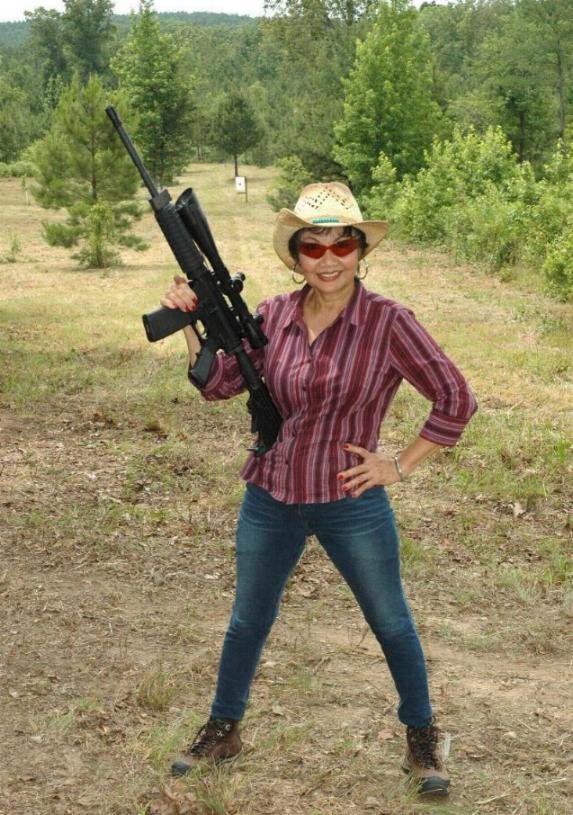 .<>.
I have enjoyed Ham radio for many years. I got my first license when in the US Air Force and upgraded to Extra class a decade ago. I do Morse code and a few other digital modes. It seems that time available for that suffers lately, though. Things like a new crop of weeds and STEEMIT begin to rearrange priorities.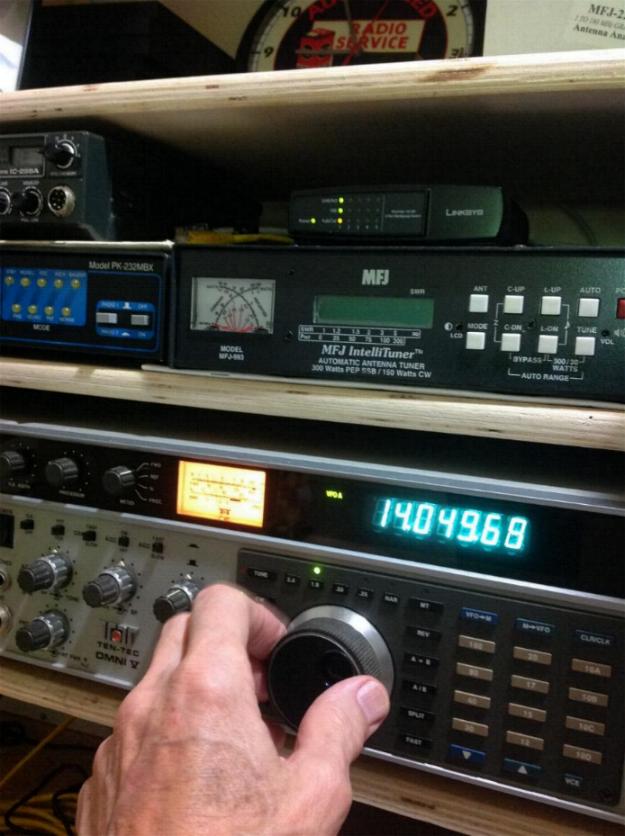 .<>.
Oh! I have my dogs to keep me company when the SOIC is busy. Mike is an expert in riding in my truck and watching me drive. He likes chasing squirrels but doesn't really try to catch them. He's as friendly and lovable as all get-out, but pretty useless at chasing deer away.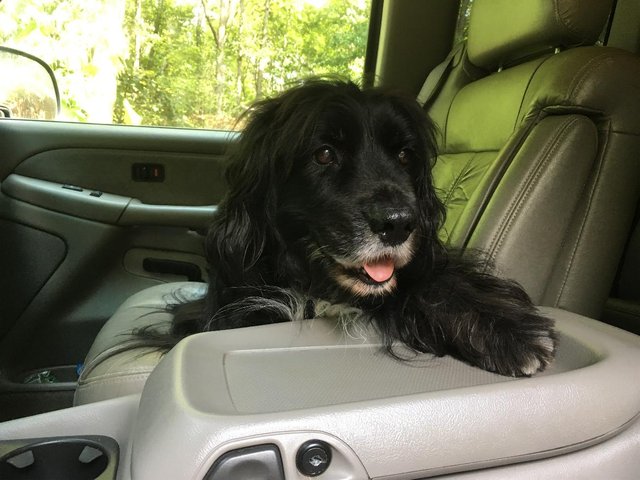 .<>.
Sam, the Golden Retriever, is the senior dog around here and has retired now. He has spent many years of working on the farm, chasing deer and snakes, and sounding alarms when needed. He always worked with me and ran along two meters from the tractor next to the left front wheel. There were times when I would have stop just to give him a break and some shade to cool off in. Now, his job is to rest and not run so much. He had a way of looking at me and knowing what I wanted; really a fine fellow traveler through this mortal coil. He is the kind of dog friend you miss a lot.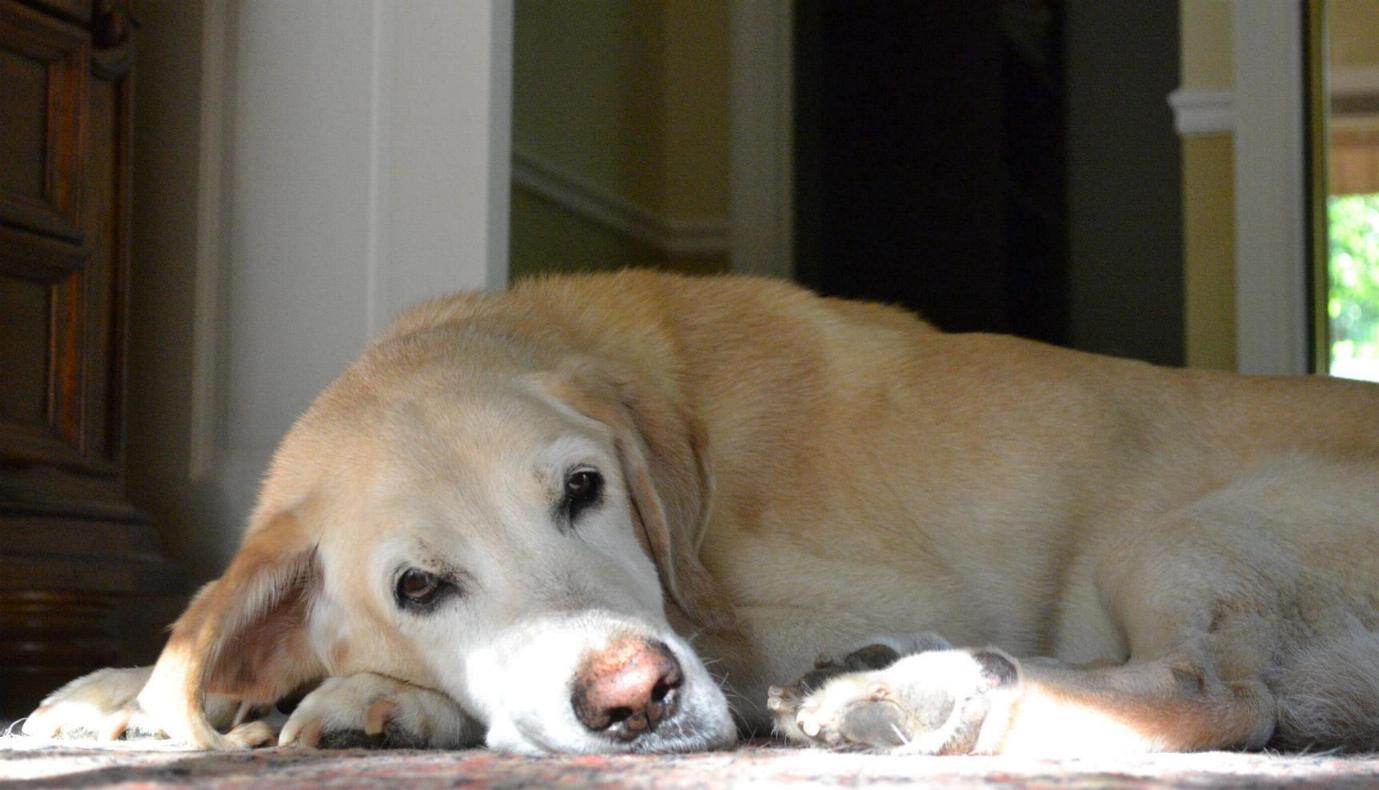 .<>.
I didn't forget the SOIC! She adds class and civility to the homestead. In addition to that, she cleans up real nice! The last time I looked, I have over 14,000 images of her. I think I feel a photo post coming! A pause is appropriate here.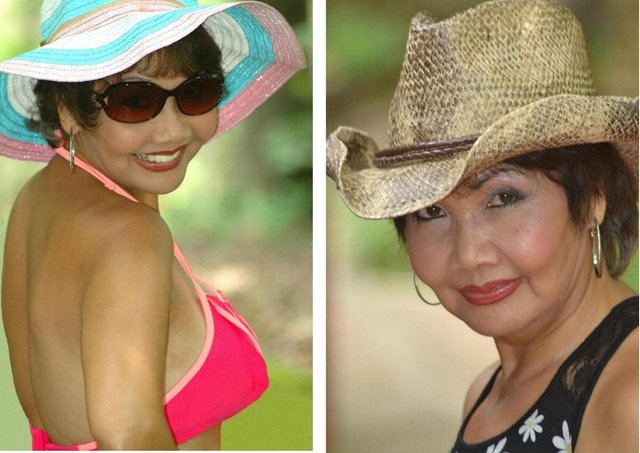 .<>.
With all the other things happening, I stay enrolled in an on-line course of some kind all the time. I like learning new things and it keeps the Brain Engineer alert, just in case he's ever needed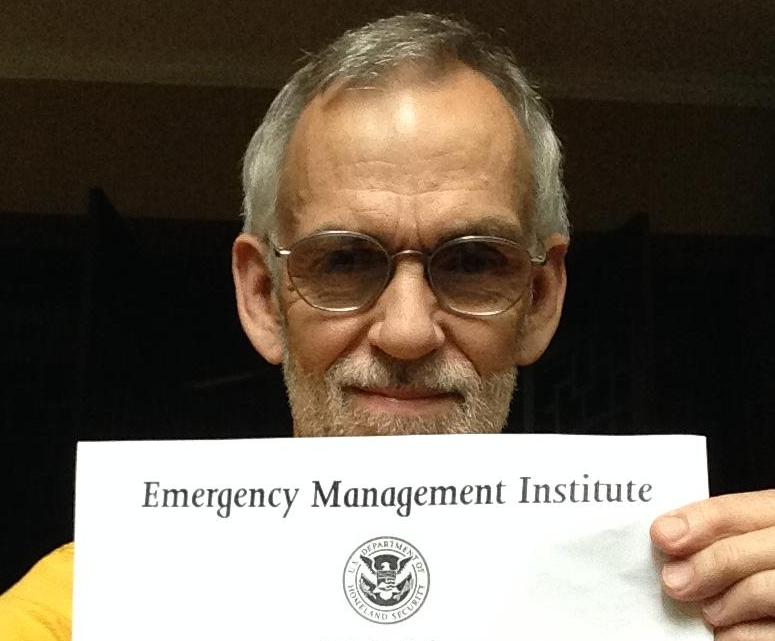 .<>.
I also do a lot of writing and, hopefully, some of it is not bad. Two books are doing okay and a third is being proofread now. Leaving Saigon was written about a young girl growing up in Vietnam during the war. With over 600 pages, you get an intimate picture of what it's like to be one of seven children, living in a house with a roof of banana leaves and a dirt floor; constantly struggling with poverty, relocation, and starting over yet again. Most of us forget how fortunate we have been.
Sterling:for the Republic is about a total banking failure in the US and everywhere else, all within three days. I started that after working on an MBA and realizing that our economy is built with IOUs from a private bank. Understanding that can change your life! You may be surprised how fast things can fail and how much fun it is NOT when it happens, and you discover that whatever your plans were, they won't work! That's another 460 pages of pure entertainment, and I think the character development is my best yet.
.<>.
Far too much about me, I think! Once, years ago, we were introduced to a new couple and chatted briefly. A bit later, the SOIC told the other woman, "Just bear with him; he's really not as boring as he seems at first."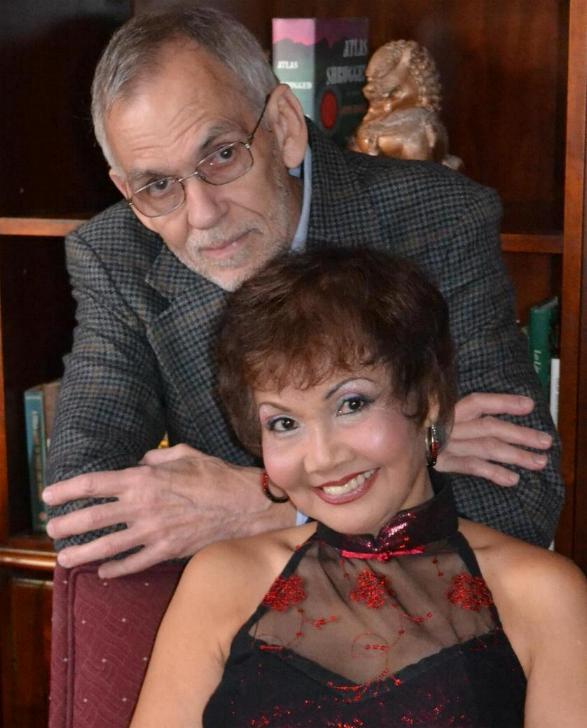 .<>.
BTW, if you want to start a library, the book behind me, Atlas Shrugged, is perfect for that. Read, learn, and do. It tells more about me than this Introduction does.
.<>.
.<>.