My Weekly Report/Activities As a Moderator In Steem For Pakistan community.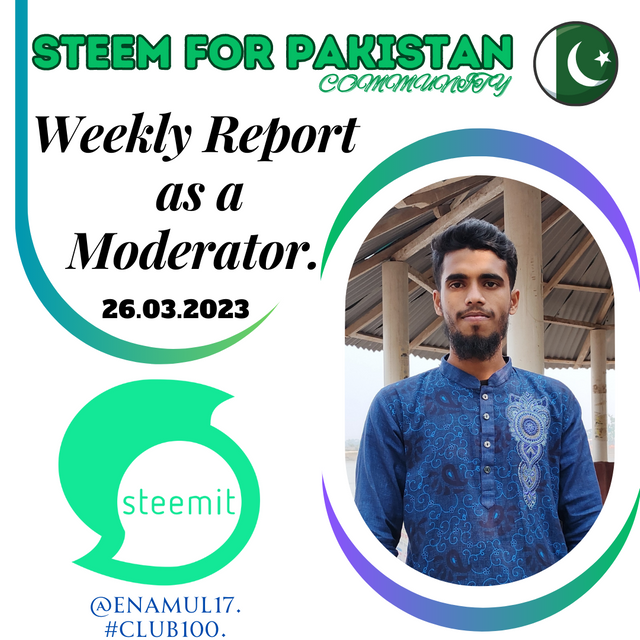 Created by canva app.
Assalamualaikum everyone,
How are you my friends? Hope very well by the grace of Almighty Allah. Alhamdulillah I am also well and healthy. Today is 19 March, Sunday and this is my weekly report as a moderator of the Steem for Pakistan community. I am delighted to be a part of the Steem For Pakistan community. I am very happy to work with my team and I will share weekly summaries of my work that I have completed with my team and my community members. Let's start by summarizing my work this week with my team and my community members:
My weekly activities as a Moderator of Steem For Pakistan Community.
As a moderator there are some responsibilities like checking posts, maintaining good environment and rules in the community, detecting abuse and taking appropriate action, user verification in the community, maintaining image with all users etc. I use some methods for regular post checking.For regular normal posts and engagement challenge posts, I check posts through two methods. And that is:
This week I covered 15 posts and all the posts were very nice and I don't found any abuse in their post. This week I verified some bew member in our community. Among them I guide some user to improve there post quality and try to fix others problem which I find in their post and gave them proper guide on their post. While checking all user posts, the things I looked for are:
I also ensured that every user has complete their achievement-1 and every post is #steemexclusive.

I also checked if anyone has started Bit bots services or others services.

I also check if any article is created by AI bot or not, so I use Chatgpt-2 detector and [Zerogpt detector](https:/ /www.zerogpt.com/) for check.

And I encouraged those whose voting CSI is less than 5 to vote on other's posts and directed those whose voting power is below 80.

Those who are not verified in our community I invite them for verified in our community and give them level. Here is the link for the verification.
---
Below I share the list of the posts I reviewed this week:
| Id name | Post link | Club Status | C. Verified or Not |
| --- | --- | --- | --- |
| mohammad1076 | Link | Club5050 | ✅ |
| shanza1 | Link | Club5050 | ❌ |
| anowarhoussain | Link | Club5050 | ✅ |
| sardarsajid | Link | Newcomer | ✅ |
| hiralytical | Link | Club5050 | ✅ |
| tahirazaman | Link | Club5050 | ✅ |
| tayyab100 | Link | Club75 | ✅ |
| hammad44 | Link | Club100 | ✅ |
| shabbir86 | Link | Club75 | ✅ |
| radleking | Link | Club100 | ✅ |
| rezaul-420 | Link | Club100 | ✅ |
| shohel44 | Link | Club75 | ✅ |
| khursheedanwar | Link | Club5050 | ✅ |
| uzma4882 | Link | Club75 | ✅ |
| kashlee | Link | Club5050 | ❌ |
---
---
My ID Status, Activities And Curation Activities.
Here I provide my latest ID status...
| My own SP | 6,182.79 SP |
| --- | --- |
| Effective Power | 4,672.22 SP |
| Sp Increase | 257 SP |
| Delegation | 1500SP |
| Reputation | 71.721 |
| Club | 100 |
| Voting CSI | 11.2 ( 0.00 % self, 162 upvotes, 69 accounts, last 7d ) |
| My active post | 20 |
Being an active member of the Steemit platform and play a role as a Mod of SteemFor Pakistan community, I do various activities every day. This week I published my Week-06 weekly drawing contest result and this time 15 participants participated in my contest. I keep myself active by posting regularly, increasing engagement and encouraging users to vote on IDs. This week I made total 20 post and I always participate in every engagement challenge and community contest. Theses are my current engagement challenge post
Currently I have 6,182.79 steem power and out of that 4,672.22 SP is my effective steem which I use to support all users who post quality content regularly. I make proper use of my voting power and I never let my voting power fall below 80%.And on the other hand I as a user always try to help other users. I help my steemit friends on Discord about various things that I know.
Lastly I would like to thank my team who have always helped me and stood by me. I would also like to thank all the users who have always cooperated with me. And I would like to thank the Steemit team for giving us such a beautiful platform.
---
---
---
---
Best Regards To My Team
@suboohi, @faran-nabeel, @malikusman1, @sualeha, @uzma4882
Cc,
@steemcurator01, @stephenkendal
@pennsif
SUPPORT US BY YOUR DELEGATIONS