Achievement 1:: Introduce myself
Hi.
This is @ridoysdp. I am Ridoy frome Saidpur Nilphamari, Bangladesh.As a introvert guy, in of the most difficult tesk is to intriduce myself to a lot of people. So I'm being much emborrassed while writing my introduction story.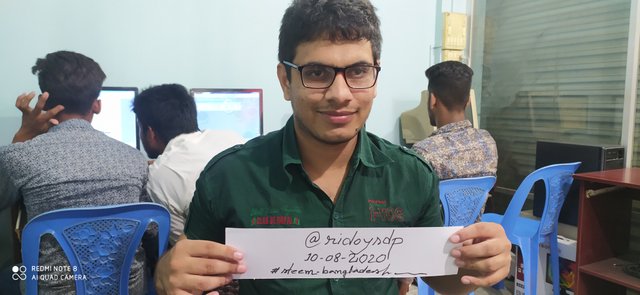 My fathar name is Md. Nadim and my
mother name is most. Rajia sultana. I have
4 familly membar.
I read in entar first year on the Saidpur Goverment Collage. I passed psc examinatio Saint Gerosas School Saidpur. And passed JSC examination Al Faruk Academy Saidpur Nilphamari.I passed SSC examination Al Faruke Academy Saidpur Nilphamari.
My Favourites hobby is reeding book.I have a intreasted cricket game.I havOe shorve fan since. I was class 9. I started to play that game,but till than I did'nt story to wathch started Watch foothball.
I have grow saidpur. I live long 20 years.I have be working many cultural programe. I am meembar of some debating organagatin.
I was introduced to steemit by a Brother @toufiq777 & @unicode who is currently guiding and mentoring me on how to go about the steemit ecosystem. Am happy for having joining this amazing platform.
My writing and some economics reasons I have been with steemit. Enough for today. At last It's great to be hear. Hope you'll enjoy artical. I"ll seen like id get a chance to learn many things here it would be great exptesnce here.