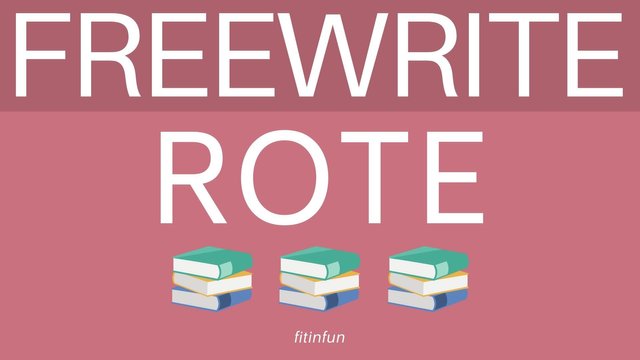 Rote learning is when you drill something until it sticks in your head. It is frowned upon in today's education system, even though it works. Both of my parents were educated in the 1930's and had a lot of rote learning.
Even as seniors, they could come up with those drills again and never lost the knowledge. Both of them had cute tricks and sign-song ways of showing off their skills.
Due to how many times we moved when I was a kid, and how many schools I went to, I missed a lot of that even though it was still in use in the 1960's and 70's when I was in school. Missing drills was to my great detriment, especially in math.
Even though I am an accountant, I am not too good with arithmetic. Calculators and spreadsheets are my best friends for that type of thing. Lucky for me, I am good at both of those skills and can make up for my lack.
Over the years in the workplace, people would be shocked to see me need to pull out the calculator for "easy" math. I just shrugged it off and did my thing. There is more than one way to crack a nut!
One place I did have rote learning was in College Spanish. I had the same teacher for 4 terms and she was huge on drills. I am very good with repetition and do not get bored. I never got too good with the language, but I could do the drills.
Two times later in life I ended up in places where no one spoke English at all. Once in a small town in Spain, and once in Miami Florida. In both places, after about after a week or so, lo and behold, I was speaking Spanish!
I was not exactly fluent either time, but I could understand people and take a minute to remember drills. Then I could answer! I was not perfect by any means, but the people were very forgiving and helped me. As soon as I left each time, I lost my Spanish, but I think it would come back if I ever get into that spot again.
Rote learning for the win, regardless of the bad ideas in today's schooling :)
My post is for the #freewrite daily challenge by @mariannewest. Freewrite is a great way to post on steemit when you do not think you have the time, or talent, or anything to say. It's a great way to start regular posting on steemit. I know you can do this too! Here is Marianne's freewrite prompt post for today. Give it a try and surprise yourself.
= =
Minnow Tips!
My Newest Minnow Tips Updates:
General Ideas of how to do better on STEEM
Places to comment for Upvotes and More Goodies
Who will upvote my posts when I am new on STEEM?
How Can I Solve My Low RC Problem on STEEM?
Using @dustsweeper on STEEM
Enter contests on STEEM and win!
Do your replies fast with with SteemReply
You should be freewriting if you are a blogger
Here is my last big minnow tips post before the update if you struggle here at steem.
These tips can help you even if you are not new.
Monday Minnow Tips for Everyone from @fitinfun
Contents of the Above Post
What should I do EACH DAY on STEEM with low power?
What to do with your STEEM
Are you shooting blanks with your votes?
Should you use an autovoter?
Join qurator
Do not post to nowhere
Why bother to comment?
How and Why to use kryptonia
How to get Upvotes
For Twitter Users
How and Why to lease delegated sp
Curation Trails
Using Discord
= =
dApp Reviews
All recommended!
ginabot
esteem
Share2Steem with Twitter Tips
Tasteem Restaurant Reviews dApp before I used it
Tasteem Restaurant Reviews dApp with tips to do better
And here is an update on @fitinfunfood. I just started this blog in Jan 2019, so you can find out what I am doing to grow my new baby here:
fitinfunfood Update Post
More about using SBI:
https://steemit.com/esteem/@fitinfun/my-steembasicincome-update-spoiler-i-love-sbi
Great post from @brittandjosie, with all kinds of help for new people. Definitely worth clicking every link!
Please Help Me Keep Helping at STEEM
Please follow my blogs:
@fitinfun
@fitinfunfood
@bxlphabet is my son's blog, and I am so grateful he has returned.
We all post on Busy most days, where their upvote for us is based on the collective SP of our followers. We all follow back, because we love you. This is the power of STEEM.
Put my blogs on your curation trail
@fitinfun
@fitinfunfood
@bxlphabet
I login to magic-dice daily and roll one time. Is this giving me luck and good fortune? Join me and try for yourself!
https://magic-dice.com/?ref=fitinfun
= =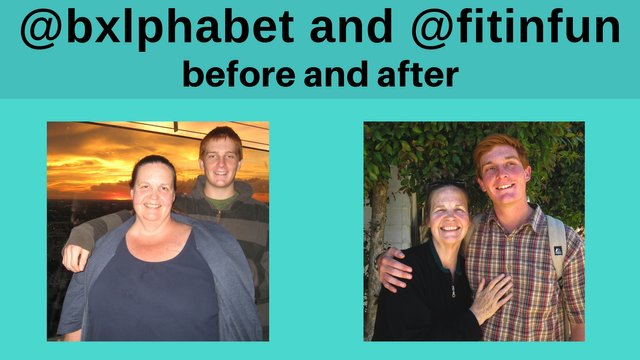 How is your journey to better health going?
Is your fitness equipment out handy? Are you on a "diet?" Soon we will be in Bathing Suit Season. Are you ready?
I lost "Half My Size" eight years ago by using natural methods. No tricks, just doing a bit better every day. I started on October 10 one year, and did not give up. Four years later, on October 5th, there I was - thin and healthy for the first time in my life. You can do it too!
This is Sharon @fitinfun. I am posting:
Please follow along or contact me directly if you would like some individual help with weight loss and health. Anyone can do this if I did.