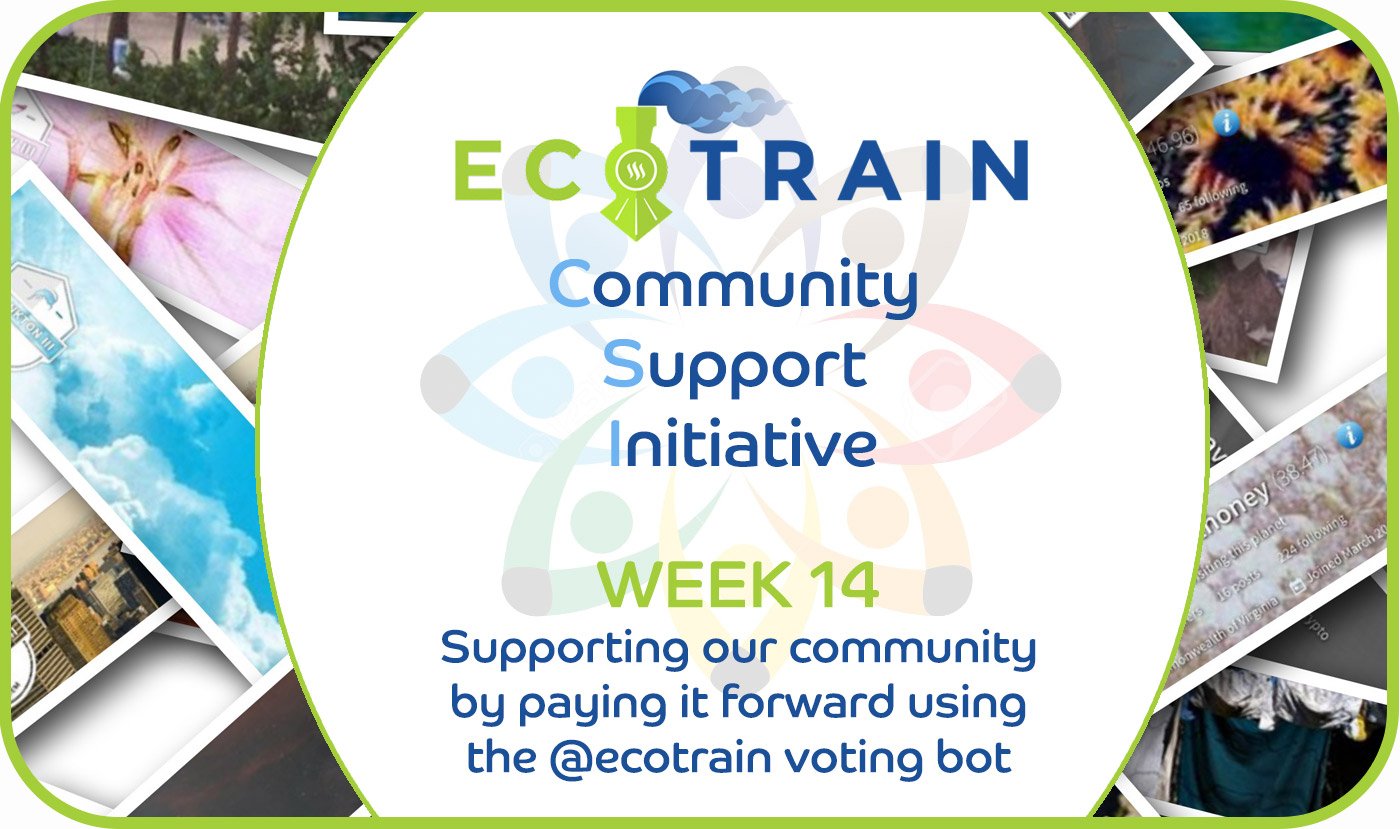 If you haven't spotted this initative before let me explain how it works. In an effort to turn the whole paradigm of voting bots into something much more beneficial to Steemit and all its users I have created the Community Support Initiative, which uses the profits made from this post and the @ecotrain voting bot to pay it forward to great Steemians with a healthy upvote that exceeds what I can give from my own account. This is all possible due to the great delegations that we receive, and all the people involved in this initiative. So thank you to so many of you for your support, and with very special thanks to @tribesteemup and @canadian-coconut for backing this initiative and allowing me to encourage the right people to keep posting!
So I would like to Congratulate all of you who are creating great posts and encourage you to keep going! My best advice to you all is to write because you enjoy writing and let it work for you, instead of it being like work! Writing to try to please others is very tiresome, and you can't keep that up for long! Writing to share something about your real authentic self is always more interesting for everyone and will bring more engagement. I'm sure that with some time, and , maybe a little help from the @ecotrain, you can find the people you are looking for!
This week the following people received an upvote from the @ecotrain minnow support project. You sure kept me busy reading, and I'm happy to say it was time well spent as you are writing some great content!



Congratulations to everyone this week who was selected for an upvote for great post


One of the criticisms about voting bots is that they tend to centralize the returns of bids to delegators, which means that minnows are forced to pay for votes, and most of the reward pool ends up in the wallets of fewer and fewer people. I am happy to say that the @ecotrain voting bot is something altogether different! The reason why is simple! What I do is to send my SBD to the ecotrain voting bot to upvote people who are writing great posts but don't get many rewards. These bot upvotes are always very well received, and are a pleasant surprise to all recipients. I try to select as many different people as I can, and do the best I can to encourage great people to continue writing great posts! I could not do this without the @ecotrain bot, because I don't have the voting power to give 6 or more people a day more than $1 upvotes each! It is a great feeling to be able to pay it forward to so many people, and I think it is safe to say that I continue to inspire people to keep posting better content every day!

HOW TO SUPPORT THE PAY IT FORWARD COMMUNITY SUPPORT INITATIVE (CSI)?
1. Up-vote This Post!
By up-voting this post I can use the rewards to PAY IT FORWARD next week to some more great people!.
2. Please follow my @eco-alex curation trail
Please visit https://steemauto.com to add me to your up-voting. That way all the votes I make will be boosted by you and bring even more attention and rewards to our amazing ecotrain passengers! This includes my voting on the @ecotrain and @tribesteemup who are an amazing group of Steemians. Your support goes a long way to making so many people's day brighter and full of joy and you will also make great curation rewards as a result.
3. Please delegate to me, @eco-alex
I spend most of my time on Steemit curating and finding great people to support. You won't have to look far to see the quality and quantity of people I have supported here. The past few months have seen most of my delegtion move to other places and so my voting power is quite low! I really want to be able to reward great people, and to do that I need your delegation to really allow me to manually curate with a simple upvote! You can see many of the posts from the ecotrain and friends at #ecotrain. You can also read our weekly highlights magazine from our @ecotrain passengers @ecotrain.

4. Delegate Steem Power To @ecotrain for 65% ROI
If you need to earn rewards for delegating, with fair profit sharing to the community then please delegate to the @ecotrain voting bot on steembotracker.com! I give a 0- 11% ROI to anyone using the bot so everyone is happy and we add great value to the Steem blockchain! This is a unique opportunity to get involved and support a bot that is so ethical and supporting such great steemians. Just visit https://steembottracker.com/delegation.html and delegate any amount of Steem Power in one minute.

To delgate to me just go to https://steembottracker.com/delegation.html and send any amount of Steem Power to @eco-alex
THANK YOU FOR YOUR SUPPORT!

If you write great posts on the theme of
THINGS THAT MAKE THE WORLD A BETTER PLACE,
and want to have a chance of receiving our up-vote please use the #ecotrain tag in your post.

Supporting People Who Help
Make The World A Better Place

Discover previous ecoTrain magazines at @ecoTrain




The 8 Pillars of @TribeSteemUp