Just as planned, I stayed at the Doighouse Earthship Build until the end of the season, marked by the long weekend of Labor Day. This symbolic cut-off date at the beginning of September indicated the end of the busy tourist activity on Vancouver Island, along with the start of the school year, and – oh no – the end of Summer! So now, it's time for me to embark on a different adventure, one I have been dreaming about while hanging out at Recyclistas and building my bike, La Zorra Roja: riding down the Pacific coast of the US by bicycle.
Not Riding Alone
As luck would have it, I'm not riding by myself either. My friend, who doesn't like to appear on the Internet, but I've mentioned in various other posts about our bike-trips on Vancouver Island, will be riding with me, at least part of the way. He is an experienced touring cyclist, and in fact it was him (and others like him) who inspired me to this undertaking. In the previous years we had the pleasure to work  together on other Earthships, and I always admired how he arrived by bicycle. So I'm quite excited to share the experience of long-distance riding with him.
Two Days to Victoria
The first leg of our journey took us from the Doighouse property down to Victoria, where we visited my friends at the bike-shop, and got our bikes ready for the long haul. It was clear that we wouldn't cover the whole distance (about 170 km or 106 miles) in one day, so we picked a spot about half-way near the town of Cassidy to spend the night.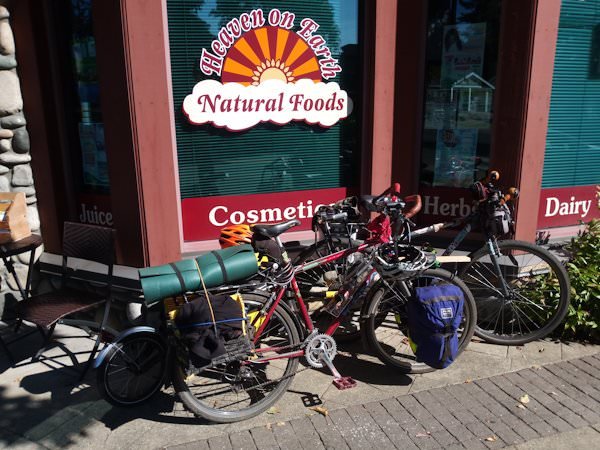 On the Road Again
After saying our good-byes in the morning, we pulled out of the driveway on familiar routes. The weather was warm and sunny, though it felt a bit sad knowing that we wouldn't see these parts again for a while. Instead of sticking to the main highway, we made sure to cover every alternative route through Qualicum Beach and Parksville. Eventually we had no other option, and headed down the only way to Nanaimo, on the Inter-Island-Highway. Thankfully, we only had to ride for less than half an hour on the wide shoulder next to thundering traffic, before the Lantzville Road offered another peaceful alternative.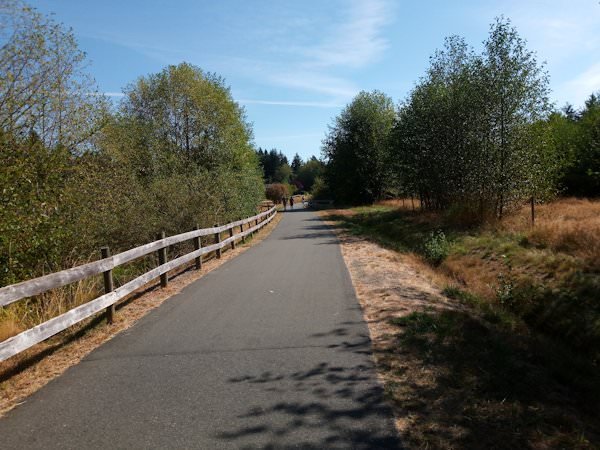 Touring Cyclists on Crazy Contraptions
Of course there were hills, and we took frequent stops to catch our breaths and sip on water. At the Woodgrove Mall we had a late lunch-break, and chatted with some other touring bikers on a very interesting machine: a kind of a tandem, but one where the stoker sits in front, in a recumbent  bucket seat, while the captain pedals behind them in the regular bicyclist position. The couple came from Switzerland, but in the last three months they'd traveled from Anchorage, Alaska through northern and central BC, before coming to Vancouver Island.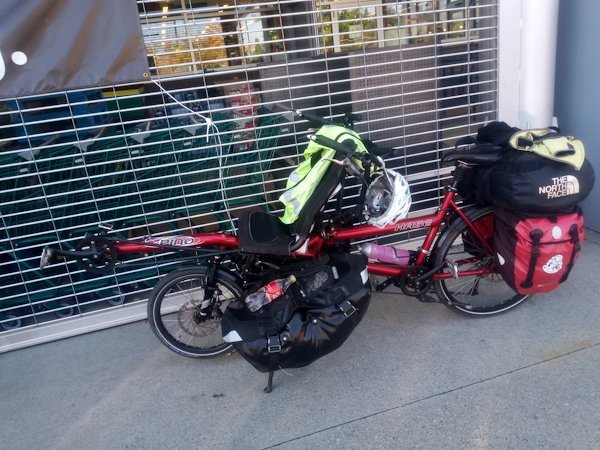 A City without a Bypass
Crossing Nanaimo was not as difficult this time as it had been when I came up from Victoria. Instead of the Parkway Trail, we decided to check out the E&N Trail, following the now defunct Esquimalt and Nanaimo Railway, which also passes by the Doighouse property. (Seriously, it will be SO NICE once all the unused train lines are converted into bike routes...) This trail turned out much flatter and nicer to ride, and pretty soon we were half-way through Nanaimo. Of course we still had to get out of the city, and once again we found ourselves on the main highway again. But as it was getting late, we thought it might be best to look for a place to camp. We found a fantastic little spot just next to the Nanaimo river, near a rest-area.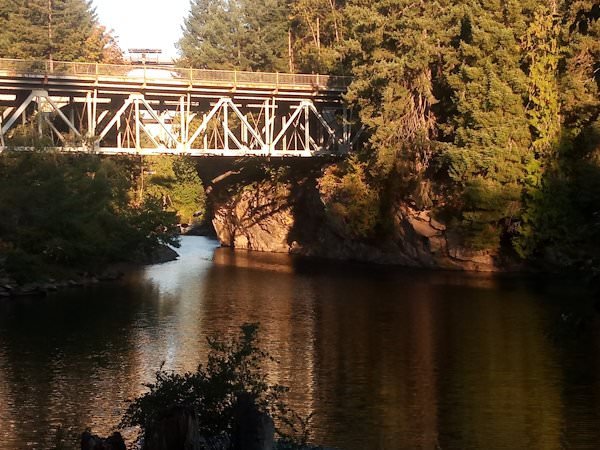 Country Roads of Vancouver Island
The next morning we continued on the highway for another 30 km (19 miles), mostly to cover some good distance, before heading down toward Somenos, Duncan, Koksilah, and Cowchian Bay. We never really entered any of these towns, with the exception of Duncan, but the roads turned out to be a lovely alternative to the highway, in spite of the rolling hills we had to tackle. Especially Koksilah Road sticks to my mind as a constant up-hill battle, but once we made it to Telegraph Road, we were just cruising and enjoying the beautiful landscape, with the occasional mushroom-shaped gazebo.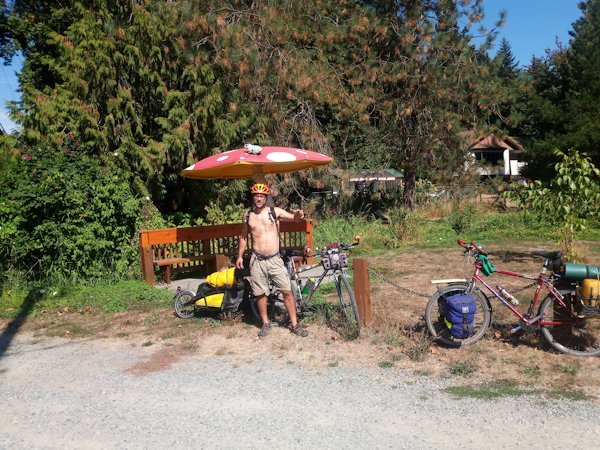 Getting to Victoria
As for getting to Victoria, we decided against crossing the Malahat. The formidable mountain south of Duncan would have been a worthy challenge, but the busy and accident-prone highway discouraged us. Instead, we opted for the Mill-Bay ferry, over to the Saanich peninsula. Once there, all we had to do was take the Inter-Urban-Trail to the Galloping Goose, and we made it to Recyclistas Bike Shop before dark.
Goodbye Canada!
Over the next two days we reviewed our bikes, made some last adjustments, and got prepared for our grand trip. As I will be on the road for the following few months, I expect that most of my topics will be on biking down the coast. The title I picked for this series reflects the bio-region of Cascadia and the land of Aztlan, which I will delve more into as I go along. For now, let me say goodbye to Canada. It's been swell, and I'm sure I'll come to see you again, someday soon!
If you'd like to read my bike trip in its entirety, check out the rest of my posts in the Cascadia to Aztlan series:
Please check out these great communities I'm contributing to: 

#ecotrain | What is EcoTrain | Discord Community

#cyclefeed | Introducing CycleFeed | Discord Community

Join us on Discord