Deutsch (English translation below)
---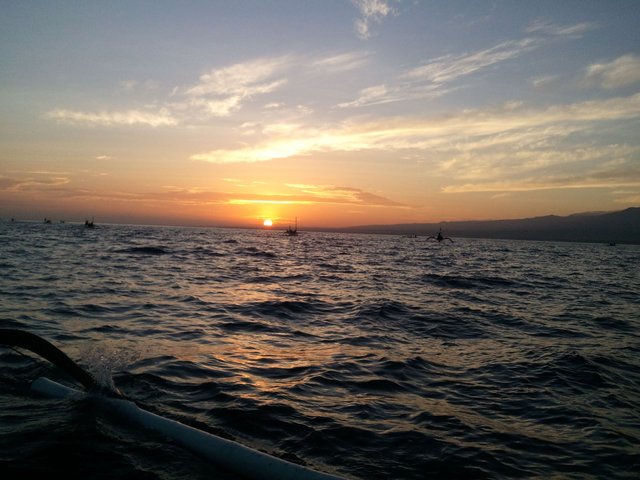 Sunrise Bali, own photo.
Fernweh plagte mich schon immer.

Seit ich mich erinnern kann, gab es immer wieder Phasen, in denen mich das Fernweh plagte, aber statt meinen Traum wahrzumachen, mich an verschiedenen Orten der Welt länger aufzuhalten als nur ein paar Wochen, hielt mich stets meine Angst (oder Vorsicht bzw. Vernunft - je nachdem, wie man das sieht) davon ab, es tatsächlich zu tun. Es war die Furcht davor, alles aufzugeben, was ich mir hier aufgebaut habe.
Stattdessen reiste ich gerne und viel, innerhalb Europas z. B. nach Málaga, ebenso aber auch in weit entfernte Länder wie Mexiko oder Indonesien.
Ich interessierte mich schon immer für die verschiedenen Kulturen und Lebensweisen von Menschen. Mich fasziniert es, die an den jeweiligen Orten herrschende Atmosphäre in mich aufzunehmen. Ich schaue mir zwar auch berühmte Sehenswürdigkeiten an, aber das steht nicht im Vordergrund. Stattdessen mag ich es, mich einfach irgendwo auf eine Bank zu setzen und die vorbeilaufenden Menschen zu beobachten oder auch in einem eher menschenleeren Gebiet spazierenzugehen und die Landschaft zu genießen.
Wie so oft kam es anders als in jungen Jahren geplant: verdiente ich früher eine Zeit lang ausschließlich mit Arbitragewetten mein Geld (wobei ich oft viermal pro Jahr ins Ausland reiste und mich seitdem niemals mehr so frei fühlte wie damals), 'normalisierte' sich mein Leben mit der Zeit. Ich arbeitete an der hiesigen Universität, besaß irgendwann eine Wohnung und später ein Haus. Statt selbst in die Ferne zu schweifen, kam die Ferne in Form meiner lieben indonesischen Frau - @kobold-djawa - irgendwann zu mir. Wie einige sicher wissen, haben wir inzwischen auch ein süßes Baby.
Was macht mich unzufrieden, obwohl es mir vergleichsweise gut geht?

Von außen betrachtet mag alles perfekt und eben völlig 'normal' aussehen, aber das ist es nicht. Gerade diese 'Normalität' bereitet mir zuweilen Schwierigkeiten. Ich ertappe mich immer wieder dabei zu denken "Das kann es doch noch nicht gewesen sein! Was ist aus deinen Träumen geworden?" Der berufliche Alltag, sowohl mein eigener als auch der vieler Mitmenschen, ist von Hektik, Sparzwang, Fremdbestimmung, der Forderung nach möglichst schnellen Ergebnissen und somit letztlich dem Verzicht auf Qualität geprägt.
Daneben entnerven mich die zunehmende Bürokratie in allen Bereichen sowie Kontrolle und Bevormundung des Bürgers durch den (Steuer-)Staat. Hier auf Steemit schrieb ich beispielsweise über das Netzwerkdurchsetzungsgesetz, die Rundfunkgebühren oder den Registrierungszwang beim Kauf von Prepaid-Karten.
Ich bin mir dessen bewusst, dass viele Menschen, die z. B. in der Kranken- oder Altenpflege, in einem Call-Center oder als Paketzusteller arbeiten, ein weitaus schlechteres Los gezogen haben als ich. Wenn ich auf meine innere Stimme höre, muss ich mir dennoch eingestehen, nicht wirklich zufrieden zu sein und immer noch davon zu träumen, das Hamsterrad irgendwann verlassen zu können. Was mir fehlt, ist die Freiheit, selbst über meine Zeit verfügen zu können, zu entscheiden, wann, von wo aus und ob ich arbeiten will, wie ich das tue und womit ich mich dann jeweils beschäftige. Dass das ziemlich anspruchsvoll ist, gerade in einer Zeit, wo so viele ums Überleben kämpfen, ist mir bewusst. Andererseits ist durch Akzeptieren des IST-Zustands nur selten jemals etwas besser geworden, und ich lebe nur einmal ...
Werde ich irgendwann auswandern? Hoffnung und Zweifel ringen miteinander ...

Die Frage, ob ich tatsächlich noch einmal die vielleicht von außen betrachtet heile Welt meines konventionellen Lebens hinter mir lasse und einen Neubeginn irgendwo an einem sonnigen Ort, fern meines jetzigen Lebensmittelpunktes wage, vermag ich momentan noch nicht zu beantworten. Hoffnung und Zweifel ringen miteinander.
Was mir Mut macht, sind Menschen, die es getan haben, von denen es gerade hier auf Steemit einige gibt. Beispielsweise hat @teamsteem seinen Job gekündigt, um 'Vollzeit-Steemian' zu werden, und @travelwithus reist durch die ganze Welt. Das sind nur zwei Beispiele von vielen. Würden die Preise der Kryptowährungen weiterhin steigen, könnte ich mir das finanziell durchaus leisten - eine Garantie dafür gibt es jedoch nicht ...
Andererseits trage ich mittlerweile nicht mehr nur für mich selbst Verantwortung, sondern zusätzlich für zwei geliebte Personen, die finanziell von mir abhängig sind ... Ihr seht, so eine Entscheidung ist nicht einfach.
Welche Länder kommen als Auswanderungsziele in Frage?

Auf der Suche nach Ländern, die als Auswanderungsziel in Frage kommen, spielen verschiedene Kriterien eine Rolle. Für mich beispielsweise ...
... ein möglichst warmes Klima.

... nicht zu hohe Lebenshaltungskosten.

... eine möglichst liberale Gestzgebung hinsichtlich der Besteuerung von Kapitalerträgen (insbesondere auch der mit Kryptowährungen erzielten Gewinne).

... eine zumindest ausreichende Infrastruktur, gute medizinische Versorgung und Bildungseinrichtungen.
Interessante Länder sind beispielsweise Panama, Paraguay oder Costa Rica. Aufgrund ihrer Innovationsfreudigkeit und der damit verbundenen schnellen wirtschaftlichen Entwicklung reizen mich allerdings insbesondere auch asiatische Länder; dabei spielt es sicherlich eine Rolle, dass meine Frau aus Indonesien stammt.
Indonesien selbst macht es Einwanderern allerdings nicht gerade einfach. So könnte ich nicht einmal Grund und Boden erwerben. Außerdem sehe ich die zunehmende Umweltzerstörung und Verschmutzung (bei zugleich mangelndem Bewusstsein dafür innerhalb der Bevölkerung) als riesiges indonesisches Problem.
Nach einigen Recherchen erscheint mir Malaysia ein interessantes Einwanderungsland zu sein. Es erfüllt alle oben genannten Kriterien, ist für ein asiatisches Land vergleichsweise sauber und verfügt über eine funktionierende Infrastruktur. Viele Menschen, vor allem in Großstädten wie Kuala Lumpur, sprechen gut Englisch, und die Landessprache, Bahasa Malaysia, ist der in Indonesien gesprochenen Bahasa Indonesia sehr ähnlich (ein Vorteil für meine Frau).
Was mir weniger zusagt ist die wichtige Rolle, die dem Islam als Staatsreligion des Landes - trotz säkularer Verfassung - zuteil wird. Ich sehe Religion als Privatsache an, die weder auf die Gesetzgebung noch den Ablauf des öffentlichen Lebens Einfluss nehmen sollte. Allerdings gilt Malaysia immer noch als relativ tolerant: auch Buddhisten, Christen und Hindus können ihre Religion offen in Tempeln und Kirchen praktizieren.
Träumt ihr auch offen oder insgeheim vom Auswandern - und was wären eure bevorzugten Länder?

Wie sieht das bei euch aus? Träumt ihr auch offen oder insgeheim, ab und zu oder gar regelmäßig, vom Auswandern, und wohin würde es euch ziehen? Habt ihr Geheimtipps parat, besonders auch in Asien? Worauf würdet ihr achten, und was wären eure KO-Kriterien, die ein Land von vornherein ausschlössen?
Oder käme es für euch vielleicht überhaupt gar nicht Infrage, eure Heimat und damit einen Teil der Familie, Freunde sowie das gewohnte Alltagsleben einfach hinter euch zurückzulassen? Ich bin gespannt auf eure Kommentare! :)
---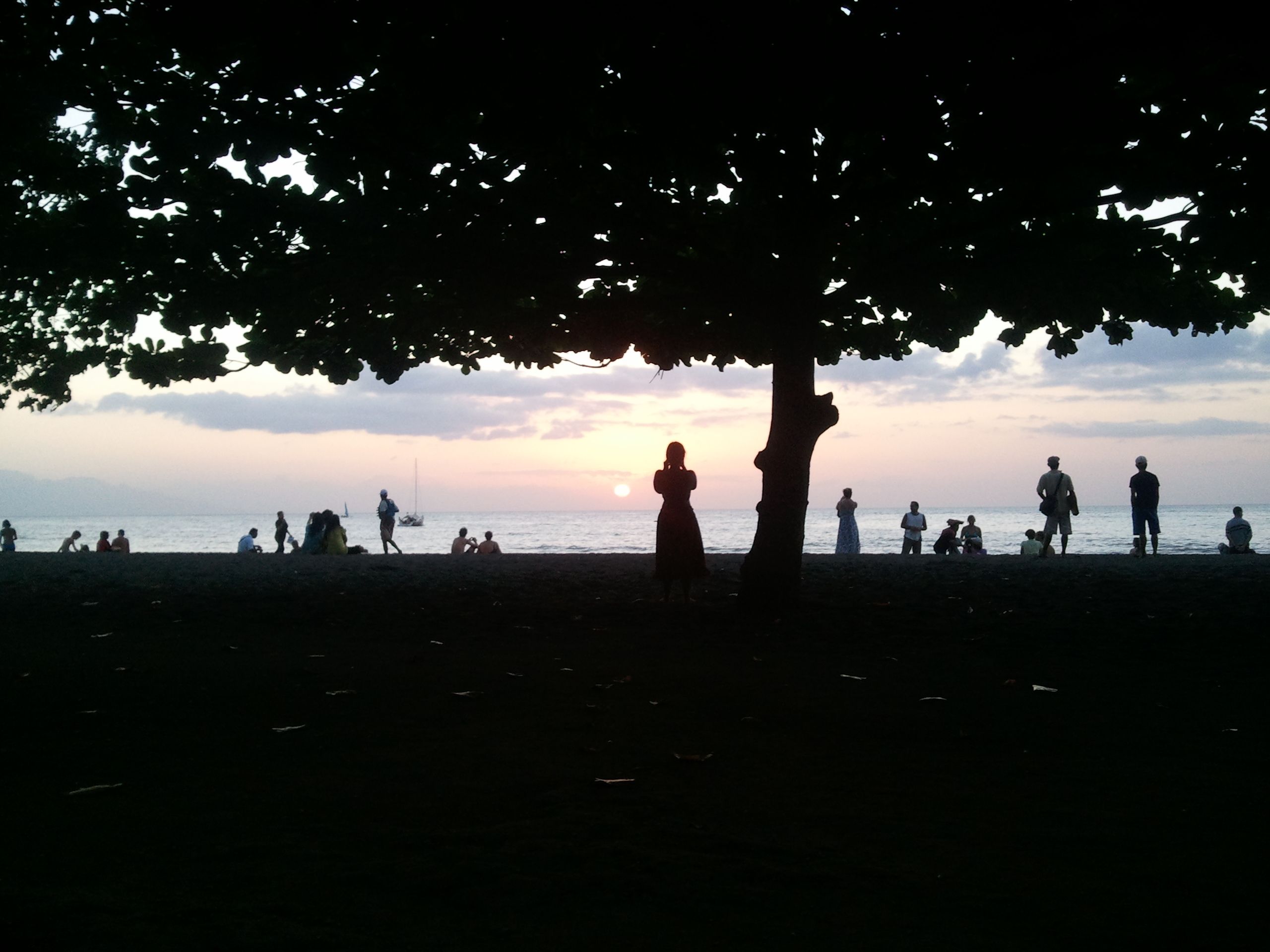 Sunset Bali, own photo.
English
Wanderlust has always plagued me.

Ever since I remember, there have been periods of wanderlust, but instead of fulfilling my dream of staying in different parts of the world for longer than just a few weeks, my fear (or caution respectively rationality - depending on how you see it) has always held me from actually doing it. It was the fear of giving up everything that I have built up here.
Instead of that I liked to travel rather often, within Europe for example to Málaga, but also to countries far off like Mexico or Indonesia.
I have always been interested in the different cultures and ways of life of people. I am fascinated by the different atmospheres of various locations. Although I also go to visit famous sights, that isn't my priority when travelling. Instead of that, for example I just like to sit on a bench somewhere and watch the people passing by, or walk in an unpeopled area and enjoy the scenery.
As is so often the case, things came different than planned at a young age: whereas in former times I actually used to earn my money solely by arbitrage betting (while often traveling abroad four times a year and never felt as free again since then), my life 'normalized' over time. I then worked at the local university, eventually got an apartment and later an own house. Instead of wandering in the distance, the distance in the form of my beloved Indonesian wife - @kobold-djawa - came to me at some point. As some of you may know, we also have got a cute baby by now.
What makes me dissatisfied, although I'm doing comparatively well?

From the outside, everything may look perfect and completely 'normal', but that's not it. It is precisely this 'normality' that sometimes causes me difficulties. I catch myself thinking over and over again, "This can't possibly have been everything! What happened to your dreams?" The professional everyday life, both my own and that of many other people, is characterized by hecticness, the necessity of saving, heteronomy, the demand for the fastest possible results and thus ultimately the renunciation of quality.
Besides the increasing bureaucracy in all aspects of life as well as surveillance and patronization of the civic by the (tax) state are annoying me. Here on Steemit I wrote for example about the "Netzwerkdurchsetzungsgesetz", the radio licence fees or the obligation to register when buying a top-up card.
I am well aware that there are many people who are working for example as (geriatric) nurse, in a call center or as parcel supplier have drawn a far worse lot than me. When I am listening to my inner voice, I still have to admit that I'm not really satisfied and still dream of leaving the hamster wheel at some point. What I miss is the freedom to be able to dispose of my own time, to decide when, from where and if I want to work, how I do it, and what I then occupy myself with. Obviously that's asked for quite much, especially at a time when so many are struggling to survive. On the other hand, accepting the state of things has seldom ever made anything better, and I only live once ...
Will I emigrate someday? Hope and doubts are wrestling ...

Currently I cannot answer the question of whether I actually once again leave behind the seemingly idyllic world of my conventional life and dare a new beginning somewhere in a sunny place, far away from my current center of life. Hope and doubts are wrestling with each other.
What encourages me are people who have done it, of which there are some here on Steemit. For example, @teamsteem has quit his job to become 'full-time Steemian', and @travelwithus travels all over the world. These are just two examples of many. If the prices of cryptocurrencies continue to rise, I could afford it financially - but there is no guarantee for that ...
On the other hand, in the meantime, I no longer only bear responsibility for myself, but also for two beloved persons who are financially dependent on me ... You see, such a decision isn't an easy one.
Which countries are eligible as emigration destinations?

Various criteria play a role in the search for countries that are eligible for emigration. For me, for example ...
... a warm climate.

... not too high costs of living.

... a legislation which is as liberal as possible regarding the taxation of investment income (in particular, the profits achieved with crypto currencies).

... an at least adequate infrastructure, good medical care and educational facilities.
Interesting countries are for example Panama, Paraguay or Costa Rica. However, due to their willingness to innovate and the associated rapid economic development, I am particularly attracted by Asian countries; it certainly plays a role that my wife is from Indonesia.
However, Indonesia itself does not make it easy for immigrants. So I could not even buy land. In addition, I see the increasing environmental destruction and pollution (with at the same time lack of awareness within the population) as a huge Indonesian problem.
After some inquiries I found Malaysia to be an interesting immigration country. It fulfills all of the criteria mentioned above, is relatively clean for an Asian country and has a working infrastructure. Many people, especially the ones living in metropolis like Kuala Lumpur, are speaking English rather well, and the local language, Bahasa Malaysia, is very similar to the Indonesian Bahasa Indonesia (an advantage for my wife).
What I like less is the important role of the Islam as state religion of the country in spite of a secular constitution. I regard religion as a private matter, which should have no influence on the legislation or the course of public life. However, Malaysia is still considered to be relatively tolerant: Buddhists, Christians and Hindus can practice their religion openly in temples and churches.
Do you also dream openly or secretly about emigrating one day? And what would your your favorite countries be?

How does it look for you? Do you also dream openly or secretly, from time to time or even regularly, about emigrating one day, and where would you go? Do you have any insider tips, especially in Asia? What would you pay attention to, and what would be your knockout criteria that precluded a country from the outset?
Or wouldn't it just not come into question for you to leave behind your homeland and with it a part of your family, friends and the usual everyday life? I am looking forward to your comments! :)