Hello crypto game fans! I'm Ciel and I'm bringing you all your crypto gaming news updates!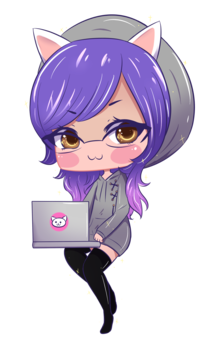 Thanks for your patience everyone! As some of you know I moved about a month ago and unfortunately dislocated my finger (warning: disturbing image) during the process. Turns out healing is super exhausting so I've been offline and resting for the month. Bear with me as I get up to date on everything I missed!
There is a free online programming class for EOS happening in April! Sign up sign up sign up!!
Let's get started and tackle some steem game updates!
==============================================================
For those of you that don't know, there is a dice bot available on steem for you to use! You can type "@rollthedice" to get a randomized dice roll from this bot to help out with your game endeavors.
Not games specific, but there's been an update on the Smart Media Tokens for Steem. When this tech comes out it'll be a big game changer for game devs who are interested in using the Steem blockchain.
Zombie Adventure has moved into its #16 round and is still going strong thanks to the ingenuity of its creator @happyme who keeps finding new ways to engage and entertain players. This kind of game is very underappreciated on Steem, giving players a fun way to earn SP and get to know each other at the same time.
In fact, Zombie Adventure helped inspire a new steem game called Ork Hulk. The rules are a bit more complicated, but playing these kind of games are the best way to learn! This game is open to new players joining in at any time to check out the latest round and join in! I'll see you there. ;)
Steempunk has been steadily moving forward in the time I've been away. There's a new dev account under @pcsg-dev that you can follow. In their 17th update, they told us about a new json api that will let developers interact with the game data. Two members of the community have started up the first Guild in the game! You can read the whitepaper for the Guild of NanoGuards here. The Langdom Bennet story based on the Steempunk world has posted Chapter 5 Scene 1, Chapter 5 Scene 2, and Chapter 5 Part 3. In their 18th update, they posted a great housing update video and in their 19th update they shared some new great housing artwork. Can't wait for March 18th!
Slothicorn has exploded with growth in the month I've been away. For those interested in participating, check out the new rules for submitting art for an upvote from slothicorn. Slothicorn has successfully finished another art contest, started a global collage project, has a newsletter in the works among other things. For those interested, there's also a fun post about Slothicorn data on the Steem blockchain. For those waiting for updates on the Welcome to Slothicorn ARG, after I get up to date on game news I'll be working on an update for that.
==============================================================
That's all for now. Til next time! :3