Smart Media Token Development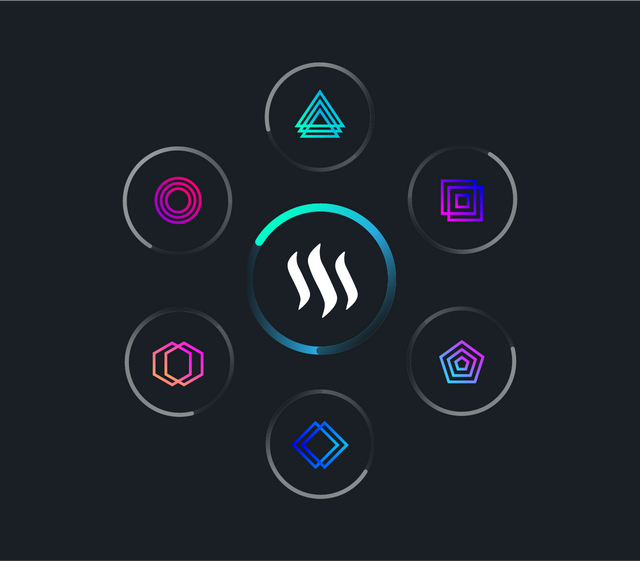 Fellow Steemians,
Today's post is brought to you by the Smart Media Tokens (SMT) team. Our job is to build the protocol that will enable any entrepreneur to launch their own customizable token on the Steem blockchain and instantly gain totally new fundraising, monetization, and community-building opportunities. We've been hard at work for a while now, and today we'd like to give you some insight into the progress we are making.
Implementation of the SMT protocol is by far the most ambitious project Steemit has worked on since the release of Steem itself back in March of 2016. This project touches everything, including the core of the blockchain. Our team has been diligently working to complete SMTs for several months. We've grown the team by adding more A-players, so that we can complete SMTs as quickly as possible without sacrificing quality, reliability, and security.
Redesigning the Steem asset data types
One small example of the work we are doing is the reorganization and implementation of asset data types. Steem was released with the assumption that it would only ever support three asset types: STEEM, Steem Blockchain Dollars, and Steem Power. A lot of small changes are needed to progress from three assets to a practically unlimited number, while maintaining backward compatibility.
The end result will be a seamless integration of SMTs with most existing operations. This will provide the best possible UX, while minimizing the engineering costs required to integrate an SMT into existing applications. In other words, entrepreneurs won't need to take on as much technical debt in order to use blockchain and cryptocurrency technology through the adoption of an SMT.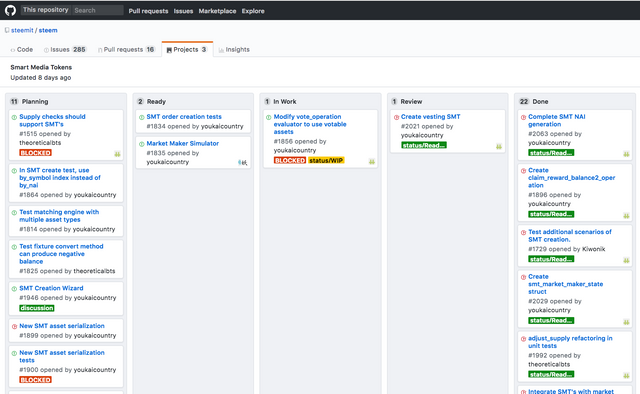 SMT Projects Cards Dashboard in GitHub
Efficiency through "stubbing"
Our approach to developing a feature set as rich as this is to create the skeleton first and then begin adding the meat. This is commonly referred to in software development as "stubbing." Stubbing allows us to gain a clear picture of what parts of the stack SMTs interact with, and what changes are absolutely critical for developing a release candidate, without getting bogged down in the details.
Using this process, we expect that development will look somewhat exponential, with pieces coming together in rapid succession as we get closer to a finished product. That means that it shouldn't be long before developers will be able to start playing with SMTs on a public testnet. At a later date, we will explore in more detail how the testnet will be implemented.
Automated market makers
As an example, one piece of meat that we are working on is the automated market maker (AMM). AMMs will enable an entrepreneur launching an SMT to create instant liquidity for their token so that people can immediately begin buying and selling it while also establishing a baseline price level for that token. Leveraging the AMM is an optional feature for an SMT, but those SMTs that do use the AMM will be able to economically bootstrap themselves with a turn-key solution for providing bi-directional liquidity in the on-chain market.
Testing and code review
Bringing on additional resources has allowed us to spend more time testing and reviewing new and existing code. The safety and security of the blockchain is critical, and all code must be carefully checked by multiple developer eyeballs in addition to automated tests.
Bringing on new developers has helped us to expand our automated testing and get new eyes on the Steem codebase, which enables us to inspect safety and security from even more perspectives.
Documentation and developer tools
We're also exploring several strategies to improve documentation, support libraries, and the developer experience. The developer community is a mission-critical part of the Steem ecosystem, and its importance will only increase once SMTs get rolling. We want to be sure that SMT creators--and all Steem ecosystem entrepreneurs--have the tools, information, and other resources they need for success.
Thinking about launching an SMT?
If you're considering launching your own SMT, feel free to provide suggestions or requests in the comments below. If you would like to receive e-mail updates on the progress of SMTs, you can subscribe to the e-mail list here.
Team Steemit
Image credit: @voronoi