I really enjoyed the Casa Cuba pre-release 2013, so I wondered if the regular release would be just as good.
The Casa Cuba was blended by Carlos Fuente Sr. to recreate and give tribute to the flavor and experience of Cuban cigars that he enjoyed in his youth.
Wrapper:  Ecuadorian Havana
Binder: Dominican
Filler:  Dominican  
Size: 5 x 50
MSRP: $10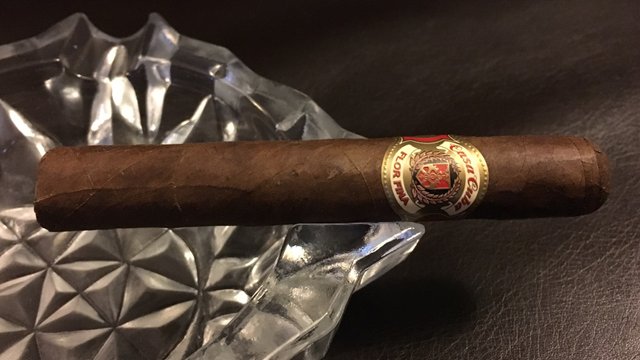 The pre-light essence of the Casa Cuba is that of cat piss (lol), and sweet raisin.  Now I know that sounds disgusting, but many great cigars have pungent and interesting scents.   The construction looks very good, no large veins or un-uniform spots.  
After lighting and letting the cigar flavor profile build, I can report nuances of sweet cedar, peppermint, and burnt cashew.  There is minimal spice to the Casa Cuba, which seems consistent with many of the Fuente cigars.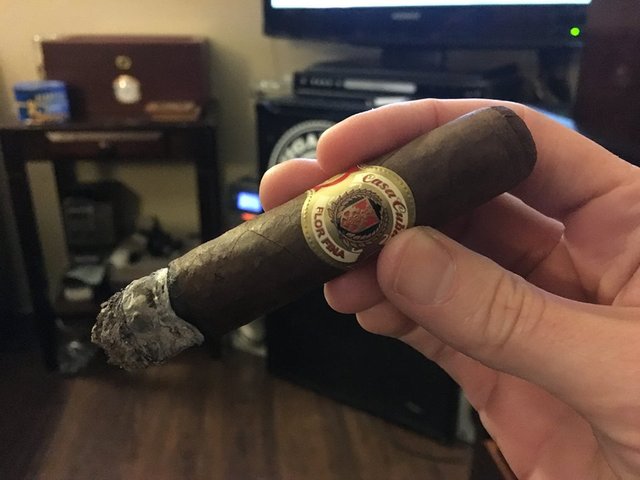 Progressing more into the cigar, the flavor profile doesn't change a lot.  There is a more of an herbal note instead of the peppermint I described earlier.  The burn of the Casa Cuba leaves me disappointed.  I have had to re-light and touch up the burn-line many times.  Putting the cigar down for even one minute will cause a need for a re-light.  Normally a great cigar should still be smoldering even 5 minutes after it has been set down.  This particular smoke was sent to me about a week ago, so it is possible that it was over-humidified, or fresh from the factory.  It did not seem over-humidified while inspecting it, but you can usually only realize extreme humidification problems.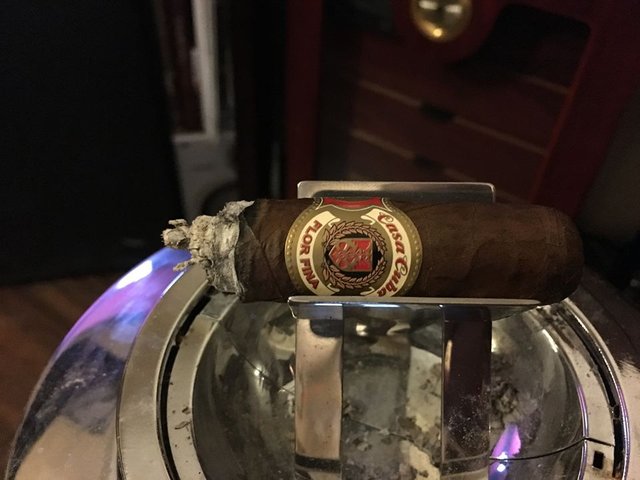 At the midway point the cigar is a bit dry and bland overall.  It is just un-interesting and isn't my style.  This surprises me because I enjoyed the pre-release that came out in 2013.  Usually pre-release are the same blend as the regular production, but I have a feeling that either the blend was tweaked after, or they rushed out the regular release without proper tobacco aging.  Either way, it is not a cigar I particularly enjoyed, especially considering the price.  I put it down right after the picture above.  I rate the Arturo Fuente Casa Cuba a 5.5 out of 10.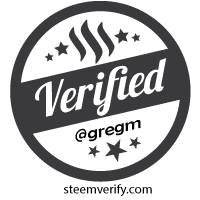 See my other cigar reviews and articles:
How to Guarantee You Are Buying Authentic Cuban Cigars
A Brief Cigar Review – Cuban Bolivar Belicosos Finos
A Brief Cigar Review – Arturo Fuente Flor Fina 8-5-8
A Brief Cigar Review - Cuban El Rey Del Mundo Choix Supreme
A Brief Cigar Review - Arturo Fuente Hemingway Short Story Maduro
A Brief Cigar Review - The Arturo Fuente Destino al Siglo
A Brief Cigar Review - Padron Damaso
A Brief Cigar Review - Crowned Heads Yellow Rose
A Brief Cigar Review - The Angels Anvil MMXV by Crowned Heads
A Brief Cigar Review - Alec Bradley Tempus Nicaragua
A Brief Cigar Review - L'Atelier Extension de la Racine ER1
Quick Cigar Review - Arturo Fuente Anejo 888
Quick Cigar Review - Headley Grange by Crowned Heads
Quick Cigar Review - Padron 3000 maduro
Quick Cigar Review - 2008 Cuban H. Upmann