50 Million Ads for Steem on Facebook, Google, and YouTube!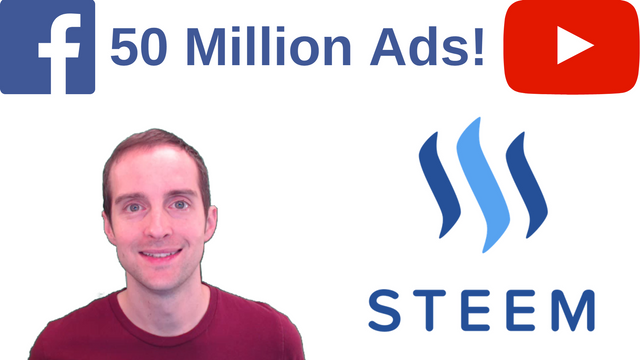 Will we fund an advertising budget for Steem expected to make 50,000,000 impressions on Facebook, Google, and YouTube that builds on what we have done so far because we can then expect tens of thousands more users, new projects, investments, and followers?
Here is what we have done so far as maintained at https://airtable.com/shrXuoYTnODWA0QG1. 100% of the SBD payout from upvotes on this post will contribute to the advertising budget.
$12,843.89 Spent = 19,303,302 Ads for Steem
---
On Facebook, we have shown 17,479,204 ads to 4,639,779 people while on Google AdWords we have shown 1,824,098 receiving 20,092 clicks.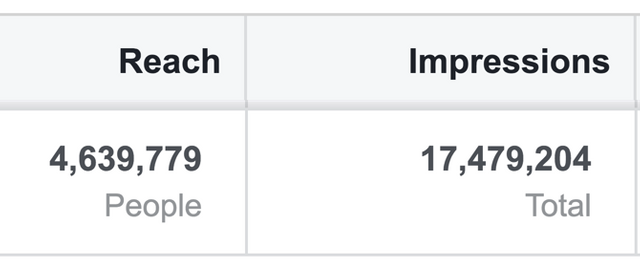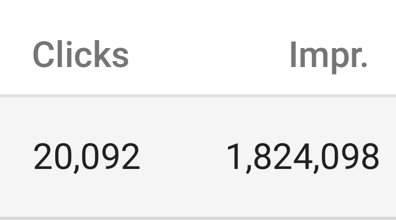 Detailed Reports!
---
We have collaborated to provide funding and been showed detailed reports of the results in these 22 posts over the last 7 months!
Add 10,000 Steem to Our Budget?
---
With explosion of recent excitement about cryptocurrencies, now is the perfect time to turn old ads back on which have been paused for months and continue creating new campaigns! At $3+ Steem prices with 10,000 Steem in funding, are we ready to now more than double what we have contributed so far and work together to bring the number of ads shown to Steem to over 50 million?
Our data makes it clear providing $30,000 in funding should give us an expected return of about 30 million impressions conservatively and as many as 50+ million at the same cost as last time.
Funding with Upvotes and @Budgets!
---
All of the SBD rewards from this post will be sold to USD and then paid to Google and Facebook to show ads promoting Steem! While this might provide a few hundred to maybe a thousand dollars by itself, we also now have an ongoing funding source in Steem budget proposals as explained at https://steemit.com/budget/@jerrybanfield/introducing-steem-budget-proposals.
Requesting 10,000 Steem from @budgets
---
This post is primarily written as a Steem budget proposal with a request for 10,000 Steem to be sold directly to USD and credited to our advertising budget at https://airtable.com/shrXuoYTnODWA0QG1. We have seen in this proposal a clear list of what we have done so far together and we now have an opportunity to expand that here.
For future ads, we hope to include videos and posts from more of our authors that make ideal ads for Steem alongside the ads which have already consistently proven effective along with taking inventory of the posts we already have that need promoting.
One update will attempt to build a list of the best posts we already have to promote on Steem while others will submit systems to submit new ads. We need the funding clearly established first before asking for greater participation and thankfully with the new budget proposals system we have that in place now!
Note that the payments will need to go to @laurabanfield because I am running a voting bot on my account. Payment #1 was just sent today and will be credited on the spreadsheet shortly!
Arguments Against Ads for Steem?
---
Many of us are not aware of the impact the ads have made from amazing projects launched on the Steem blockchain to huge investments in buying Steem because we do not see all the comments, posts, and private messages that cite the ads as how we got here. The ads only have this effect because of what we each contribute to making our community amazing and fun to participate in.
If we are aware of how the ads multiply the value of everything else we contribute by sharing that with those of us that benefit the most from it, making an argument against further funding of the ads would require a desire for Steem to stop growing or a judgement that Steem is not good enough today to fund the ads.
Some have said that I am not the right person to do the ads for us on Steem because I might make a bad impression. According to the user data, this has not been an issue for the thousands signing up for Steem after seeing the ads I have created but may be true for some small percentage who might respond better to someone else. Unfortunately, anyone doing ads for Steem will encounter the same problem with a guaranteed percentage not liking whoever it is that represents us. With our new budget proposal system, we can easily fund several advertising projects to ensure we are not just represented by a small number of us in ads. In the plans for this budget proposal, we see expectations of funding ads by many different authors to ensure we get the most good reactions and diverse promotion approach.
A few have suggested it is too early to advertise Steem because what we have here is not ready for mass adoption. The belief required to say that it is too early for ads after a year and a half of development plus 500,000 users registered is that we are not good enough today but might be in the future. This belief is not likely to change going forward based on any one event if it is still in place today after all the hard forks and improvements we have made. Therefore, we will acknowledge that some of us will feel Steem is not good enough to advertise no matter what we do and simply move forward.
Finally, many of us that contribute to coding and publishing on Steem feel we do not need ads because if what we have is useful it will grow on its own. While Steem provides huge organic growth opportunities through Google search and social media sharing, we can multiply that growth with advertising for a relatively small price.
When we fail to do ads because we feel they are not necessary, we are ignoring the basics of marketing and advertising which demonstrate clearly that most of the top websites, games, books, movies, and nearly everything we love in our lives has been given to us through a combination of effective marketing, advertising, word of mouth sharing, and creativity.
After considering all the arguments for and against advertising Steem here, we are each free to make our own opinion. My opinion is that advertising Steem is a very good idea which is why I have submitted this proposal.
Ready?
---
Would you join us in funding more ads for Steem with an upvote on this post and through our budget proposal system at https://steemit.com/budget/@jerrybanfield/introducing-steem-budget-proposals because these ads will continue to raise the value of Steem for all of us?
Thank you very much already for $2,300 in funding from @budgets and hundreds more dollars on the upvotes on this post! I am planning next to announce a way we can start using the best posts to promote Steem right away instead of just using posts I have written and videos I have produced!
Witness Updates!
---
My primary role as a witness is helping Steem to grow. I have three primary projects supporting that:
Budget proposals which fund projects like this, help investors get a return by delegating Steem power, and give authors a simple way to promote posts with the voting bot as explained at https://steemit.com/budget/@jerrybanfield/introducing-steem-budget-proposals.
The ads for Steem as explained here and kept accountable at https://airtable.com/shrXuoYTnODWA0QG1.
Building a freelancing platform tentatively named SteemJ which includes a peer to peer exchange (no central authority or licensing needed) as well as an interface with similar functionality to Upwork and Fiverr. Our most recent update on this is at https://steemit.com/steemj/@jerrybanfield/hire-3-steem-developers-to-build-usd-steem-exchange
Servers
---
I have a witness, seed, and backup witness server running with the following specs.
64GB DDR4 RAM
2x Intel Xeon E5-2630 V3
2x 240GB SSDs
1Gbit/s connection
A few weeks ago my servers both hit a memory error which with help from steemit.chat in the witness channel I was able to fix in a few minutes after seeing it. Today with the help of @someguy123 the witness and the backup are running with automatic failover setup.
With the new budget proposals system, we now have a method to fund new witnesses and even to hire the most needed developers directly through our collaboration. While I realize many of our top witnesses are developers and this is desired among the top witnesses, we have made a system here capable of funding several developers every month through my witness and budget proposals.
Witness Rewards
---
All of the witness rewards I receive now assist with funding Steem budget proposals because the higher my voting power, the greater the payouts to investors and projects. Effectively all of my voting power goes to pay out those delegating and projects on Steem. With tens of thousands of dollars worth of Steem paid to witnesses every day, we all benefit when witnesses are transparent about what the rewards contribute to and when we vote for witnesses where we know what we are getting out of our witness votes.
All of the rewards I have received in the last two months as a witness have been dedicated to growing Steem which continues with this new budget proposal system. I took one power down a few weeks ago to pay for server hosting for the next three months along with management of my server and to pay the ad budgets for Facebook and Google.
Witness Votes are Our Most Important!
---
One witness vote on Steem lasts indefinitely, chooses the servers producing our blockchain, and provides up to 260 Steem power a day (currently $800 a day). If you are not already one of the 2,500+ of us voting for me as a witness, would you please cast your vote at https://steemit.com/~witnesses because of what we have seen here in this post together?
Thank You for Reading!
---
It was a pleasure to spend this time together today and maybe we can do it again sometime!
Love,
Jerry Banfield