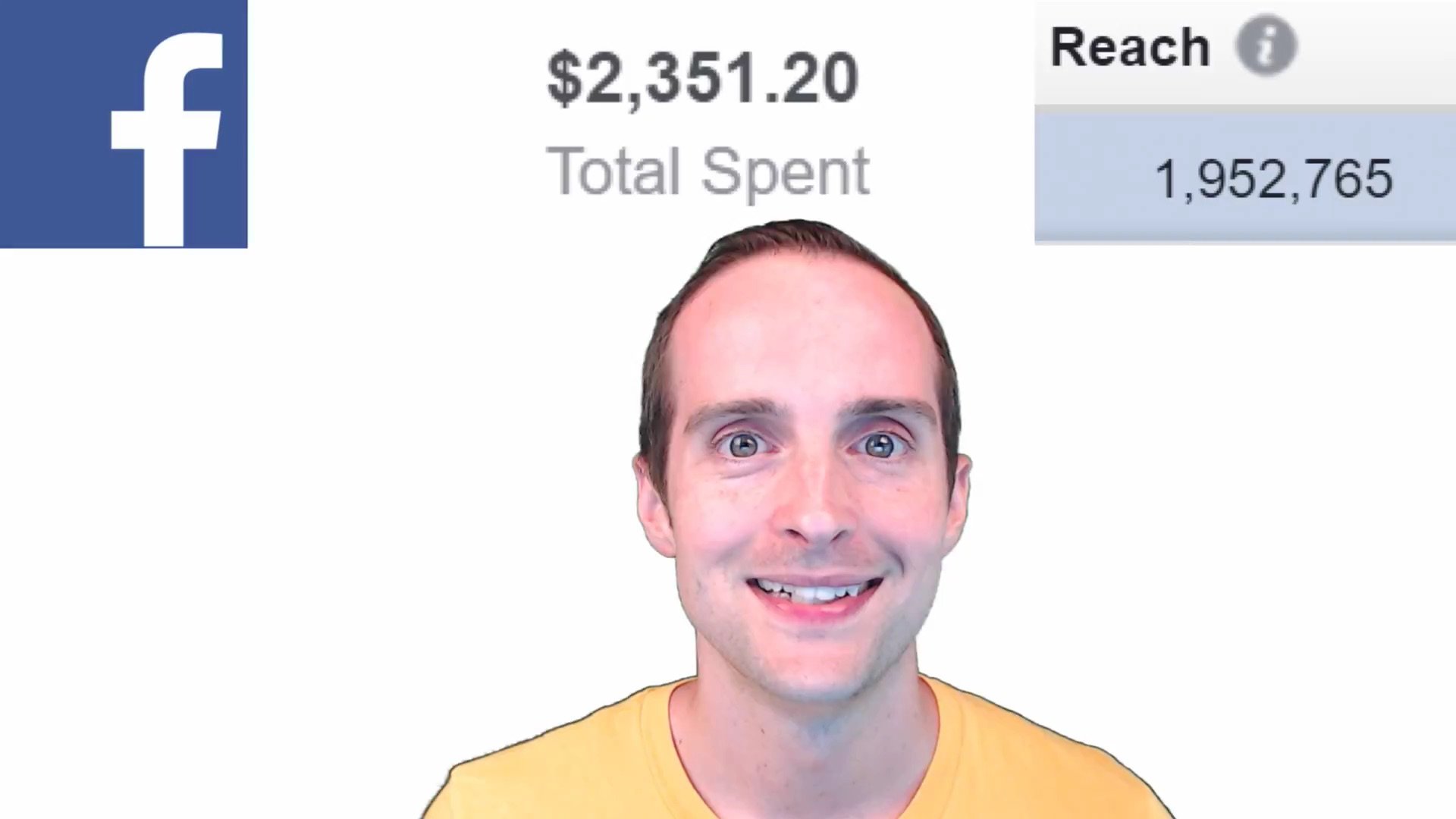 Our first video advertising campaign on Facebook and YouTube reached over 2 million viewers because of our generosity in giving $3,382.13 in upvotes on the video ad #1 campaign at https://steemit.com/steemit/@jerrybanfield/steem-video-ad-1-on-facebook-and-youtube-featuring-10-reasons-for-usd10-steem-in-10-months which was spent on a combination of Facebook and YouTube ads which are now finished and presented here for our review!
Will we review the results here because it will help us decide if we want to continue more ads like this for Steem going forward?
Facebook Ads Case Study with 1,952,765 Reach on a $2351 Budget!

Here's how we did it.
First, the results, we want the proof.
l know, I like the proof right away.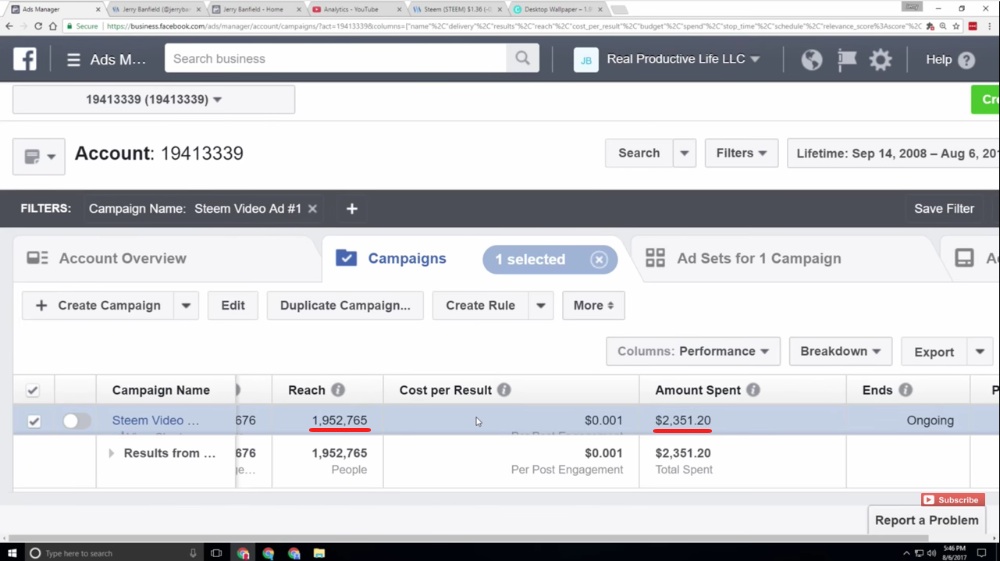 Here's the amount spent on the campaign, and then here's the reach the campaign got, 1,952,765 people reached.
Here's the actual post I promoted with exactly the results you can see.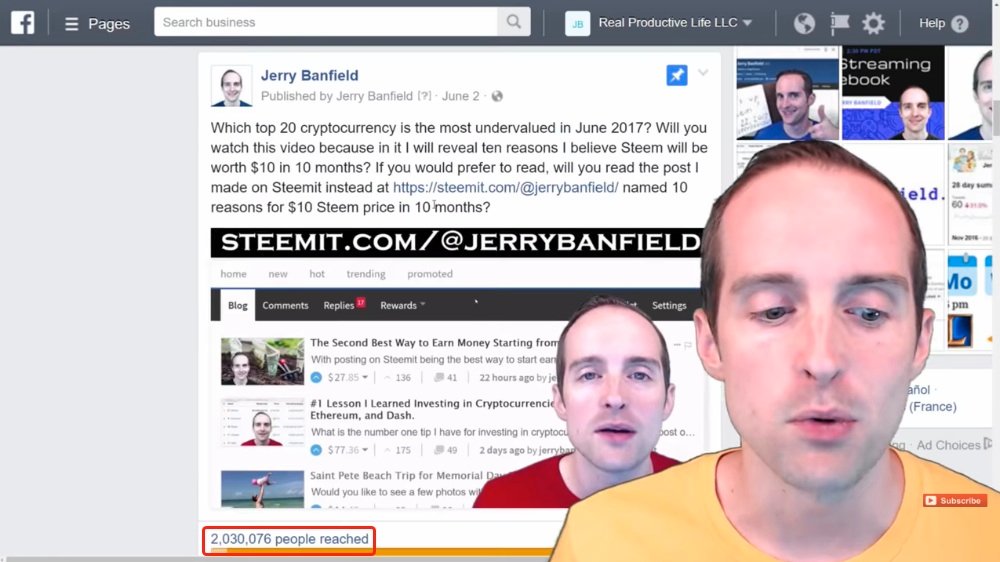 Now, the cool thing is, technically, we reached over 2 million people with this ad because of the shares and comments the organic reach brought it up almost 100,000 or so more people than what the actual ad showed.
I'll show you the ad here first. I had a very clear call to action here and a purpose for the video. I suggested: "Which top 20 cryptocurrency do I think is the most undervalued?"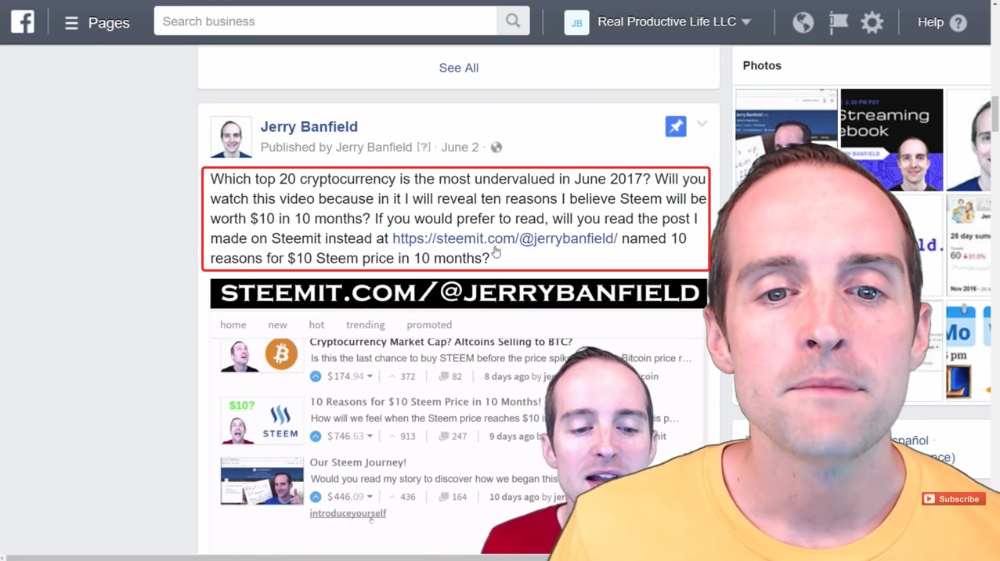 I then asked people to actually watch the video, which mostly failed. However, the few people who watched it were very likely to come sign up and join me.
Steemit is free to sign up. You don't have to pay anything for it. It's completely free to use. It does work better if you invest in it. I've invested, I'm not even sure, $40,000 or $50,000 something in it. I believe in it a lot.
The call to action was to my Steemit profile, which I just showed you. Then all I did in the video is simply share everything right out in the open. I shared what other authors were doing on Steemit.
1,554 shares on this, 1.5 million views, 47,000 reactions to it, and 2 million people reached. I'll show a little bit more detail on that.
We have 785,000 minutes viewed.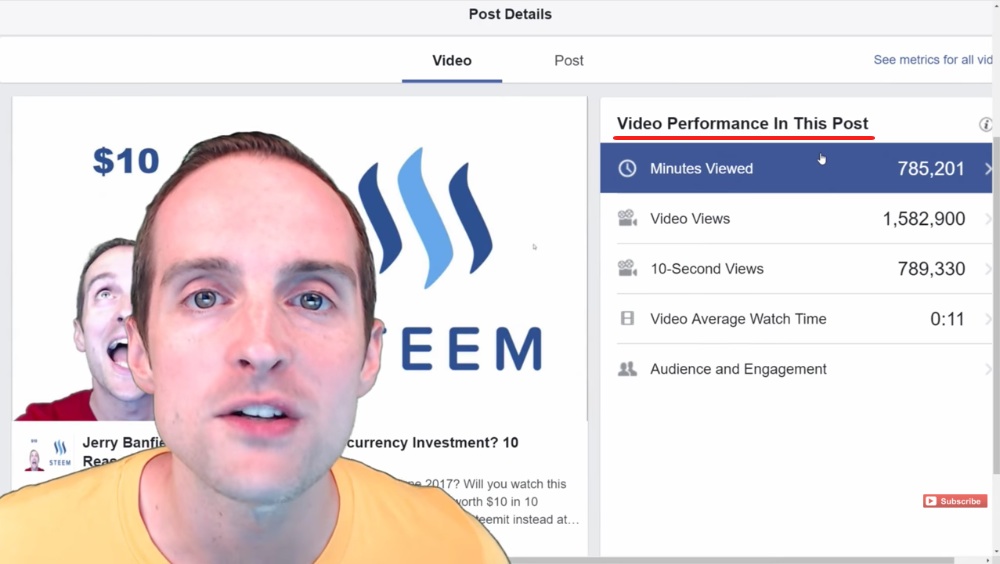 Now, the average person only watched a few seconds, which is fine because 2 million people saw it. 1.5 million actually started watching the video, 2 million people saw it in their newsfeed. Even just seeing the text makes a little bit of a difference and the people who actually watched the video are very likely to go ahead and take some action on it.
Then if you look at the post over here, you can see a detailed breakdown: millions of people reached, millions of video views, tens of thousands of reactions.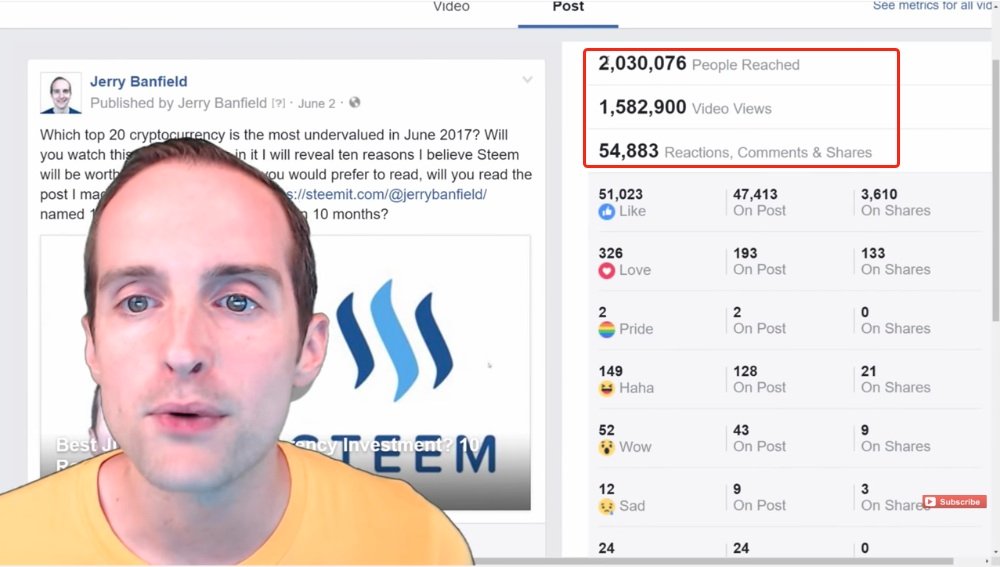 Also, post clicks, clicks to play and link clicks.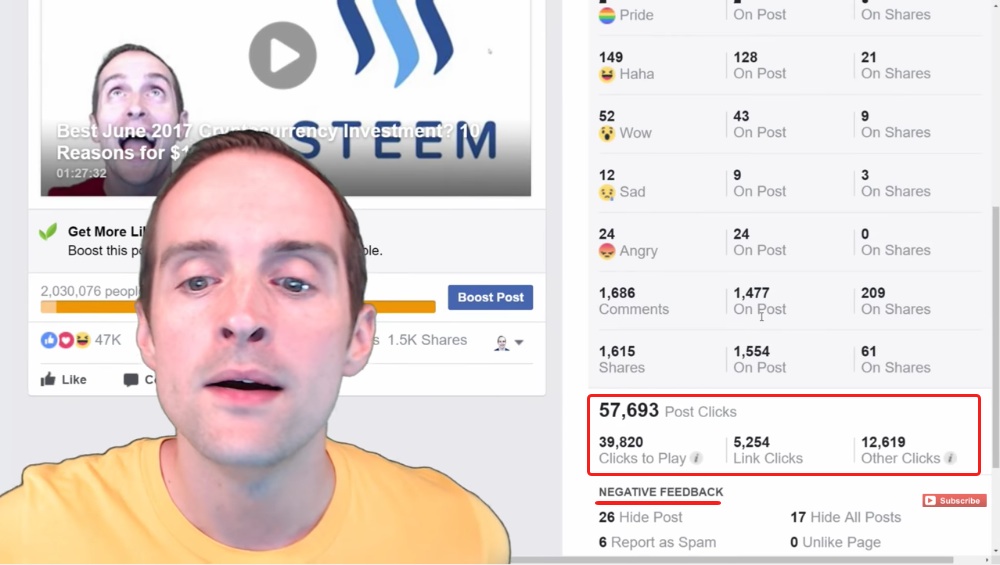 Thousands of people actually clicked on the link to go over to the website and there is a fairly low Negative Feedback on the ad.
I'm guessing if you are like me at this point now, you probably want to get into, "Okay, how did you target it? How did you target it?"
What I showed you first is critical. I got the money to do the ad and I paid for it after getting the money to pay for it. Then I made the actual ad, these things are the most critical parts of it. The targeting is fairly easy after doing the first critical parts.
Again, because this is really important, after doing a good ad, a video ad, that honestly presents something I'm really excited about and I'm using a simple call to action on an offer that I'm really genuinely excited about and have invested a lot in, putting that up makes it very easy to actually do the targeting.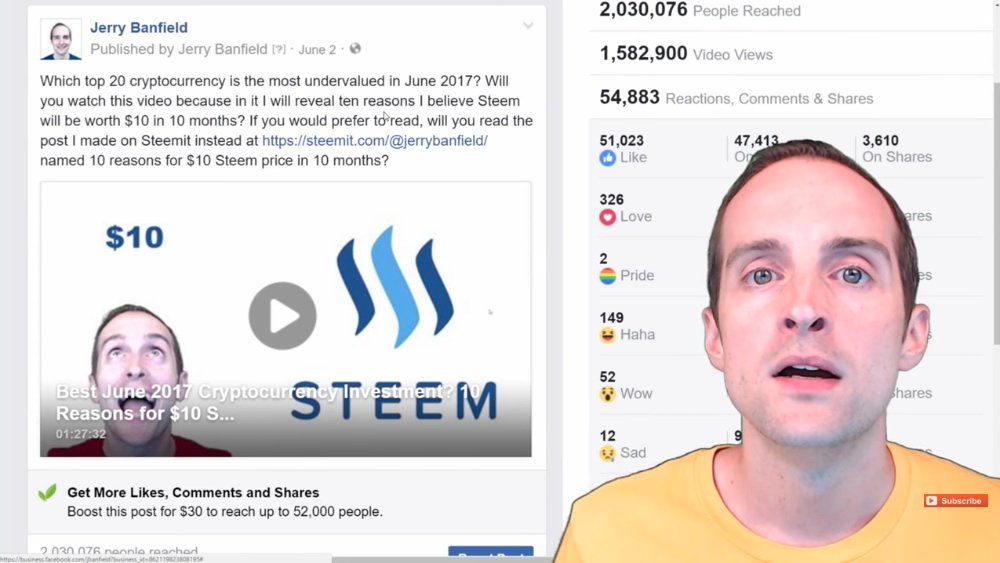 One of the main challenges I see in talking with people advertising on Facebook is an emphasis on the targeting and the Facebook ad part more than on the ad and the offer itself. The ad and offer itself are 99%.
It's pretty easy to go in and do the targeting after that. It's very logical. You don't even have to work that hard to do the targeting. Once you get a good offer and a good ad, it's so easy, but a lot of people just throw up crappy ads with offers that suck, and then spend a bunch of time trying to make them work.
News flash: if your ad doesn't work it's usually because the offer sucks or the ad sucks. Facebook ads work if you have a good offer as I've seen this is the best offer I've ever seen before.
As you can see, there's nothing surprising about the targeting.
Look, it's a cryptocurrency or digital currency. I targeted "Bitcoin," which is the top in terms of value on market capitalization.
I targeted Bitcoin, big surprise.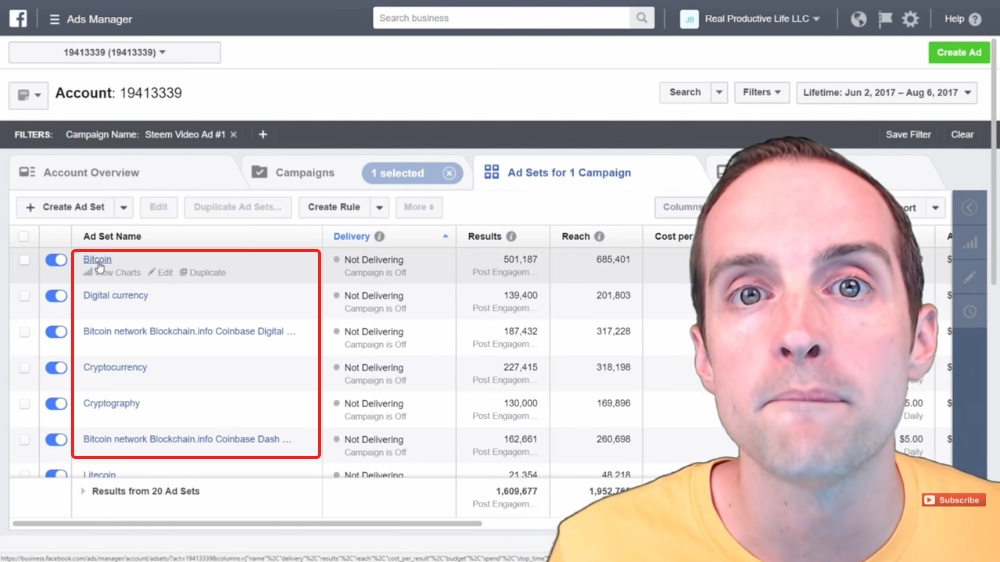 I targeted "Digital currency."
I targeted more suggested features. I even threw on and tried "Cryptography" just for fun. I threw in "Bitcoin network."
I tried "Litecoin" and I also tested Online courses, Digital marketing.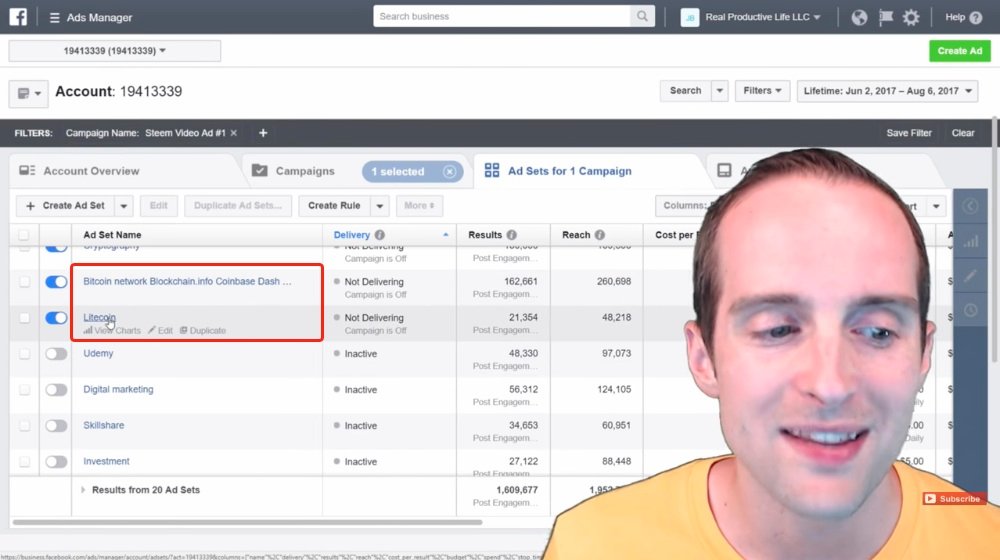 I tested a lot of other things that I didn't use here, and the ones that I did use I kept running them.
How much did I put my budget for?
Here's the budget.
You can see that I spread the budget into smaller budgets among many different ad sets, all with the same exact ad.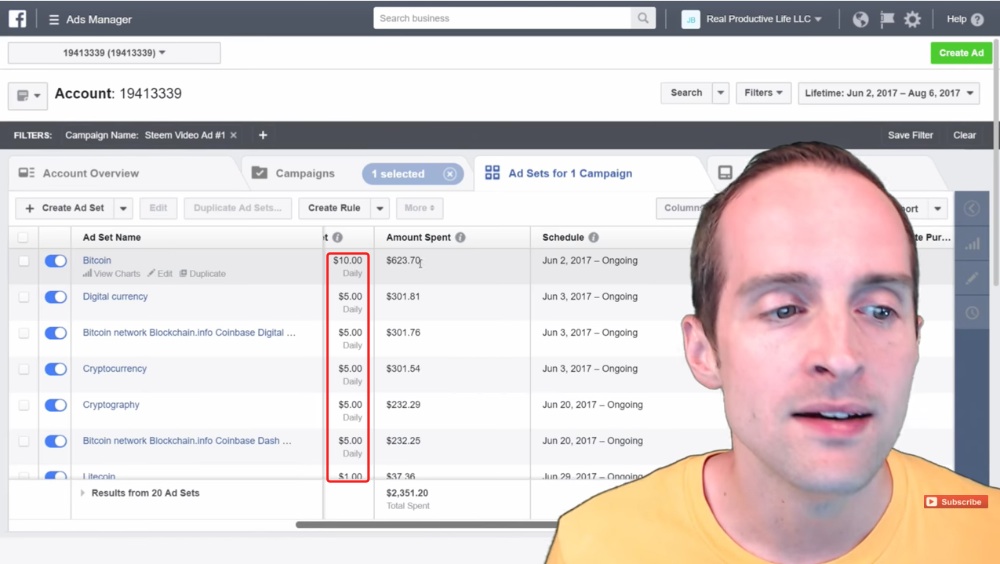 Then what I did is I didn't do anything higher than $10 a day and I started it higher than I did doing most of it. I started it on a bunch of ad sets, and then I paused the ones that didn't work as good.
Now, how did I decide which ones to pause?
I showed you Performance here, but the real value of an ad comes down to these things.
Again, targeting, nothing special, really easy, anyone could go in and target these. The tough thing is the ad and the offer. If it's something you're really honestly excited about and you show exactly how it works, it's pretty easy to do that part of it as well.
What I think makes a great Facebook ad is to pay attention to these metrics over here.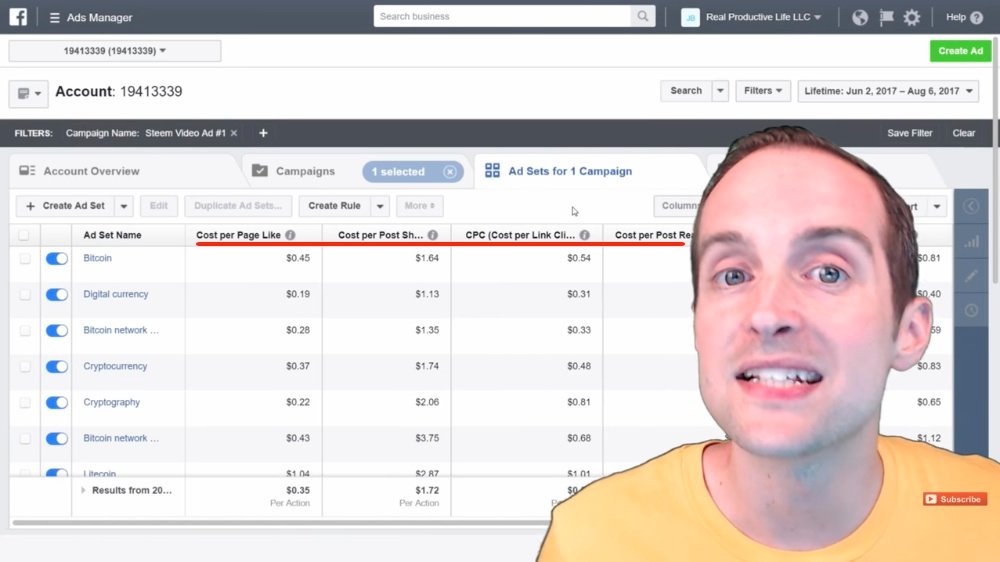 Pay attention to the "Cost per Page Like," the "Cost per Post Share," the "Cost per Link Click," and then the "Cost per Post Reaction," which equals to a like, a share, or a comment.
The "Cost per Link Click," is when someone clicks on that link in the ad, which over 5,000 people did. That's what you pay for a link click.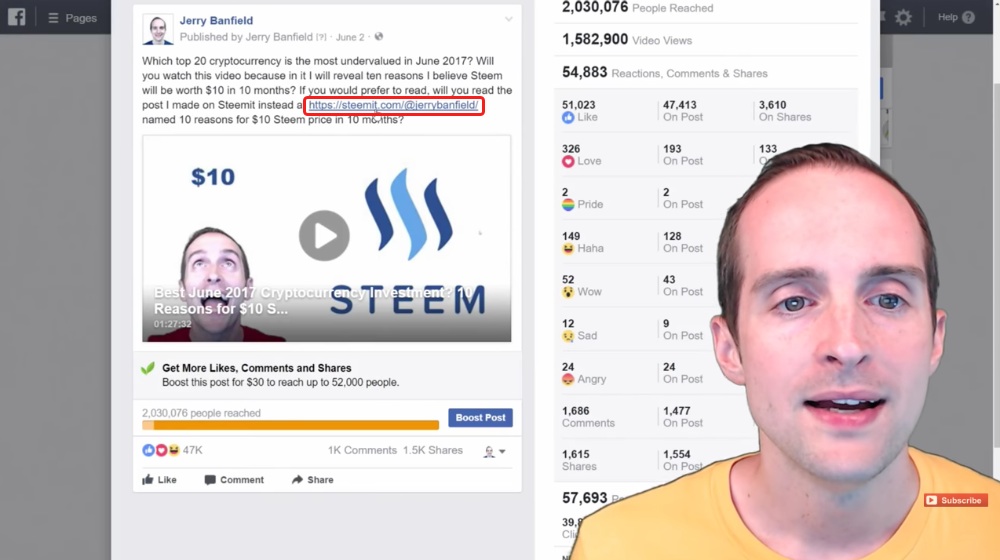 What I did on this since there's no conversion tracking straight to my website, I just optimized it for video interaction. I told Facebook, "Look, get the most people who watch this video and interact with it as you can."
Then I chose which of these to pause based on metrics like this.
I looked at the Cost per Page Like on each ad set to see how it compared to the others and especially compared to the average. Some of these ad sets had terrible results. "Digital currency" in the USA cost $20 per Page like.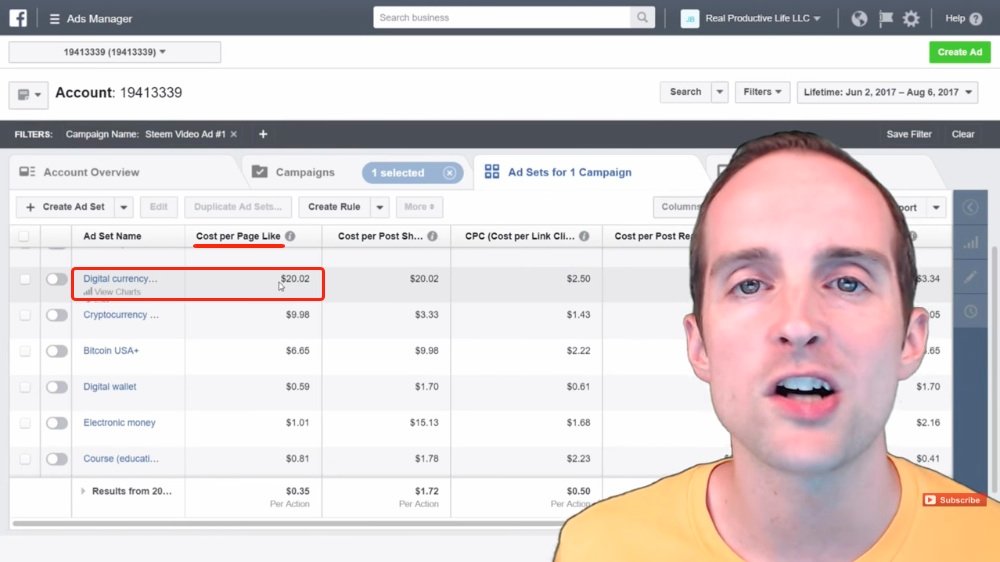 Maybe you are wondering on the targeting?
I targeted worldwide on most of these ad sets because worldwide is the most effective way to get the very lowest cost for the very most impressions. Worldwide offers access to people who often are not competitive.
What a lot of advertisers want to do is do the US, Canada, Australia and United Kingdom, and that usually doesn't work very well.
Why?
Because that's what almost everyone else does too.
Therefore, a relatively small group of people compared to the entire world on Facebook, a few hundred millions compared to 1.7 billion total and the majority of the ad dollars are targeted towards them. What I do is I go for the whole world, and then the whole world brings so much action that then it naturally gets back into the places I often would pay the most for.
Targeting worldwide is one of the easiest ways to get way better results, and then I target my language, which is English. I targeted these ad sets worldwide English although on some I put a specific location to test.
Just doing Bitcoin in the USA cost a whole lot more, almost $10 for a post share.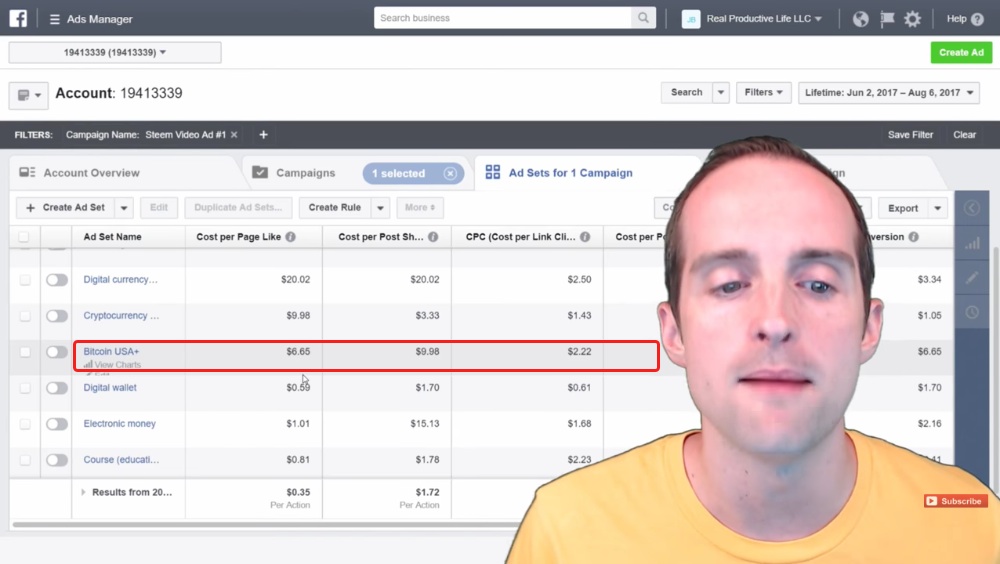 Why bother doing that when I can show it worldwide?
People often have said to me, "Well, there's no one with money worldwide. There are all the people with money in the US, in Canada and Australia," and that simply is not true.
In fact, the easiest people to get to with money are people not in the US, Canada and Australia. Often, there is large amounts of money just sitting in hands of people where there is almost no competition or even opportunity to spend it.
Worldwide ads often give you access to people you wouldn't even think to approach who have way more funds than the guy you are trying to ask for money next door or just down the street, or downtown where you live.
Worldwide works by far the best with all the energy and all the social proof, and all the sharing from worldwide attracts people from all over the world.
I can show you the countries at the campaigns level. It usually doesn't spend too much in one country, it puts it out everywhere. I did spend $13 in Australia on this campaign. I spent $165 in Bangladesh, probably one of the highest, Botswana $12.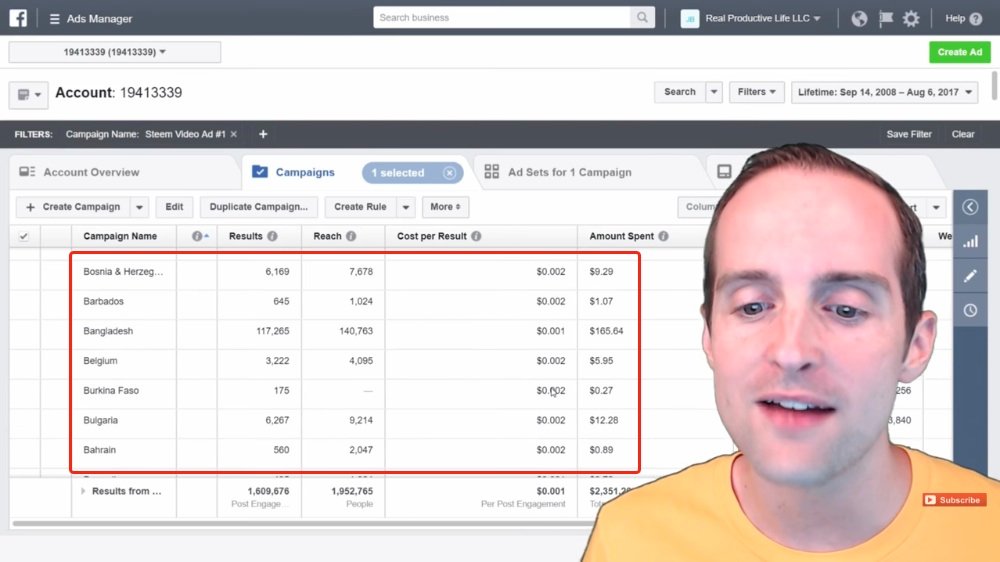 What it does, it spends the money all over the place, and then it can get me the best value. Like I spent $35 in the United Kingdom on this campaign, $3.62 in Haiti, $0.72 in Indonesia, $239 in Cambodia, about everyone in Cambodia must have seen this ad. $161 in Nepal, $274 in the Philippines.
All of the different places these ads show, often I'm able to reach influencers in these countries directly with the ads who then have the opportunity to go in and do the exact call to action, like signing up for Steemit, and then investing in Steemit. This is an absolute idea where to advertise, I love doing this.
What I do on this is I hit the whole world, I take the lowest cost as possible, it gets tones of action, tones of social proof, and then I just optimize that based on the data.
Whatever the lowest Cost per Share, Cost per Page Like, or Cost per Link Click, if it doesn't work as good, I pause it. A lot of these ad sets didn't work nearly as good, so I simply paused them.
That's it right there, it's that simple.
There is one more thing that makes it. I've shown a lot of ads before and that makes a big difference.
I don't have to make a first impression because I've already shown 10, 20 or 30 ads often to people, which makes it easier to get people to take action on the ad.
I'm very grateful for the chance to have collaborated with the Steem community to do this ad. I think more ads like this are the best opportunity to share with the whole world, especially to share our business ideas in places where advertisers are not all running and trying to compete with people.
Share it where it's the only good offer around or one of the only offers like it around, where there is no competition and therefore there is a great opportunity to talk about it.
YouTube ads

In addition to Facebook ads, I also did YouTube ads.
YouTube is a significantly different approach than Facebook ads and what I like about YouTube is it combines really well with Facebook.
Some of the strong points with Facebook is that it has the ability to reach the most users all over the world at the lowest price. Meanwhile, YouTube is very good at laser targeting in and zooming in on the exact perfect user at the perfect time.
Facebook is just a brute force strategy which works really good especially when convened with a laser focus strategy as you can see on YouTube.
What I've taken on YouTube is the laser focus strategy, which is the other half of the campaign.
I spent $2,351 on Facebook ads and I pledged to spend the whole $3,382 from Steemit.
I spent the rest of it on YouTube ads.
Now, on YouTube, the ads themselves often don't work that good. However, what the YouTube ads do, they rank a video really high.
What you can see that is really nice on YouTube, when you do a video with YouTube advertising, it gets a lot of minutes watched and the minutes watched help it rank higher in suggested videos, browse features, YouTube search and external.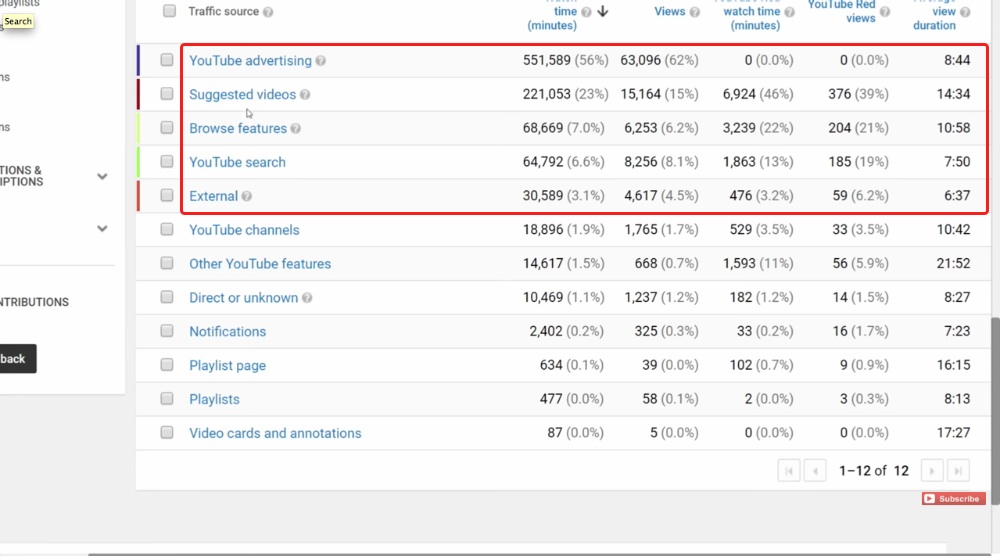 What's happened?
I advertised this video a lot in collaboration with my Steem community and now when people are watching other videos, this one is much more likely to come up.
A lot of these suggested videos are my videos, but there is a lot of videos from other people as well. This video is now ranked high enough that when people are looking for "where to invest," or they are watching a video about "where to invest," they end up watching my video next.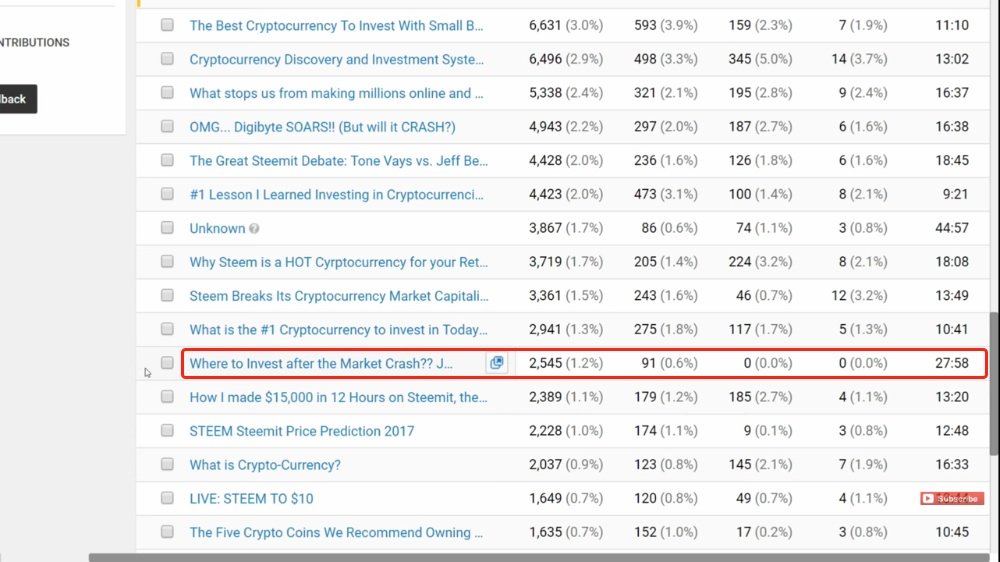 If you look at the data, an average of 27 minutes spent watching the video. It's 91 people over the last 90 days with an average of 27 minutes, that's a very high impact with a smaller group of people.
Laser focus combined with brute force is great.
Now meanwhile, the geography on YouTube is very effective at reaching the US, UK, Canada and Australia for a much lower price with a very high average view duration.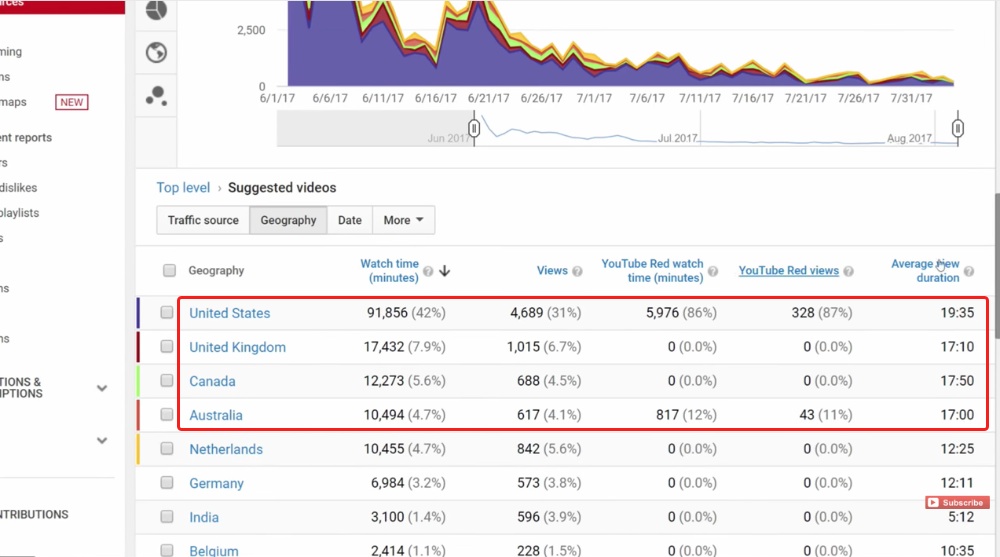 I combined these two strategies with YouTube and Facebook ads to give me an unbelievable result in online ads.
It's really cool also that it ranks higher in search. If someone is first learning about Steem or you look at some of these searches, people search for "the best cryptocurrency to invest in." These are people looking to invest in a cryptocurrency. They've just learned about Steem, hundreds of people looking exactly for what I'm talking about in the video then finding it this way. The ads on YouTube helping make that happen.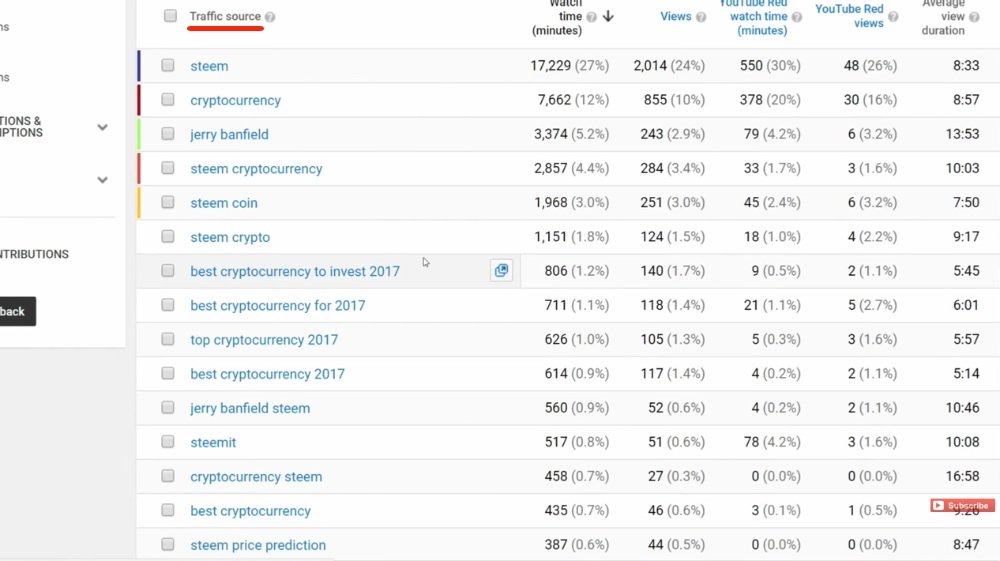 I got 63,000 views on YouTube, which is a lot less than Facebook, but there is an average of 8 minutes and 44 seconds watched.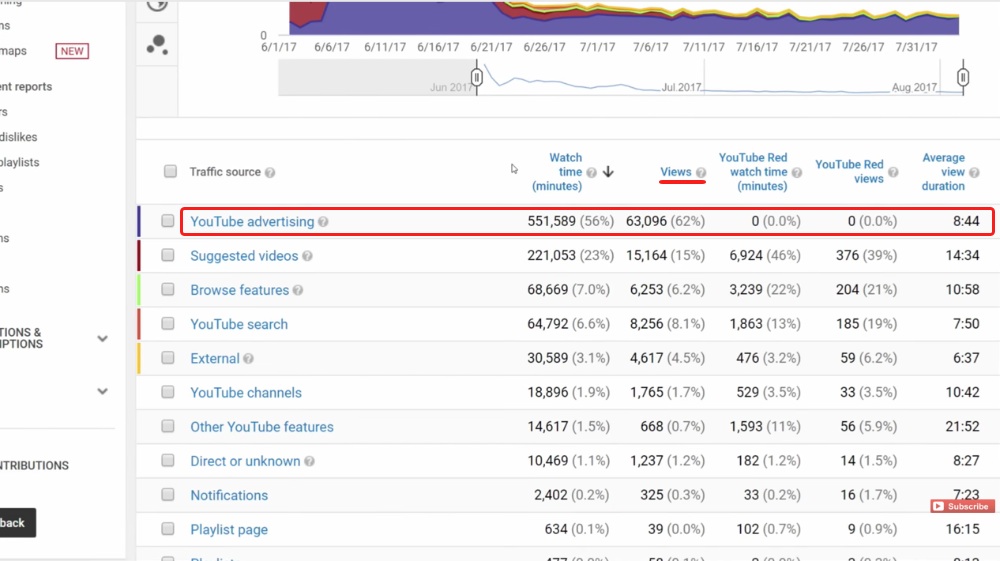 While on Facebook the average view is only 11 cents, most people are quickly scrolling through their newsfeed. On YouTube, meanwhile, I got a ton of minutes watched on the video, and then consistently getting more. What I'll do now is show you in Google AdWords the data here from the YouTube campaigns.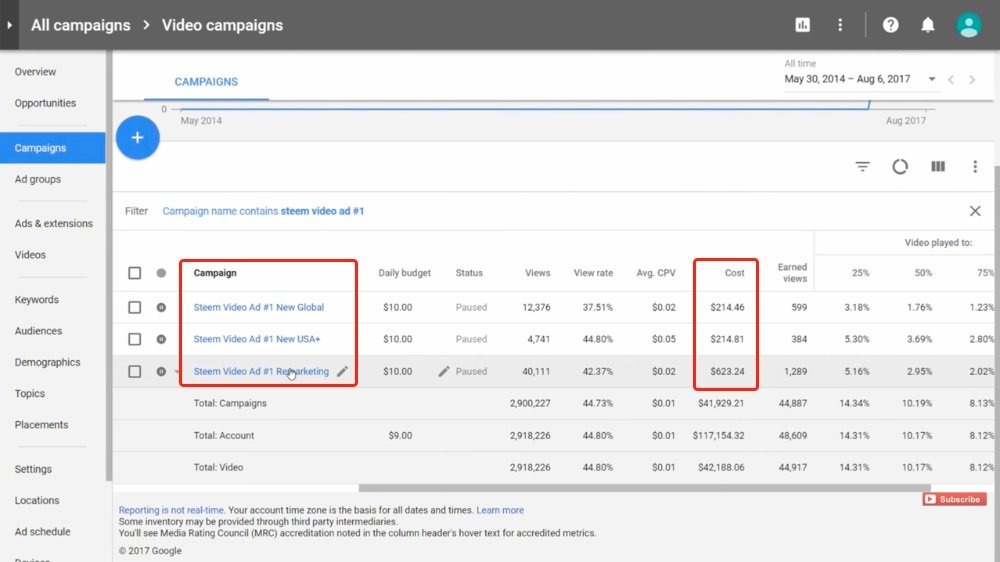 If you add these 3 campaigns together, you can see that this goes over a $1,000 here, and then if you add that to the other Facebook one, then that goes over budget. I actually spent more than what was given to me.
On YouTube I did two different basic strategies.
I'm grateful that I've got millions of people who've already watched my YouTube videos, so I simply did a remarketing campaign. 40,000 of the views were from people who'd already watched my videos before, meaning I'm not making a first impression anymore.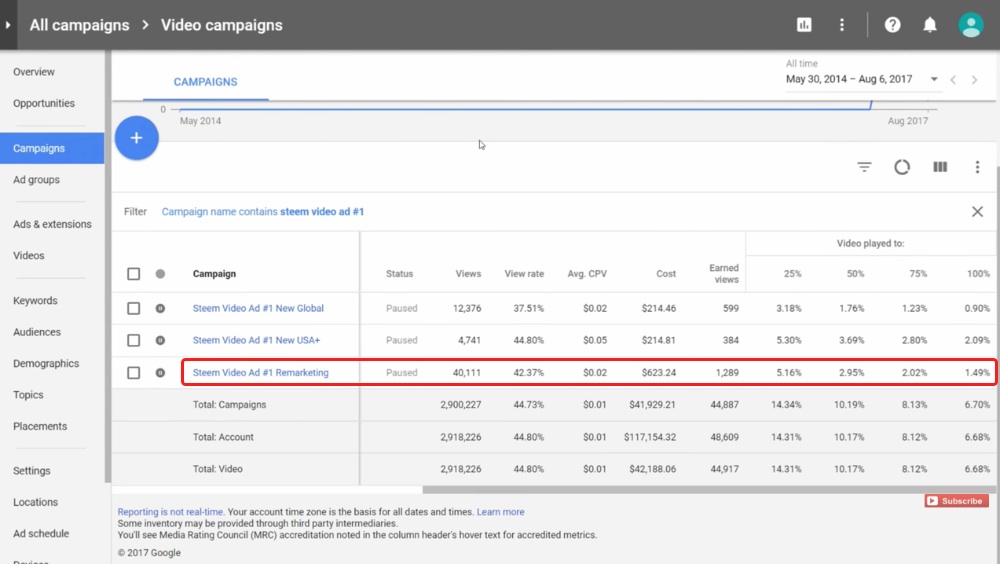 That gives the ad a lot better chance to succeed, and then the view rate as you can see was pretty good on that along with an average of two cents for a view. Thousands have earned additional views and one and a half percent of people made it all the way through the hour and a half video.
I also tried two different ads on YouTube for the same video showing it both to a US, UK, Canada and Australia audience, and then to a global audience to get the video out there to new viewers who had not watched my channel before.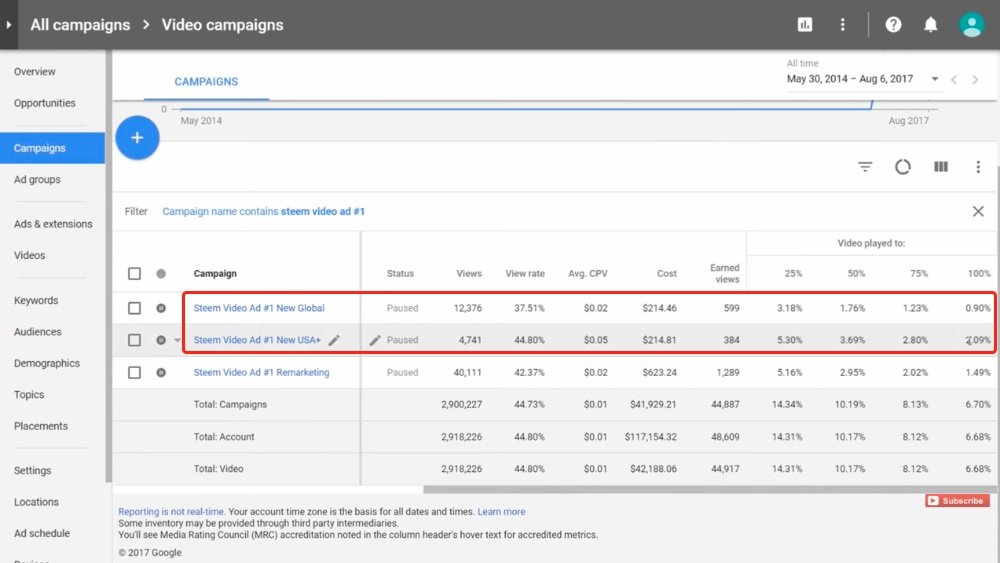 Amazingly in the US, out of new viewers, they actually watched longer than people who'd already seen my videos before, meaning it's possible some people are just getting tired of hearing me talking on my videos.
"Oh man, can't watch it that long. I already have watched these other three-hour videos."
Results from the ad

So what I've shown you here is how I did with the collaboration from the Steem community and how I ran ads in a great partnership off of crowdfunding. I didn't even have to pay for them myself.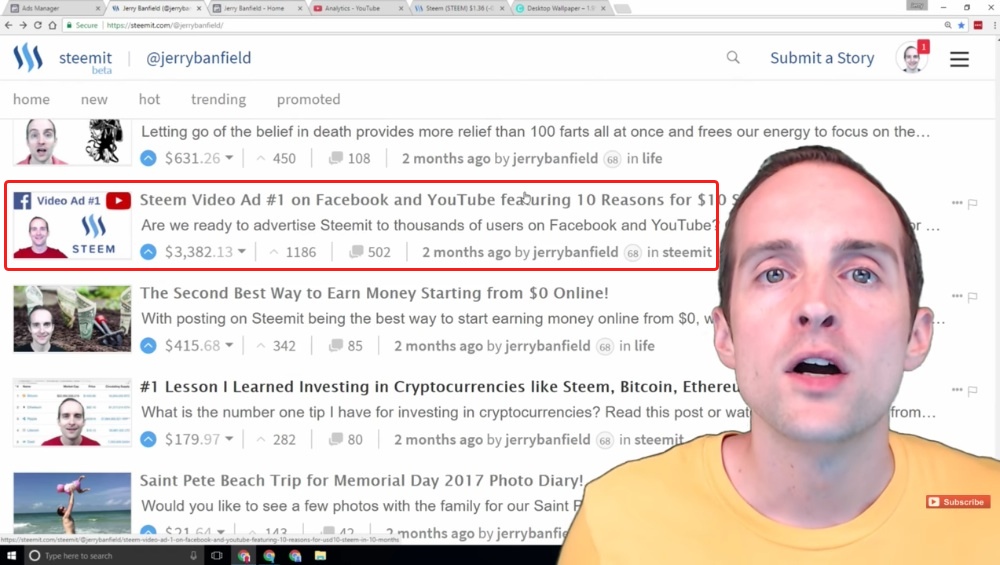 It reached over 2 million people when you count the organic reach on Facebook and/or the YouTube ads. I think the best result I can point to, which you could argue that it's just a coincidence if you want, or you could say, "That's odd."
For the month or so before I ran any of these ads, the Steem price was pretty flat and it just went through a little bit of a dip. It was maybe coming up a little bit or maybe it wasn't because it is flat right here.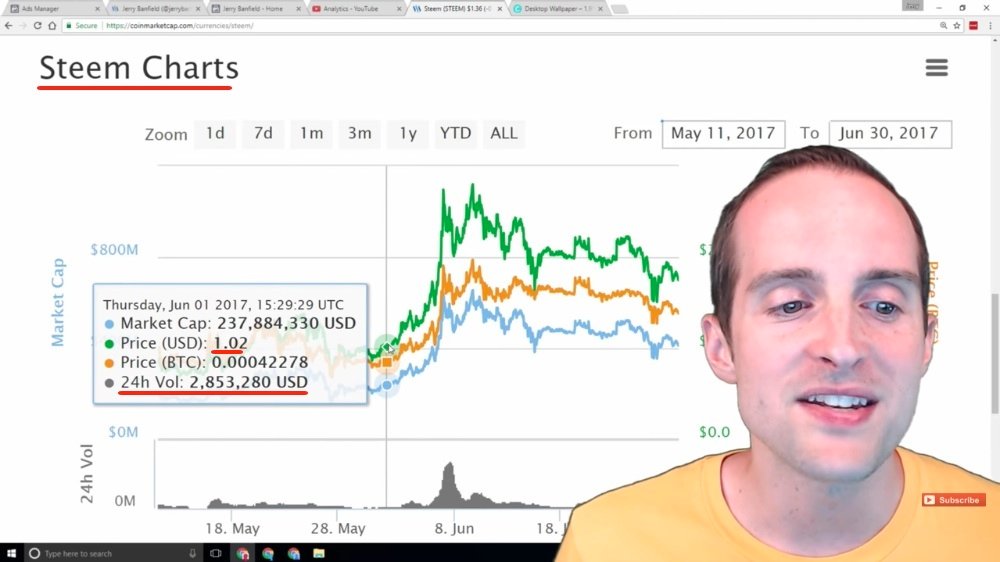 Now, at the beginning of the day when the ad came out, the price was flat at about a dollar and if you scroll back, the trading volume was anywhere from a million to a couple million.
Then, within just 24 hours, the volume went crazy. The volume went crazy up to 6 or 8 million within 24 hours of the ad coming out.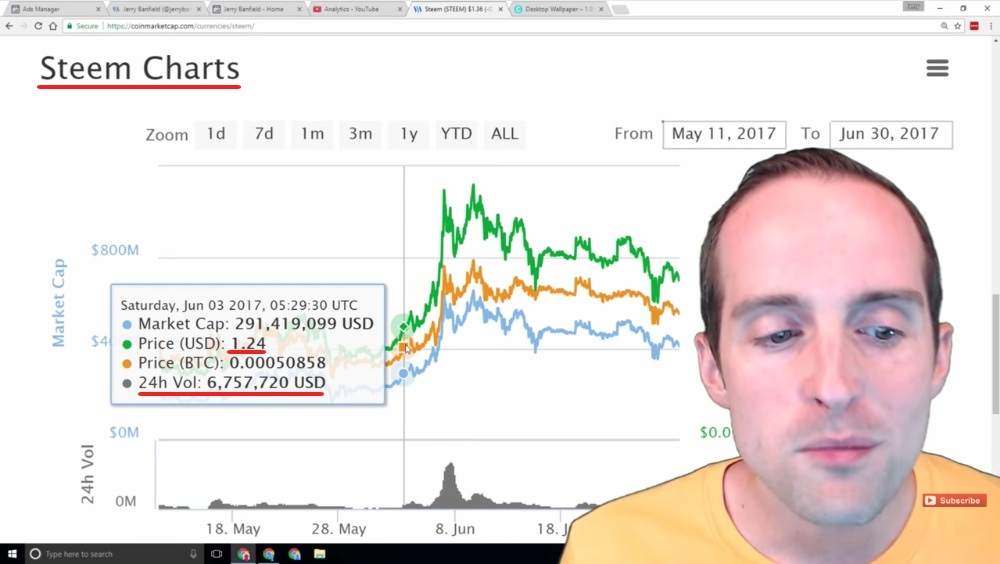 Then the volume spiked up here over 50 million just a few days after the ad came out.
The Steem price then went up as high as almost $3 from a dollar just 5 days after the ad came out, which by then had already reached hundreds of thousands of people.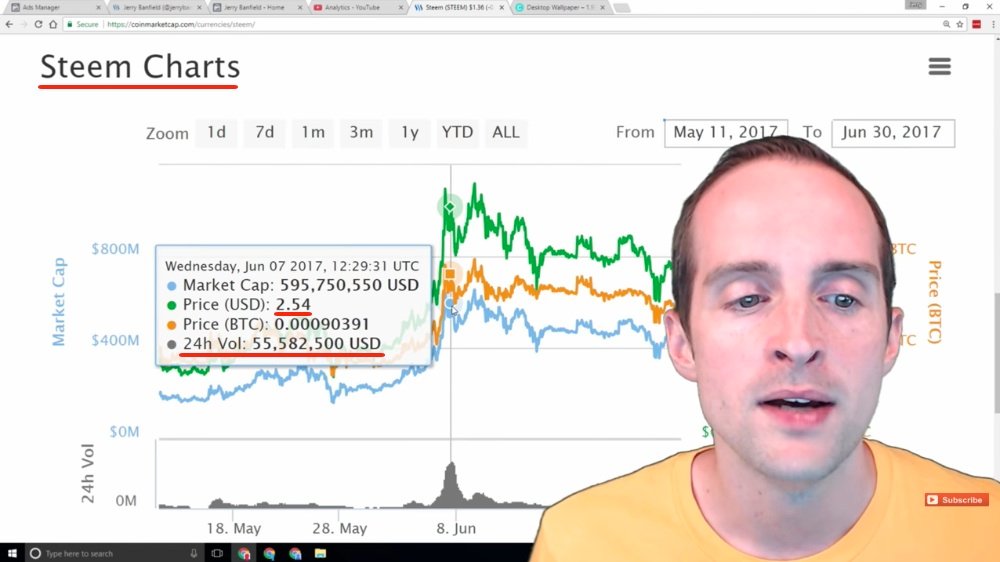 Now, if you think of these things, with reaching hundreds of thousands of people, I don't actually need to make a huge impact. If the ad happens to reach the right person at the right time, one person's buying decision could set off a series of events.
One big buyer in Brazil or India for example, who is in cryptocurrencies, sees the ad then goes and makes a good buy, and then the market just automatically jumps on board after that.
That's how I think of my ads, huge reach. It only needs to make a big impact with a couple of people though.
Right after this ad came out, the Steem price, just coincidentally or maybe not, went up to the highest it's been in a year, up to $2.74.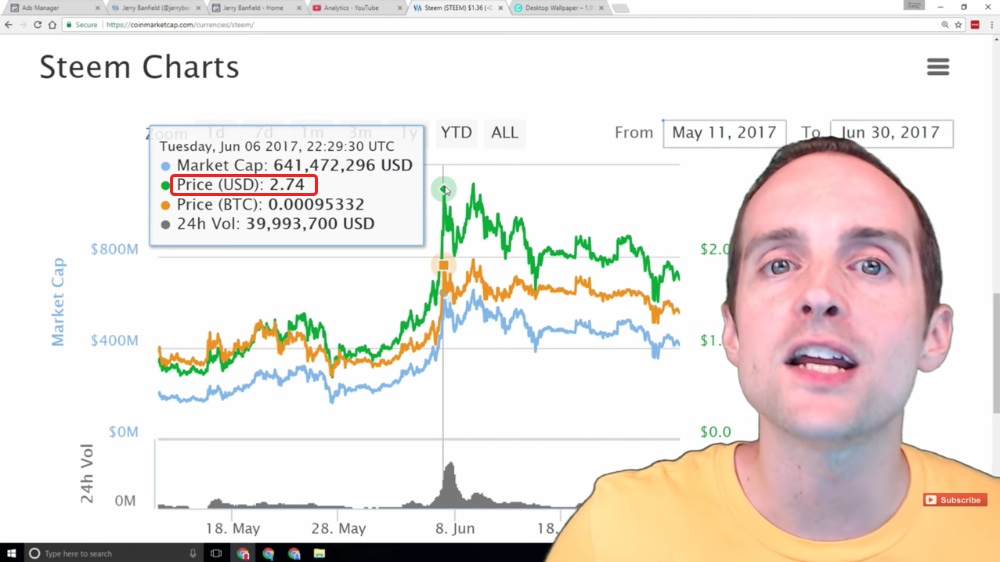 Huge spike. Then, there was a significant volume spike after that and it continued to stay around here for a while.
Now, the interesting part is that the majority of the ad budget was spent right in here too and if you look at the last month, the price continued to drop. I ran the ads less and less and the price continued to drop. Meanwhile, the volume was very low as well.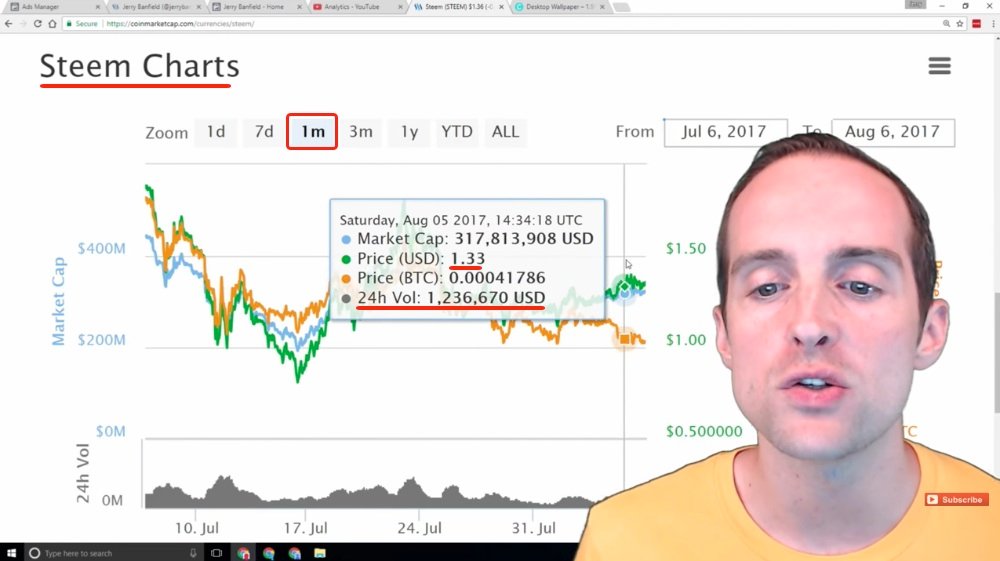 If you're starting to think, "Oh, he's really full of himself. He thinks he did all this."
The advertising often multiplies the results of other people.
Let's say a friend told you about Steem, and then you just happened to see my ad about Steem, it's not my ad about Steem by itself, and I couldn't make the ad for Steem without everyone else having done everything that they did to give me everything to show for it.
But the friend referral times the ad, seeing both of those then helps convert action. Perhaps someone who used to use Steem before, who then sees my ad, comes back and looks around, and gets excited again.
Companies like Apple do an outstanding job with advertising. Advertising combined with making something awesome, combined with everything people do with word of mouth marketing, all of that working together multiplies.
With my Steem ads that we crowdfunded, now not running at all today, you can see that the price of Steem has continued to fall, especially against the Bitcoin price. The volume has gone back to what it was before.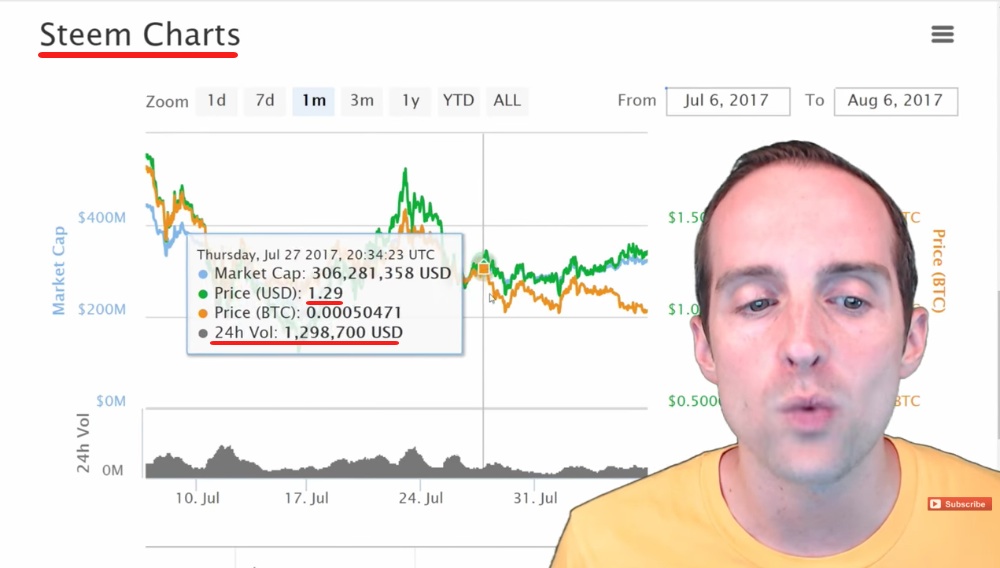 Without all of that advertising triggering people already interested in cryptocurrencies to think of Steem, perhaps even subconsciously to go make a purchase of it, then the price went down.
Now, advertising is one part of the puzzle, there are lots of other things going on. It often only takes only one piece to finish the entire puzzle and without that extra piece in there, it can just not work out.
I appreciate you reading this post showing the case study of how I spent $2,351 on Facebook ads, reached directly with the ads 1,952,765 people, which then went over 2 million when you add the extra organic impressions.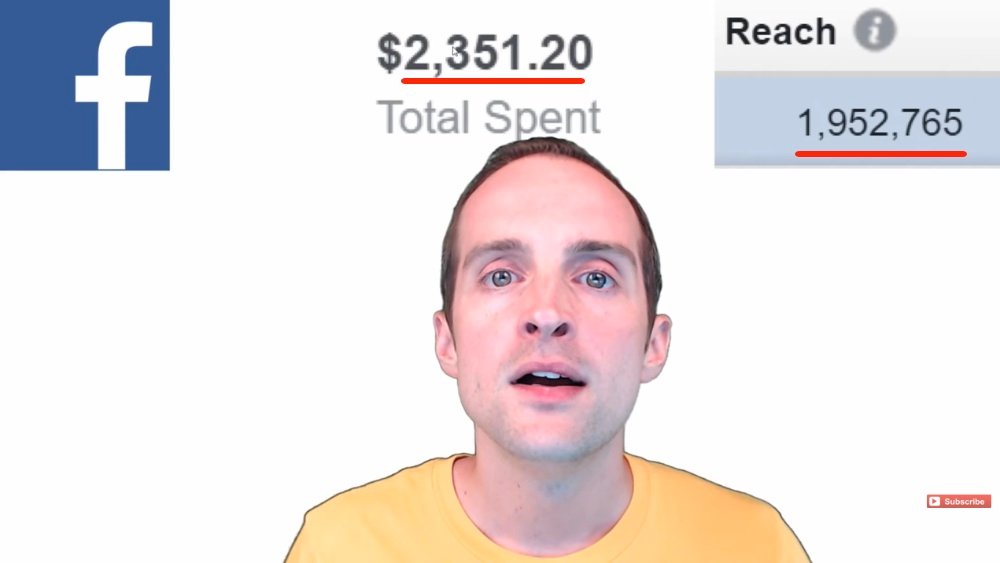 I love you.
You're awesome.
I hope you have a wonderful day today.
Final words

Thank you very much for reading this post which was originally filmed as the video below!
Would you join me today, by leaving a like on this video or upvote this post on Steemit?
The feedback on the video was so positive that I spent about $100 to get this post created for you here out of the video, and then edited it prior to publishing! I appreciate you being here and I hope you have a wonderful day today.
If you found this post helpful on Steemit, would you please upvote it and follow me because you will then be able to see more posts like this in your home feed?
Love,
Jerry Banfield with edits by @gmichelbkk