I'm getting tons of inquiries from last night on Coast to Coast AM wanting to know more. Many of these folks have never even heard of Bitcoin!
So, I've been compiling a letter to send back to then. What did I leave out?
Stan
DISCLAIMER: Author is NOT a United States Securities Dealer or Broker or U.S. Investment Adviser. Sender is a consultant and makes no warranties or representations as to the buyer, seller or transaction. All due diligence is the responsibility of the reader. This post and the referenced related documents are never to be considered a solicitation for any purpose in any form or content. Upon viewing of this document, the Recipient hereby acknowledges this disclaimer. These documents are not from any banking or other Institution. We do not provide securities or securities-related advice. No information herein shall be construed as a solicitation of investment funds or a securities offering in any way.
---
Thanks for asking about BitShares.
There's a lot to learn.
The short answer to how to get started is to visit BillionHeroCampaign.com where we are currently building a game-based course on how to dip your toe in the water gently. You can sign up there for our mailing list and watch as we develop the game and training week by week.
Shall We Play a Game?
https://steemit.com/bitshares/@stan/shall-we-play-a-game
There are also several indirect ways to get started. Here are a few:
Sign up on steemit.com, earn some steem by doing some posts, then use blocktrades to turn steem into bts and send to your light wallet.
Visit billionherocampaign.com, get a few freeros (play money) just for signing up, and experiment with that.
Play the game and learn about ways to earn cash playing third party games that will be giving away millions.
Be sure to study this closely:
Rough Guide to Wallet Management
wallet.bitshares.org
choose the cloud wallet since you are new
make sure to backup your password in several places
and log in and out to be sure your password works
its also always advisable to send small test amounts first
To be fully informed, you've got to do a little digging on your own and teach yourself.
Here are some links you might find useful.
When the Levee Breaks
https://steemit.com/bitshares/@stan/when-the-levee-breaks
BitShares Foundation Links
https://steemit.com/bitshares/@tsugimoto/bitshares-foundation-and-communication-links
ROADMAP
This is what you need to learn to do. The materials below will give you the details.
Download a Bitcoin wallet and create a Bitcoin receiving address.
Download a BitShares wallet and create a BitShares account and name it.
Buy bitcoins from somewhere and send them to your bitcoin wallet's receiving address.
Use your bitcoins to buy BitShares and send them to your BitShares wallet account name
Keep track of your passwords - no one can reset them for you and you will lose your money if you lose them!
A very useful exchange in London is Bitstamp.net. You'll need to register your ID to get an account there but then you can wire money to/from your account and use it to trade Bitcoin and a few other coins. Send you bitcoins back to your bitcoin wallet or directly through blocktrades.us converting to BitShares and depositing them in your BitShares wallet account.
A very simple specific way doesn't even need you to have a bitcoin wallet:
Go to Coinbase and buy some Bitcoin (BTC)
Go to BitShares.org and create a BitShares Wallet
Send Bitcoin from Coinbase to Blocktrades.us to get BitShares (BTS) sent to your BitShares Wallet.
This last step is built into the BitShares wallet. Just pick the BlockTrades transfer service (or any others) from the drop-down menu below and fill in the form to move your BTC from coinbase while converting them to BTS in one swell foop!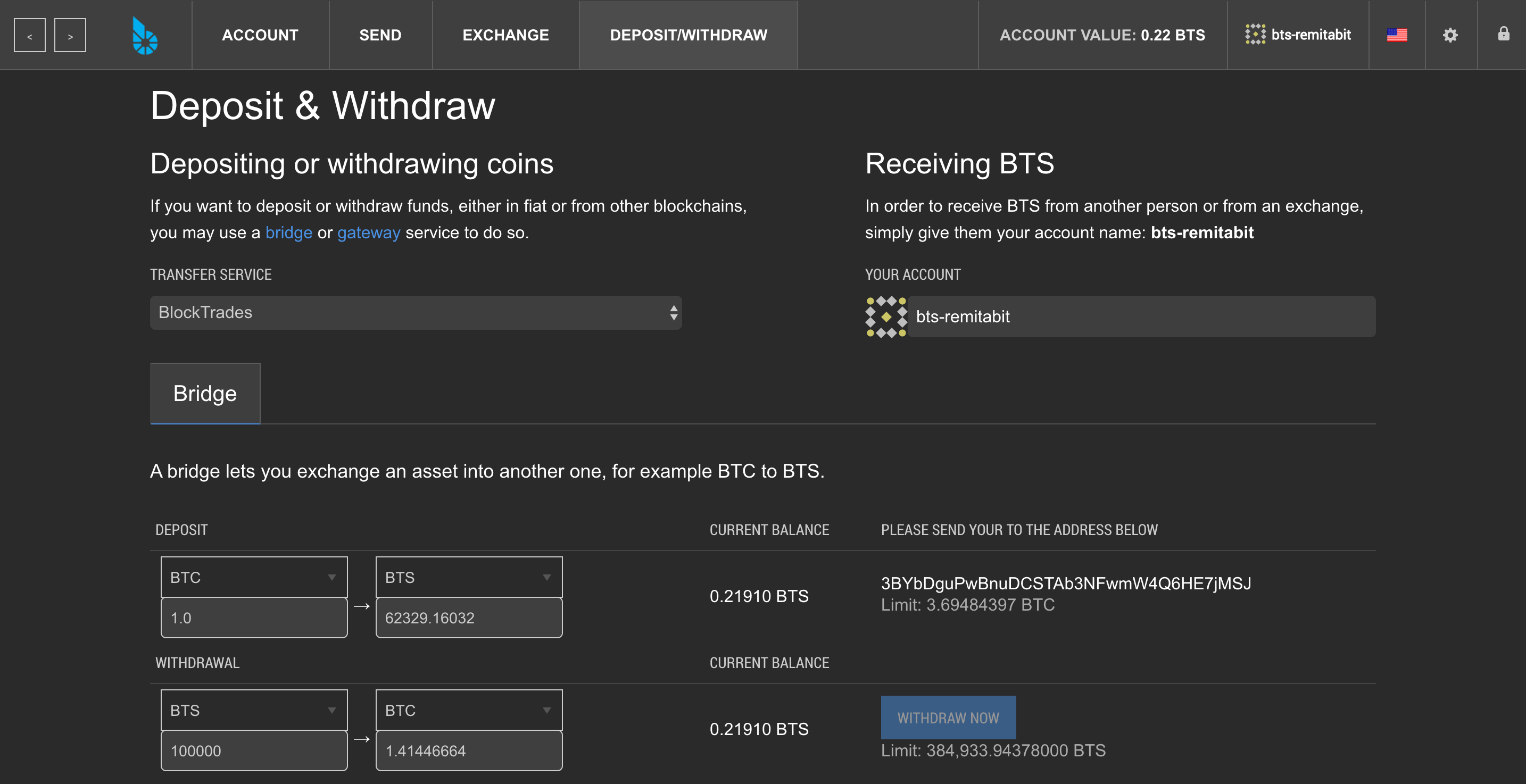 See? Easy! The rest is merely an exercise for the student...
START WITH A FEW INTERVIEWS
What is Cryptocurrency? - High Quality Interviews
https://steemit.com/bitshares/@stan/what-is-cryptocurrency-part-1
https://steemit.com/bitshares/@stan/what-is-cryptocurrency-part-2
WHAT IS BITSHARES?
Heidi Travels on BitShares
https://www.youtube.com/playlist?list=PLjYaTQHG5RdqxvE8gm8NwEWLOzf4pgdQ0
Heidi Travels on Open Ledger

Crypto Learning Academy
https://www.youtube.com/channel/UCu_rf_p7Frr20T6RHjUvm6A/videos
TALK TO REAL PEOPLE
This is where all the experts hang out.
https://web.telegram.org/#/im?p=@BitSharesDEX
They love to help people.
► BitShares on Telegram: http://smarturl.it/btsdiscord
► BitSharestalk Forum: https://bitsharestalk.org/
openledger is a 3rd party company offering services on BitShares Blockchain.
Contact them for support requests: support@openledger.info
Cheers!
Stan Larimer, President
Cryptonomex
The Godfather of BitShares
---
About the Author -- Stan Larimer
Follow Me On Steemit - The Social Media Platform That Pays
Please Connect To Me On Linkedin!