2/10/2018 The Market View and Trading Outlook

BTC, going to the moon or not? Good question and I don't have a definitive answer other than long range it may, but more than likely today won't be the day. In fact more than likely BTC will spend today, potentially tonight and early morning tomorrow in a bit of a slump that may pull us down to around the $7800 level before "possibly" making a definitive move upwards.
BTC is currently $8780 and I know I'm going against the Steemit Donkey on this call, but hey I gotta be me and it has worked out well $$$ so far.. :)
For my reasoning lets go to the charts.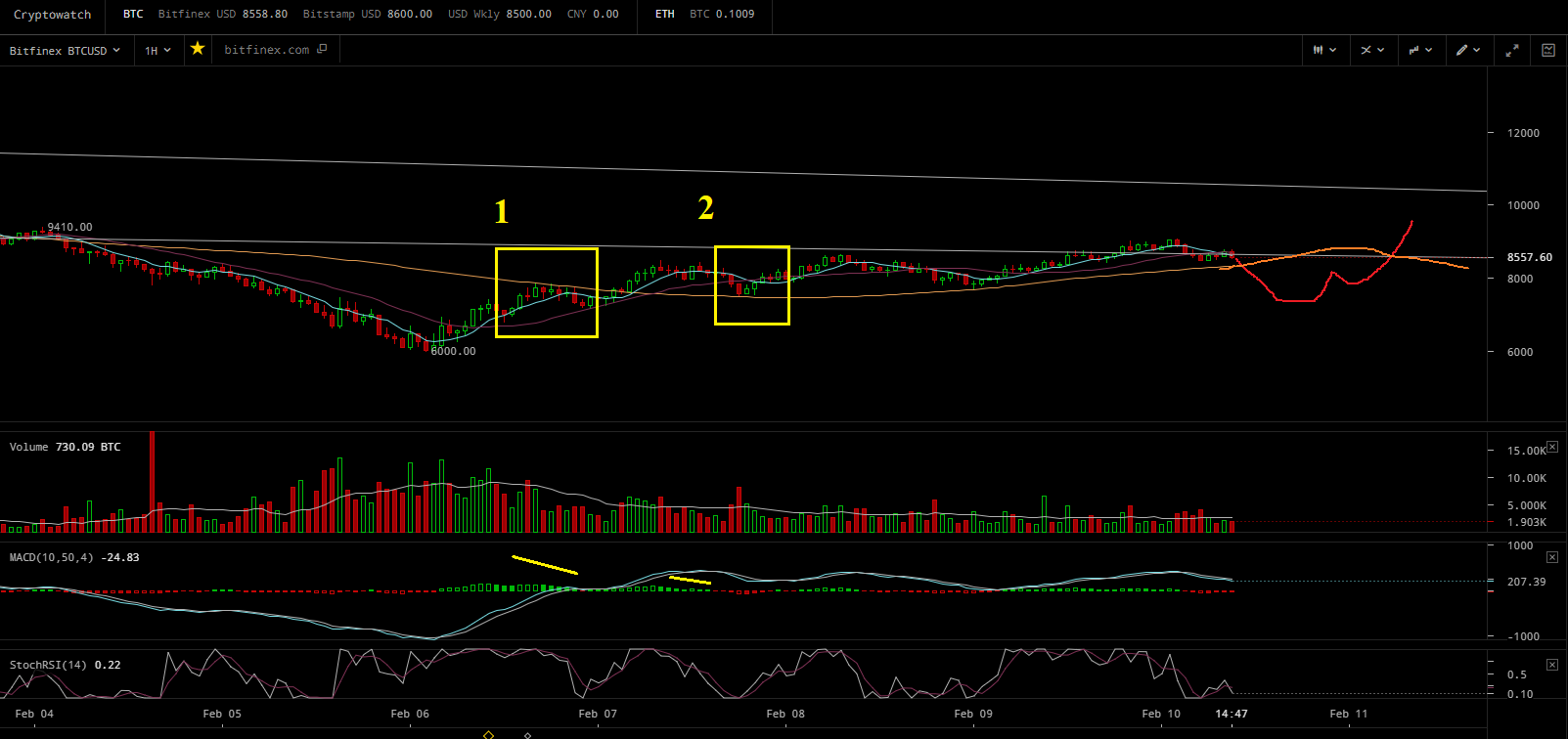 I'm going to start with the 1 hour to demonstrate a point as there are things that assets do that typically repeat over and over regardless of time frame. In this instance, price always runs into a barrier as it approaches a longer term Moving Average; in my charts I use a 77 period (orange) as my longer term. Another interesting thing is that the larger the time frame the greater the rejection prior to breakthrough.
(Number 1) we can see that after BTC recovered from $6000 it ran up to the average at $7700 was rejected for $7300 recovered and moved up and through the average.
(Number 2) After breaking above it reached $8450 then it did what assets normally do, faltered and came back to $7700 to test the top of the MA as support and moved on from there. This is a fairly routine cycle that usually goes as follows: rejection, breakthrough, breakdown to test, new high, a few bounces (usually 3) and a break below; then the cycle will repeat in a bullish market. My projected trend lines are included.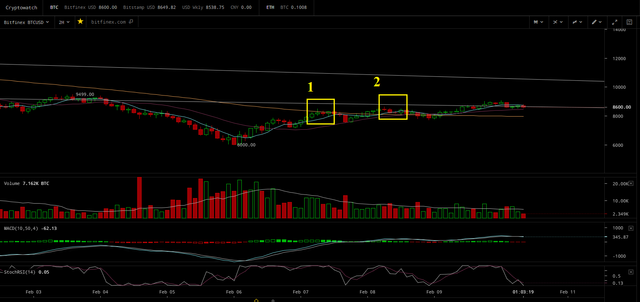 Moving to the 2 hour you see the exact same pattern.
(Number 1) Price ran up to $8450 or the 2 hour 77 (which was also the peak of the prior break above the 77 for the 1 hour); price was then rejected for $7500.
(Number 2) Price then recovered, gained some steam, broke through to $8700 and came back to retest the 77 at $8100 and is now bouncing.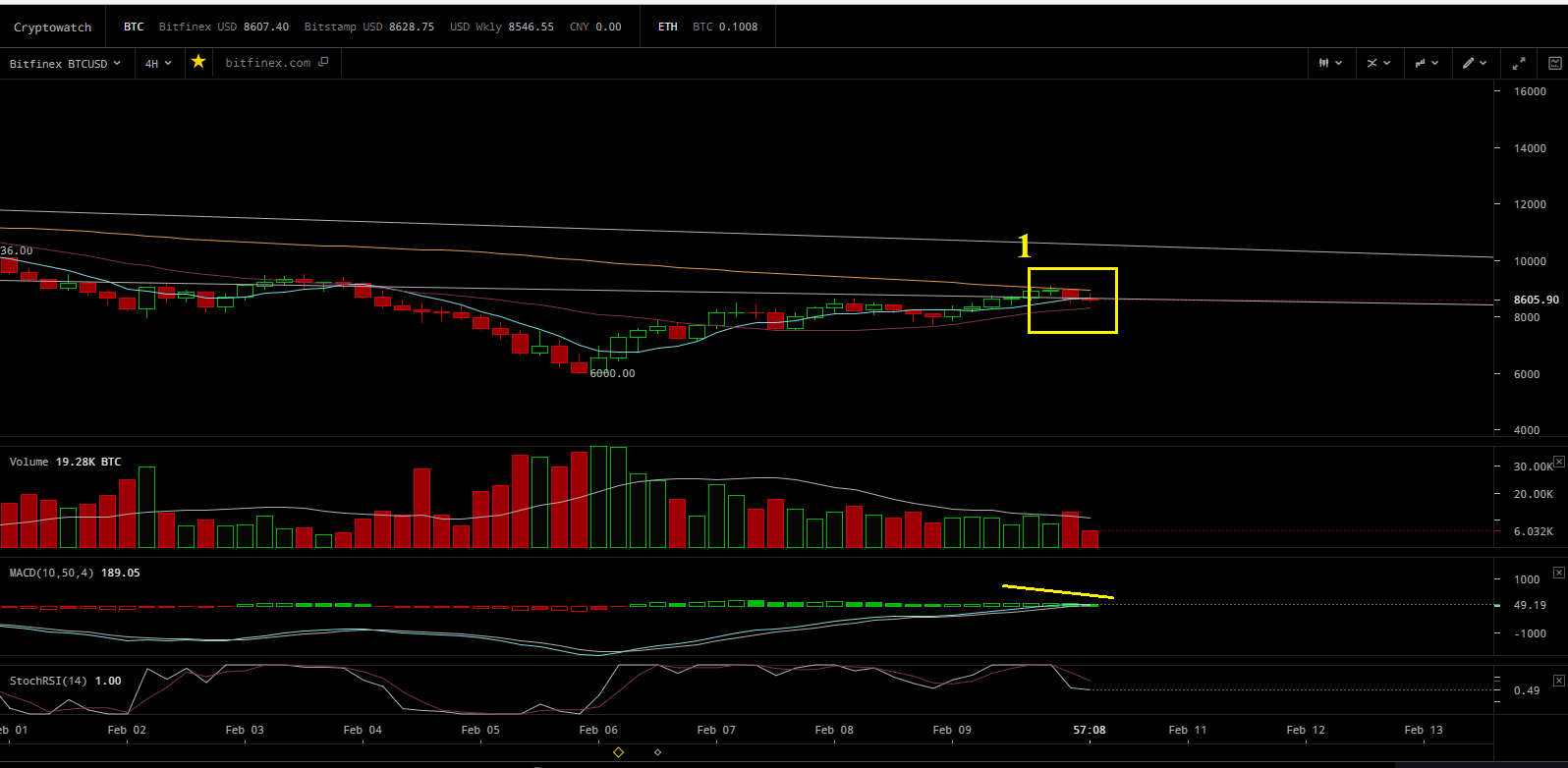 Moving to the 4 hour.. Oh shit, what do we see?
(Number 1) price moved up to the 4 hour 77 at $9100 and is in the process of being rejected so as to gain momentum for a break above.
So where is it likely to find support? You have to step back to the 2 hour, as price likes to bounce the 77 a few times prior to breaking below, we find that the price at the 2 hour 77 is around $7900. This will most likely be in the neighborhood of a low for the 4 hour rejection it may be higher as time progresses and it slowly creeps up as price stays above it.
That said, price does not usually stop dead on the 77 and most often breaks a bit below it on the test. So, I theorize a 4 hour rejection low of somewhere between $7700 and $7900. I will be able to better narrow it down as time progresses.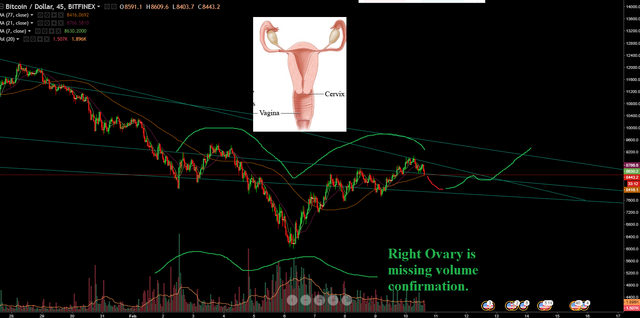 Further evidence of this can be found by the fact that we currently have a "vagina pattern" on the charts. Yes, I know it's a potential inverse head and shoulders, but I like to amuse myself. That said on the Left Ovary we had a spike in volume, the same occurred in the lower uterine area just above the cervix, the right ovary is currently missing volume confirmation and the pattern is incomplete without a turn down to round it out.
In looking at the wedge I drew way earlier on January 31st.
https://steemit.com/bitcoin/@pawsdog/1-31-2017-the-market-view-and-trading-outlook-actual-info
It is likely we will come down to test the bottom of the Haejin line for support, which oddly rests at around $7800 (coincidence, no?) as it coincides with the current 2 hour 77. We never broke above my top line from above, whereas yesterday numb nuts was saying:
"The upper line of the wedge pattern has been BREACHED!! So far, the BREAKOUT looks DECISIVE!! This is always an exciting time to witness the birth of a breakout....makes me feel like a new Daddy all over again!"
Source: https://steemit.com/bitcoin/@haejin/bitcoin-btc-mid-day-update-ladies-and-gentlemen-we-have-a-breakout
I mean you can certainly review my counter numb nuts calls, starting here"
https://steemit.com/bitcoin/@pawsdog/2-7-2018-the-market-view-and-trading-outlook
And compare what I said would happen that day, with the vagary that numb nuts provided:
"Bitcoin (BTC) overnight price action has maintained it within the wedge pattern. The Bull Wick allows a rapid and clean washout of remaining weak holders; the would be sellers"
Source: https://steemit.com/bitcoin/@haejin/bitcoin-btc-morning-update-what-would-signal-a-bottom
Go back a day or as far as you like.. :), my previous calls are below..
Oh' wait now comes the part where his lemming army spams up my blog by telling me I'm jealous I can't make such miraculous calls with such stellar accuracy..

.. ..
lol.. sure..
LTC
I will also go against his "BUY LTC NOW" @$163 call from this A.M. as well;
I mean unless your down for losing 12% or so, but trade the way you like. Personally I would rather seek a buy around the mid to high $140 level as it stands now; this may change lower or higher, but I'm certainly not buying now. Why? Well as I have noted before BTC is likely to pull back and take the market with it so it is more than likely that LTC (being part of that market) will pull back as well. But as I have pointed out, ridiculous bull calls on ALTS in a BTC downturn are part of his gig.. so why would he change now..
Lastly for Alt Lovers.... Check NBT in times of BTC correction, you may like what you see...
---
My Previous Analysis:
https://steemit.com/bitcoin/@pawsdog/2-7-2018-the-market-view-and-trading-outlook
https://steemit.com/bitcoin/@pawsdog/1-29-2018-the-market-view-and-trading-outlook
https://steemit.com/bitcoin/@pawsdog/1-27-2017-the-market-view-and-trading-outlook
https://steemit.com/bitcoin/@pawsdog/1-26-2017-the-market-view-and-trading-outlook
https://steemit.com/bitcoin/@pawsdog/1-25-2017-the-market-view-and-trading-outlook
https://steemit.com/bitcoin/@pawsdog/1-24-2017-the-market-view-and-trading-outlook
https://steemit.com/bitcoin/@pawsdog/1-23-2017-the-market-view-and-trading-outlook
---
Who Am I? STEEMIT INTRODUCTION
---