2/7/2018 The Market View and Trading Outlook

Is the bottom in? Maybe, but we are not going to go straight up in any event, there will be good sized pullbacks here and there as we approach major moving averages in the larger time frames. We got a sizable bounce on the $6000 and may be entering a nice phase of recovery.
Look for sizable resistance at $8500; the two hour 77.. A likely pull back to test $7500 and if it holds we should have the momentum to move up past the 2 hour 77 at $8500+ where we will meet tremendous resistance at $9000 or the bottom of my descending wedge pattern. If we make it inside, things will be good, if not, well we will have to see what occurs from there. In the short term things look good for the moment.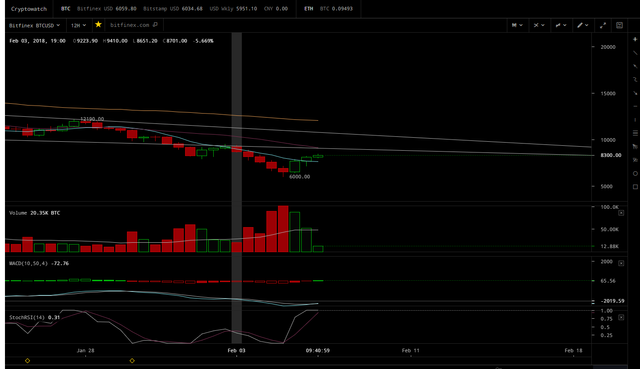 Cautionary notes, price is going higher on the 12 while volume is not which is indicative of buyers not being sold on the new high or manipulation of price at key levels to float it upwards. The MACD histogram is green, so things are to the good so to speak but I advice caution and stops at 6 percent below purchase or better.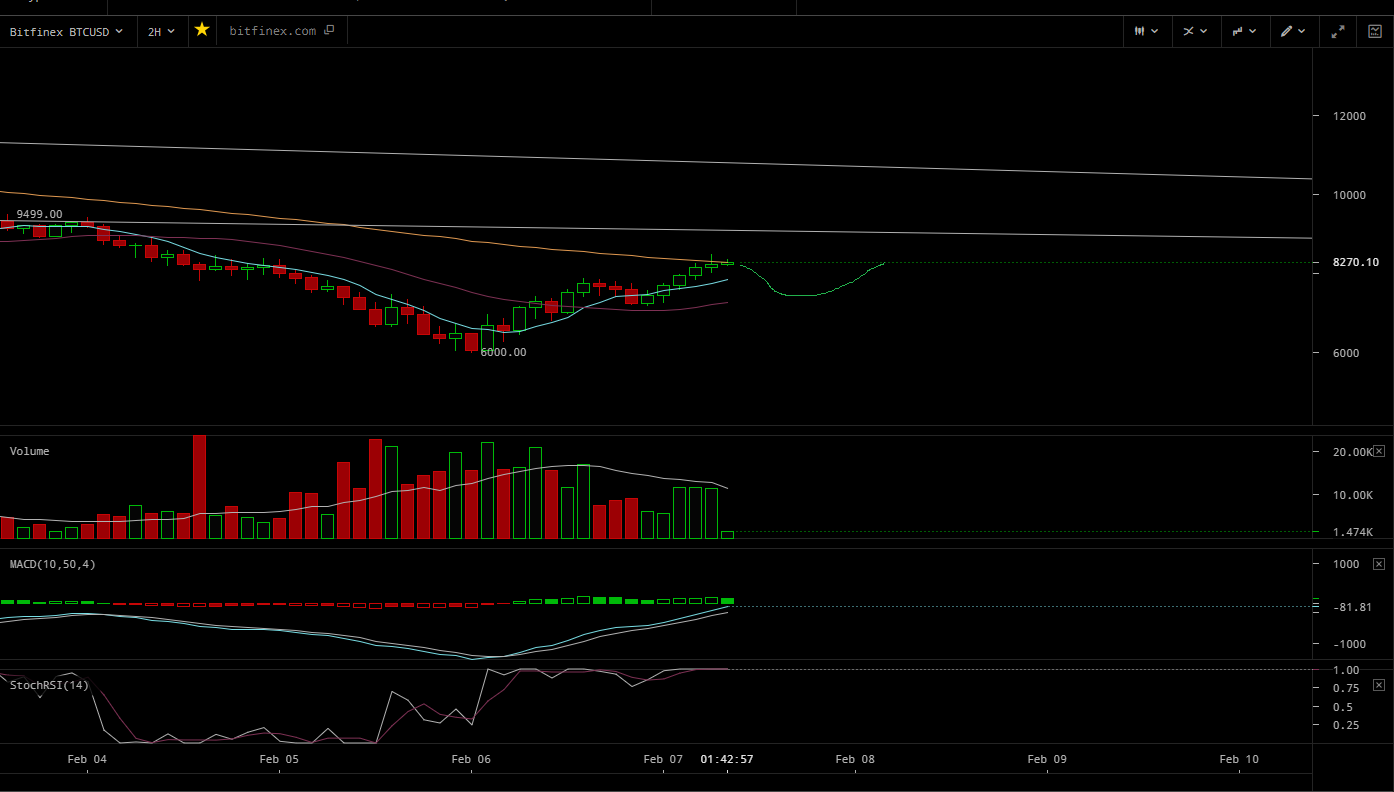 Likely to face a temporary rejection at the 2 hour 77 (orange)
---
My Previous Analysis: (incorrect losing format, but included below for comparison purposes.)
https://steemit.com/bitcoin/@pawsdog/1-27-2017-the-market-view-and-trading-outlook
https://steemit.com/bitcoin/@pawsdog/1-26-2017-the-market-view-and-trading-outlook
https://steemit.com/bitcoin/@pawsdog/1-25-2017-the-market-view-and-trading-outlook
https://steemit.com/bitcoin/@pawsdog/1-24-2017-the-market-view-and-trading-outlook
https://steemit.com/bitcoin/@pawsdog/1-23-2017-the-market-view-and-trading-outlook
https://steemit.com/bitcoin/@pawsdog/1-22-2017-the-market-view-and-trading-outlook
https://steemit.com/bitcoin/@pawsdog/1-21-2017-the-market-view-and-trading-outlook
https://steemit.com/bitcoin/@pawsdog/1-20-2017-the-market-view-and-trading-outlook-evening
---
Who Am I? STEEMIT INTRODUCTION
---