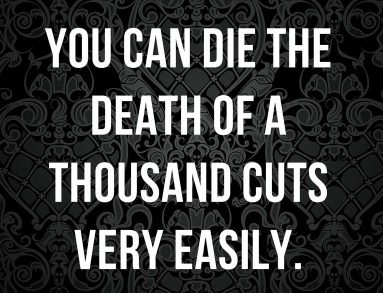 Trading in a declining market
Today's' forecast.. slightly declining prices with a high chance of shit storm in the afternoon hours.
It has been an interesting morning thus far, I woke up, hit the charts early around 5 a.m. EST, noticed a potential pattern, was excited to get it out there in today's market report and was then informed I have a laboring goat in the barn so I have been dealing with that up till this point.
Moving on, I was actually excited this a.m. as I made the choice yesterday to perform "no BTC trades". Odd as it may seem, for those that trade often or do it professionally, sometimes you get the most elated when you make the choice to do nothing and that is the right choice.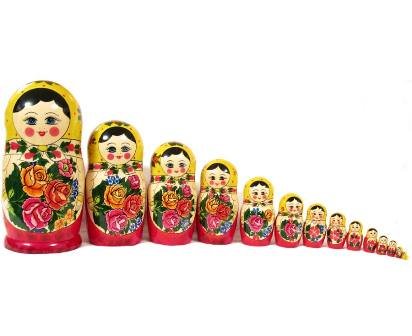 So what is the pattern I noticed? Well it's more of a pattern, inside a pattern, inside a pattern; like a matryoshka doll or Russian nesting doll of a pattern. To that end today's report may be short, but let's get to the charts.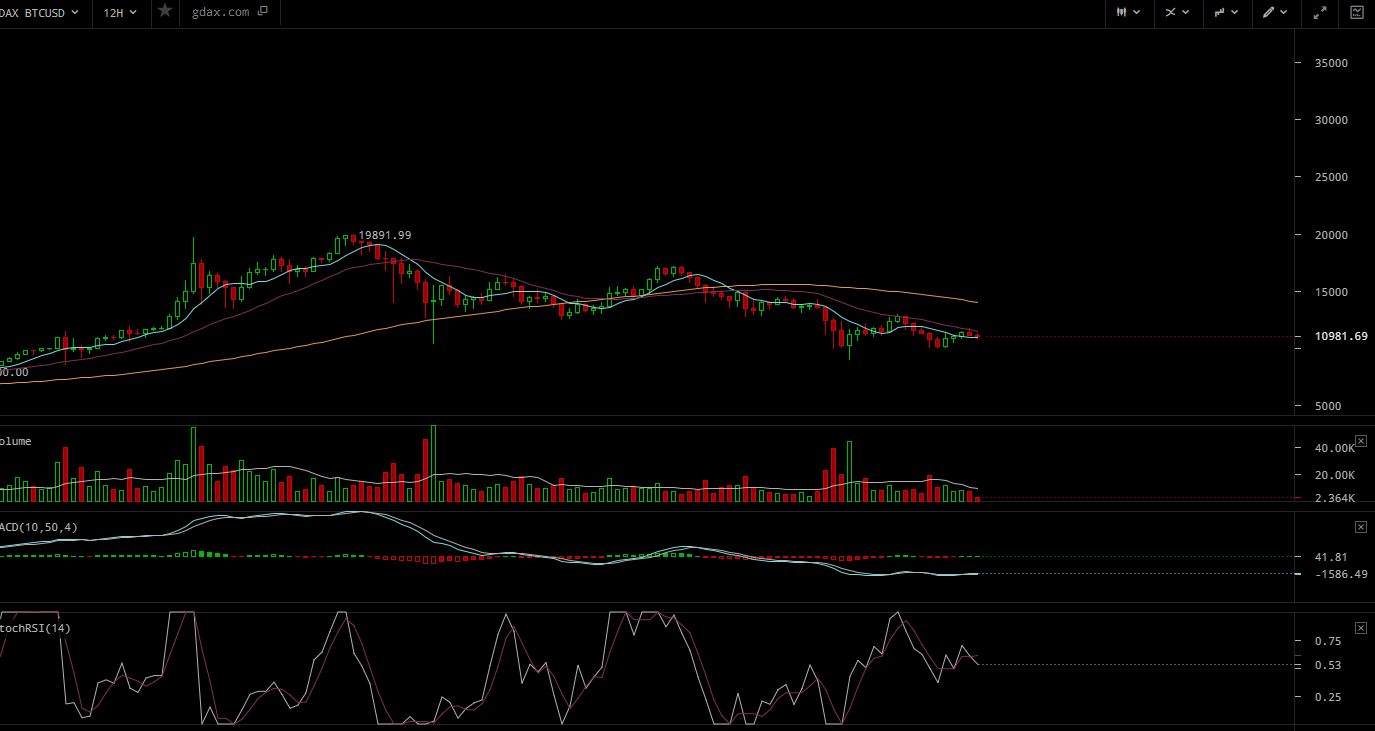 What do you see? Remain objective and always keep your mind open to all possibilities.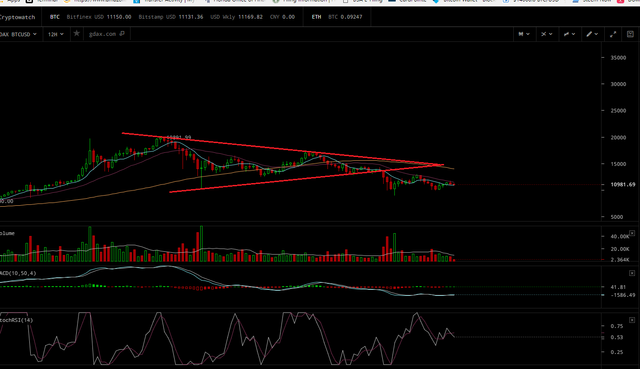 How about now? I have outlined the first busted pattern which was the failed bullish wedge/symmetrical triangle that broke down at $13,000. See anything else?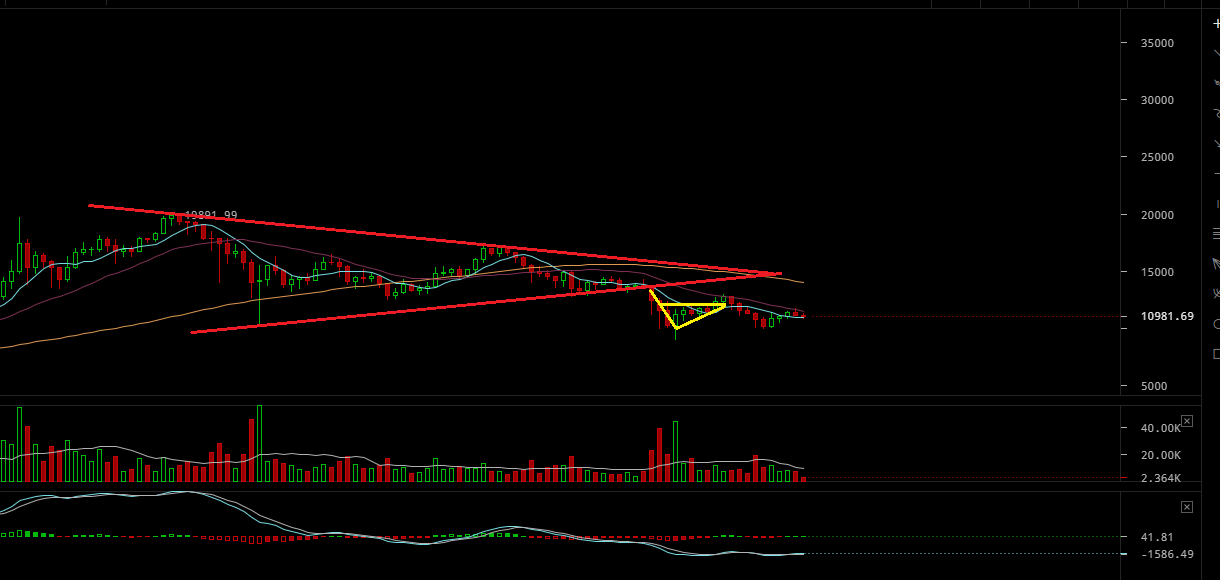 How about the soon to be busted ascending wedge that followed, broke out made less than a 10% gain and reversed at $13,000 to a low of $9900? But wait theres more…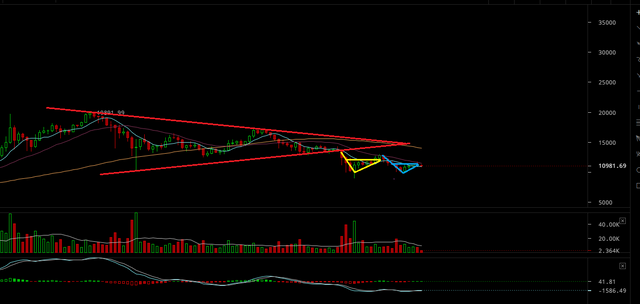 What's better than one failed ascending wedge? How about two of them; this one barely broke above the ceiling at $11,200, made it to $11,750 and reversed and is potentially heading lower. See anything else?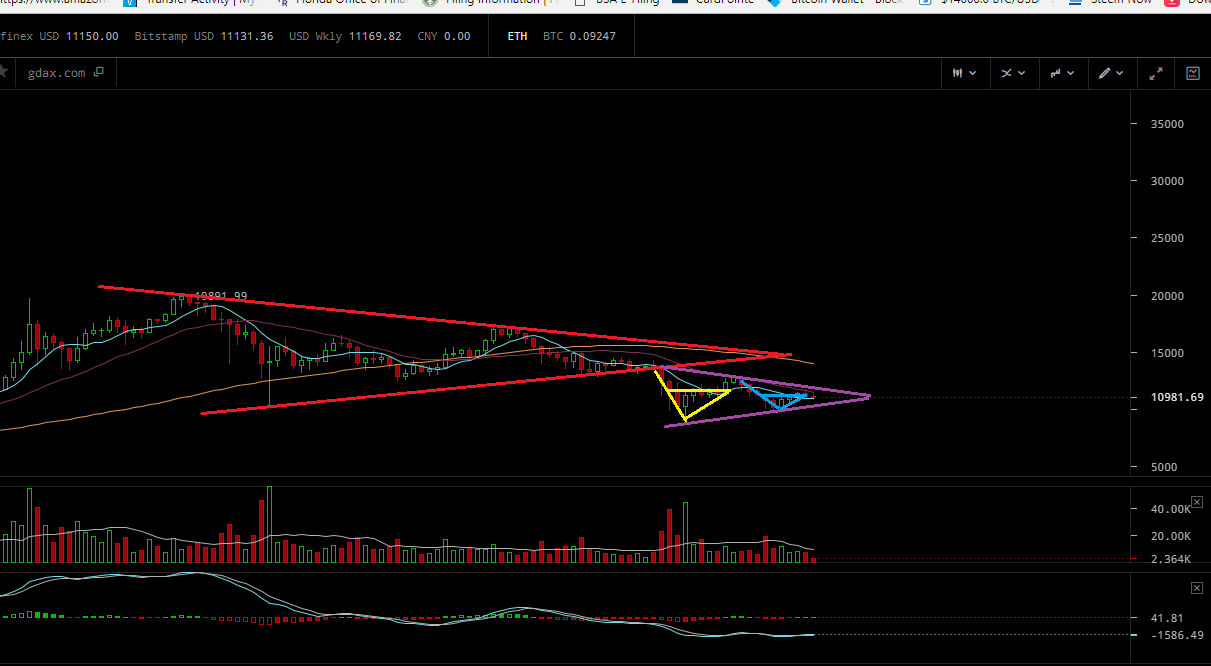 How about another bullish wedge/symmetrical triangle with a floor of $10,136 and ceiling around $11,600.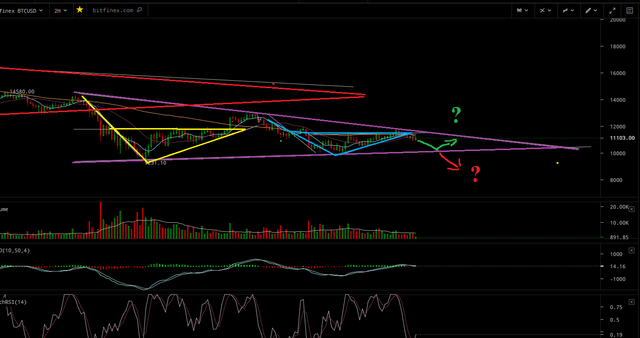 The 2 hour time frame, same pattern just shows up a bit better.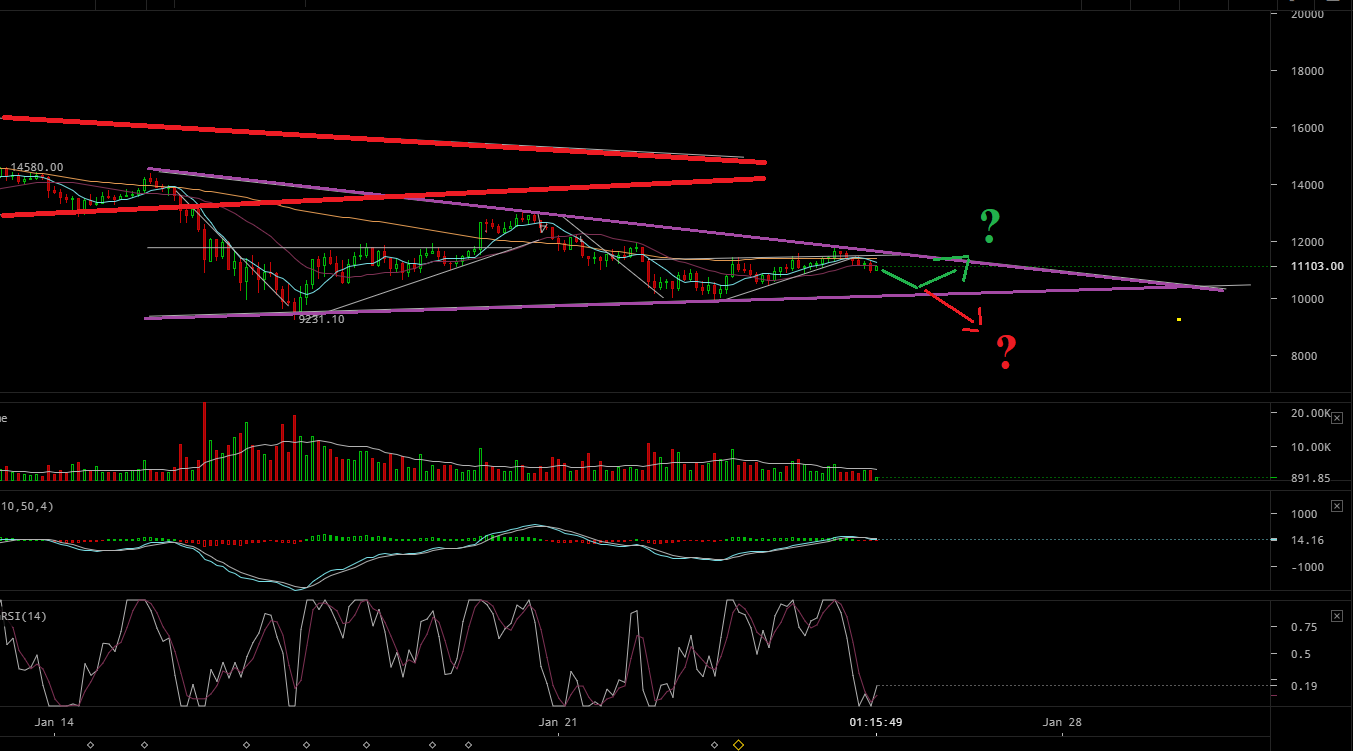 The 2 hour minus the two ascending wedges to show price trending inside the latest symmetrical triangle.
This is where we are now, and most likely trending towards the bottom of the latest symmetrical triangle. The question is; will it break upwards or downwards?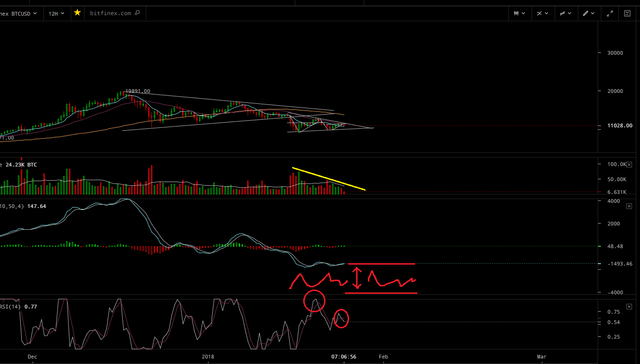 In trying to answer that question I have to look at the indicators I have available and see what if any information they are giving me. To that end, in looking at the MACD we are currently -1493 with a floor of -4000 so we have plenty of free fall area ahead and we are not at absolute MACD bottom. Also as I have stated in the past, I don't like it when the MACD tries to pull upwards from a point of 40 percent or less below the zero line. Moves from this zone are most often anemic and short lived as they lack true upwards momentum. Also the RSI has given us two selling crosses thus far and is trending slightly south. Volume is also declining notably as is the case with symmetrical triangles and a confirmation of its existence.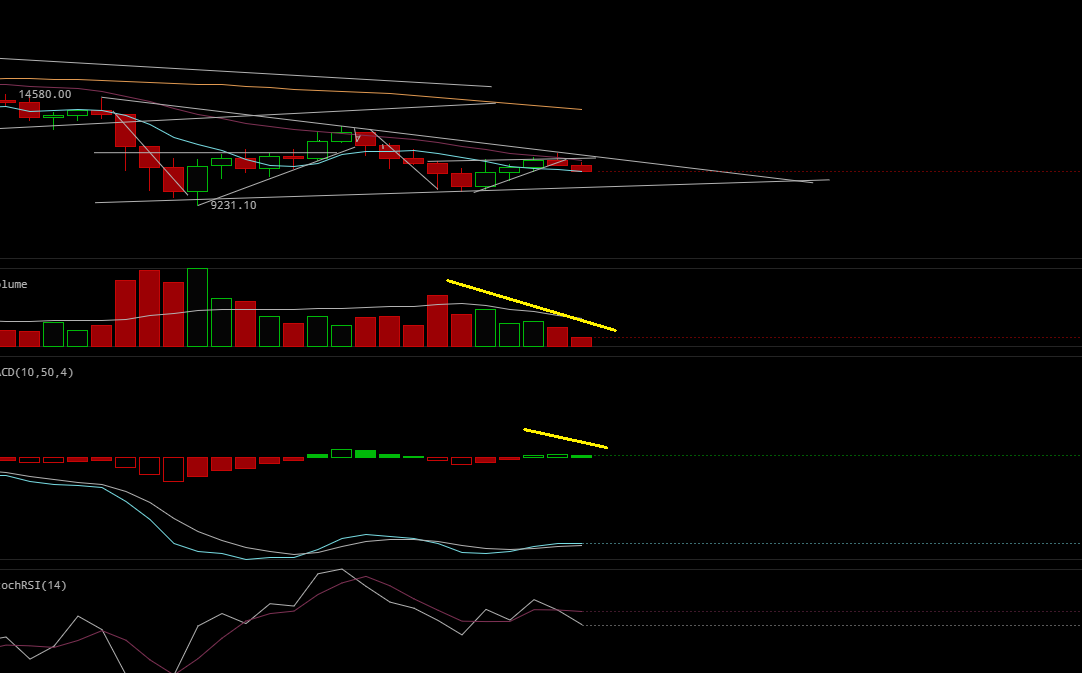 If we pull in closer on the histogram is narrowing down with more and more solid bars, indicative of an anemic buying session on its way out the door.
This also corresponds with what I noted a few days ago when I told you I expected an unenthusiastic buying period in the four and six hour time frames. If the 12 hour histogram goes red, expect a bust of the symmetrical triangle bottom of $10,136 to most likely become a reality. This will also bring a close below $9200; the start point of the first failed ascending triangle. At which point that pattern is a flop and follow on losses below the start point are on average 11 percent as I explained here: https://steemit.com/bitcoin/@pawsdog/1-21-2017-the-market-view-and-trading-outlook excerpt below.
"What we are on the verge of at the moment is a busted ascending triangle. In which case if we close below the start of the triangle at $9236 the average follow on decline is 11 percent which would put us at $8220; this is just an average decline post pattern failure; could be more, could be less. "
Hopefully we break above the top of this current pattern at $11,600 and we are off to the moon, but the volume is lacking and accordingly I think the most probable pathway is South, not North at the moment.
Also on that note, if we go a crashing down, expect another round of Alt Coin losses up to and likely including another Steem selloff as was the case during the most recent severe downswings. Again I could be wrong, but I have to remain objective, not see what I want to see and base my opinions on what historically and statistically happens with both BTC in this particular setup and with ALT coins during a high volume crash.
Sorry if there are typos and it appears tossed together, but I'm in a hurry and gotta head back out to the barn and bring some goat babies into this world… :)
Show the love and resteem, you can be cool if I'm right, and watch me be made fun of if I'm wrong...:)
My Previous Analysis:
https://steemit.com/bitcoin/@pawsdog/1-24-2017-the-market-view-and-trading-outlook
https://steemit.com/bitcoin/@pawsdog/1-23-2017-the-market-view-and-trading-outlook
https://steemit.com/bitcoin/@pawsdog/1-22-2017-the-market-view-and-trading-outlook
https://steemit.com/bitcoin/@pawsdog/1-21-2017-the-market-view-and-trading-outlook
https://steemit.com/bitcoin/@pawsdog/1-20-2017-the-market-view-and-trading-outlook-evening
https://steemit.com/bitcoin/@pawsdog/1-19-2017-the-market-view-and-trading-outlook
https://steemit.com/bitcoin/@pawsdog/1-18-2017-the-market-view-and-trading-outlook
---
Who Am I? STEEMIT INTRODUCTION
---