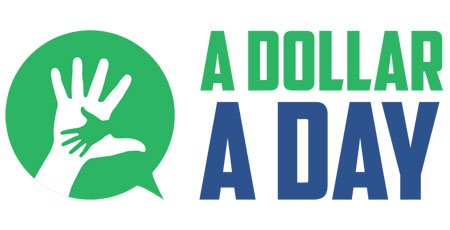 Here is the seventh in the Meet the Project Founders series.

Today we are travelling to Bangladesh to meet Mohammed Abdul Aziz of @SchoolForSDG4 and @WomenEmpowerment.


Mohammed is a human rights, social and educational activist who runs a school and womens training project in a slum area of Sylhet in north east Bangladesh.
---
Mohammed Abdul Aziz of @SchoolForSDG4 in Bangladesh

1. Tell us a little about yourself... who you are, where you and what you do?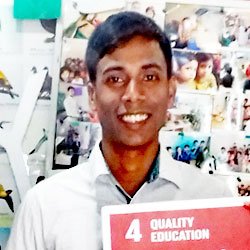 I am Mohammed Abdul Aziz @azizbd, a human rights, social and educational activist. Through my work I try to promote 17 Global Goals for Sustainable Development and work with new and ongoing development projects. I live in a Sylhet city in Bangladesh surrounded by slums, which uniquely positions me to make immediate and important positive changes in my locality that desperately needs change.
In 2016 I established a school @SchoolForSDG4 for impoverished children in my own slum area to ensure that at least a fraction of the children had the opportunity to acquire education. To date, we have around 50 children receiving education who would otherwise be child laborers or stay out of school. I strive to show these students that education is a way out of poverty.
In addition to this, my social business project @WomenEmpowerment for women provides training with textiles, an opportunity to make money. The project started its function on 7 January 2018 and came to light through steemit crowdfunding.
I also started a community project on steemit @SteemitBD. The objective of the community is to support youths from Bangladesh by providing training, guidelines and educating new users about steemit. The community already have around 800 members and most of them are from Bangladesh.
As a changemaker, I believe that educating people is the only tool to fight against poverty and solve social problems. My overall vision is to establish a leading global entity that ensures a quality of life, education for all children and make the world a better place. Because of my commitment to change the lives of Commonwealth citizens, in 2016 I was awarded the title as the Associate Fellow of Royal Commonwealth Society.
2. How did you find steem?


I was working with some clients on Odesk.com in 2013 which is now known as upwork.com. I got an order from a German client who later became my friend. He was a crypto trader and taught me about crypto and how to trade. When he learned about my passion and community activities, he asked me to start a kickstarter campaign. He shared about related information.
One day he shared about steemit and asked me to join here and write about my projects. So I created the account and wrote my first post with help from him. Then I left steemit for a while and returned again after 6 months.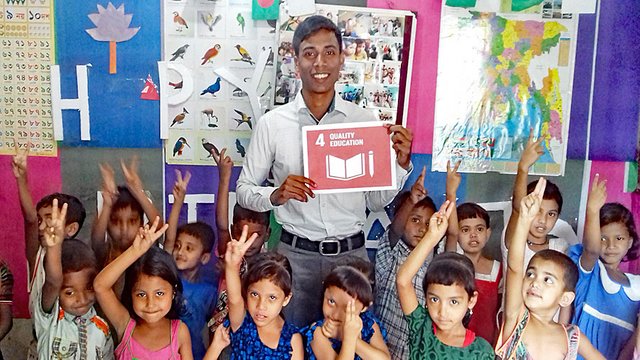 3. Tell us about your project... what it does , where you operate, who you work with?


The most important and mentionable achievement of my current work is my charity school's development. I started the slum school "School for SDG4" formally known as "Community School" with 15 slum kids, on 20 April 2016. In 2018 the school facilitated around 60 slum children who are child laborers and came from low-income families.
My project is one of the most successful charity projects on the steemit platform. Hundreds of people from different countries are supporting the project through the blockchain technology and are providing financial support to run the project and help Bangladeshi children to access education. The main objective of the school is to facilitate local underprivileged children and help Bangladesh to ensure quality education for all children.
Gender Equality is a persistent challenge for a country like Bangladesh. My other project for @WomenEmpowerment aims to facilitate local underprivileged women by providing free training and job facilities. The project has helped around 50 slum women to get free training since January 2017.
The mothers of my school children get free training from expert handicraft trainers. The project helps to ensure gender equality, stop child marriage and empower women by developing a social business. Some of them have started jobs in different shops and working at home. I am selling and promoting products on steemit which helps us to get some orders. We look forward to having a shop and raising funds on Fundition.io. I believe my everyday blogging and humanitarian activities are motivating young people from different countries to work for their communities as changemakers.
Through crowdfunding we are sponsoring the children to continue their early child education. With the help of the steem community the children get free education materials, nutritious fruits every week and financial support from School For SDG4.
4. What made you decide to start your project?


Bangladesh is one of the most over-populated countries amongst other countries with different social problems. During my childhood I went to BRAC school and acquired 4 years education in BRAC city slum School. Apart from main Sylhet City, Gashitula has low rental facility, thus most lower income citizens migrate from other districts in Bangladesh to live there. Some parents send children to local markets as day laborers and rubbish collectors. Attending school becomes impossible for them due to economic conditions, lack of awareness, and unsuitable times to attend government schools.
I used to pass through the slum area, to get to my university. I saw vulnerable children watching grown up movies in restaurants, learning slang from adults, making quarrels with other children, playing video games instead of studying, begging for money on the streets, and sometimes being used as day laborers with minimal wages.
As I have grown up in this community, I feel a responsibility to work with it and improve the conditions. It will not be possible to improve the community if these children can't go school. To keep the kids at school and help mothers be self-sufficient, I started to support slum women through training and implementing social business ideas.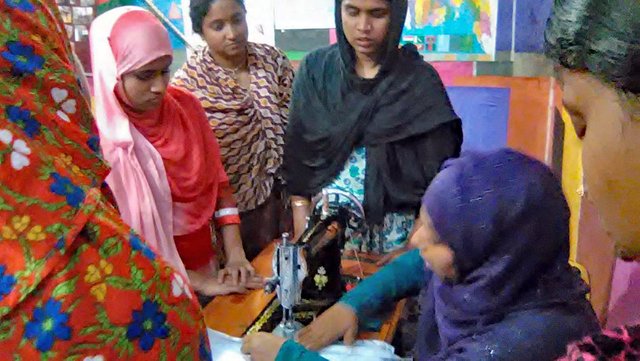 5. What do you enjoy most about running your project?


I mostly feel happy when I find myself helpful to these children and people in need. I can offer my skill, internet experience and education to support both my family and community. Communication with lower income people and learning their life stories helps me to enjoy my life full of satisfaction. I am happy with what I already have. It is also a pleasure to invite and involve so many people from different cultures and countries and get their kind support. Acting as a bridge between my community and the rest of the world has made my life more meaningful.
6. What do you enjoy least or find most difficult about running your project?


I mostly enjoy the work as it always creating an impact in the community development. But I also feel very responsible when I can't manage to find the time for all the planned programs both offline and online.
The main difficulties I face is keeping children at school when parents are less aware of their duties and/or compelled to send their children to work. Sometimes it is very disappointing. Moreover, the training program by @WomenEmpowerment is sometime less attractive to women when many of them are seeking for immediate needs.
7. What are your hopes and plans for your project in five years time?


In five years time, I want to build a school building on its own land. The school will also offer vocational education for youths and teenagers. I also hope that in future the school will have space and resources to offer training program for women and women empowerment will continue to grow by providing job for these trained women. I hope it will have its own branded garments and factory to design and produce products, more networks countrywide to collect goods by village and slums women and bring the products to a display and selling center.
8. What advice would you give to anyone else thinking of starting a charitable project on the steem blockchain?


Even though my experience of fundraising is not enough to give better advice, I believe some key points might help. People want to see project have significant impact locally and globally. Projects should be sustainable and more long term oriented.
Other key points worth noting include :
Use a separate Steem charity account to ensure transparency.
Provide a background to the project and realistic objectives.
Produce personal branding and help supporters know about you and your connection with project.
Educate donors about your project.
Write frequent updates and each post can contain some background information.
Provide related information about people involved in the project if they are happy to be shown publically.
Be simple with fundraising objectives.
Share and promote articles outside of steemit, on Facebook, Twitter, LinkedIn, Reddit etc.
Be ready to continue the project with limited funds.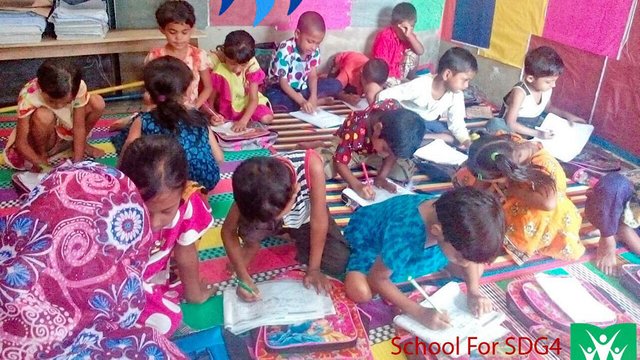 ---
---
HOW TO SUPPORT A DOLLAR A DAY


The A Dollar A Day project is based on the simple idea of people donating one Steem Backed Dollar (SBD) each day. Those SBDs are pooled to give to a bigger daily donation to a good cause around the world.
If you would like to support the work of A Dollar A Day there are five ways you can help :
Just send SBDs for however many days you would like to support to @adollaraday. You can also send steem and these will be converted to the equivalent number of SBD.
---
A Dollar A Day uses SteemAuto to vote on the posts of all the projects currently supported to provide an extra regular income. The aim is to achieve sufficient steempower to provide a $1 upvote to each project each day.
Delegations of all sizes are welcome - you can use these links for quick delegations :
Delegators (and regular donors) also receive a small auto-vote as a token of appreciation.
---
3. Follow the @adollaraday curation trail


We have recently set up a curation trail for the @adollaraday account. You can follow this to help the projects A Dollar A Day supports. Check out @cryptocurator's excellent post for more informaton about the A Dollar A Day Curation Trail :
---
All upvotes on @adollaraday posts are welcome. All post rewards are ploughed back into supporting the project.
If you can add @adollaraday to your auto-voter even better.
---
---
Thank you for your support.
---
---
Previous A Dollar A Day posts :
---
---
[ logo by @hungryhustle // photos provided by Mohammed Abdul Aziz of @SchoolForSDG4 ]