Schedule of steem radio shows, podcasts & open space broadcasts, supported by DSound - week beginning 12 November 2018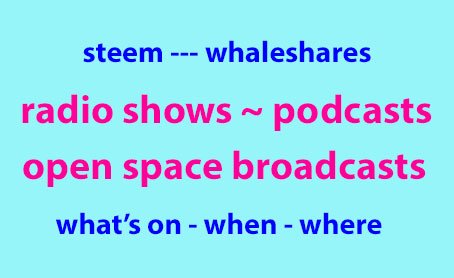 So SteemFest 3 has been and gone. A mega event in the steem calendar. What comes next...?

To grab a little of the zest of SteemFest I am holding the SteemFest 3 After Party on my show on Thursday. Come along and grab some of the zing and the zang and be inspired.

A big bouncy week for MSP Waves - one show down but three new ones rising up.

---
---
Changes at MSP Waves


Due to work commitments DJ Damashii (@rodeo670) has had to park his Dancing Dreamers show.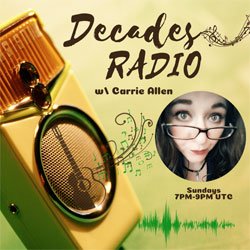 However three new terrific shows are roaring onto the MSP airwaves to fill the gap and then some.
On Sundays the multi-talented @carrieallen is firing up a super fun Decades Radio show with songs from different decades in turn. The show airs 7pm - 9pm UTC.
Much earlier on Sundays from 3am - 5am another new MSP show will be launching shortly. Let's Talk about THAT! hosted by @littlescribe and @automaticjack will be a humorous, lighthearted show exploring life's deepest and most surprising mysteries, from clairvoyance, to the construction of Coral Castle, and everything in between.
The third new show to join the MSP roster is The Decentralized News Show with @truthforce, on Wednesdays 12 am - 2 am UTC. This interactive livestream will cover all the real news brought to you from the @informationwar team including @gregorypatrick, @chieppa1, @wakeupnd and @fakeinternetnews.
More information about all the news from MSP Waves is available here...
MSP Waves currently has a few slots still available for new shows. Hosting a show on MSP is a great way to get known on the platform. If you have an idea for a show talk to the station managers @globocop or @r0nd0n. Or feel free to message me if you would like an initial chat.
---
---
Pennsif's Random Radio - Thursdays on MSP Waves - What's Coming Up...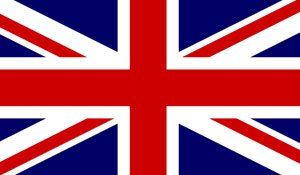 Last Thursday's show was definitely a Random Radio show with a diverse but most interesting bunch of guests including @kaliju talking about the exciting new @dstors, @asonintrigue revealing more about his new feature film project 'Sex and Violence' and @ilazramusic from Venezuela updating us on his SWIM project. The show also featured musicians @darrenclaxton and @jonmagnusson, @teamhumble from the UK and @zekepickleman from Canada.
Here is the recording in case you missed it...
---
This Thursday 15 November I'll be hosting the 'SteemFest3 After Party'.
Come along to hear from a whole load of supercharged steemians who made it to SteemFest. Feel the buzz, pick up the good vibes and get inspired from the likes of @abh12345, @camuel, @meno, @redrica, @starkerz, @steevc and a whole bunch more.
---
Jumping ahead a couple of weeks I will be holding UK Steem Virtual Meetup #2 on Thursday 29 November.
UK Steem is just beginning to snap, crackle and pop. Ricicles are Nicicles with now 127 active steemians found in the UK...
Look out for great things from Steem in Britain.
---
---
Support from DSound and Witness @prc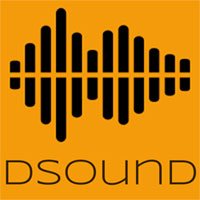 Pedro of DSound very kindly supports these listings. His generous upvote for the post allows me to dedicate many hours each week maintaining and producing these listings.
In case you didn't know Pedro runs the @prc witness.
If you have any spare witness votes please do consider giving a vote to @prc to show gratitude for his support for this listings service.
You can read his latest witness update here...
DSound is moving ahead in leaps and bounds. The new instant play facility works perfectly, and at SteemFest 3 Pedro announced some amazing new features for the imminent DSound beta version. Keeps your ears and eyes open for a post giving more details.
---
---
If you know of any other relevant shows that I haven't included please do put the details in a comment below or DM me on Discord @pennsif#9921 . Also please let me know of any changes to the shows already listed

---
The times for the shows are all shown in Coordinated Universal Time UTC/GMT - which is currently UK time. There are numerous sites on the web for converting UTC to your local time. This one looks particularly useful worldtimebuddy.com
---
SteemRadio : schedule of shows for week beginning 12 November 2018


---
---
MORE OF MY POSTS...
---
---
| | |
| --- | --- |
| These weekly listings are supported by DSound | |
---
---
[ header graphic by @pennsif // other graphics from DSound, @carrieallen and pixabay.com ]