A Dollar A Day charitable giving project : July 2018 - summary of donations received and given out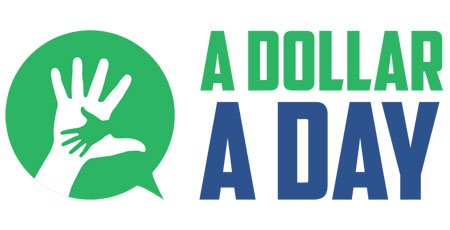 Despite the general quietness on steem during July A Dollar A Day has continued to give daily donations every day to a variety of worthy causes around the world.

The declining SBD value has impacted the value of the donations but during July A Dollar A Day still managed to give out the equivalent of US$ 513 to projects around the world.

This brings the total donated since the project started to over US$ 3000.

July has also seen great support from @lyndsaybowes through her Walk With Me fundraising post, a significant donation from @hopehuggs through her @steemwithlove initiative, and continued generous donations from @globocop, @goldendawne and many other most excellent steemians.

I am also delighted to welcome new witness @humanheart as our fourth regular witness supporter.

Finally I have been working with the new decentralised crowdfunding platform Fundition to help a number of A Dollar A Day projects to get additional support particularly Project Lab, Girls Foundation, The Greens and Women Empowerment.

---
---
A Dollar A Day has also just launched a new contest for August - What Can You Buy For 1 SBD :
---
---
DONATIONS GIVEN OUT


During July A Dollar A Day distributed daily donations totalling 432 SBD, which was the equivalent of US$ 513.21 at time of donation.
Eleven different projects in eight different countries received donations from the project.
---
DONATIONS RECEIVED


Donations were received from 22 steemians during July, this included four witnesses - @humanheart, @quochuy, @steemcommunity and @yabapmatt.
My special thanks to @lyndsaybowes who did a Walk With Me fundraising post during the month.
---
DELEGATIONS RECEIVED


During July I am happy to report that A Dollar A Day @adollaraday has received two new delegations. @revisesociology has generously doubled his delegation, and @abh12345 has made a delegation for the first time.
I have also delegated half my steem power (5000 SP) to the account.
The account is being used to autovote once a day (currently at 100%) all the donation recipients to give them extra help.
A small autovote is also given as a token of appreciation to the people regularly donating or delegating to the project.
If anyone else would like to delegate to this account to build up the voting strength it would be much appreciated.
---
My thanks also to Linda @canadian-coconut for her generous upvotes on the project posts. These are being recycled back into enhancing the daily donations.
---
---
HOW YOU CAN SUPPORT A DOLLAR A DAY


The success of this project obviously depends on the generosity of the people of steem.
It is based on the little and often idea of giving - a dollar (SBD) a day is all it takes to get involved as a donor.
If you can give for a month, or for a week, that will be fantastic. But if you can only spare a few SBD for a few days that is still most welcome. The project is designed to run on donations of all sizes and frequencies.
If you would like to become a donor to the project all you have to do is send however many SBDs you would like to give to @adollaraday with a memo saying Donation for A Dollar A Day and you will be added to the daily donation pool for however many days your SBDs last.
I am also always on the lookout for new causes and projects to support - particularly in countries where we are not yet giving any support. If you know of any causes that might be suitable please leave a comment below or message me on Discord (Pennsif#9921).
You can also support the project by delegating SteemPower to the @adollaraday account. This will allow us to support donation recipients with higher daily upvotes in addition to the SBD donations.
For quick delegation just click on one of these links.
And finally of course upvotes and resteems of this post are a great help to the project too.
Thank you for your support.
---
---
Previous A Dollar A Day posts :
---
---
[ logo by @hungryhustle ]