A Dollar A Day : targetting US$ 5000 by 31 December - can you help?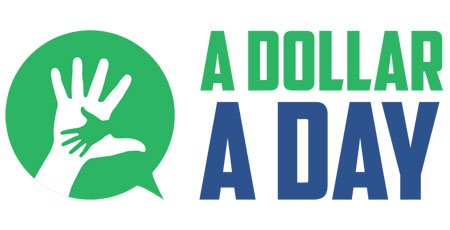 When I started A Dollar A Day in May I really had no idea how it would go, and whether people would be interested to help.

But with 1 SBD being worth over US$ 3 when I began, the project got off to an excellent start raising the equivalent of over US$ 1100 in the first month.

Despite the value of steem and SBD taking a continuous tumble in the following weeks and months, with growing donations coming in we have managed to maintain a total of over US$ 500 each month.

This has taken the total given out to date to over US$ 3250.

I am now setting a target of US$ 5000 by the end of the year.

To reach the $5000 target, assuming 1 SBD remains around the US$1 mark, we will need to up donations for the remaining three months to US600 per month. That is a 20% increase.

Can you help?

---
---
A THREE PRONGED APPROACH


I think we can do it - it is only an additional 100 SBD per month - or an extra 3 or 4 SBD a day.
There are three main ways I will be going for this...
Increasing Individual Donations

Getting more Witness Supporters

Making more A Dollar A Day posts
---
Increasing Individual Donations


I will be looking to reconnect with past donors to see if they would like to pick up on donations again.
I will also be on the look out for any opportunities to appear as a guest on radio shows and podcasts to tell people about A Dollar A Day.
As well as straightforward donating, a number of very kind steemians such as @lyndsaybowes and @coruscate have done fundraising posts for A Dollar A Day.
Currently @pechichemena and @paintingangels are donating the SBD rewards from their Week of Thoughts posts - do hop over and give them a few votes if you can.
If you host any sort of radio show or podcast it would be great if you would like to follow the example of @globocop, @d-vine, @darrenclaxton and @onemedia who raised funds for A Dollar A Day on their shows.
Donations, fundraising posts and suggestions for raising funds are all welcome.
---
Getting more Witness Supporters


I am delighted that a growing band of witnesses are supporting A Dollar A Day with regular donations of 1 SBD a day.
The newly rebranded @steemcreative witness (@swelker101 and @isaria) has just moments before this posting become the latest Witness Supporter to come on board.
They join @drakos, @followbtcnews, @helpie, @krnel, @noblewitness, @quochuy, @steemcommunity and @yabapmatt.
Witness Supporters are particularly important for A Dollar A Day as their committed regular donations provid a solid underpinning of the forward planning for the project.
I would love to get at least 30 witnesses backing the project. Any witnesses that would like to know more please do message me on Discord (Pennsif#9921).
---
Making more A Dollar A Day posts


I am very grateful to everyone who upvotes A Dollar A Day posts - particularly @sniffnscurry, @canadian-coconut, @drakos, @steem-ambassador and @adetorrent.
The SBD post rewards are added to boost the daily donations.
I am hoping to get to one post a day. There is plenty to write about.
If I can manage this and keep good votes coming then that will really help to up the monthly donation totals.
---
If anyone has any other ideas or suggestions for raising funds do let me know - in the comments below or on Discord (Pennsif#9921).
---
---
HOW TO SUPPORT A DOLLAR A DAY


The A Dollar A Day project is based on the simple idea of people donating one Steem Backed Dollar (SBD) each day. Those SBDs are pooled to give to a bigger daily donation to a good cause around the world.
If you would like to support the work of A Dollar A Day there are five ways you can help :
Just send SBDs for however many days you would like to support to @adollaraday.
---
If you don't have SBDs send steem instead to @adollaraday.
---
A Dollar A Day uses SteemAuto to vote on the posts of all the projects currently supported to provide an extra regular income. The aim is to achieve sufficient steempower to provide a $1 upvote to each project each day.
Delegations of all sizes are welcome - you can use these links for quick delegations :
Delegators (and regular donors) also receive a small auto-vote as a token of appreciation.
---
4. Follow the @adollaraday curation trail


We have recently set up a curation trail for the @adollaraday account. You can follow this to help the projects A Dollar A Day supports. @cryptocurator has made an excellent post all about the A Dollar A Day Curation Trail :
---
All upvotes on @adollaraday posts are welcome. All post rewards are ploughed back into supporting the project.
If you can add @adollaraday to your auto-voter even better.
---
---
Thank you for your support.
---
---
Previous A Dollar A Day posts :
---
---
[ logo by @hungryhustle ]