Tutorial for Actifit App (update November 2018 - version v0.5.0)
Repository
https://github.com/mcfarhat/actifit
What will I learn?
How to download the actifit app
How to best use the actifit app
How to post to steemit through the app and be rewarded with AFIT tokens & @actifit upvotes
Difficulty
Beginner
---

Tutorial Contents
System Requirements
How to Post to Steemit
How to View Personal Tracking History
How to View Daily Leader Board
How to View Wallet
How to Change Settings
ACTIFIT APP - Tutorial
It is already 5 months since the official launch of the actifit app.. One of the very few apps that has commenced with a beta product so that it can be tested by its users and evolve quickly receiving feedback!
The @actifit app has come to change steemians way of thinking & acting!
Actifit app already has more than 2000 downloads (for Andoid and IOS). Every day more than 300 users post their activity on the block chain and are rewarded for doing the simplest of things. Staying fit!
What do the actifitters earn? They stay active, fit, they improve their cardio respiratory system and at the same time, they get rewarded for it by earning actifit tokens (AFITs) + steem upvotes! ``
Android Version: v0.5.0
---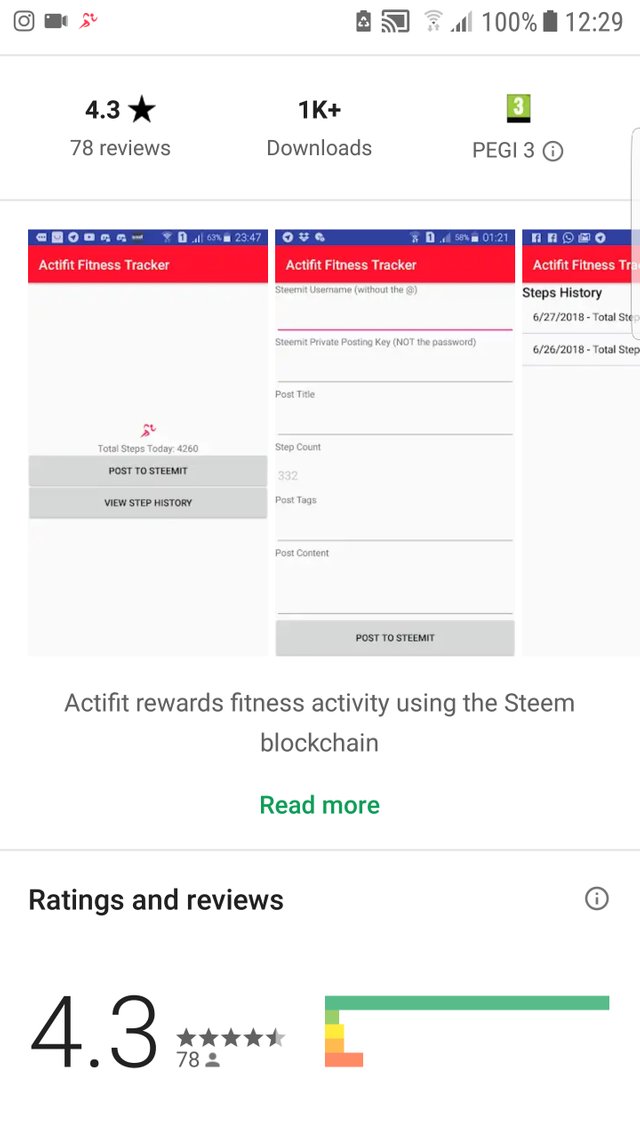 What do I need to download and run the app?
Any smartphone with android or IOS will do.
Preferable android version greater than 4.0.3
Size of app: 2.31 MB
Please Note: At the moment this article is being created, it concerns the Android App (the updated IOS will be released in the near future - in the meantime the IOS users can check out this tutorial)
STEP 1
ANDROID: Click https://bit.ly/actifit-app or visit playstore and search for actifit
IOS: Click on http://bit.ly/actifit-ios to download the app
Click on Install and give it a few moments (It is a small in size app so it will be installed in no time)
---
STEP 2
Click on the icon at your screen to get acquainted with the app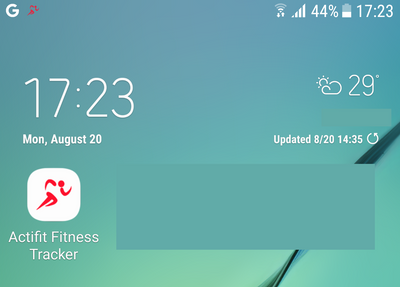 Once you tap the app icon, you will see the below screen: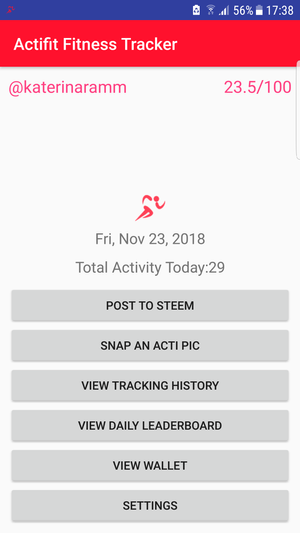 On the top left you will see your username after the first time you enter your data (see below)

On the top right you see your ranking (for more info check FAQs)

Today's Date

Your total activity (Please note that the counter resets every day at midnight) and the below buttons:
Button: POST TO STEEMIT
Button: SNAP AN ACTI PIC
Button: VIEW TRACKING HISTORY
Button: VIEW DAILY LEADERBOARD
Button: VIEW WALLET
Button: SETTINGS

So, app downloaded .. Now what?
If you are a fitbit user, you have the possibility to use your fitbit device and connect it to the app.
If you do not use fitbit, as long as you have carry your device, the app will be tracking your movement as you are walking, jogging, doing household chores, walk the dog or whatever activity you are performing.
Please note that the app will run on the background and you will see a small 'icon' on the top of your phone. If you do not see that icon, please click on the screen icon to open the app and make sure it is tracking your movement.
For any troubleshooting feel free to read our FAQ or contact us on discord

Lets check the functionality of the app's options!
Button: POST TO STEEMIT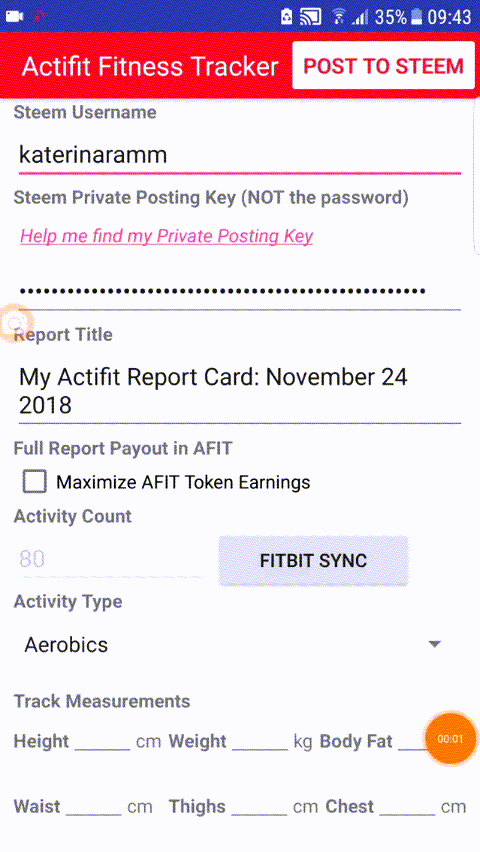 .1. Steemit Username: You need to fill in your username (without the @) i.e. katerinaramm
.2. Steemit Private Posting Key: You need to fill in the Steemit Private Posting Key (please see at the appendix where to find it) or check out this short video about how to find your posting key
The app does not store your credentials, so in case of an app update you might need to re-enter this information.
Remember: You can post only once per day to be rewarded and there is a minimum activity of 5000 to get rewarded with tokens & steemit upvotes by the @actifit account (please see appendix 2 for all). Make sure that you post before midnight because the count will reset!
.3. Report Title: This is by default My Actifit Report Card: Date but you can edit it as you wish, with no effects to your rewards
.4. Full Report Payout in AFIT: You can tick this option so that your payout will be converted to AFITs.
By ticking this, you to set a new account that was created for those purposes, @actifit.funds, as the beneficiary of the remaining 90% of the post (already 5% goes to actifit.pay for delegators, and another 5% goes to actifit), so that you will receive 2 rewards:
.a. The standard AFIT token rewards at the timing of the upvote, based on the existing reward system.
.b. At the time of payout of the post, the amount of SP/SBD earned by the post, will be converted to AFIT tokens, and will be credited to the author. The calculation will be based on current STEEM price in USD, and SBD price per USD, converted per AFIT discounted offer price per USD.
The benefit of this is that you are earning more AFIT tokens, which would increase your User Rank, while also earning them at a discounted price.
You can also cancel any time by un-ticking the box.
.5. Fitbit sync (only for fitbit users)
Click to be connected to your device by inputting your credentials.
.6. Activity Type: Here you will find activities in alphabetical order. You tick the correspondent box(es) to select your activity. Tap down to see more activities. When you are done with your selection click the 'back button' to exit to the previous screen. ATTENTION: Be honest with your selected activities.
Please check the posting guidelines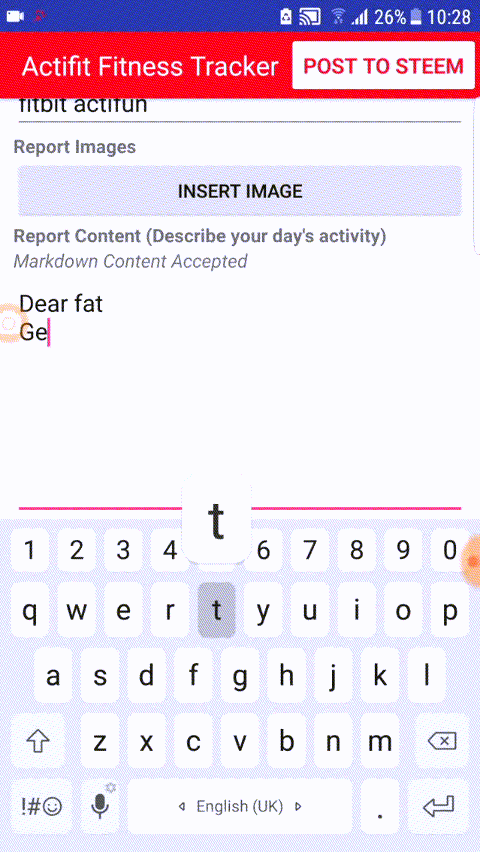 .7. Track Measurements: You can fill in any or all the information provided and it will be included in your Actifit Report Card
*Note: If you are a fitbit user, you can insert your fitbit measures - see SETTINGS > Activity Data Source > Fitbit > Fetch Measurements
.8. Report Tags: The first tag that will automatically be included is actifit. You can tags separated by comma or by space for instance: health, fit, life, taekwondo
.9. Report Images You can click the insert image button to insert in your report card an image from your gallery.
.9. Post Content (Describe your day's activity): Tap here to write your daily activity. You can prepare a text in advance, copy and paste it at the app. There is a minimum length of 90 characters required in order to be able to post on steemit.
Markdown commands are also supported in the text field!
Markdown Guide

After you post, you will be able to edit your message from steemit (or other) platforms for adding images, editing your text etc.
Please note
Some versions of esteem app still cause issues when used to edit your reports, via removing essential info Actifit uses to identify proper reports. This prevents related reports from receiving rewards. Until this issue is officially fixed via the esteem team, we advise that you use other Steem interfaces for editing, including our own actifit.io, steemit, busy or others.
In case of any problems, find the Team at discord for further support.)

Button: SNAP AN ACTI PIC
---
When you click this button, your camera opens and you can capture an image related to your activity. After you click to capture, you will be prompted to save the image. It will be saved into your gallery and can be fetched when writing your Report Card Content.
---
Button: VIEW TRACKING HISTORY
Click here to see your daily tracking history in detail. (Date + Count of Steps)
When you click on View Chart, you get to see your activities in an interactive chart! In the below case, it is evident that I do not have a consistent track as I very often have zero or below the minimum 5000 steps activity!
Please note that in version 0.5.1, a " (Fitbit) " word appears next to the entry which was tracked using Fitbit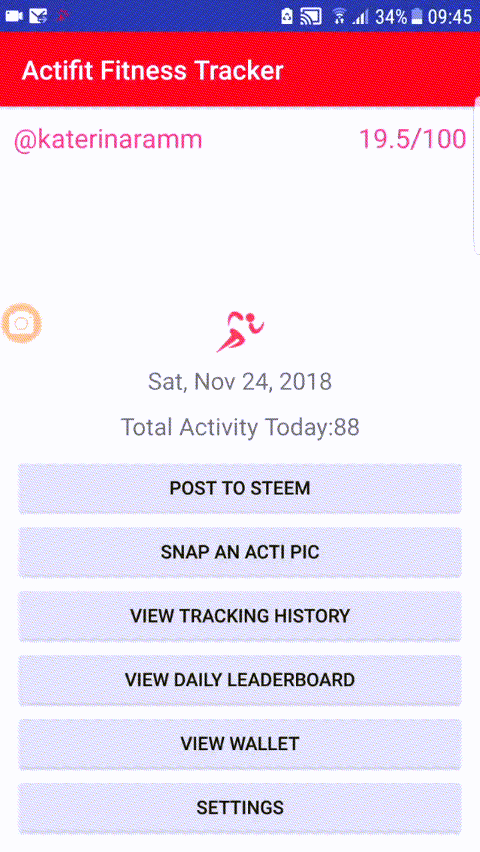 ---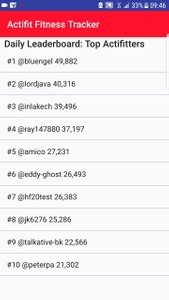 Button: VIEW DAILY LEADERBOARD
Click this button to see the daily top 10 actifit users who achieved the highest scores for the previous day. For a full daily list you can visit the @actifit account on steem and check out the daily updates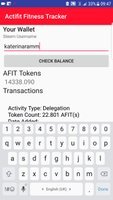 Button: VIEW WALLET
Click here to see your token balance. Your steem username will be displayed by default (without the @) and if you scroll down you can see information such as date, reason for AFIT distribution (i.e. delegation, upvotes etc)
Button: SETTINGS
The settings button will take you to the option to enable a more aggressive background tracking, to change the measurement system (metric or us) and to select if you wish your tokens to be donated to a charity. Let's see those options in detail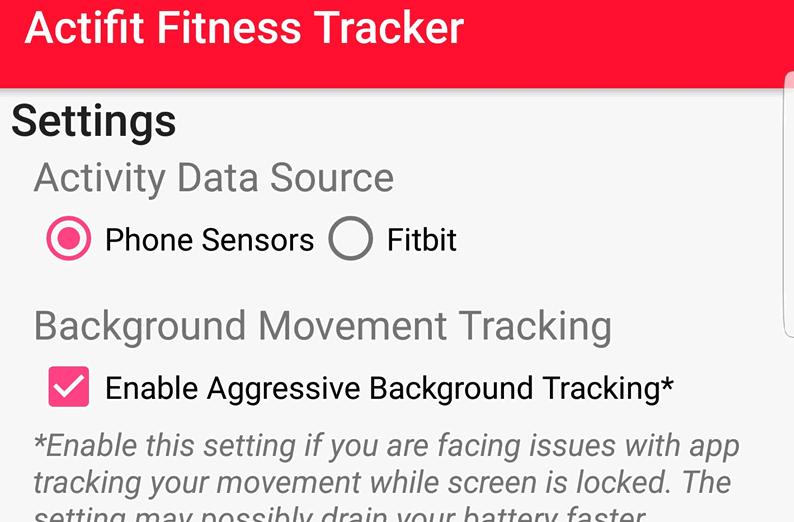 Activity Data Source:
Choose what the activity data source will be. By default, the Phone Sensors are preselected. If you are a Fitbit user, you should enable this and connect your app with the fitbit device (by going to Post to Steem and clicking on FITBIT SYNC)
When you select Fitbit as your Activity Data Source, a new option appears, where you can click the box for Fetching also the Measurements stored in Fitbit. The Fetch Steps is preselected and non-amendable.
Please note that disabling Phone Sensors benefits users from less battery drainage, as their sensors are no longer being tracked.
---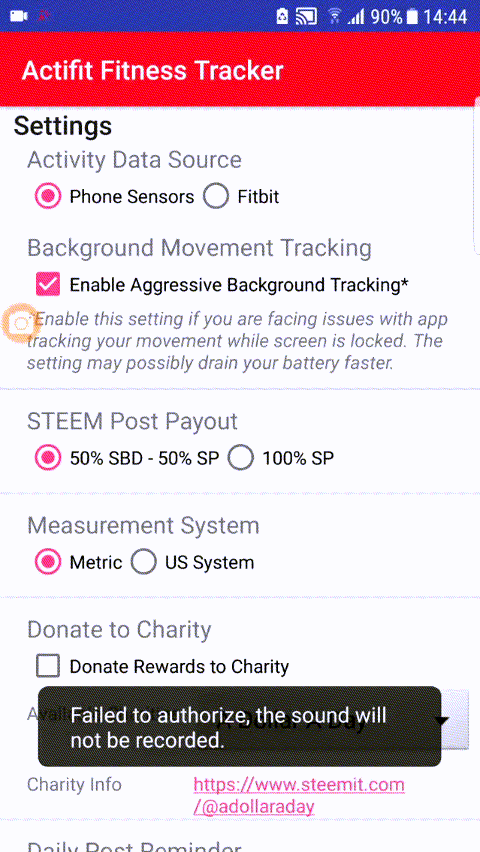 Background Movement Tracking:
Tick this box to Enable Aggressive Background Tracking, in case you are facing any issues with app tracking your movement while the screen is locked. Please note that this may cause a quicker drainage of your battery.
(This option is available only for Android Devices)
STEEM Post Payout:
This is the selection equivalent to the one already on steem, which is about how the post will be paid out. 50% SBD - 50% SP or Power UP with 100% SP.
By default, the 50-50 option is selected. After you post, it is not possible to change this.
Measurement System: Click on your selected Measurement System, metric or US
Donate to Charity: Click the box "Donate Rewards to Charity" and select one of the available Charities to donate your token rewards.
---
A Dollar A Day > https://steemit.com/@adollaraday
Mannacurrency > https://steemit.com/@mannacurrency
School For SDG4 > https://steemit.com/@schoolforsdg4
SteemChurch > https://steemit.com/@steemchurch
SteemMinna > https://steemit.com/@steemminna
YouAreHOPE > https://steemit.com/@youarehope
Daily Post Reminder: Tick this box so that you do not forget to post your activity! Remember that every midnight, the activity will reset and you start at 0. Make sure you select a time of day that you will have reached the maximum number of activity and you will not miss your post.
Attention! Remember to click "SAVE SETTINGS" after any changes you have done
---
Appendix
.1. How to find the Private Posting Key
You visit the link >> https://steemit.com/@myusernamehere/permissions
You click the 'show private key' and you copy-paste that key to actifit field

.2. Are there any posting guidelines & terms of services?
Please read here about the posting guidelines & etiquette & terms & conditions
.3. You can find updated FAQs here
I try to log in / post but I receive an error. What should I do?
Please make sure you have the latest version of the actifit app -and-
Make sure you are using the correct posting key
At any time you can also contact the Team at the discord for immediate support!
Where else do I find @actifit?
Actifit is also on social! Feel free to click the images below and follow actifit using your favorite platform :)


|

|

|

|

|

|

|

---
Image Credits: All screenshots & videos from my mobile except of:
Image 1 - CC0 Modified
Image 2 - CC0
---
Choose to be healthy; Choose to have fun; Choose what's best for you and .. smile!
---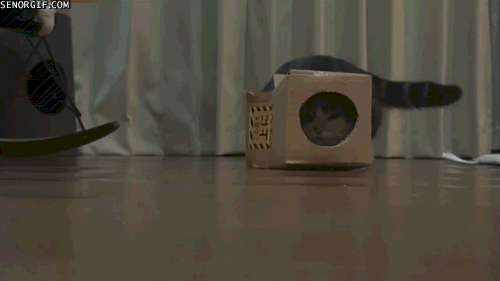 source