Tutorial for Actifit App - Android
Repository
https://github.com/mcfarhat/actifit
What will I learn?
How to download the actifit app
How to best use the actifit app
How to post to steemit through the app and be rewarded with AFIT tokens & @actifit upvotes
Difficulty
Beginner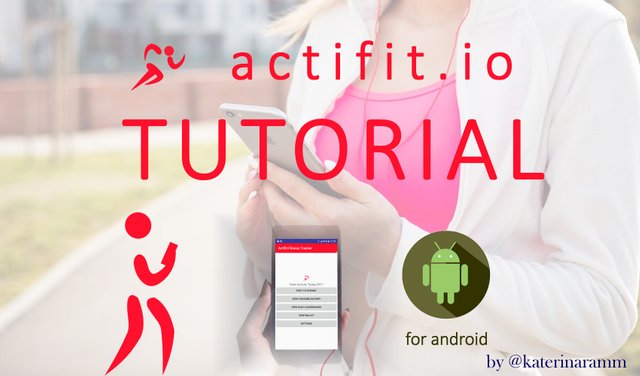 Tutorial Contents
System Requirements
How to Post to Steemit
How to View Personal Tracking History
How to View Daily Leader Board
How to View Wallet
How to Change Settings
ACTIFIT APP - Android Tutorial
Almost 2 months of its launch, the @actifit app has come to change steemians way of thinking & acting!
Actifit app already has more than 800 downloads and more than 150 users on a daily basis who cover the minimum of 5000 steps, posting their results on the steem block chain.
The outcome? They stay active, fit, improve their cardio respiratory system and get rewarded for it by earning actifit tokens + steemit upvotes! (AFIT)
---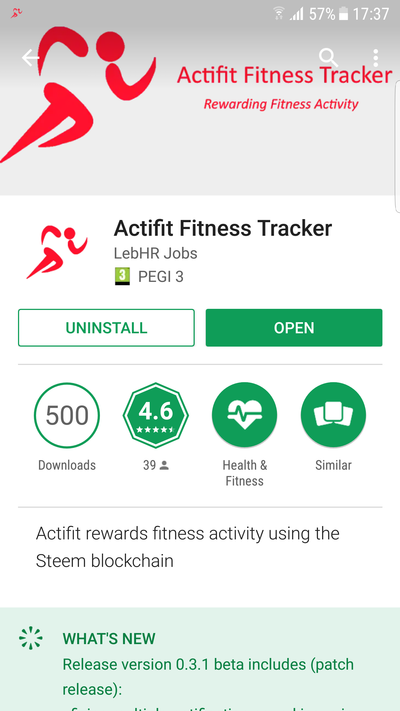 What do I need to download and run the app?
Any smartphone with android will do.
Preferable android version greater than 4.0.3
Size of app: 5.04 MB
STEP 1
Click https://bit.ly/actifit-app or visit playstore and search for actifit
Click on Install and give it a few moments (It is a small in size app so it will be installed in no time)
---
STEP 2
Click on the icon at your screen to get acquainted with the app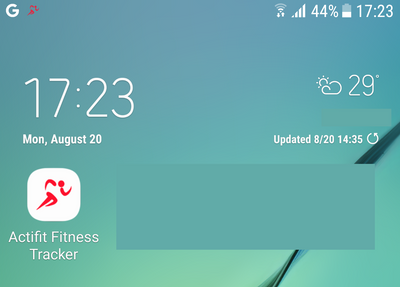 Once you tap the app icon, you will see the below screen:
Your total activity (It starts over after midnight) and the below buttons:
Button: POST TO STEEMIT
Button: VIEW TRACKING HISTORY
Button: VIEW DAILY LEADERBOARD
Button: VIEW WALLET
Button: SETTINGS

The app will be tracking your movement as you are walking, jogging, doing household chores, walk the dog or whatever activity you are performing.
Please note that it will run on the background and you will see a small 'icon' on the top of your phone. If you do not see that icon, please click on the screen icon to open the app and make sure it is tracking your movement.

Lets check the functionality of the options on the app.
Button: POST TO STEEMIT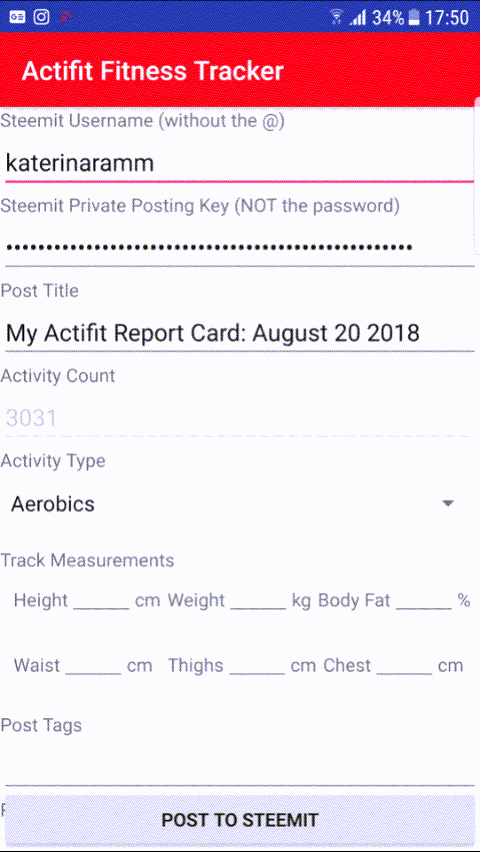 .1. Steemit Username: You need to fill in your username (without the @) i.e. katerinaramm
.2. Steemit Private Posting Key: You need to fill in the Steemit Private Posting Key (please see at the appendix where to find it) The app does not store your credentials, so in case of an app update you might need to re-enter this information
.3. Remember: You should post only once per day to be rewarded and there is a minimum activity of 5000 to get rewarded with tokens & steemit upvotes by the @actifit account (please see appendix 2 for all)
.4. Post Title: This is by default My Actifit Report Card: Date but you can edit it as you will with no effects to your rewards
.5. Activity Count: This is automatically updated according to the tracked current activity and it serves only informational purposes
.6. Activity Type: Here you will find activies in alphabetical order. You tick the correspondent box(es) to select your activity. Tap down to see more activities. When you are done with your selection click the 'back button' to exit to the previous screen. ATTENTION: Be honest with your selected activities.
.7. Track Measurements: You can fill in any or all the information provided and it will be included in your Actifit Report Card
.8. Post Tags: The first tag that will automatically be included is actifit. You can tags separated by comma for instance: health, fit, life, taekwondo
.9. Post Content (Describe your day's activity): Tap here to write your daily activity. You can prepare a text in advance, copy and paste it at the app. There is a minimum length of 30 words required in order to be able to post on steemit. After you post, (you will be able to edit your message from steemit (or other) platform(s) for adding images, edit your text etc.
Notes: Whenever you tap on a field (Such as Post Tags, Track Measurements, Post Content etc - the keyboard will come up for you to write anything you wish. In case of any problems, find the Team at discord for further support.)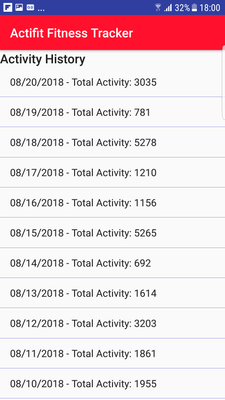 Button: VIEW TRACKING HISTORY
Click here to see your daily tracking history in detail. (Date + Count of Steps)
Attention: If you have closed the application, it will not run so make sure you keep the app on the background.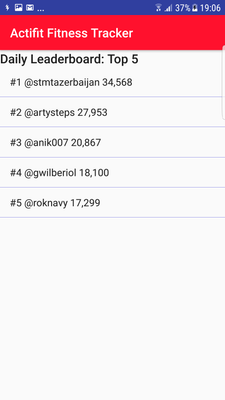 Button: VIEW DAILY LEADERBOARD
Click this button to see the daily top 5 actifit users who achieved the highest scores for the previous day. For a full daily list you can visit the @actifit account on steemit and check out the daily updates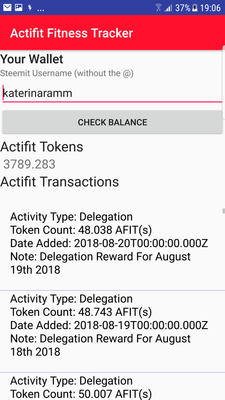 Button: VIEW WALLET
Click here to see your token balance. Your steemit username will be displayed by default (without the @) and if you scroll down you can see information such as date, reason for AFIT distribution (i.e. delegation, upvotes etc)
Button: SETTINGS
The settings button will take you to the option to enable a more aggressive background tracking, to change the measurement system (metric or us) and to select if you wish your tokens to be donated to a charity. Let's see those options in detail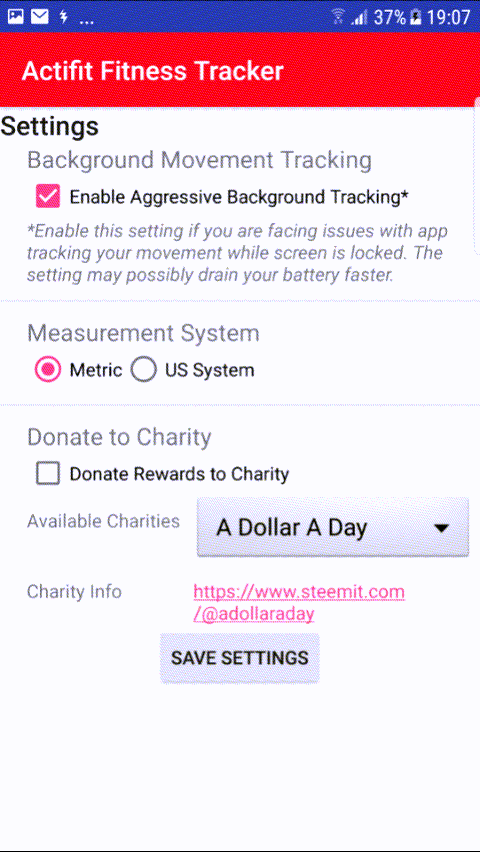 Background Movement Tracking:
Tick this box to Enable Aggressive Background Tracking, in case you are facing any issues with app tracking your movement while the screen is locked. Please note that this may cause a quicker drainage of your battery.
Measurement System: Click on your selected Measurement System, metric or US
Donate to Charity: Click the box "Donate Rewards to Charity" and select one of the available Charities to donate your token rewards.
Attention! Remember to click "SAVE SETTINGS" after any changes you have done
---
A Dollar A Day > https://steemit.com/@adollaraday
Mannacurrency > https://steemit.com/@mannacurrency
School For SDG4 > https://steemit.com/@schoolforsdg4
SteemMinna > https://steemit.com/@steemminna
YouAreHOPE > https://steemit.com/@youarehope
---
Appendix
.1. How to find the Private Posting Key
You visit the link >> https://steemit.com/@myusernamehere/permissions
You click the 'show private key' and you copy-paste that key to actifit field

.2. How are actifit token rewards spread for actifit post authors? Count Actifit Reward
| Activity Count | Tokens Rewarded |
| --- | --- |
| 5,000 to 5,999 | 20 tokens |
| 6,000 to 6,999 | 35 tokens |
| 7,000 to 7,999 | 50 tokens |
| 8,000 to 8,999 | 65 tokens |
| 9,000 to 9,999 | 80 tokens |
| 10,000 and above | 100 tokens |
.3. You can find FAQs here
I try to log in / post but I receive an error. What should I do?
Please make sure you have the latest version of the actifit app -and-
Make sure you are using the correct posting key
At any time you can also contact the Team at the discord for immediate support!
Where else do I find @actifit?
Actifit is also on social! Feel free to click the images below and follow actifit using your favorite platform :)


|

|

|

|

|

|

|

---
Image Credits: All screenshots from my mobile except of:
Image 1 - CC0 Modified
Image 2 - CC0