Repository
https://github.com/mcfarhat/actifit/
A. Introduction
Like a popular saying goes, "change is the only constant thing in the world". For a person, product or project to reach its peak in terms of performance, there is need for constant updates and upgrades. Another reason for change could be possibly due to the product going obsolete. Thus, to ensure that an application or product is in good condition or runs smoothly, change / upgrade is a necessity that must always occur. The change mantra is also the same for dApps existing on the Steem blockchain.
In this aspects of change/upgrade, the Actifit project has never failed to give a good account of itself. Hardly up to 5 months old, Actifit has continuously worked on improving the functionality of its apps across all operating systems where they exist. This has led to several updates being sent out on different occasions to the store for each particular operating system.
The latest of these new upgrades is Actifit android version 0.4.0. This new upgrade brings a lot of new features and functionalities to the table. In this post, we are going to discuss these features and how beneficial they will be to the users of the Actifit android app. Endeavour to stay tuned.
B. What is Actifit?
Actifit is a project built on the Steem blockchain, with the aim of incentivizing users of the app for leading healthy and active lives through fitness and activity exercises. The app which currently serves both Android and iOS users can be downloaded from the respective stores of these operating systems. When you use the Actifit app, you need to make a minimum of five thousand steps daily to be eligible for an upvote from Actifit. Once the minimum amount is reached, simply post it to the Steem blockchain and wait for your rewards.
The Actifit rewards come in two phases - an upvote on your daily report card by the official Actifit account and an amount of AFIT tokens sent to your Actifit wallet. What each user receives here is largely dependent on their Actifit user rank. This rank is also dependent on several other factors such as delegation to the Actifit account, number of AFIT tokens held and other factors.
To make it a seamless process from making your daily count step to posting your report card, the Actifit Android v 0.4.0 has been pushed out with a number of exciting features. In the next sub topic we shall take a look at some of these features and discuss them in details.
C. The Android Actifit version 0.4.0 and new features.
Just about few weeks ago, the version 0.4.0 of the Actifit android app which had been in the works for a while now, was released. In my spare time, I have been able to install and review this new version so as to test the new features implemented in them. This post will further cover all that I have reviewed and serve as a guide for both existing and prospective users. Let's get the ball rolling as I present to you some of the features of the newest version of the Actifit android app.
1. The Image Upload Feature
In a previous post, I talked about how Actifit had acquired an image hosting server. I also remember adding that Actifit.io had been enabled for users to upload their pictures and add to their daily report card through the website. Now, I am happy to inform you that this feature has also been implemented on the Actifit android app. Now, while making your post for submission to the blockchain, you can choose to add a picture by clicking on the insert image button.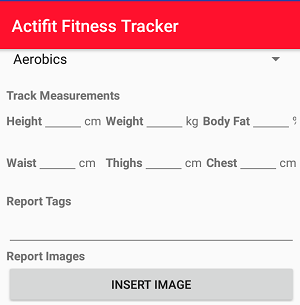 When you click on the image button, you will be directed to your gallery. There, you can choose whatever picture you wish to upload and once you click on it, it starts uploading to the Actifit image server. As soon as it is done, a link which points to that image is generated. This image is stored on the Actifit server and when you use that link anywhere, the image would appear.
When using this feature, you need to ensure that where your cursor is, is where you want a picture to appear. If you put your cursor in between a sentence or a word and then begin uploading your image, the sentence/word will be distorted when the image appears. Also, you can upload more than one picture via this means. Simply place your cursor where you want to insert a second image and click on the insert image button again.
I like this feature a lot as I no longer need to go through Steemit, Busy or the Actifit website to upload and edit pictures from my phone or laptop. Everything can now be done on the go. But there is another feature that makes this project even better. Let's take a look at the camera capture feature.
2. The Actifit Camera Capture Feature
To make the whole process right from recording your activity counts to posting it to the Steem blockchain easy, Actifit has added another feature known as the camera capture. On the Actifit app, you will see a button with the value "Snap an Acti pic" as you can see in the screenshot. That is the camera capture feature. Let's say you are in the middle of your activity and you wish to take a picture without leaving the Actifit app.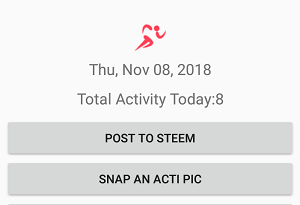 This feature allows you to do so. Simply click on the "Snap an Acti pic" button. It then opens up your camera for you to take a shot with your phone. The picture you snapped is stored on your gallery. When making your activity post for the day, you can easily choose the same picture and upload it with the rest of your post content.
This is another feature I like a lot. I tried using it in one of my posts and it really proved to be another outstanding feature brought in by the Actifit team. I was however thinking if there could be a way the picture get uploaded to the Actifit image server automatically once you snap it and click the okay button. Luckily enough, Actifit provided a means for you to either cancel the picture, or okay it for saving once you have taken the shot. So the problem of having too many unnecessary and "not okay" pictures does not arise in this situation.
If it is possible, I think this is another functionality that should be explored so as to further make the process faster and easy for users. All a user would need to do is simply take the shots, and the picture automatically gets uploaded to the image server, with the link to that picture appearing on the report card post content section.
3. The Preview Report Content Markdown Feature
Do you like how you can view the output of your input just below when making a post through Steemit, Busy, Actifit.io, Steeditor and other platforms that have enabled this feature? I believe u like it because I really like it. It helps me in taking note of some errors or editing related troubles I need to correct before making my post to the blockchain. It also gives me an idea of how the pictures I upload will look like when my post has been finally made.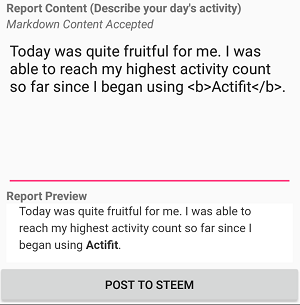 Now, this feature has been added to the new version of the Actifit android app. Whatever you type or upload into the report card posts section can be viewed below in the preview reports section. It also allows for markdown styling which is beautiful as users can now do everything related to posting their report card from their app without the need to edit again through the other front-ends.
4. Addition of the user name and rank
For a while now, Actifit has implemented a change in the way posts are scored and rewarded. Now, rewarding posts would be dependent on the user rank of the user as well as the post content. These two factors are also dependent on a number of other factors which I discussed in this POST. To make the user rank visible to all users, Actifit has been adding it to conspicuous places for easy viewing.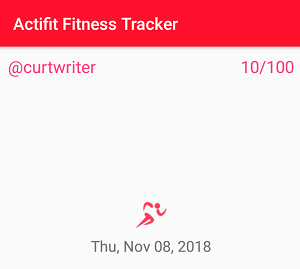 On the Actifit.io platform, it can be seen on the user menu. It also appears on this same website, on each user's report card activity post with a red circle around it. This user rank is now also visible on the Actifit android app. Once you open up your app, you would see it at the top of the screen - both your username and user rank as you can see in the screenshot.
All of these are wonderful features that have been implemented on the newest version of the android app. For me it is a pass mark for the development team and I hope we see more great features soon.
Thank you so much for your time. I look forward to seeing you on the next post of the Actifit series.
I remain your favorite dApps presenter,
@curtwriter
Chat with us on discord | Visit our website
FAQs | Android app tutorial | Video Tutorial
Resources
A. https://steemit.com/actifit/@actifit/actifit-daily-47-102k-thank-you-to-delegators-sponsored-competition-rewarded-top-actifitters
B. Other pictures were screenshots from my device.
Series Backlinks