utopian-io: Weekly overview of the Analysis category - Week 9/10, 2019
utopian-io iamutopian analysis-review
This is a weekly overview post of the Analysis category at @utopian-io. The report aims to provide insight into the topics covered, the scores provided, staff picks (if any), and a look at how the current week has fared against recent weeks gone by.
Any other work taking place and my personal thoughts in relation to the category will also be included.
If you have any suggestions for additional information that could be included in this report, please comment below.
This report covers the previous 2 weeks of contributions to the Analysis category.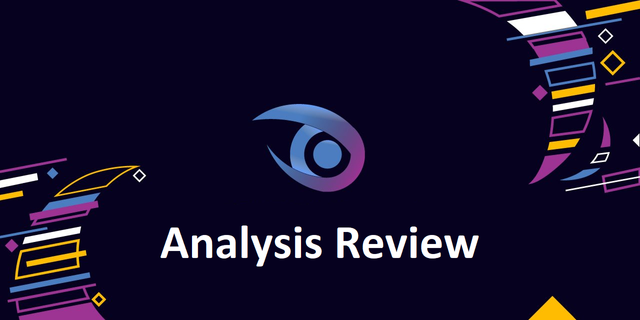 ---
Previous reports
2018
43, 44,45-46, 47, 48-49, 50-51, 52-53.
2019
---
Analysis contributions summary
Week 9: February 28th - 6th March (inclusive)
1 contribution, 1 scored, 1 author
An average score for the week of 71
An average of 34 comments per contribution
Week 10: March 7th - 13th (inclusive)
0 Staff Picks
4 contributions, 4 scored, 4 authors
An average score for the week of 85
An average of 37 comments per contribution
Contributions
Week 9
Week 10
A very quiet week 9 was made up for in week 10 with four contributions from four different authors, all of which have contributed on various occasions over the past couple of months. As with recent weeks, the standard of analysis was very good, producing two scores in the 90's, and an overall average for week 10 being 85. The average number of comments for week 10's submissions was exceptional and among the highest we have seen at utopian-io.
'crokkons' Drugwars automation analysis was a new analysis for this new open source game on the Steem blockchain, and with 88 comments, sparked an excellent level of engagement in the comments. The analysis showed that there is a huge level of automation in 'play' to perform various actions within the game. The report provides information which could certainly help the Drugwars team combat this automation and improve the game for standard player, which is something they certainly wish to do. The report also gained support from the Drugwars team as far as commentary and rewards.
'dalz' produced an interesting analysis with a nice twist at the end in which he used the output of the findings to reward accounts with prizes. There are numerous inititatives running at present to support new/small Steem accounts and like 'dalz', 'abh12345' also focused on the activities of smaller 'Red Fish' accounts. Excluding 'Plankton' sized accounts, Red Fish make up a large percentage of our active user-base, and are a good target to focus support in the hope that Steem can in the future have a solid 'middle-class' account number, who are both active and engaged.
'miniature-tiger' again produced an exceptional report on the monthly happenings at utopian-io. One of the findings concluded that the smaller categories gained ground on the larger categories last month, which can be considered a positive in the sharing of rewards between the various focus areas.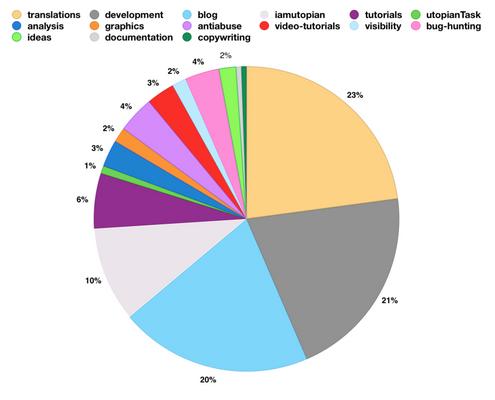 source
The excellent presentation and detail within the report is something we have come to expect from this author. Great work!
Overall, another excellent week for the Analysis category.
---
Analysis and visual reporting
The aim of this section is to represent the current weeks activity along with a recent set of data. The current data span covers the previous 24 weeks.
Weekly Average Score and number of Contributions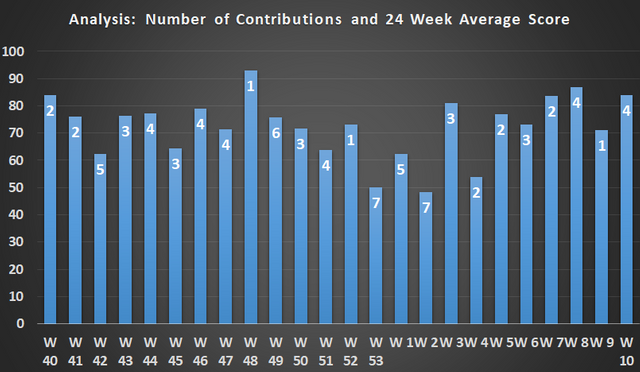 An average score of 85 this week is well over the 24 week average of 72.4. Four contributions this week is a little over the average of 3.5 submissions over the past 22 weeks. Over the past two months, half of the weeks have produced an average contribution score above 80, a great result.
---
Contributor Totals and Average Score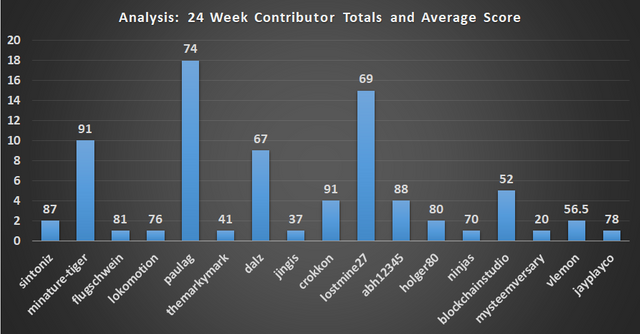 Both 'miniature-tiger' and 'crokkon' lead the way as far as overall average contribution score - both with an exceptional average score of 91 per submission. Six contributors hold average contribution scores above 80 over the past 4 months of data analysis.
Contributions that did not receive a score are not included in the charts above.
---
Review Totals by Reviewer (Scored/ Not scored)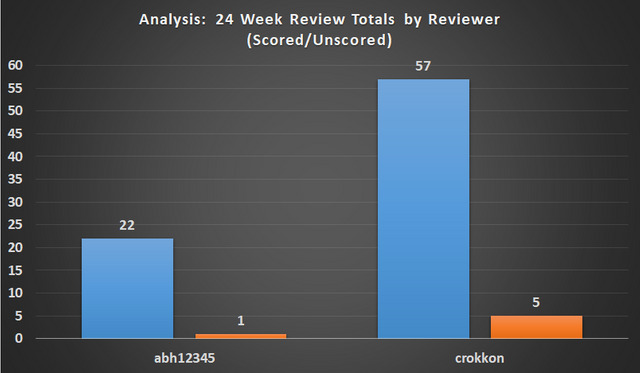 Two reviewers assessed all 79 contributions that received a score in the past 24 weeks. 'crokkon' has reviewed over 72% of all contributions to the category. Six contributions have not been scored during this period.
---
Other items
Utopian-io is currently running a funding campaign on Indiegogo and has recently annouced that this campaign for the development of Utopian Colony is now also running in tandem on Fundition.
By supporting this campaign you can expedite the development of Utopian Colony and help us release it to the public by Q3-2019. We are closer to the release than ever and with your help we can finally turn the Utopian dream into reality. Utopian Colony is fully open source. src
Best of luck to Utopian-io in funding this campaign!
---
The Analysis team is available for contact in the utopian-io discord, and also via our blogs. We would like to be able to give every contribution the opportunity to be scored and welcome conversation from potential, or existing contributors that have an idea of a piece of work they are thinking about submitting.
utopian-io Discord: https://discord.gg/6T97um
Analysis team: 'crokkon', 'abh12345'
---
That's all for this week, thank you for your time.
Asher