Each month I will be producing a report with details of New accounts created on STEEM.  It has long been established that the account creation route via Steemit Inc has flaws, with delays, batch account creation and users never activating accounts once they have been created.
At one stage Steemit Inc acknowledged this problem and issued a post stating they have put in place measures to track every stage of the sign up process, from first landing on the sign up page to logging into their newly created accounts.  However, we have seen no further information from Steemit inc to see where the exact problem is.
HF20 implemented changes to account creation.  These changes made is easier for others to create accounts using free account creation tokens.  However, this process still requires delegation, so accounts have enough RCs to transact.  There was also a change in accounts created with fees where by under the new system, the fee would be burnt.
If you missed last months post you can check it out here
https://steemit.com/utopian-io/@paulag/january-19-new-steem-account-report-1549018740942
Aim of Analysis
The aim of this analysis is:
• Establish how many new users registered
• Establish what % of accounts have posts and voted and are just wallet holders.
• See who is claiming account creation tokens
• Establish if delegation is been given to accounts so they can transact. 
 Repository
https://github.com/steemit/steem
Overview
Feb 18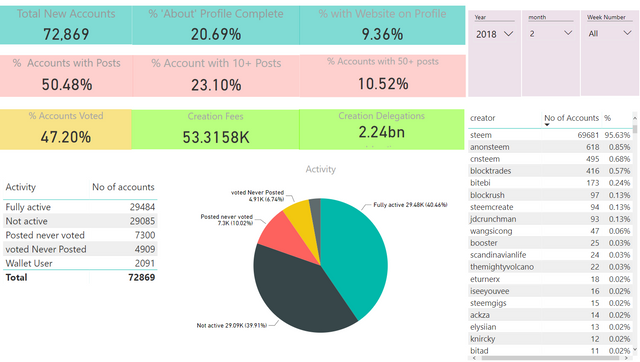 January 19
 
February 19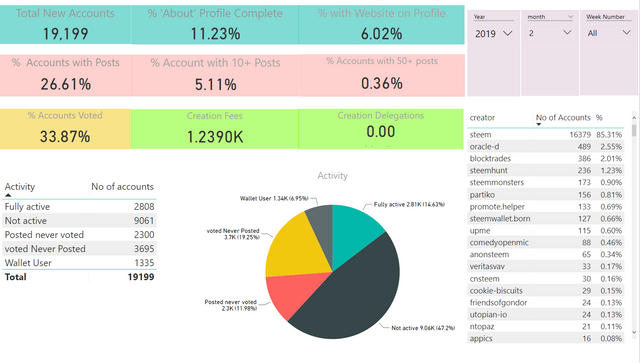 Feb '18 was a great month for account creation with over 72k new accounts created.  The crypto crash of 2018 had a major impact, but we are now looking at a decline in the drop of new accounts and things seem to have levelled off.
Feb19 shows Steemit inc again creating the bulk of new accounts (85.31%).  Although the total accounts created is down on Jan, this is of no consequence as Jan included a backlog from December.
47% of accounts created in February have never transacted on the blockchain via wallets or posts or votes, this can be compared 58% in Jan 19. A guess on the reason for this reduction is that many of the backlog accounts from December, set up in January by Steemit inc, due to the delay, never activated their accounts in the first place.
Another notable different between Feb 18 and Feb 19 is the Creation fees and creation delegations.  This change is down to HF 20.
Two interesting values I keep an eye on are the % about profile complete and the % of accounts with website on their profile.  These values give an indication of the calibre of user.  Those with intent of using the platform will have more tendency to complete their profile.
@oracle-d had a fantastic month for account creations which I would put down to the implementation of @steem-ninja, in Jan they created 0.76% of new accounts and this rose to 2.55% in February.
For clarification on the Account activity levels
• Fully active accounts have both posted and voted
• Not active accounts have not vote/posted or made a transfer
• Wallet users have not vote or posted but have made a transfer out from their account.
Activity Level by creator
Taking the top 6 account creators, below we can compare the activity levels of the accounts created.  @Partiko stands out with the highest % of accounts not active in any form.  @Blocktrades and @Oracle-d stand out for the highest % of wallet users and Steemit Inc stand out with the most accounts that have voted only.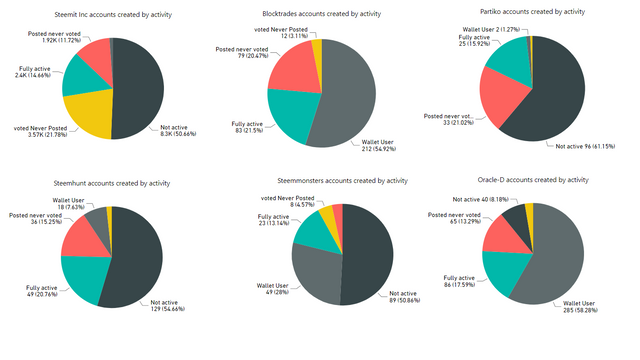 HF20 Changes & Delegations
Under HF20 accounts can now be set up by either burning the STEEM and sending delegation so the accounts can transact, or they can be set up with discount account creation tokens where the fee is 0, however these accounts also need delegation to transact.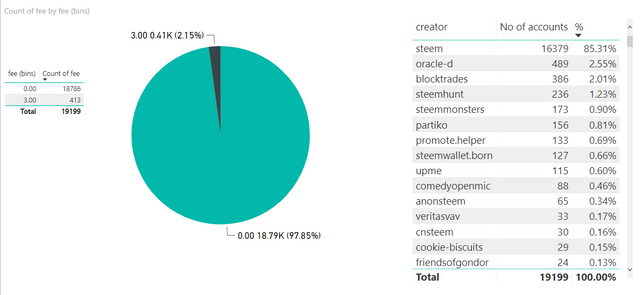 97.85% of new accounts set up, were set up with the newly introduced account creation tokens.  The balance, 413 accounts, were created by burning steem at 3 steem per account.
However, when accounts are set up, without delegation, there resource credits and voting mana need to be boosted so they can really transact on the block.  So many new accounts have received delegation?
15,286 which is 80% of accounts set up in January have received delegation.
Of this 15K account that received delegation, just over 96% received 30K Vests which we can see in the pie chart below
The first table below shows the new accounts, who set them up and how much in delegation they received.  The second table shows the people setting up accounts and how much in delegation they account they set up received.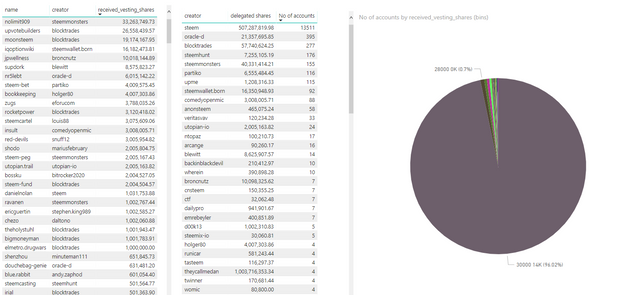 Account Creation Tokens (Year to date)
The introduction of account creation tokens in HF20 allows users claim the right to set up an account.  In total 61K account creation tokens were claimed in January.  Below shows who has been claiming these account creation tokens.  We can see Steemit Inc has claimed 19% of these, yet they have set up 87% of new accounts year to date.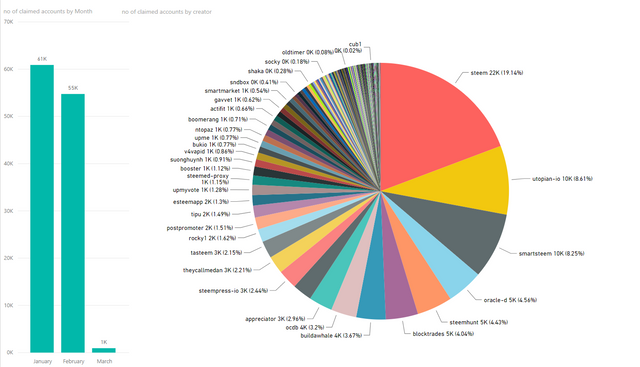 Conclusion
2018 seen a down trend each month on the number of new accounts created.  Due to the standstill of accounts created by Steemit Inc in Dec and the catch up in January, its hard to tell if this trend has bottomed for sure, but it is looking positive.
Although there are many new account creation services, such as Steem-ninja, we have yet to see a large shift in the % of accounts set up by Steemit Inc v's others. Delegations are still required so new accounts can transact. Steemit Inc has the fund to do this so it is still favourable for steemit inc to be the main account creator.
During this analysis I also noted a change in account creation habits for steemit inc.  In 2018 Steemit Inc would create a bulk of accounts once a week.  February seemed to be a lot smoother on a daily account creation rate. 
The Data-source and Query
As always to produce this report I connect to Steemsql (paid subscription services held and managed by @arcange ) with Power BI. The SQL query used to gather the data for this report was
Select *
FROM Accounts (NOLOCK)
where   
( created >= CONVERT(datetime,'01/01/2019')


To get details of who set up each account I used the following query

Select *
FROM txAccountcreates (NOLOCK)
where   
timestamp >= CONVERT(datetime,'01/01/2019')
and to get details of accounts that used their wallets I used the following

select [from], timestamp
from TXTransfers
where   
timestamp >= CONVERT(datetime,'01/01/2019')
The query used to find out who is claiming accounts was
Select *
FROM TxAccountClaims (nolock)
Once I loaded the data into Power BI, I then carried out transformation and calculations using DAX language.  
 Shameless Promotion
 Like what we are doing?  Dont forget to vote for @steemcommunity as your steem witness.  You can vote for our witness using SteemConnect here: https://steemconnect.com/sign/account-witness-vote?witness=steemcommunity&approve=1