This is a weekly overview post of the Analysis category at @utopian-io. The report aims to provide insight into the topics covered, the scores provided, staff picks (if any), and a look at how the current week has fared against recent weeks gone by.
Any other work taking place and my personal thoughts in relation to the category will also be included. This week, a brainstorm on possible ways to promote the Analysis category and the potential difficulties in doing so.
If you have any suggestions for additional information that could be included in this report, please comment below.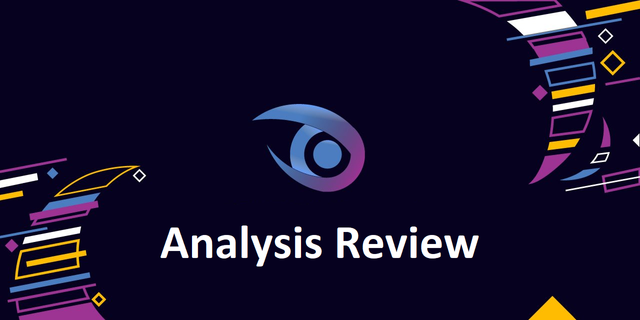 ---
Previous reports
Analysis contributions summary
Week 46: October 15th - 21st November, inclusive
No staff picks this week
4 contributions, 4 scored, 3 unique contributors
An average score for the week of 71.5
An average of 18 comments per contribution (6 less on average than previous week)
This weeks contributions
Previously, 'lostmine27' produced their first Analysis contribution to @utopian-io. The work received a low, manual score and the moderator left valuable feedback on the post. We are happy with this approach as this week, the contributor has submitted two Analysis contributions which have both scored much higher.
'Voting pattern - Posting to payout' confirmed suspicions that the majority of the votes for a post appear early - 50% of the votes by number within the first hour, and more than 80% in the first day. The moderator notes that it would be interesting to see how the votes come in by weight during the 7 day window.
'lostmine27's second contribution 'SBD debt ratio analysis' looked out how well the SBD debt ratio is being 'managed', or not. The conclusions found are:
Since the SBD supply balance was very low in 2016 and 2017, our SBD was able to maintain a price well above US $ 1 with the boom in the cryptocurrency market. But now that SBD supply balance is not low and STEEM price is sluggish, it is not easy for SBD to maintain US $ 1.
The SBD Debt Ratio is again threatened by the upper limit even though it has been less than two months since hard fork 20.
This is slightly worrying news, but the analyst is not to blame and presents their case clearly. The moderator states:
... I wasn't aware that such large conversions were already happening in the last few weeks. It seems Steemit was well aware of the situation and tried to mitigate the problem. Most of the SBD funds on the smooth accounts were already converted until now, so there's not much room for further adjustments. Maybe freedom is next in the queue?...
The contribution was supported by 'blocktrades' which indicates there are top level eyes on this topic.
In summary, the 4 contributions didn't reach the scores of recent weeks, but all deserve credit at individual pieces of work. Whilst the topics may be of particular interest to the areas of the community they cover, a fall in the average commentary on the posts could show lesser interest from the wider community. Although, it is also possible that the decline in the price of STEEM has reduced commentary across the platform in recent times.
Analysis and visual reporting
The aim of this section is to represent the current weeks activity along with a recent set of data. The current data span covers the previous 8 weeks.
Weekly Average Score and number of Contributions
An average score of 71.5 this week is over 2 percent lower than the 8 week average of 73.8. Four contributions is 0.62 higher than the 8 week average.
---
Contributor Totals and Average Score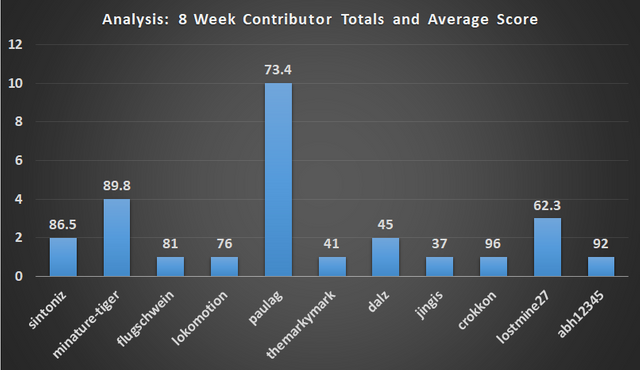 'paulag' still tops contributor table with 10 contributions over the past 8 weeks. 7 contributors have an average contribution score higher than 70 over the past 8 weeks.
Contributions that did not receive a score are not included in the charts above.
---
Review Totals by Reviewer (Scored/ Not scored)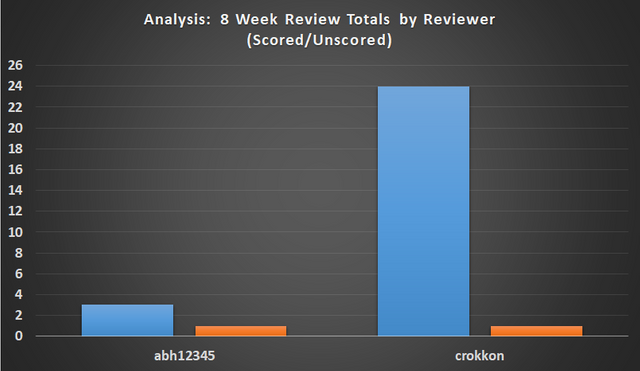 Two reviewers assessed all 27 contributions that received a score in the past 8 weeks. Both reviewers were unable to give a score to 1 contribution each.
---
Other items
Promoting and building the Analysis contribution category at @utopian-io
As community manager for the Analysis category at @utopian-io, I have an on-going task to try to grow the category by both on-boarding new contributors, and also trying to lure back previous contributors. It goes without saying that this is a difficult time for growth, anyway on the Steem blockchain, especially when we consider the current price of the STEEM token. Posts are down, comments are down, the rewards are down.
However, there are still some options or ideas that could be used to promote and grow the number of weekly contributions to the category. So far I have the following, but if you are reading this post and have other ideas that may assist the growth of this (or any category), please leave a comment.
Posting to promote @utopian-io (and Analysis)
This is likely the easiest option. However, I'm aware that the majority of my active followers know about @utopian-io due to my contributions and promotion of the application via text and video this year. I have been privately contacted by a couple of interested parties, one has contributed (with a good result), and one has not contributed yet.
Searching for previous contributors / score via script
This is another option I have considered. Gather a list of this years contributors, check their scores, and check their activity on Steem. If they have scored well and are still active, it could be worth contacting them privately to ask a couple of questions regarding their inactivity with regards to Utopian. I don't this this will be taken negatively (depending on wording of course!), and it could be that other categories may wish to take this approach also. If this is the case, then it might be an idea to structure a short, standard questionnaire in which we can gather information as to why they have stopped contributing to the category.
In the chart below, we can see that there have been a total of 40 unique contributors to the Analysis category in 2018. 11 of these contributors have submitted work to @utopian-io in the past two months, and so it could be said that almost 75% of the unique contributors to @utopian-io this year are currently inactive.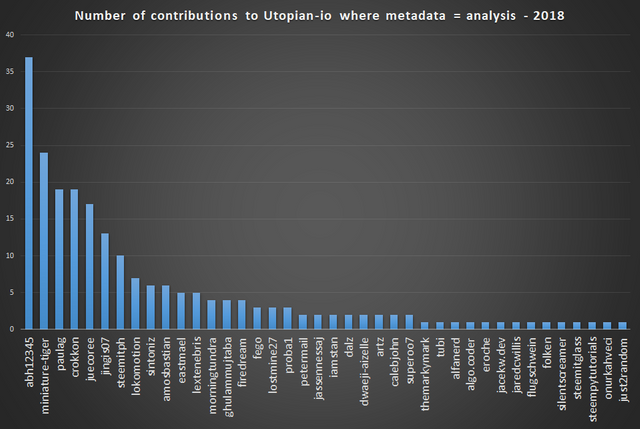 Hand-holding - support from idea to article
The Analysis category has long been thought of as one of the more difficult contribution areas to produce work for. Whilst I concede this is true in some respects (a basic/intermediate level of programming languages or analysis tools is a must), I think a large part of the analysis comes when thinking of 'what would be useful to the community, or an individual open source project.
If someone has an idea for a piece of analysis, I would like to help them take their idea (if it passes some basic rules
e.g. a wide enough scope), and turn it into a contribution to the Analysis category. if you have an idea that you would be interested to see the results of, please contact me in the comments, or on discord at abh12345 #9343.
---
Thank you for your time today.
Asher