This is a weekly overview post of the Analysis category at @utopian-io. The report aims to provide insight into the topics covered, the scores provided, staff picks (if any), and a look at how the current week has fared against recent weeks gone by.
Any other work taking place and my personal thoughts in relation to the category will also be included.
If you have any suggestions for additional information that could be included in this report, please comment below.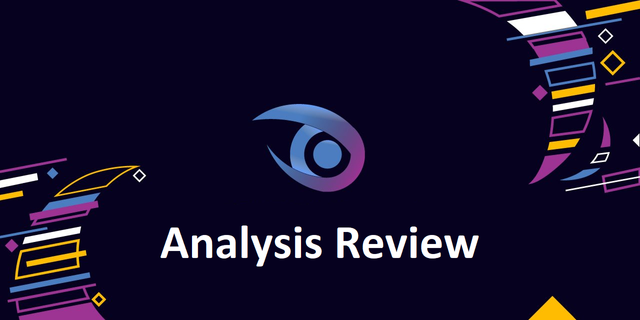 ---
Previous reports
Weekly overview: 43
Analysis contributions summary
Week 44: October 25th - 1st November, inclusive
One 'staff pick' this week
5 contributions, 4 scored, 5 unique contributors
An average score for the week of 77
An average of 24 comments per contribution (7 more on average than previous week)
This weeks contributions
paulag's exploratory analysis on benefactor rewards earned the rare accolade of a resteem by 'ned'. The analysis showed a vast reduction in benefactor reward payments, which were much higher earlier in the year. The contribution also displayed some excellent visuals. These showed (below) a time-lapse of benefactor payments in which it was clear that 'esteemapp' started the year strongly and faded, and also that 'dtube' collected a consistently high amount of benefactor rewards, although slowing over recent months.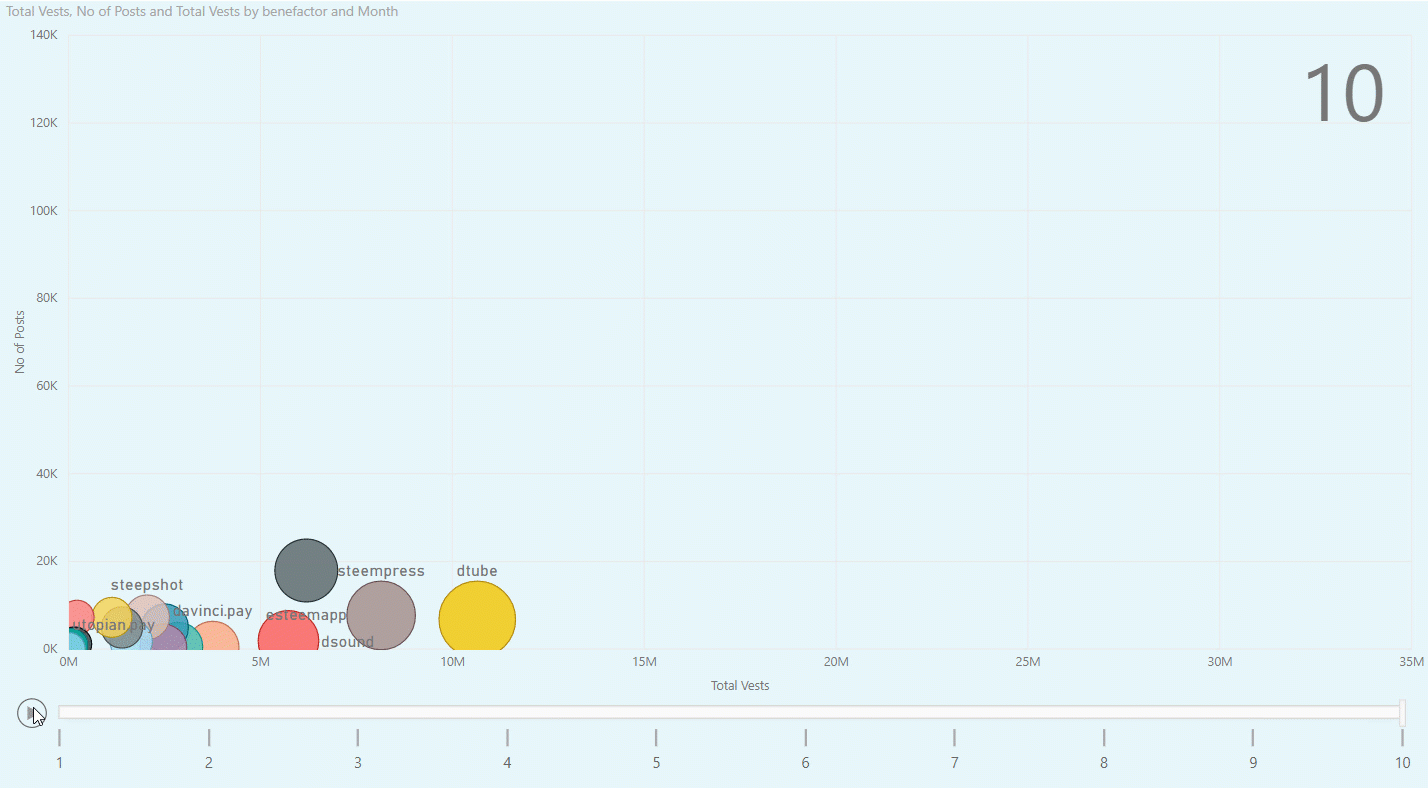 source
crokkon, who further analysed vote values and 'dust' votes, earned a 'staff pick' this week for his excellent analysis of the subject. The work shows that although there has been a small reduction in the percentage of votes that carry no value, there is still a large number of 'dust' votes being cast. 38% of the 100% up-votes were cast by accounts that would not be able to avoid casting 'dust' votes, but the analysis also suggested that there were a good number of accounts that had the SP available not to cast a meaningless vote if their vote percentage was adjusted accordingly. Overall, a complex piece of work, well written and displayed.
jingis07 investigated the progress of 'steemhunt' over its lifespan and whilst being reasonably presented and written, the analysis lacked as a whole. The reviewer made a number of points which would have benefited the work, and the overall scored given was low.
abh12345 took another look at witness voting in relation to account activity. The findings showed that much of the accounts voting for witnesses are active in some way. The conclusion was that their was little movement in ranks when applying different criteria over multiple time spans. As 'miniature-tiger' pointed out in the comments, this is not necessarily a bad thing:
Fortunately a lack of movement in witness placings on the first analysis is just as interesting as big movements would be. It shows (I think) that the current witness-voting process is probably fairly robust in response to vote-decay propositions.
In summary, three of the four scored contributions earned a high rating, between 84 and 96 when assessed against the current review questionnaire. One contribution scored under 50. Two contributions were classed as a 'unique analysis', which allowed for a high score, and two were 'based on a similar analysis'.
Analysis and visual reporting
The aim of this section is to represent the current weeks activity along with a recent set of data. Initially, this data has been collated from the previous 5 weeks (including this past week), but this data-set will grow as we move forward.
Weekly Average Score and number of Contributions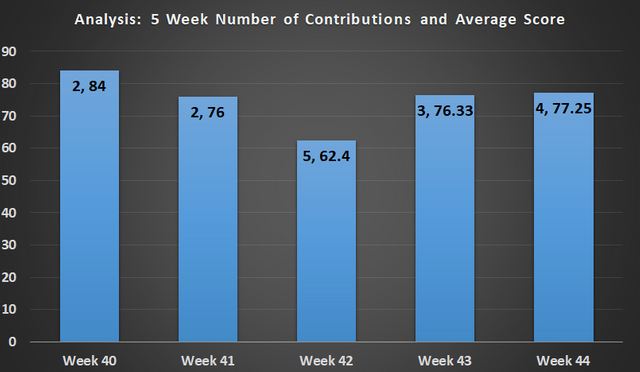 An average score of 77.25 this week is over 2 percent higher than the five week average of 75.20. Four contributions is 0.8 higher than the five week average.
---
Contributor Totals and Average Score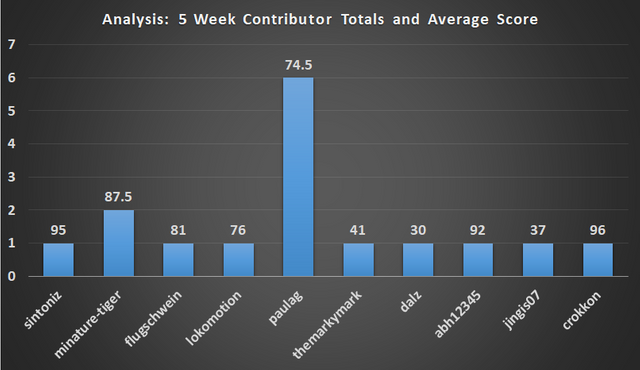 'paulag' heads the contributor table with 6 contributions over the past five weeks. 5 contributors have an average contribution score higher than 80, over the past five weeks.
Contributions that did not receive a score are not included in the charts above.
---
Review Totals by Reviewer (Scored/ Not scored)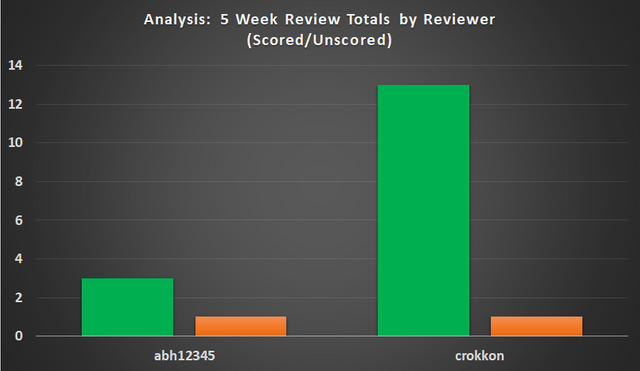 Two reviewers assessed all sixteen contributions that received a score in the past four weeks. Both reviewers were unable to give a score to one contribution each.
---
Other items
This week the utopian-io, draft guidelines for the Analysis category were submitted. These will now be reviewed and amended where required, and then will be used to re-work the review questionnaire.
Next week is Steemfest 3, where I look forward to meeting everyone, including attendees involved in utopian-io.
The next report will be produced when I return.
---
Thanks
Asher