This is a weekly overview post of the Analysis category at @utopian-io. The report aims to provide insight into the topics covered, the scores provided, staff picks (if any), and a look at how the current week has fared against recent weeks gone by.
Any other work taking place and my personal thoughts in relation to the category will also be included.
If you have any suggestions for additional information that could be included in this report, please comment below.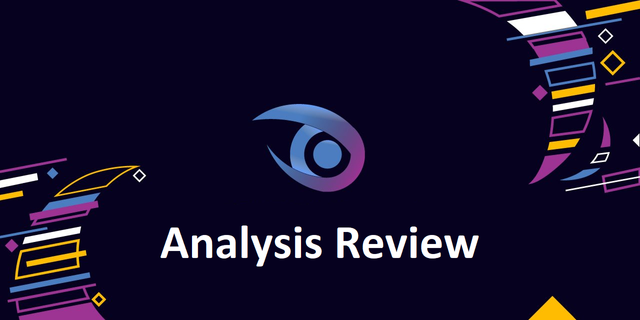 ---
Previous reports
2018
43, 44,45-46, 47, 48-49, 50-51, 52-53.
2019
---
Analysis contributions summary
Week 3: January 17th-23rd (inclusive)
One staff pick this week - 'abh12345'
3 contributions, 3 scored, 3 unique contributors
An average score for the week of 81
An average of 22 comments per contribution
Contributions
Sadly, just three contributions in week 3 of 2019. This is below the average of recent months and is a contrast to recent weeks. On the flip-side, all three submissions scored well and their were no un-scored contributions, giving an excellent average score for the week.
A touch embarrassingly, it was the authors submission that was deemed as worthy of a 'staff pick'. And I suppose this is a good time to state that this review and decision is not made by the contributor, even though they are the Community Manager for the category. Contributions can be made by an utopian-io staff, and it makes sense that they would enjoy and like to contribute from time to time.
The contribution looks at Account Claims, and the story so far with regards to who has been claiming these 'tokens', and if they are being used by these accounts to create new accounts. The analysis notes that following the hard-fork, account claims were high due to the 'low' Resource Credit cost. Since then, the creation numbers have leveled off with a fairly consistent number of accounts being claimed on a regular basis by a select group. @steemmonsters shows up as an application using a good percentage of their claims, and the analysis concludes that it is this account, and other apps, that should be monitors for account creation via claims, in case they require help supporting a fast-growing user-base.
'lostmine27' expands on a previous SBD analysis and looks in more detail at the reduction in SBD supply over recent months. The 'haircut' zone has recently been left, and SBDs are now being printed again. The analyst notes:
If the increase in SBD supply balance can not be supported by the rise in STEEM prices, there is also the possibility that the SBD may hit the upper limit of the debt ratio again.
'paulag' takes a quarterly review of Steem 'churn rates' and compares Steem against a host of other social media platforms. All accounts are assessed, and then only those that have at least produced one post. The analysis states that there are a number of accounts that have not posted, but are 'active' as noted by the JSON field updates, via @steemmonsters, etc. I hope that these accounts will be included in the 'active' accounts in future. The work also concludes that HF 20 occurred during the time-frame of the analysis, and this even likely had an effect on the data - increasing churn for the period.
Overall, a good week with the scores, but lacking in numbers.
---
Analysis and visual reporting
The aim of this section is to represent the current weeks activity along with a recent set of data. The current data span covers the previous 17 weeks.
Weekly Average Score and number of Contributions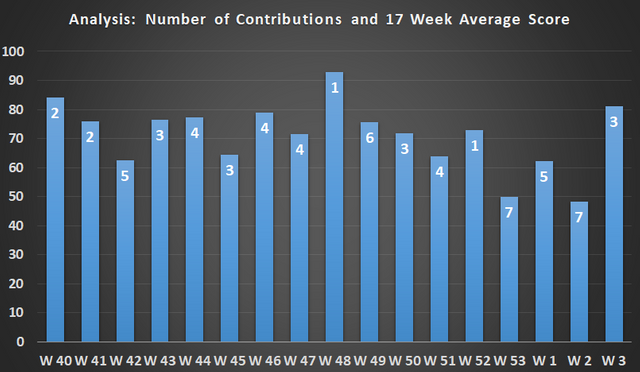 An average score of 61 this week is almost 20% better than the 17 week average of 71.16. This has to be factored against their only being 3 contributions for the week, .76 fewer than the 17 week average.
---
Contributor Totals and Average Score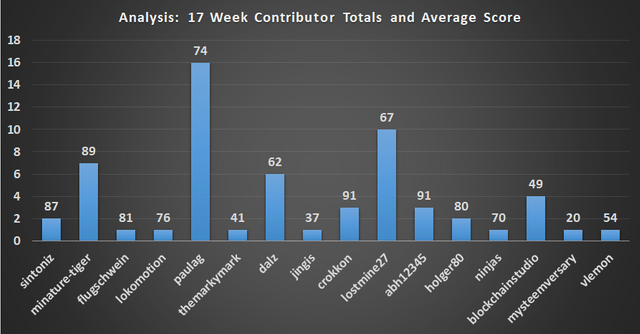 No new contributors since the last update.
'paulag' tops contributor table with 16 contributions at an average score of 74 over the past 17 weeks. 9 contributors have an average contribution score of 70 or above over the past 17 weeks.
---
Review Totals by Reviewer (Scored/ Not scored)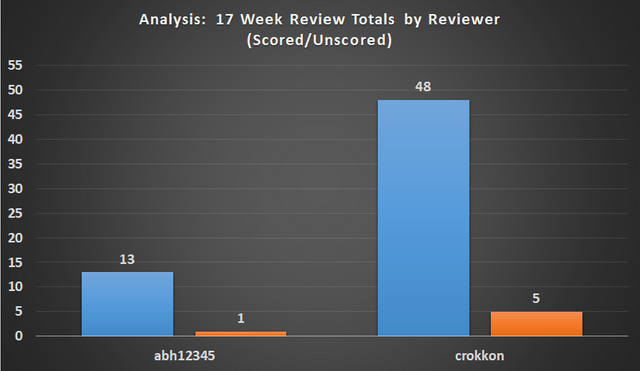 Two reviewers assessed all 61 contributions that received a score in the past 17 weeks. Six contributions have not been scored during this period.
Contributions that did not receive a score are not included in the chart above.
---
Other items
The Analysis team is available for contact in the utopian-io discord, and also via our blogs. We would like to be able to give every contribution the opportunity to be scored and welcome conversation from potential, or existing contributors that have an idea of a piece of work they are thinking about submitting.
utopian-io Discord: https://discord.gg/6T97um
Analysis team: 'crokkon', 'abh12345'
---
That's all for this week, thank you for your time.
Asher