This is a weekly overview post of the Analysis category at @utopian-io. The report aims to provide insight into the topics covered, the scores provided, staff picks (if any), and a look at how the current week has fared against recent weeks gone by.
Any other work taking place and my personal thoughts in relation to the category will also be included. This week, a summary of the responses from a recent question sent to a selection of contributors to the Analysis category in 2018.
If you have any suggestions for additional information that could be included in this report, please comment below.
This particular report covers 2 weeks as I was away from home last week.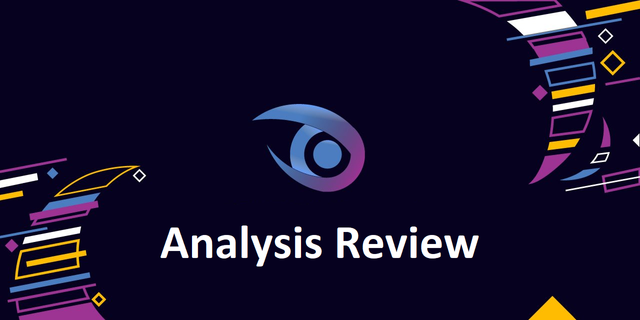 ---
Previous reports
Weekly overview: 43, 44,45-46, 47, 48-49.
---
Analysis contributions summary
Week 50: December 6th - 12th (inclusive)
No staff picks this week
3 contributions, 3 scored, 3 unique contributors
An average score for the week of 71.7 (close to the average)
An average of 21 comments per contribution (close to the average)
Week 51: December 13th - 19th (inclusive)
No staff picks this week
4 contributions, 4 scored, 4 unique contributors
An average score for the week of 63.75 (10% lower than average)
An average of 18 comments per contribution (slightly lower than average)
Contributions
Week 50
Week 51
In summary, the contributions (miniature-tiger's aside) didn't reach the scores of recent weeks, and the lower engagement in the replies on the posts could also be a sign that the topics/quality wasn't quite up to the usual high standards for the category.
Visually, 'paulag's animated charts from her post in week 51 stand out, and the contribution was scored with the maximum in this regard.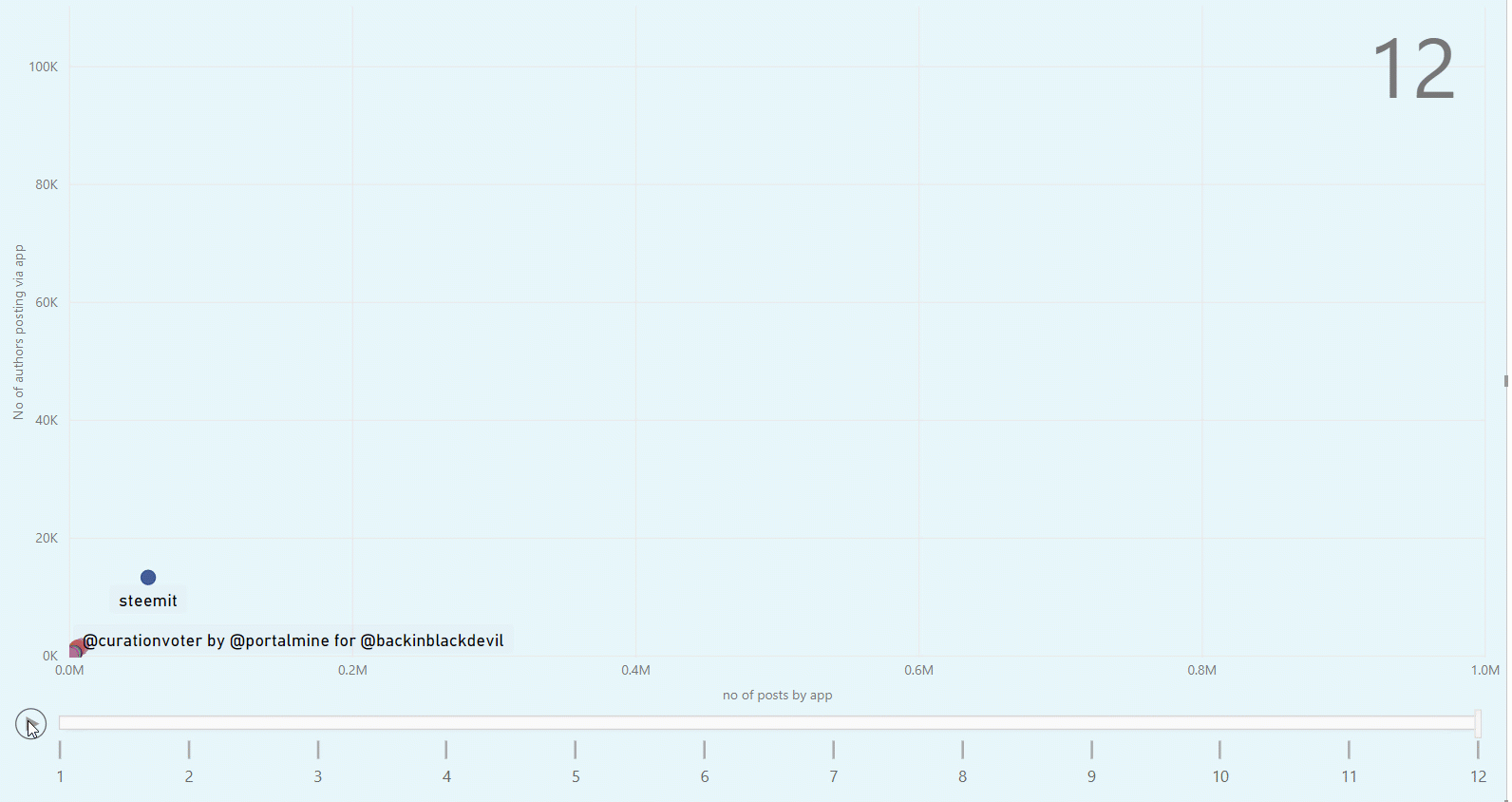 source
'blockchainstudio's work in week 50 took a different approach than we usually see to analyzing a subject. The moderator provided a good explanation as to why the contribution has value, but didn't attain a high score.
Your contribution is different to most of the analysis contributions we had so far, which usually extracted, filtered, modeled and analyzed large amounts of (blockchain) data to find correlations or draw conclusions. Your contribution takes a different approach and picks two random posts and analyses the source code. As a consequence for your approach, there isn't too much data to extract or results to visualize.
At present, the review questionnaire asks for visualizations in the form of graphs and charts, and so these are required to reach a higher score.
---
Analysis and visual reporting
The aim of this section is to represent the current weeks activity along with a recent set of data. The current data span covers the previous 12 weeks.
Weekly Average Score and number of Contributions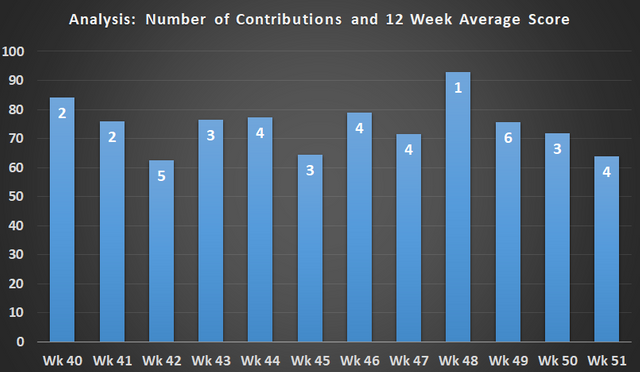 An average score of 63.75 this week is more than 10% lower than the 12 week average of 74.59. Four contributions is 0.58 higher than the 12 week average.
---
Contributor Totals and Average Score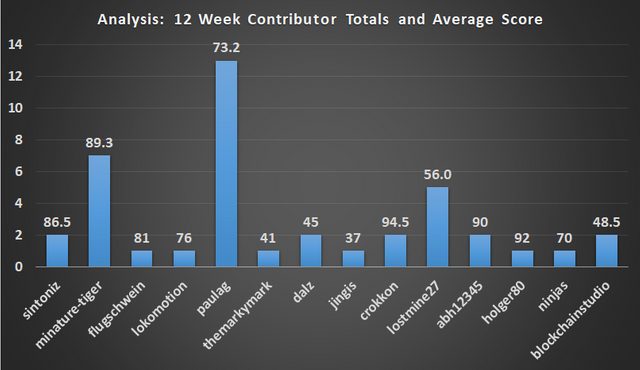 Two new contributors since the last update.
'paulag' still tops contributor table with 13 contributions over the past 12 weeks. 9 contributors have an average contribution score of 70 or above, over the past 12 weeks.
Contributions that did not receive a score are not included in the charts above.
---
Review Totals by Reviewer (Scored/ Not scored)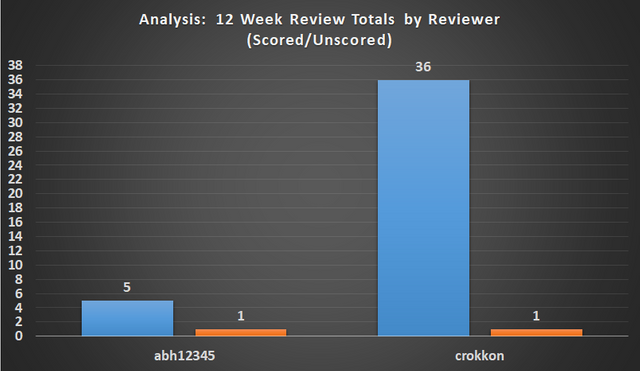 Two reviewers assessed all 41 contributions that received a score in the past 12 weeks. Both reviewers were unable to give a score to 1 contribution each.
---
Other items
Contacting previous contributors - findings
As community manager for the Analysis category at @utopian-io, I have an on-going task to try to grow the category by both on-boarding new contributors, and also trying to lure back previous contributors. It goes without saying that this is a difficult time for growth, anyway on the Steem blockchain, especially when we consider the current price of the STEEM token. Posts are down, comments are down, and the rewards are down.
In previous reports, I came up with a couple of ideas that could possibly help grow the category, or at least give an indication as to why previous contributors are no longer submitting analysis work. One of these ideas was to contact a selection of previous contributors that had scored well with they Analysis contributions to utopian-io.
First, I made a list of 10 contributors that had scored well in the past, and not submitted a piece of work in the last 5 months.
I then sent the following message via discord and awaited a response:
Hi username , I'm writing to you because during his past year, you have contributed to the Analysis category at @utopian-io. We'd very much like to see you contributing again due to the high quality of your work, but understand it is your choice.
If you have no plans to contribute at present, would it be possible to give a brief reason as to why? e.g. guidelines to strict / nothing new/exciting to analyze / price of STEEM. Thanks very much for your time, Asher [Community Manager - Analysis]
Sadly, I received no response from 8 of the 10 users I sent the above text to, but from the 2 that I did receive a reply from, the following comments were provided:
1
Hi Asher, I really got away from Steem and Steemit, mainly due to I started working on EOS and dapps. I continue my analysis of course but it is in another platform, a new start-up called Trybe. At the end of the day you can't stop an analyzer. Here is an example:
https://trybe.one/some-facts-data-on-11th-december-trybe-airdrop/
Does it pay like Steemit and Utopian? No !
Utopian have made me learn a lot, But I believe, after EOS and with all the opportunities it was better to shift my concentration to all other alt-coins of EOS and EOS itself.
Thank you very much.
From this reply, it seems that the rewards are not the reason for the disengagement from Steem/utopian-io, and it is the attraction of a new space to analyse.
2
For me, it's a combination of time/rewards, the removal of the interface that I was using to conveniently access and process the data (SteamData), and a little bit because the development direction of the platform as a whole isn't going in a place that I find particularly interesting. Combined with an overall social tenor which feels more often than not antithetical to the kinds of findings I tend to turn up, there is a notable pressure not to bother.
Especially when you combine that with the fact that I can actually get paid real money that I can spend immediately for writing about video games on a regular basis, versus spending roughly the same amount of time writing code, collating data, and writing explanatory articles exploring the possible implications, for a community who really doesn't want to hear it.
Ultimately, maybe it is a time/rewards thing, but it's worth pointing out that the "rewards" are more than monetary – the gratification of solving "a puzzle" is significant, but the general reception and a belief that it will make any kind of a difference is not so great.
Interestingly, Utopian has nothing really to do with it. Though I have definite issues with the guidelines, how they're implemented, and a general lack of trust in the architecture in general – the modest stipend that they managed to drop whatever I did analysis didn't suck.
Again, it seems the rewards were not the main reason for this contributor to stop submitting work to utopian-io. Their preferred data-access point became unavailable, but there are a couple of other reasons relating to the platform (Steem) itself, and the reduced interest in the area of analysis.
The feedback was good from the 2 people that responded, but lacked in number of responses. Also, I don't think that either of two that did respond are likely to start contributing again anytime soon. In these instances 'the money' was not given as a reason, but I suspect that some of the non-respondents were exactly that, due to not wanting to state that the financial rewards have shrunk dramatically due to the fall in the price of STEEM.
Anyway, I tried. Back to the drawing-board I guess. Thank you to the two respondents for their time.
---
That's all for this week.
Asher