This is a weekly overview post of the Analysis category at @utopian-io. The report aims to provide insight into the topics covered, the scores provided, staff picks (if any), and a look at how the current week has fared against recent weeks gone by.
Any other work taking place and my personal thoughts in relation to the category will also be included.
If you have any suggestions for additional information that could be included in this report, please comment below.
This report covers 2 weeks due to the SteemFest conference.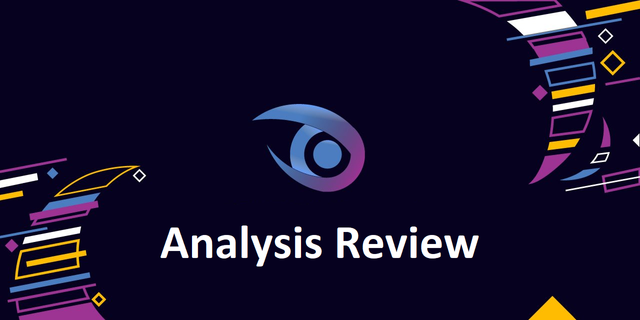 ---
Previous reports
Analysis contributions summary
Week 45
November 1st - 7th
No staff picks
3 contributions, 3 scored, 3 unique contributors, 1 new contributor
An average score for the week of 64.5
An average of 19 comments per contribution (5 less on average than previous week)
Week 46
November 8th - 14th
No staff picks
4 contributions, 4 scored, 4 unique contributors, 0 new contributors
An average score for the week of 79
An average of just under 19 comments per contribution (similar to the previous week)
Week 45 contributions
Week 46 contributions
In week 45, lostmine27 produced an analysis on Steem Inc.'s major accounts balance changes which included significant changes to key account balances. This was the first contribution from this author and the work was scored manually at 30. Even though the contribution did not is perfectly within the guidelines for Utopian-io, due to this being a first contribution and the author showing promise, a lower manual score was given as encouragement, and the author received valuable feedback for the word carried out:
Hi lostmine27, great to see you contributing to the Utopian analysis section - welcome! Very interesting topic! However, it's not a perfect fit for Utopian. Utopian can potentially reward analyses on open source projects.
...For an analysis of the Steem open source project, this is a very narrow scope. I think it's hard to define a list of "Steemit" accounts that are only used for Steemit's purposes as a company and I'm not sure if your account really represents this. There's not much public about who owns which accounts and their purposes. Nevertheless, you clearly have the skills and tools for Utopian analysis contributions and we'd love to see more from you!
This past week, miniature-tiger produced a monthly analysis of the dapps. This was the highest scoring contribution of the week and this analysis gives a good indication to the popularity of the applications amongst other metrics. Of particular note was the decline in usage of Steempress. The author concluded:
Finally SteemPress shows a marked contrast in usage statistics. While author numbers remain very robust, the drop-off in post numbers is huge. SteemPress has been plagued by spammers. Prior to HF20 many of these spam accounts were already targeted by mack-bot, steemcleaners or spaminator but continued to post for zero rewards. The HF20 Resource Credit system seems to have put an end to this practice. These accounts would now need to invest capital in order to continue to spam and would still gain no rewards.
This is excellent news for Steem and a good output from the contribution which shows HF20 has had a positive effect in this regard.
Analysis and visual reporting
The aim of this section is to represent the current weeks activity along with a recent set of data which can be used to assess trends.
Weekly number of contributions and average score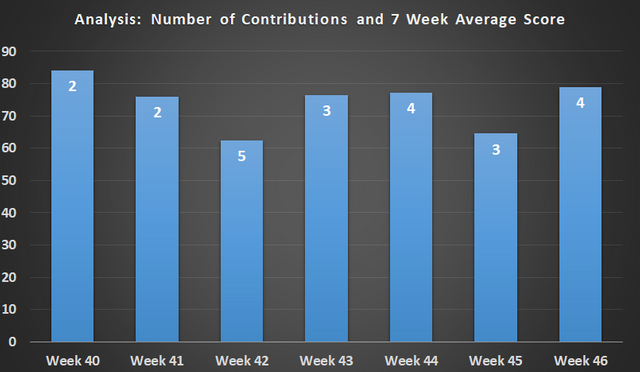 An average score of 79 is the best in 6 weeks and 4.8% higher than the 7 week average. The averages scores for the category have been pretty stable for a long time, but with only a handful of regular contributors, this was likely to be the case.
---
Contributor Totals and Average Score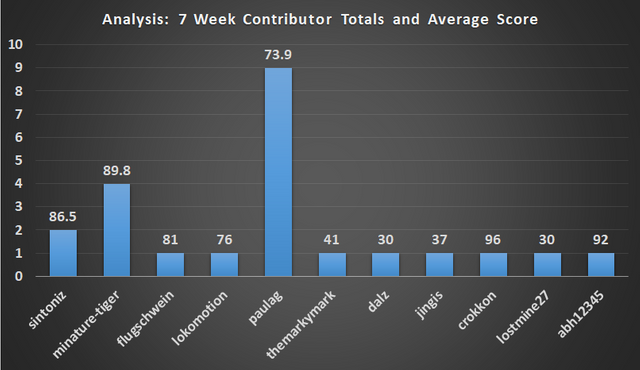 'paulag' heads the contributor table with 9 contributions over the past 7 weeks. 5 contributors have an average contribution score higher than 80 in the past 7 weeks.
Contributions that did not receive a score are not included in the charts above.
---
Review Totals by Reviewer (Scored/ Not scored)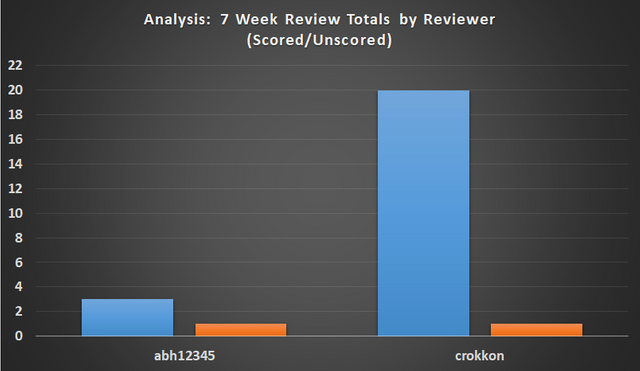 Two reviewers assessed all 23 contributions that have received a score in the past 7 weeks. Over this period, both reviewers were unable to give a score to one contribution each.
---
Other items
Steemfest was a blast!
Utopian-io were well represented and gave their presentation on the first morning. Unfortunately I didn't get a t-shirt, but did pick up 3 badges.
50% of the Analysis team were present 😁
---
Thanks
Asher